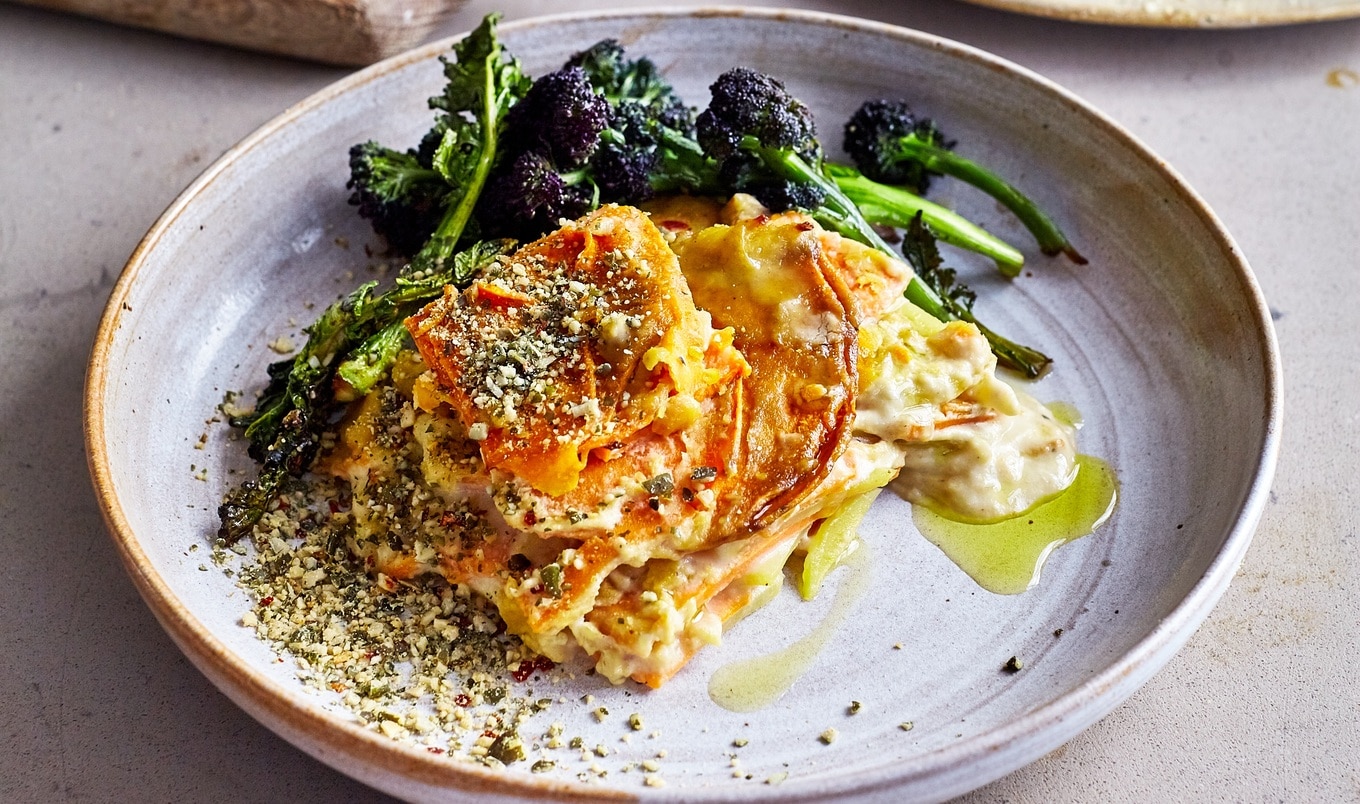 Dauphinoise potatoes (a French dish of sliced potatoes baked in milk or cream) are the ultimate comfort food and this time of year, the bright colors and spice in these potatoes help to bring a little sunshine to the day.
October 30, 2021
Alguashte, a traditional Salvadoran spice made from ground pumpkin seeds, brings an unexpectedly delectable Central American flavor to this creamy French potato dish from the Mind Food: Plant-Based Recipes for Positive Mental Health cookbook.
What you need:
2 tablespoons olive oil
1 large red onion, finely sliced
½ teaspoon salt
4 garlic cloves, crushed
3 medium to large sweet potatoes, washed and sliced into ⅛-inch rounds
2⅔ cups red potatoes, washed and sliced into ⅛-inch rounds
4 cups water, divided
1¼ cups cashews, soaked for 1 hour in hot water and rinsed
1 teaspoon dried chili flakes
3 tablespoons nutritional yeast
⅛ teaspoon black pepper
For the seasoning:
¾ cup pumpkin seeds
½ teaspoon dried chili flakes
½ teaspoon smoked salt
What you do:
Preheat oven to 400 degrees. In a large saucepan over medium heat, warm oil. Once hot, add onion and salt. Cook over low heat for about 10 minutes until soft, but not brown. Add garlic and cook for one more minute. Add all potatoes to pan with 2 cups of water and bring to a simmer for about 10 minutes.
Into a blender, add cashews and 2 cups of water. Blend until smooth.
Into pan with potatoes, pour cashew mixture, add chili flakes and nutritional yeast, and stir gently to combine. Simmer for 5 minutes until potatoes are soft.
Into a medium baking dish, add potato mixture. Make sure top layer of potatoes is spread evenly, then place tin in oven to bake for 20 minutes, or until top layer of potatoes is golden brown.
For the seasoning, place a small saucepan over medium heat. Add pumpkin seeds and toast until they begin to pop. Once toasted, transfer seeds to a pestle and mortar with chili and salt and grind everything into a dust.
Remove potatoes from oven and let sit for a few minutes to cool slightly. Sprinkle with seasoning and eat while warm.
Photo credit: Sara Kiyo Popowa