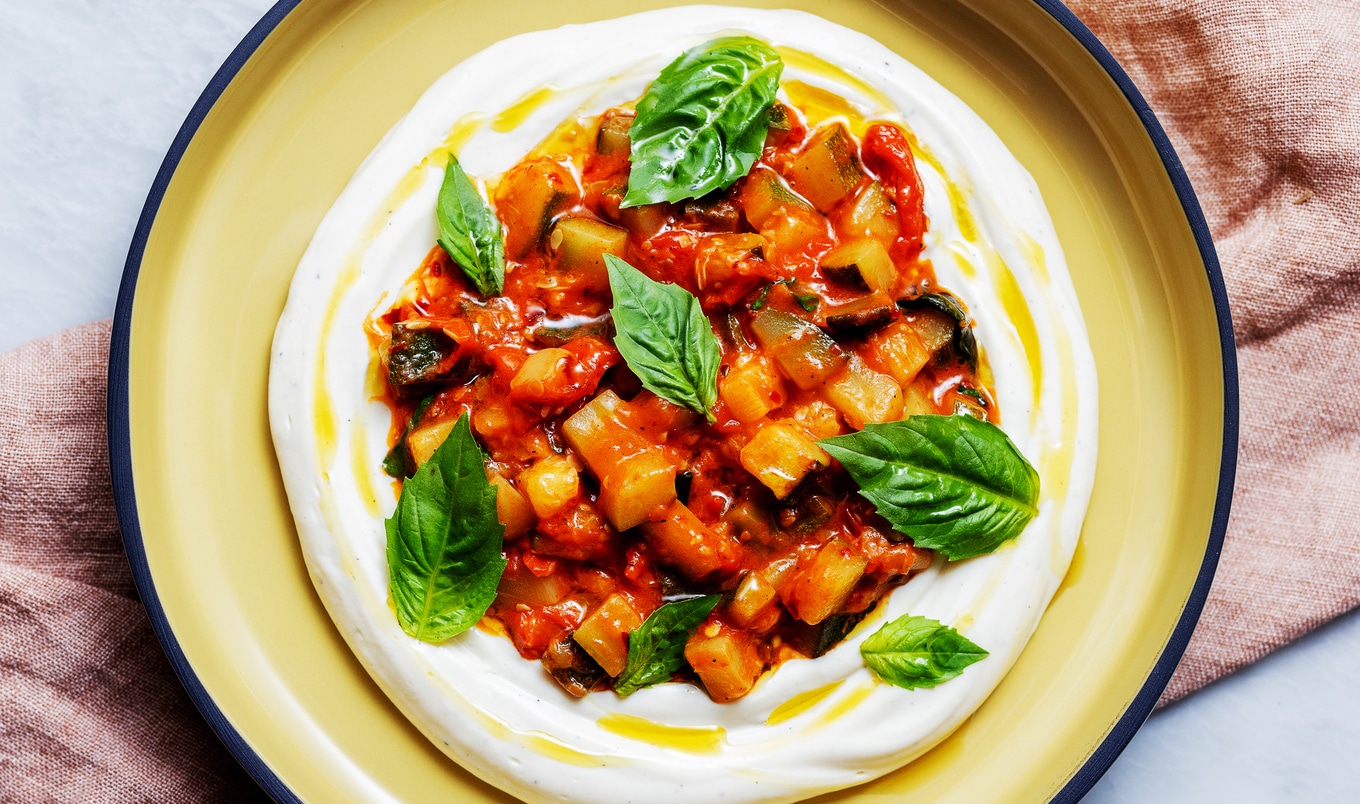 Velvety whipped tofu , jammy tomatoes, and perfectly cooked zucchini will make this your go-to quick meal.
June 27, 2023
Whipped tofu is creamy and rich; a blank canvas for any flavorings or ingredients you can imagine. In this recipe from The Plant-Based 5 Ingredient Cookbook, whipped tofu is served simply with stewed tomatoes, zucchini, and fresh basil leaves. The result is a lush textural experience.
What you need:
1 (16-ounce) package firm tofu, drained
⅓ cup vegan milk or heavy cream
½ teaspoon salt, divided
¼ teaspoon black pepper, divided
¼ teaspoon crushed red pepper
1 tablespoon neutral oil, for frying
1 pint cherry tomatoes
1 pound zucchini, trimmed and diced
⅔ cup vegetable broth
¼ cup basil leaves, torn; a few leaves reserved for garnish
Olive oil, for finishing
What you do:
1. Into a blender, add tofu and vegan milk or heavy cream. Blend on high for 30 to 45 seconds until completely smooth and creamy. Add ¼ teaspoon of salt and ⅛ teaspoon black pepper and blend once more to incorporate. Set aside.
2. In a large pot over medium-high heat, warm neutral oil. Add tomatoes and cook until skins begin to split, about 1 minute. Add zucchini and remaining ¼ teaspoon of salt and ⅛ teaspoon black pepper. Cook for 5 minutes. Add crushed red pepper. Add broth and bring to a boil. Reduce heat and simmer for 20 minutes until thickened, stirring occasionally to prevent sticking. Just before serving, stir in basil. Turn off heat.
3. To serve, into shallow bowls spoon tofu using a circular motion with back of spoon to create a divot in center of tofu. Spoon tomatoes and zucchini into center of tofu. Add a drizzle of olive oil to finish.
For more recipes like this, check out: