The City of Angels is known for its diverse, innovative, and influential food scene—spanning from some of the finest restaurants in the country to street food pop-ups and food trucks with cult followings and lines down the block. And when it comes to plant-based eats in VegNews readers' favorite vegan city? Well, it just can't be beat.
Whether you're hankering for all-American classics (there are at least 13 fully vegan burger spots in the city alone) or are looking to sample LA's storied diversity (choose from Ethiopian, Mexican, Filipinx, Japanese, Carribean, French, and Italian cuisines, to name just a few), Los Angeles has something vegan to satisfy any craving.
So VegNews editors and an expert panel of judges came together to determine the best of the best in Los Angeles for 2021. We present to you our first-ever VegNews Best of LA Awards.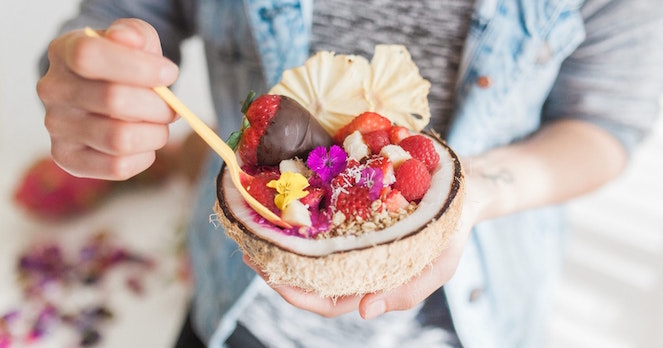 Amazebowls
1 Best Açaí Bowl: Amazebowls
Arts District
In a city with trendy açaí bowls aplenty, Amazebowls has made a name for itself by way of it's six ultra-creative and colorful bases, including fuschia-hued dragonfruit, pastel blue spirulina, minty green kale and matcha, and pitch black activated charcoal. Add to that its eight homemade granola toppings (think pumpkin tahini, Earl Grey, and banana bread flavors), fresh fruit, and superfood toppings, and you've got the makings for a truly customizable stand-out bowl. But what seals the deal? The witty, pop culture-inspired names for its bowls—who wouldn't want to dive into a dark and mysterious My Chemical Bowlmance, sunshiney Bowldak Yellow, or dragon fruit-infused Dragon Bowl Z?
300 S. Santa Fe Avenue, Unit P, Los Angeles, CA 90013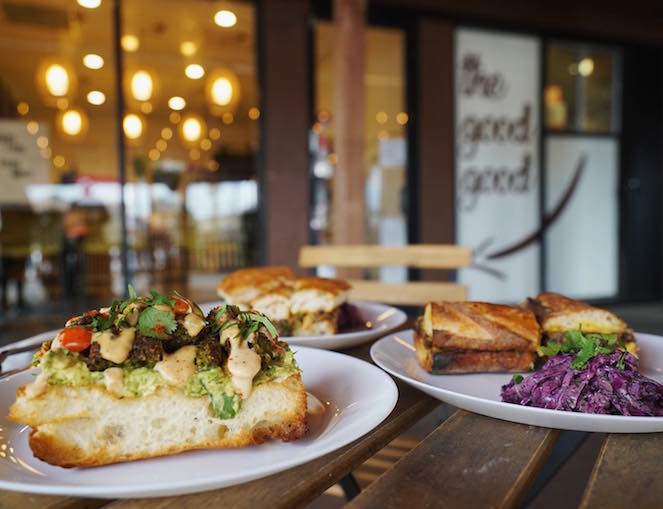 The Good Good
2 Best Avocado Toast: The Good Good
East Hollywood
The millennial-favorite avocado toast has worked its way onto practically every brunch menu in the city, but no one is doing it quite like the vegan Eastern European-influenced café The Good Good. Each starts on an impossibly thick, focaccia-like slab of matnakash, a finger-pulled Armenian bread that's house-baked to crispy-on-the-outside-soft-and-tender-on-the-inside perfection. Then, an array of toppings are added to the mix: mashed avo is paired with black truffle salt and lemony, olive oil-tossed arugula in one iteration, while others feature anything from vegan feta to smashed falafel to the avocado toast additions we never knew we needed so badly: roasted potatoes and melted cheddar. BRB, continuing to forgo homeownership for yet another slice.
4871 Santa Monica Boulevard, Los Angeles, CA 90029
"The bakers at The Good Good have practically changed my life. Each week, it's like a countdown until I'm reunited with my favorite dreamy avo toast, plus extras like crispy scallion potatoes, chewy almond butter-cherry muffins, and vanilla-rose lattes. I can't imagine a more delicious way to kickstart my Saturdays."
—Jocelyn Martinez, Associate Editor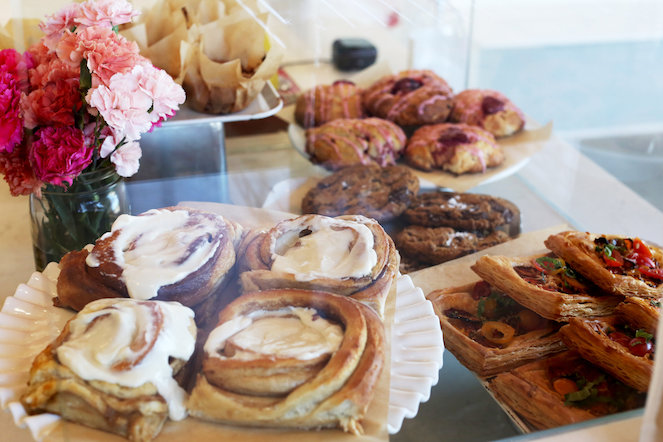 Just What I Kneaded
3 Best Bakery: Just What I Kneaded

Frogtown
Born as a total one-woman, home-kitchen concept launched on Instagram, baker Justine Hernandez's Just What I Kneaded has blossomed into the sleeper vegan bakery hit of LA—and not just with VegNews editors. Hernandez counts celebs like Billie Eilish, Lizzo, Kate Mara, and the HAIM sisters as fans, thanks to her rotating bakery case piled with oversized salted chocolate chip cookies, towering cinnamon rolls, seasonal fruit galettes, stuffed brioche rolls, and Instagram-ready pop-tarts adorned with social justice messages and cute cartoons. Our tip? Get there early to enjoy the breakfast sandwiches made with housemade bagels hot from the oven every morning.
2029 Blake Avenue, #104, Los Angeles, CA 90039

"Just What I Kneaded is my happy place. I've tried almost everything on the menu (and in the bakery case) and I can't get enough. Flaky pastries filled with seasonal fruits, savory potato and cashew cream quiches, and giant freshly frosted cinnamon rolls that rival my childhood memories of Cinnabon … it's definitely just what I need and more."
— Sarah McLaughlin, New Products Editor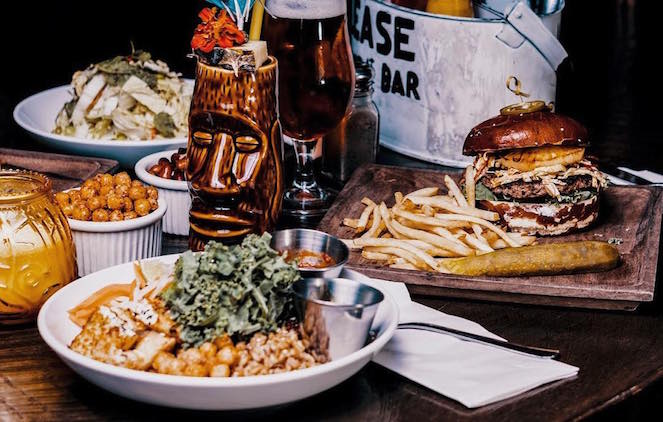 Beelman's
4 Best Bar: Beelman's

Downtown
Nestled in the middle of downtown's bustling Spring Street corridor is this vegan-friendly bar famous for its lively outdoor patio and old-school pub aesthetic. While its giant chalkboard menu boasting an impressive craft beer selection is a central focus, its menu of frozen cocktails (think piña coladas and strawberry frosé) and tropical drinks (Charlie's Peril with pineapple rum, lime, and vanilla, anyone?) also cement Beelman's as a must-stop on a bar tour of LA. The menu's tempting Asian-leaning vegan bites—courtesy of award-winning chef Caroline Concha—like cheese sticks wrapped in crispy wonton wrappers, tater tot-nacho "tachos" with soyrizo and gochujang crema, and citrus spare rib tacos are yet another reason why Beelman's nabs the top bar title.
600 S. Spring Street, Los Angeles, CA 90014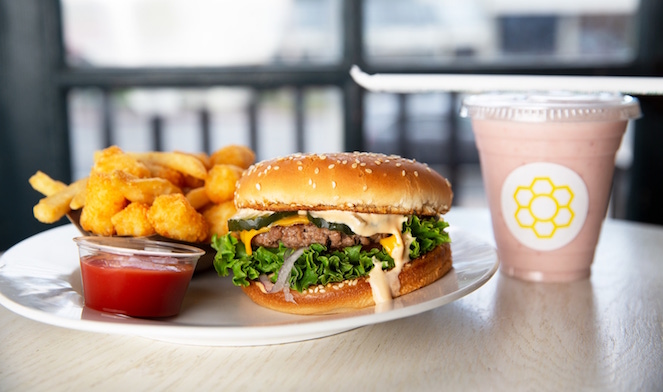 Honeybee Burger
5 Best Burger: Honeybee Burger
MidCity & West LA
With two totally buzzing locations, this burger chain offering both Beyond and Impossible burgers (along with four different fries and tots, five dreamy shakes, fried chicken sandwiches, mac and cheese, burritos, and a breakfast menu) claims our top burger joint in LA. The classic Honeybee Burger comes with your choice of patty topped with gooey melted cheese, a sweet-and-savory onion jam, fresh lettuce, tomato, onions, and pickles. Double up the patties to a Queen Bee and add drizzles of cool dill ranch and housemade hot sauce for added flare.
345 North La Brea Avenue, Los Angeles, CA 90036
326 Lincoln Boulevard, Los Angeles, CA 90291



Party Beer Co.
6 Best Brewery: Party Beer Co.

West Adams
Opening just last summer, Party Beer Co. has roared onto the Los Angeles food scene and continued to thrive despite its birth during the devastating year that was 2020. Not only has it become the official beer of the Los Angeles Football Club, it's continuously wowing beer lovers with its modern outdoor patio space, craft beers, hard seltzers and sparkling waters, and beer slushies. An Italian-inspired plant-based menu featuring wood-fired pizzas (don't sleep on the vodka meatball and cacio e pepe pies), and next-level meatball subs with cashew ricotta don't hurt, either.
4203 W. Jefferson Boulevard, Los Angeles, CA 90016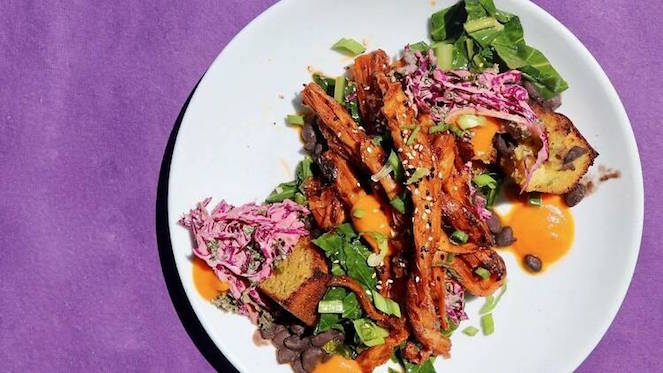 Jewel
7 & 8 Best Brunch: Jewel & Sage Plant-Based Bistro (tie!)

Silver Lake & Echo Park
Brunching is practically a sport in Los Angeles, and with such fierce competition, it's no wonder we couldn't choose between these two brunch bastions. Jewel, a bright, flower mural-adorned eatery in Silver Lake, is our go-to spot for innovative dishes such as kabocha ricotta hot cakes, carrot lox toast with cashew-dill cream cheese, and breakfast burritos with carrot habañero sauce.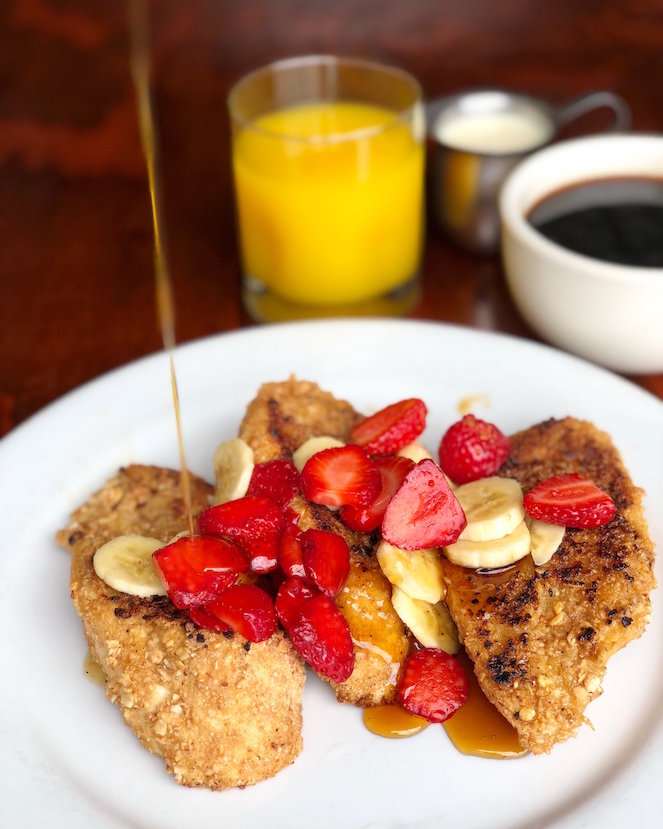 Sage Plant-Based Bistro
Sage, a mainstay with four locations throughout the larger Los Angeles area, offers up dependable vegan favorites like French toast encrusted in coconut-chia granola, tempeh sausage florentine with vegan hollandaise, and chilaquiles with tofu scramble and guacamole. Thank goodness there are two opportunities for brunch in a weekend.
Jewel: 654 N. Hoover Street, Los Angeles, CA 90004
Sage: 1700 W. Sunset Boulevard, Los Angeles, CA 90026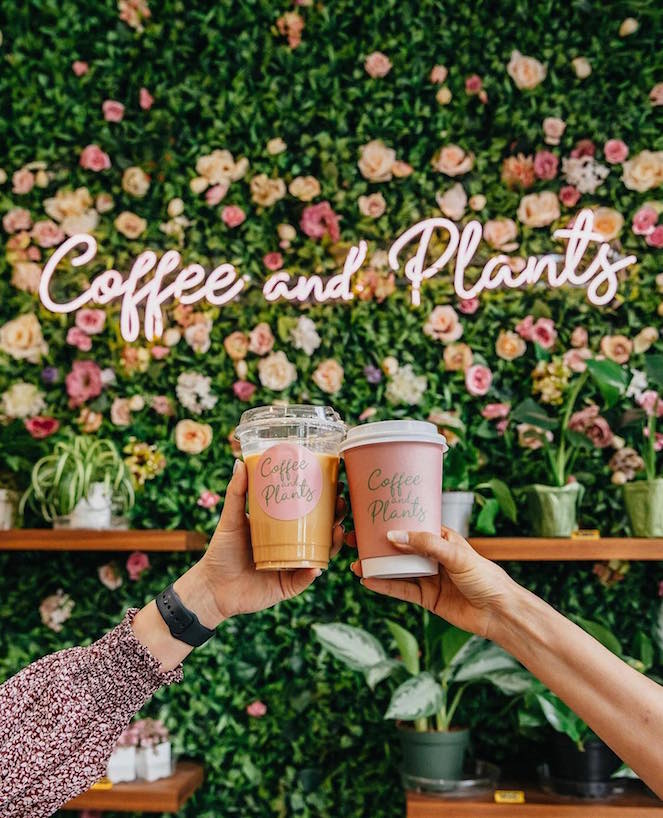 Coffee and Plants
9Best Café: Coffee and Plants


Pasadena
Created by co-owner and celebrity activist Leona Lewis, Coffee and Plants is a merging of two everyday basics that have become social media fixtures: caffeine and houseplants. So it's no wonder this Old Pasadena newcomer is one the most Instagrammable establishments across LA, boasting stunning floral backdrops for your selfies, all the croissants you could eat, and sippable creations such as Chagaccinos, Pink Matcha, and Blue Lavender Lattes. Walk past shelves of leafy house plants with your companion animal while awaiting your oat milk latte and warmed-up chocolate croissant. It's more than likely that you'll fall in love with a new plant friend, and luckily, you can take them home to add to your chlorophyll collection. And be sure to grab a special Puppuccino treat and rest easy knowing the coffee shop also donates proceeds of select items to rescue farm animals at Hopefield Animal Sanctuary.
62 W. Union Street, Unit 2, Pasadena, CA 91103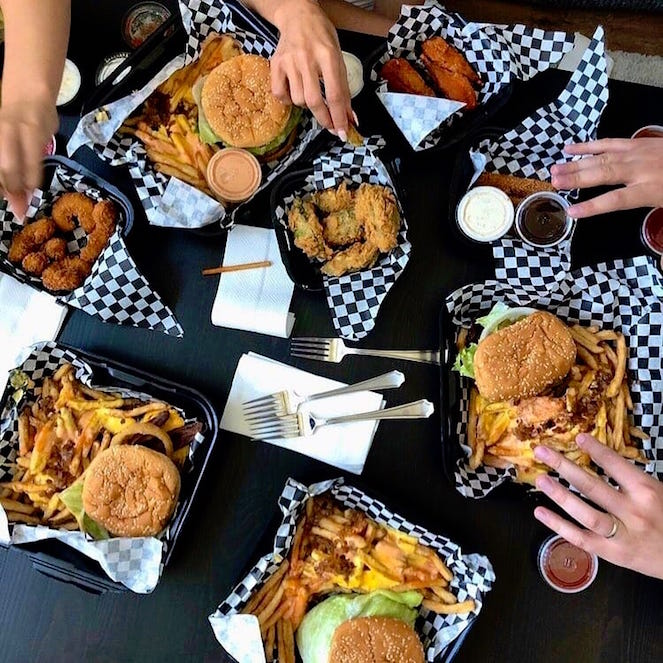 Doomie's Home Cookin'
10 & 11Best Casual Restaurant: Doomie's Home Cookin' & My Vegan Gold (tie!)
Both longtime LA mainstays in the city, Doomie's Home Cookin' and My Vegan Gold set the gold standard for casual vegan eats. Doomie's is famous for its dominance in comfort food, as its Philly cheesesteak sandwiches, peanut butter and bacon burgers, cheesy loaded fries, and fried Oreos will attest.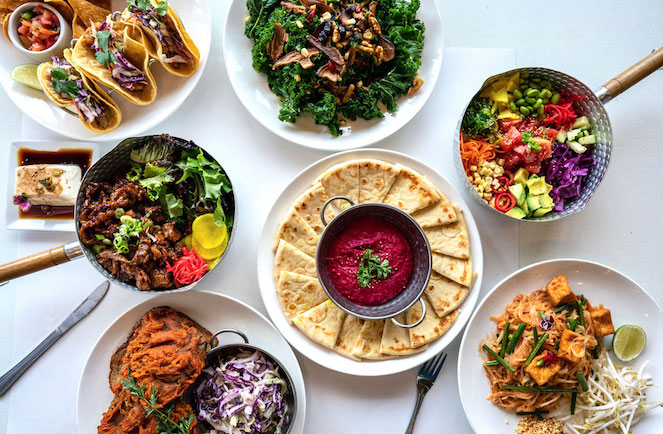 My Vegan Gold
While My Vegan Gold holds down the Asian-fusion side with an array of super-satisfying noodle dishes, stir-frys, curries, and fried rice dishes, the American-style brunch dishes (vegan benedict!) shouldn't be missed, either.
Doomie's: 1253 Vine Street, #9, Los Angeles, CA 90038
My Vegan Gold: 4319 Sunset Boulevard, Los Angeles, CA 90029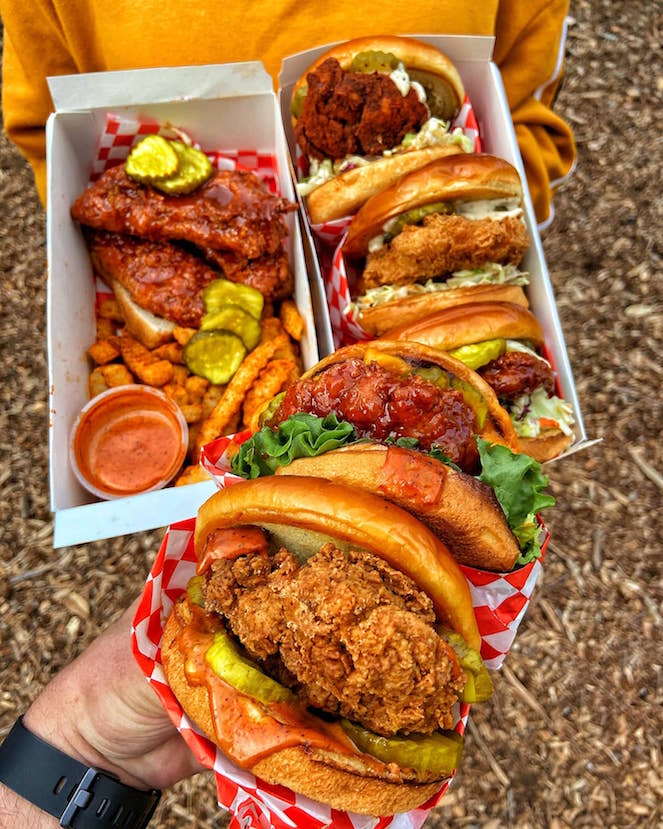 Lettuce Feast
12 Best Chicken Sandwich: Lettuce Feast
If there's ever any doubt as to if the food truck you just passed is Lettuce Feast's, just check to see if it has a line that snakes down the block. If the answer is yes, you've likely found it. And customers know the sandwiches—stacked with fat, golden-fried, supremely crispy vegan chicken—are well worth the wait. Whether you go for the original or hot spice-rubbed, one thing's for sure: each crispy tender and filet could fool even the most vegan skeptical eater. The Triple OG Sando, a customer favorite, features Southern-style chicken on a buttered bun with melted vegan cheese, pickle chips, and secret sauce.

Roaming locations, including Northridge, Culver City, Downtown, North Hollywood, and Manhattan Beach; check Instagram for their schedule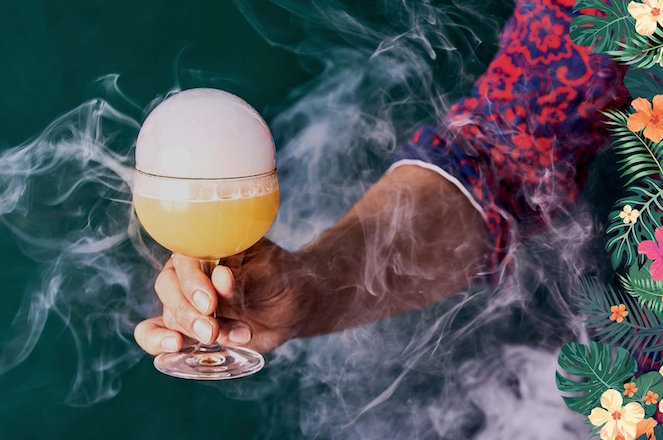 Nic's on Beverly
13 Best Cocktails: Nic's on Beverly


Beverly Grove
When it comes to bold, gotta-pull-out-my-phone drinks, Nic's on Beverly takes top marks for its palette-altering floral adornments, frothy aquafaba toppings, and mind-blowing image-printed topped beverages. From lime maple syrup-infused cosmos to gin and tonic with housemade hibiscus syrup and orange creamsicle-inspire cocktails, sipping on one of this swanky restaurant's unexpected concoctions from its gorgeous, tree-canopied back patio is a new quintessential LA experience.
8265 Beverly Boulevard, Los Angeles, CA 90048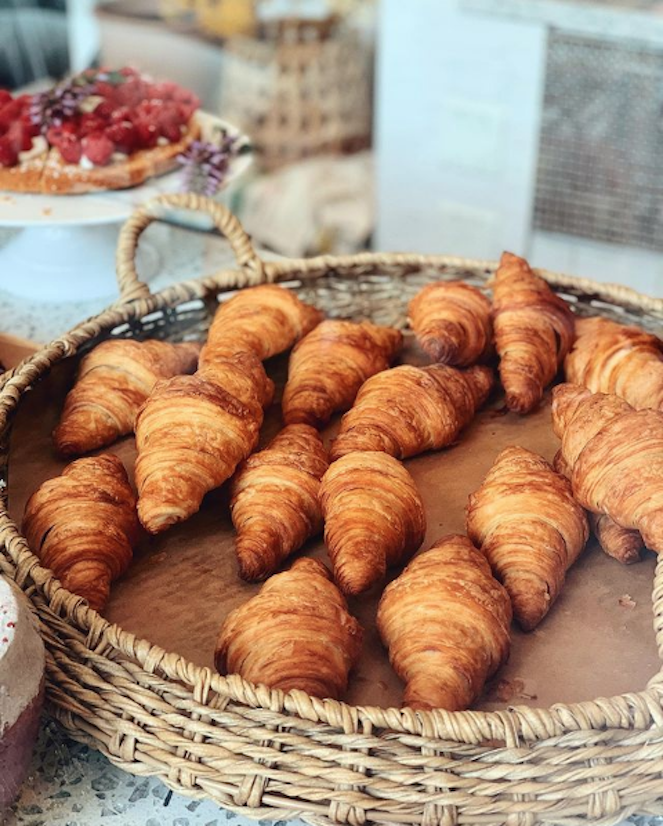 Sarah McLaughlin
14 Best Croissant: Chaumont Vegan
Beverly Hills

Opening an all-vegan location next to its long-standing acclaimed bakery on famed Beverly Drive, Chaumont Bakery & Cafe's plant-based outpost Chaumont Vegan only emerged on the food scene in April of 2021. But it has quickly made a standout name for itself, thanks to its flaky, superb vegan croissants that could legitimately stand up against any conventionally made croissant in the finest Parisian patisseries. With ever-rotating flavors like chocolate-orange with gold dust, rosewater cream, and savory za'atar, this new bakery on the block is one to watch in the City of Angels.
145 S. Beverly Drive, Beverly Hills, CA 90212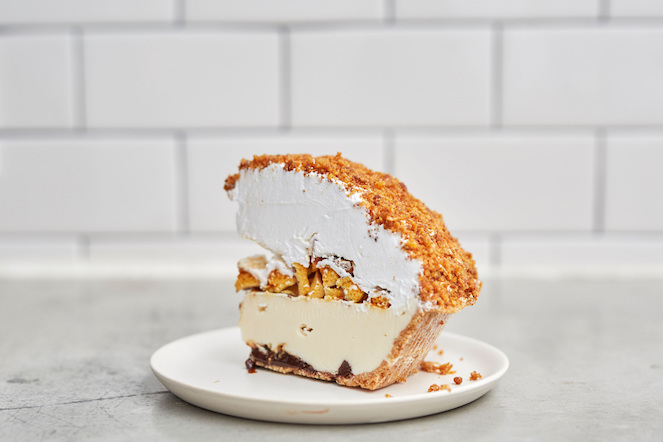 Magpies Softserve
15 Best Dessert: Magpie's Softserve
Silver Lake & Highland Park
It's no secret that Magpies' iconic Fried Softserve Pie is one of the most coveted desserts in Los Angeles. A towering slice of corn almond soft-serve in a graham cracker crust, layered with vegan fudge, honey-free honeycomb candy, non-dairy whipped cream, and topped with fried candied corn flakes is truly one of a kind. And even better, this mostly-vegan ice cream shop makes a myriad of rotating soft-serve pies, including brownie, banana cream pie, s'mores, and much more.
2660 Griffith Park Boulevard, Los Angeles, California 90039
5049 York Boulevard, Los Angeles, California 90042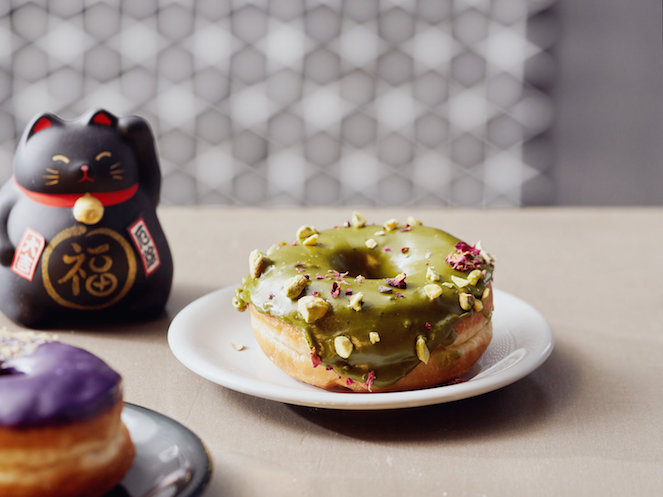 LA Downtowner
16 Best Doughnut: Dōnatsu

Little Tokyo
Tucked away among lively anime stores and always-packed boba shops is Dōnatsu, an unassuming doughnut spot that's cranking out some of the city's most pillowy soft vegan doughnuts you could imagine. Purists will love the Maple with cinnamon granola and the Crème Brûlée with Bavarian custard and a glassy, torched sugar topping. But don't miss the Asian-inspired offerings, including Pistachio Rose Matcha with organic Japanese matcha glaze, crushed pistachios, and dried rose petals; Ube with purple yam glaze and toasted coconut; and Royal Dragon with dragon fruit glaze, black sesame seeds, and an edible orchid.
330 E. 2nd Street, Suite C, Los Angeles, CA 90012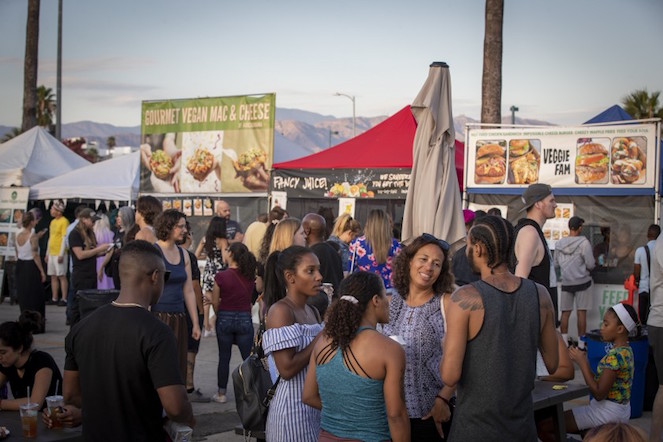 Los Angeles Times
17 Best Event: Vegan Exchange
An off-shoot of the massive, annual Vegan Street Fair, this weekly vegan market brings together more than 30 pop-ups and food trucks for a full city block of plant-based eats, apparel, home goods, and more. At this year's newly reopened night market, diners can chow down on loaded Philly cheesesteak egg rolls and banana pudding from Vegan AF food truck, sophisticated egg-free macarons from Verón, or Taki-encrusted sushi hand rolls from Oono Sushi. And the cherry on top? Founder Jessica Cruz erects signage at each event making it explicitly clear that Vegan Exchange is a safe space for all races, genders, ability levels, ages, religions, classes, sexual orientations, sizes and shapes, and everyone in between.
5300 Bakman Avenue, North Hollywood, CA 91601
"Any time I have friends visiting out of town and I want to show off LA's vegan scene, I take them to Vegan Exchange. I've had some of the best food of my life here over the years (Vegan Earth Cafe's Persian-Mexican fusion, come back!), and now that it's back after the hell of 2020, I'm not missing a chance to devour new favorites like oyster mushroom fried chicken from Centric Eats and loaded crispy plantain tostones from Lobo Cuban Food—all at one event."
—Richard Bowie, Senior Editor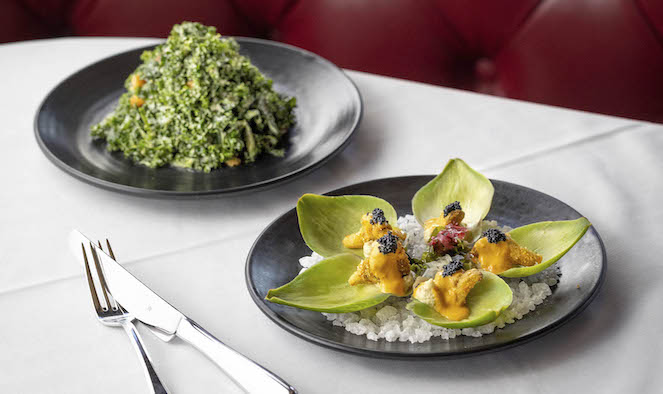 Crossroads Kitchen
18 Best Fine-Dining Restaurant: Crossroads Kitchen
Beverly Grove
When it comes to shifting the narrative about the heights that vegan dining can reach, there may be no stronger agent of change than Crossroads Kitchen. Attracting the Hollywood elite, stunning with elegant décor, and wowing with some of the best food in the country, this kitchen led by Kite Hill co-founder and chef Tal Ronnen is turning out some truly amazing dishes. Vegan oysters made with artichoke leaves, housemade pastas topped with vegan egg yolks, juicy eggplant filets over buttery mashed potatoes, and shatteringly crisp cannolis filled with sweet vegan ricotta—there's no wrong way to go at these crossroads.
8284 Melrose Avenue, Los Angeles, CA 90046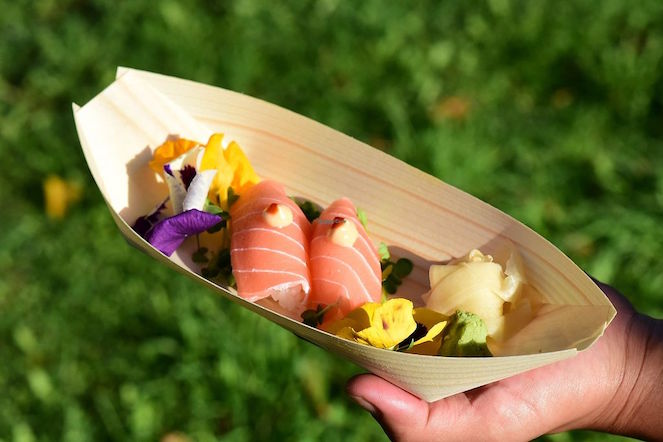 The Plant Lab Vegan
19 Best Food Truck: The Plant Lab Vegan
From vegan snow crab and shrimp tempura to vegan eel sauce and tuna sashimi, this completely plant-based Japanese food truck is pushing the boundaries of what vegan food can be. A masterful grip on the growing realm of plant-based seafood and a deft infusion of sweet, savory, tangy, and zesty flavors has made the brand-new Plant Lab Vegan an instant customer and social media favorite just weeks after its debut. Go for the yakisoba noodles, Japanese curry, red bean-stuffed sesame balls, and showstopping vegan salmon rolls for an enviable, Instagram-ready spread of eats.
Roaming locations, including Silver Lake, Highland Park, and North Hollywood; check Instagram for schedule



Dear Bella Creamery
20 Best Ice Cream: Dear Bella Creamery
Hollywood
In 2017, when best friends Alice Cherng and Belinda Wei first launched their craft vegan ice cream business Cocobella Creamery, the duo made a big splash in the LA vegan scene, transforming luscious coconut milk into craveable, scoopable ice cream in a shop that was an explosion of whimsical baby blues and cartoon unicorn and kittens. Fast-forward to today, and the shop has grown up into Dear Bella Creamery. Here, the cutesy animal wall art has been replaced with giant, minimal rainbow sprinkles against a gorgeous millennial pink. Milkshakes and soft-serve join the arsenal of scoops, pints, floats, and ice cream cakes. But the ice cream itself is what's really evolved from those early days. A new range of versatile bases—from oat milk to nut butter to fruit—means new flavors like White Chocolate Macadamia Nut, Sunflower Buttercup, and Mango Chamoy could shine. For something even more special, try a flavor inspired by Cherng and Wei's Taiwanese heritage (Taiwanese Pineapple Cake is our fave) in a housemade gluten-free waffle cone.
1253 Vine Street, #12, Los Angeles, CA 90038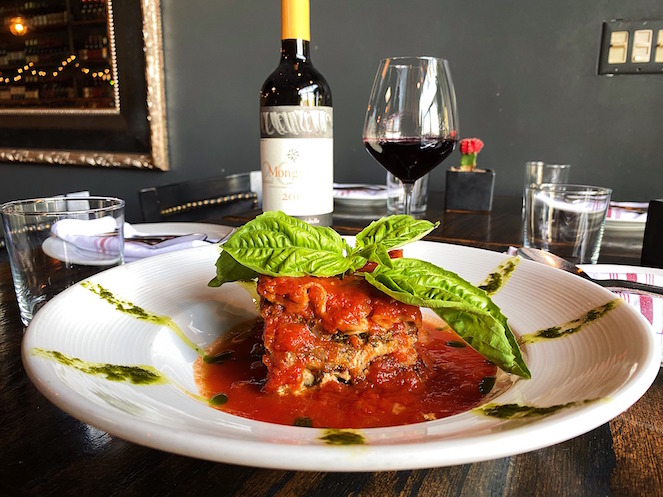 Pura Vita
21 Best Italian: Pura Vita
West Hollywood
Helmed by chef and owner Tara Punzone, this authentic date-night spot has mastered the art of vegan Italian. Start the night off at Pura Vita with anything from the antipasti section of the menu, including piping-hot baked ricotta with olive oil-brushed ciabatta, chickenless chicken parmigiana, or the polpettine (mushroom lentil meatballs with macadamia parmigiano). For mains, choose between Punzone's perfected pastas, like the Cacio e Pepe with cashew cream and bucatini, the Linguine di Mare with mushroom scallops swimming in garlic white wine sauce, or the Carbonara made with an ingenious, buttery avocado "egg" sauce, macadamia romano cream, and shiitake bacon. Can't decide among all the mouthwatering options? We'll make it easy: Black Magic Lasagna (layered with cashew ricotta, bechamel, black truffle cream, and pesto), a glass of imported wine, and tiramisu for dessert. Done.
8274 Santa Monica Boulevard, West Hollywood, CA 90046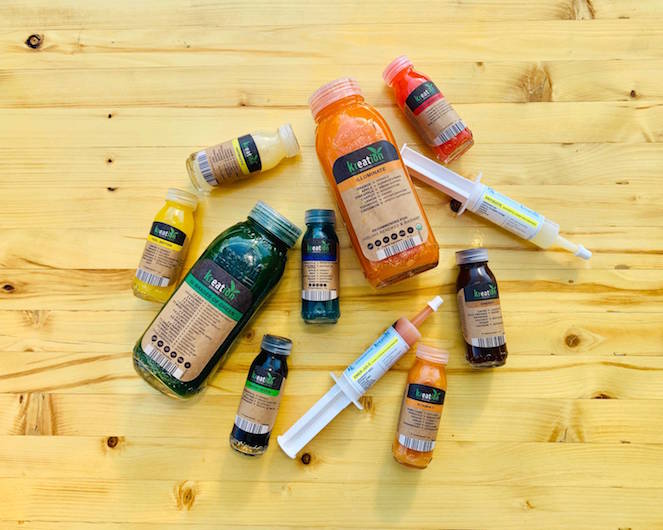 Kreation Organic
22 Best Juice Bar: Kreation Organic
Multiple Locations
Juice bars are ubiquitous in Los Angeles, but this vegan-friendly, family-run chain's fleet of nearly 20 locations takes it to another level. Whether you're chilling by the Pacific Ocean in Santa Monica or gallery hopping near the LA River in the Arts District, you're never far from Kreation's enormous menu of tonic shots, cold-pressed juices, organic smoothies and smoothie bowls, syringe wellness shots, superfood lattes, and more. The vegan grab-and-go options are plentiful—from the mushroom poke bowls to the chicken caesar wraps to the jars of Persian pickles—and never fail to leave us feeling recharged, refreshed, and fueled up.
Find locations here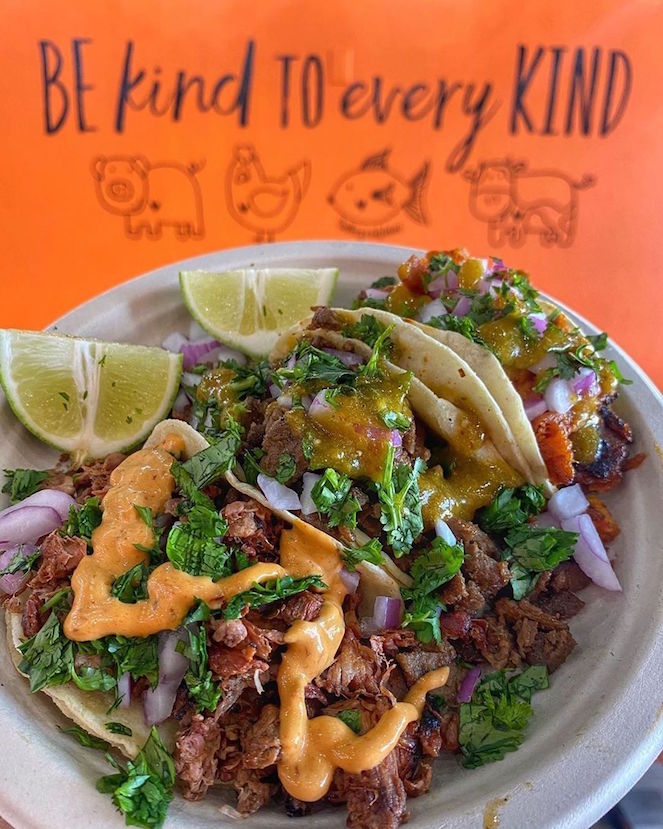 @aveganandher / Instagram
23 Best Mexican: El Cocinero Restaurant

Van Nuys
Starting as the fan-favorite pop-up Vegatinos before opening its first storefront in 2020, this authentic vegan taqueria draws a crowd every single night. From their housemade vegan meats (al pastor, carne asada, carnitas, chicken, birria, and chicharron) and sauces (that cashew crema!) to hard-to-find vegan traditional treats like flan, El Cocinero—helmed by community activist Alex Vargas—has earned its place as our pick for the best Mexican food in Los Angeles.
6265 Sepulveda Boulevard, #12, Van Nuys, CA 91411
"When I moved to the Valley during the pandemic, I had to find some vegan essentials near me—and stat. Luckily, El Cocinero opened right around that same time, less than 10 minutes away from me. Whether it be Taco Tuesday or, really, any day of the week, I'm always happy to stand in line (and there's always a line) to grab a full taco platter with plenty of lime and salsa, and some incredible horchata."
—Aruka Sanchir, Beauty & Style Editor

Vegan Hooligans
24 & 25 Best Milkshake: Vegan Hooligans & Monty's Good Burger (tie!)
Multiple Locations
For a sweet summertime sip, LA vegans are spoiled for choice. But catch the Vegan Hooligans food truck or stop by its new downtown location for a frosty milkshake, and you'll have yet more options to deal with (but we're not complaining!). Take your pick of six bases (vanilla, chocolate, Oreo, strawberry, peanut butter, or vanilla), "Hooliganize" your shake with 11 toppings (from bananas and cherries to almonds and nut butter to vegan M&M's and Reese's Cups), and sip away.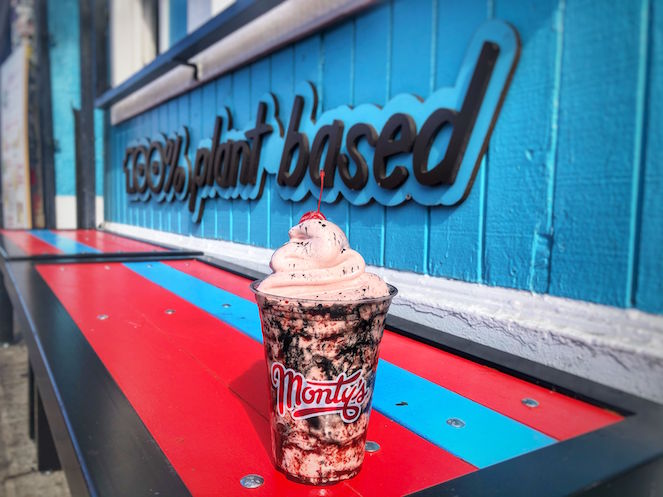 Monty's Good Burger
Or find your way to one of Monty's Good Burger's four LA locations for slurpable desserts that are just as noteworthy as the celebs who order (and create) them. Any of the burger joint's classic shakes can be customized by blending in their own chewy vegan cookies, but keep an eye out for the celebrity collaboration creations, like Brockhampton's citrusy, glitter infused shakes and Vince Staple's charcoal-and-cherry "Meat is Murder" shake.
Vegan Hooligans: 718 S. Los Angeles Street, Suite B, Los Angeles, CA 90014
Monty's: 516 S. Western Avenue, Los Angeles, CA 90020, 1533 Sunset Boulevard, Los Angeles, CA 90026, 8432 W. 3rd Street, Los Angeles, CA 90048; 3849 Main Street, Culver City, CA 90232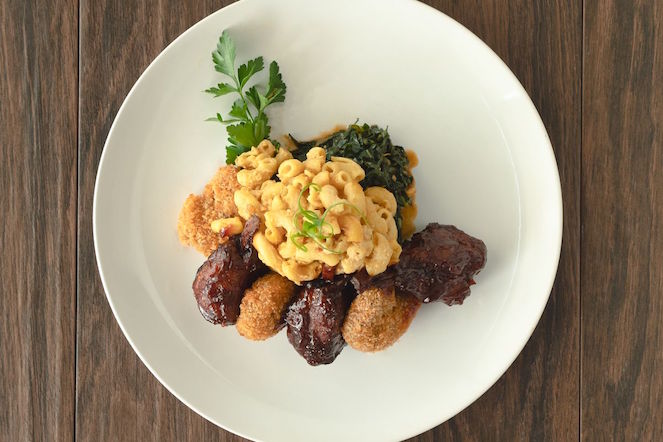 The Vtree
26 Best New Restaurant: The Vtree
Silver Lake
Owned and operated by sought-after celebrity chef Velvet Jacobs, this offshoot of Charlotte, NC's popular VelTree restaurant first landed in LA as a pop-up in Hollywood, before nabbing its own brick and mortar on Sunset Boulevard in the middle of Silver Lake. And though The Vtree's only been operating for six months, its sophisticated-yet-soulful menu is already drawing hungry eaters from across the city, including celebs like vegan influencer Tabitha Brown and Prince Jackson. Don't miss their Southern-inspired entrées (such as seitan-based Bourbon Baked Ribz, Cajun Shrimp, Jambalaya, Krab Cakes, and Chic'N & Red Velvet Waffles), mouthwatering sides (including mac and cheese, yams, and perfectly seasoned greens), and devilishly good desserts (like lemon pound cake, cinnamon buns, and red velvet cupcakes)—each will make you an instant addition to the restaurant's new West Coast customer base.
3515 Sunset Boulevard, Los Angeles, CA 90026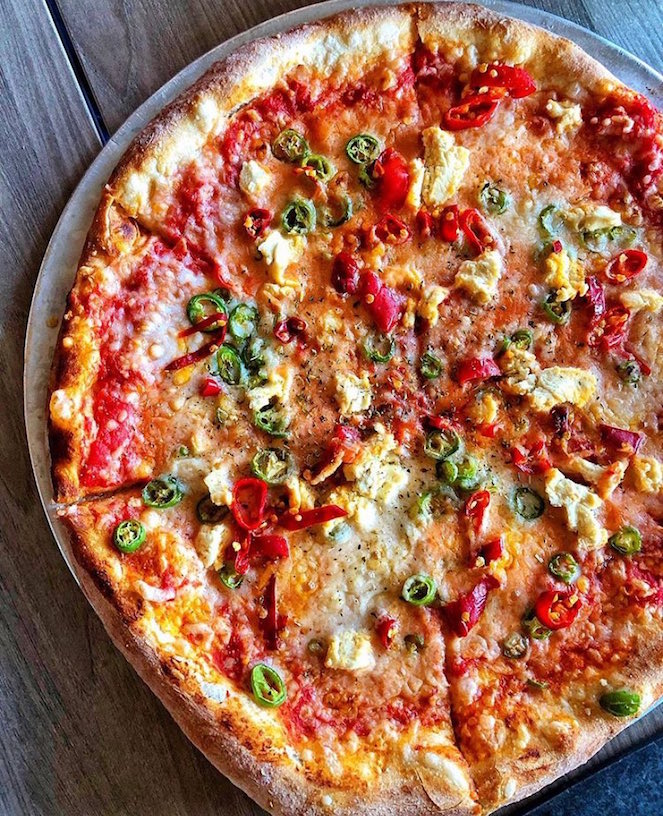 @plantbasedcompany / Instagram
27 Best Pizza: Mohawk Bend

Echo Park
Everything on the menu at this Echo Park mainstay is vegan or can be made vegan, and its giant, thin-crust pizzas have kept us coming back for years. Mohawk's Angry Vegan (a VN editor favorite) features three different kinds of vegan cheese plus serrano chiles, Calabrian chiles, and chili oil, while the mellow white mushroom features a rich cream sauce, oven-roasted crimini and oyster mushrooms, and fried garlic chips. But don't stop there, the barbecue chicken pizza, Veggie Supreme, and classi cheese pizzas will all satisfy; the Italian sausage pizza with housemade sausage and vegan pepperoni pizza is a classic; and the baked potato and PB&J-inspired pizzas are totally unique gotta-haves you can only find in LA.
2141 Sunset Boulevard, Los Angeles, CA 90026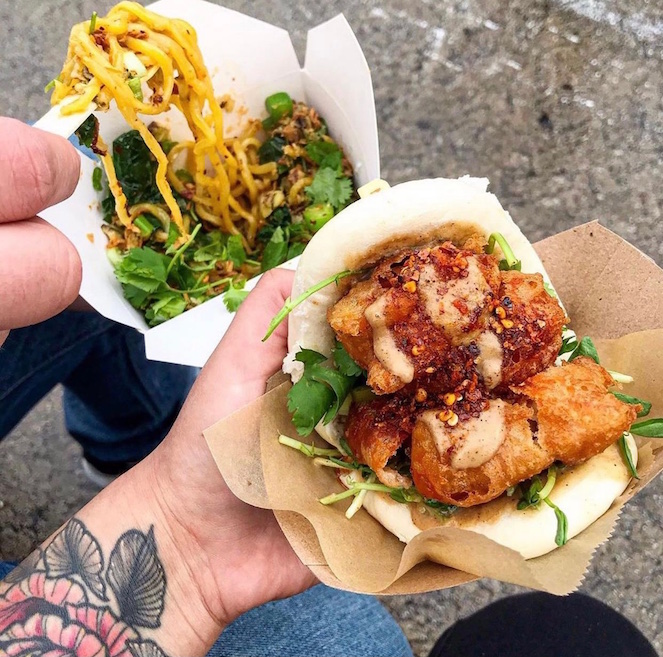 MANEATINGPLANT
28 Best Pop-Up: MANEATINGPLANT
One bite of this popular Smorgasburg staple's Chili Garlic Noods, and you'll know why we're naming MANEATINGPLANT our favorite pop-up in Los Angeles. From OmniPork bao buns to Sichuan wontons and Singaporean chili crab cakes to vegan spam musubi, everything at this pop-up is bursting with flavor. And with a brand-new retro-school-bus-turned-food-truck (nicknamed Olive the #MagicFoodBus), chefs Candice Tzeng and Phil Kwan are taking their saucy, spicy eats to new heights (and locations).

Roaming locations, including Smorgasburg in the Arts District, Santa Ana, Long Beach, Torrance and Corona; check Instagram for schedule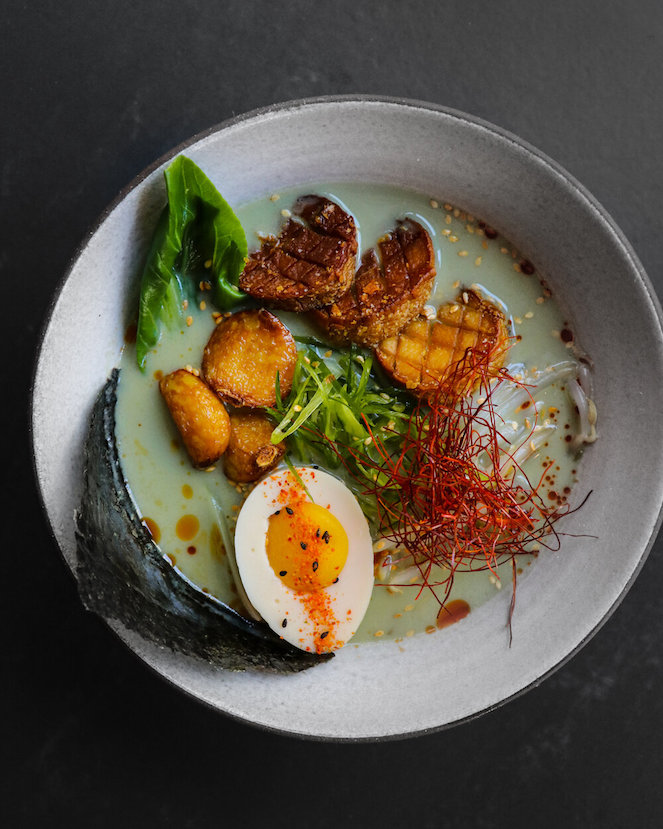 Ramen Hood
29 Best Ramen: Ramen Hood
Downtown
Long revered for its rich-and-creamy sunflower seed-based broth and look-alike vegan egg, the Ramen Hood stand located in the bustling Grand Central Market (and co-founded by Top Chef winner Ilan Hall) has lured visitors from all around the world since its opening in 2015. Choose between the OG, Spicy, Garlic, Cold Smokey, and Spicy Garlic "Katsu" Ramen with thick, springy noodles, chewy king oyster mushroom medallions, bok choy, and chili threads for a comforting bowl of flavor.
317 S. Broadway, Los Angeles, CA 90013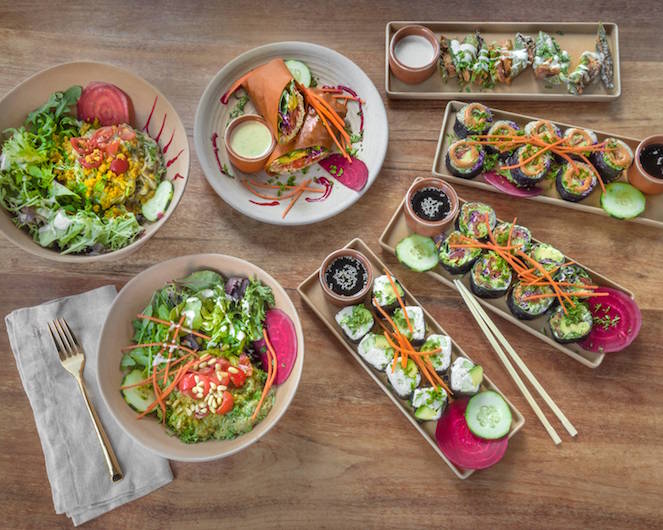 Postmates
30 Best Raw Food: Wild Living Foods
Downtown
When it comes to healthful, nutrient-rich, raw eats, no one does it quite like Wild Living Foods. From its build-your-own salad bar with marinated kale, pumpkin seed chorizo, brazil nut cheese, and a rainbow array of vegetables to its raw sun-dried tomato coconut wraps with seasoned almond paté and housemade dressings, this Fashion District eatery is a go-to for a flavor-packed, satiating lunch. And pro tip: don't skip on the activated smoothies! The Grasshopper tastes like a mint chip shake, but is made from a blend of nut butter, vanilla bean, cacao nibs, chlorophyll, and fresh mint.
760 S. Main Street, Los Angeles, CA 90014
"Hands down, Wild Living Foods is one of my all-time favorite dining spots—in the world. This mostly raw, DTLA eatery has perfected healthy food with everything from breakfast burritos and loaded burgers to customized salad bowls and an all-raw ice cream sundae bar. If I had to choose one restaurant where I could eat every single day for the rest of my life, Wild Living Foods would be it."
—Colleen Holland, Publisher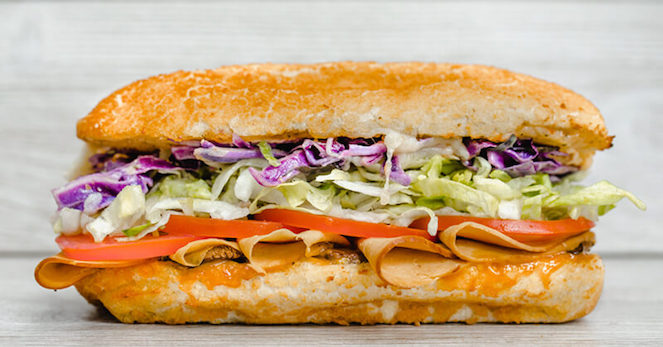 Ike's Love & Sandwiches
31 Best Sandwiches: Ike's Love & Sandwiches
Multiple Locations
What began as a single location in San Francisco has exploded into a next-level sandwich chain across six states from coast to coast. But the Ike's success story isn't the most impressive thing about it—it's the incredible vegan menu. Its top-billing Meatless Mike sub sees vegan meatballs (voted best in the country by PETA) smothered in marinara, melted cheese, and vegan Dirty Sauce, while the Pilgrim features vegan turkey, cranberry sauce, sriracha, and vegan cheddar. Other mouthwatering ingredients include vegan fried chicken, vegan steak, grilled mushrooms, breaded eggplant, teriyaki sauce, and orange glaze, among others. Your move, Subway.
Find locations here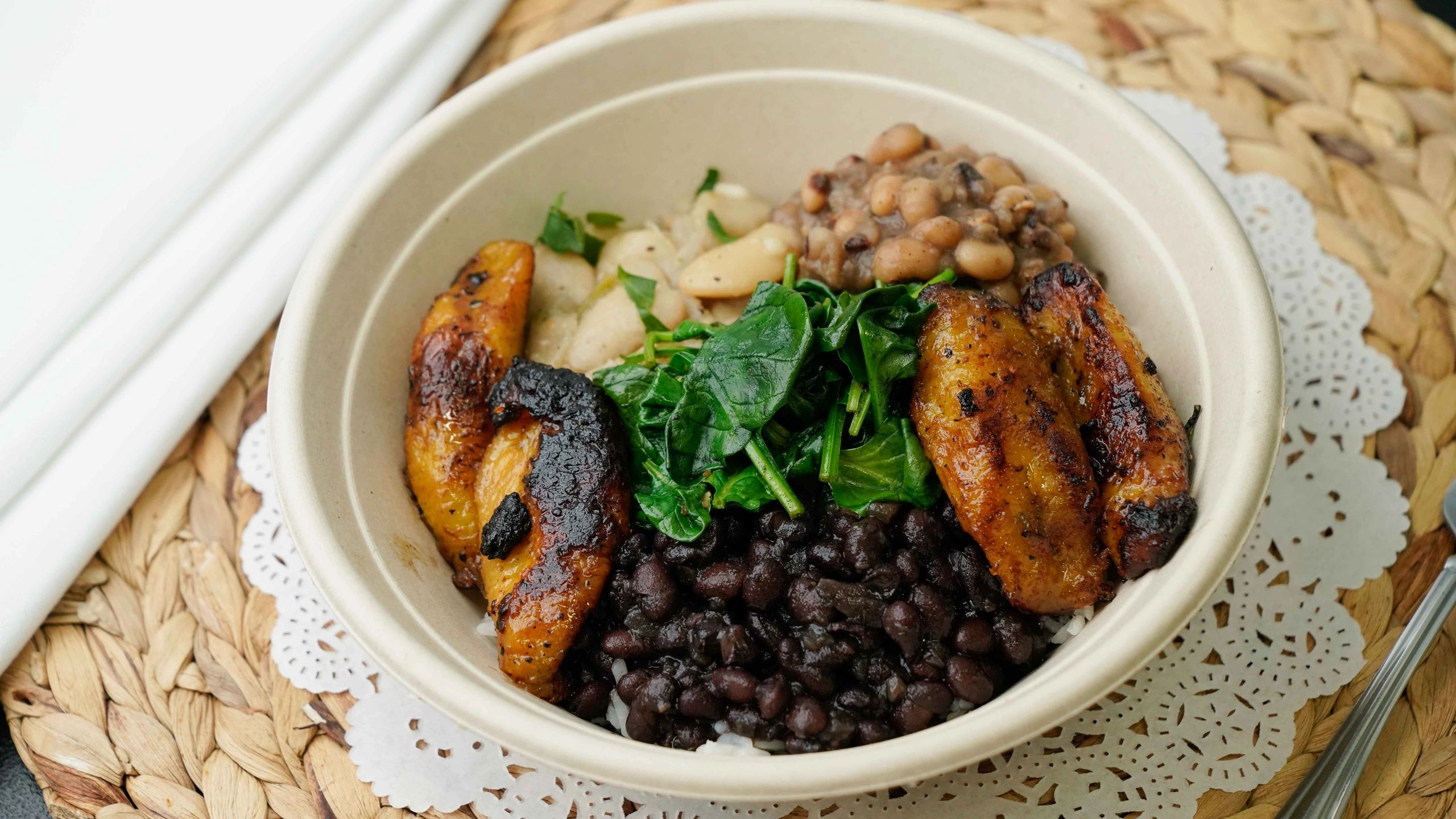 Jackfruit Cafe
32 Best Soul Food: Jackfruit Cafe
West LA & South LA
Remember when absolutely everyone was saying "Bye, Felisha!" in the early 2010s? Now Felisha herself is saying "Bye, flesh!" with her own vegan ghost kitchen, Jackfruit Cafe. Serving up comforting, soulful favorites, Friday star and chef Angela Means is expressing her deep reverence for animal life through her menu revolving around the restaurant's eponymous meaty fruit. Her best-selling Soul Bowl combines her expertly seasoned and marinated jackfruit with mac and cheese, black eyed peas, jasmine rice, collard greens, plantains, and cornbread. But don't sleep on her burritos, burgers, and battered cauliflower wings tossed in your choice of 11 different sauces (ranging from Mango Habanero to Orange Sauce to Korean BBQ).
358 W. 38th Street, Los Angeles, CA, 90037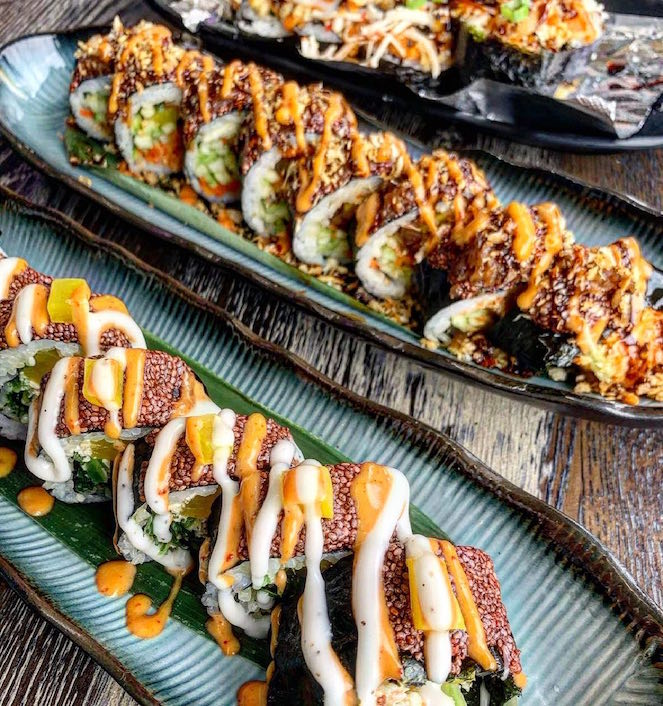 @hungryvero / Instagram
33 Best Sushi: Gokoku
Studio City
With over 20 different speciality rolls ranging from standard avocado to over-the-top tempura filled with vegan ham, shrimp, crab, tuna, and Beyond Meat; Gokoku is winning the sushi game. The Caterpillar Roll features asparagus, marinated eggplant, vegan crab, avocado, and housemade vegan fish eggs, while the Crunchy Vegan Shrimp roll comes drizzled in a plant-based eel sauce. Order some of the inari sushi stuffed with deep-fried tofu, grab chopsticks, soy sauce, and ginger, and dig in.
4147 Lankershim Boulevard, Studio City, CA 91602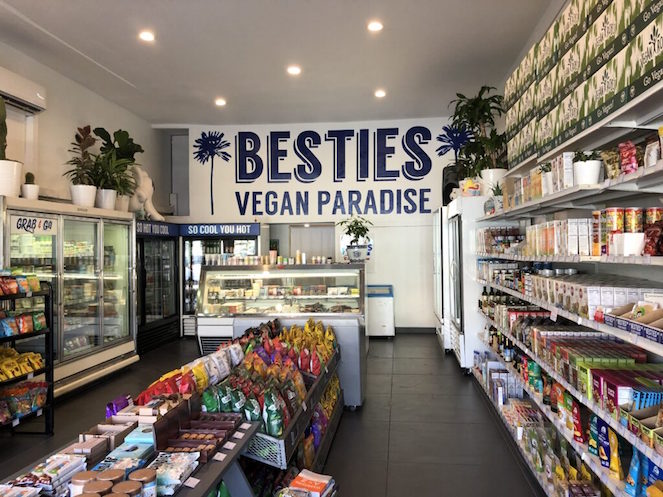 Besties Vegan Paradise
34 Best Vegan Grocery Store: Besties Vegan Paradise
East Hollywood & Venice
There's a reason this place is called Vegan Paradise. With a dairy-free soft-serve machine, hard-to-find vegan products, and an attached zero-waste home goods and beauty store, this one-stop shop has become a complete staple of LA vegan living. Plus, Besties is the only vegan store that only sells products by all-vegan companies and accepts EBT. Want chicken nuggets? Choose from a dozen different kinds. Vegan seafood? They've got shrimp and scallops on lock. You can even find selections from The Herbivorous Butcher all the way in Minneapolis. Add imported and local artisanal cheeses, ice creams you've never heard of, and a slew of next-level vegan candies and you (and your shopping cart) will be living your best plant-based life after just one quick trip.
4882 Fountain Avenue, Los Angeles, CA 90029

For more about vegan dining in Los Angeles, read:
21 Things to Eat & Drink At LA's Vegan Street Food Fair
Why Hollywood's Hottest Celebrity Restaurant Is Vegan
New Vegan French Bakery Opens in Beverly Hills