If you have a worldly palate and know where to look, New York City is full of vegan cuisine that'll hit the spot, from metal plates of Nepali thali to Ethiopian spiced vegetables and legumes served over injera. That being said, sampling the cuisines throughout the city usually means that you'll spend a lot of time in the subway or on a bus. If you'd rather try a wide range of food in one place, then swing by Smorgasburg to try all of the vegan options. Here, we've gathered all of our favorite vendors to stop by. But first, what actually is Smorgasburg? And where can you find it? (It's not just in NYC!)
What is Smorgasburg?
Smorgasburg, a play on the Swedish word "smörgåsbord," meaning a buffet of bites to eat, is the self-proclaimed "largest open-air food market in America." And, that claim tracks. The New York Metropolitan-area event brings together just about 70 vendors and attracts thousands of diners. It's also where a lot of foods, like the raindrop cake (which was popular in Japan first), ramen burgers, and spaghetti donuts went "viral."
When and where does Smorgasburg take place?
Smorgasburg starts around late March/early April and usually runs until late October in a few locations in NYC, including Brooklyn and Manhattan. Not every vendor attends every market day, so take note if you're seeking one particular option.
But the event isn't exclusive to New York City at all. Special shoutouts to Smorgasburg Los Angeles, which has its own plant-based gems such as dairy-free mac and cheese from Avocadamama; VegNews Veggie Award-winning tacos from Cena Vegan; and rainbow-colored, Philadelphia-style water ice from Happy Ice.
Miami also has its own Smorgasburg where you can find vegan vendors like Lucky You! Burger and Isabel's plant-based comfort food. Plus, there are also Smorgasburg events in Jersey City, New Jersey, and Toronto, Canada.
Vegan food near me at Smorgasburg
With so many vendors, there are plenty of plant-based bites at Smorgasburg to tempt your taste buds. Here's what you should check out.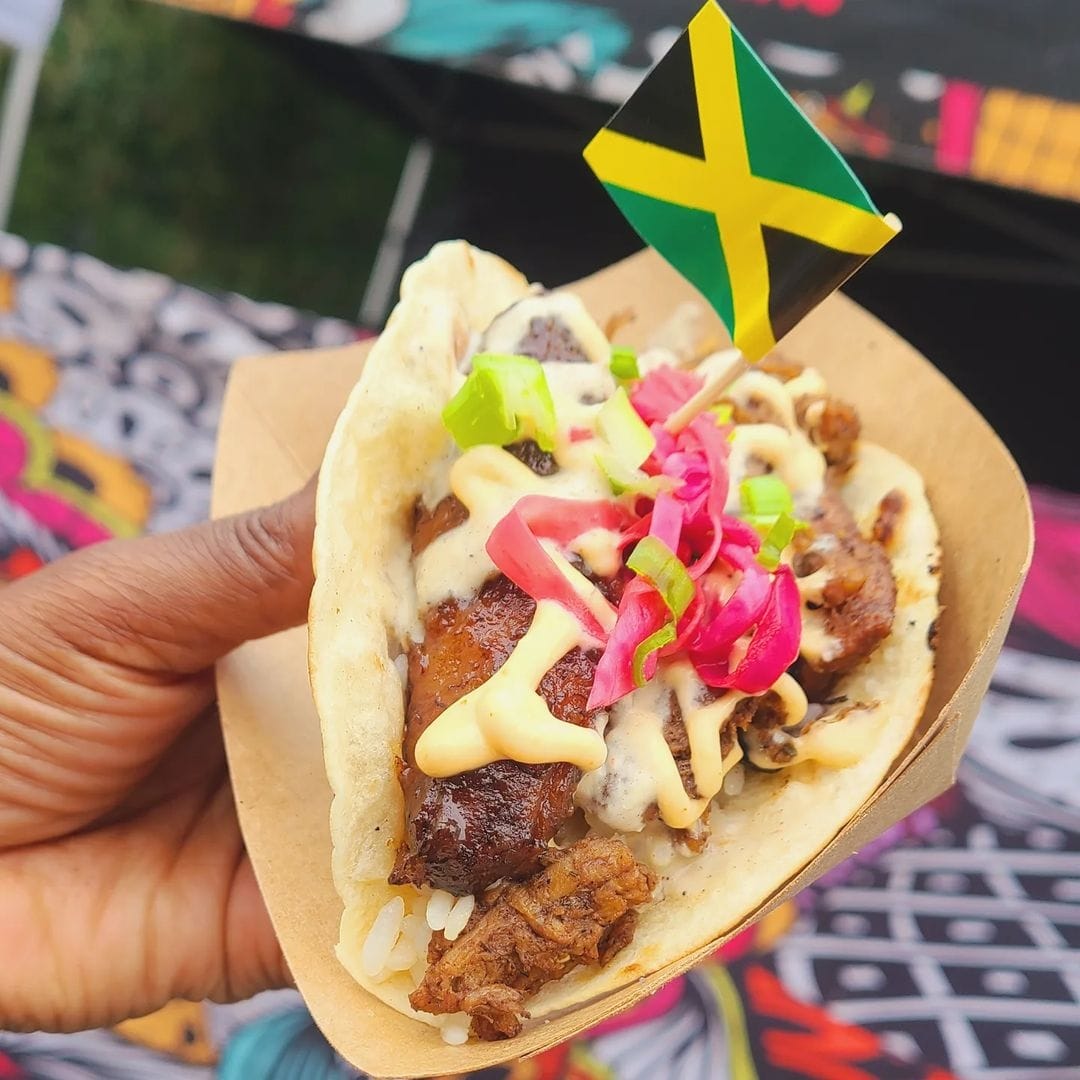 2 Girls & a Cookshop
1 2 Girls & a Cookshop
Here, you'll find Jamaican-inspired tacos and more, made by the mother-daughter team, Jataun and Shelly Flash. Just a few of their plant-based options include vegan jerk chicken tacos, vegan jerk chicken quesadillas, and jerk cheese nachos. Don't skip the "Hold the Rum" punch, a refreshing blend of pineapple juice, orange juice, maraschino cherries, and lime. It's going to be a hot spring.
Find them at: Smorgasburg Prospect Park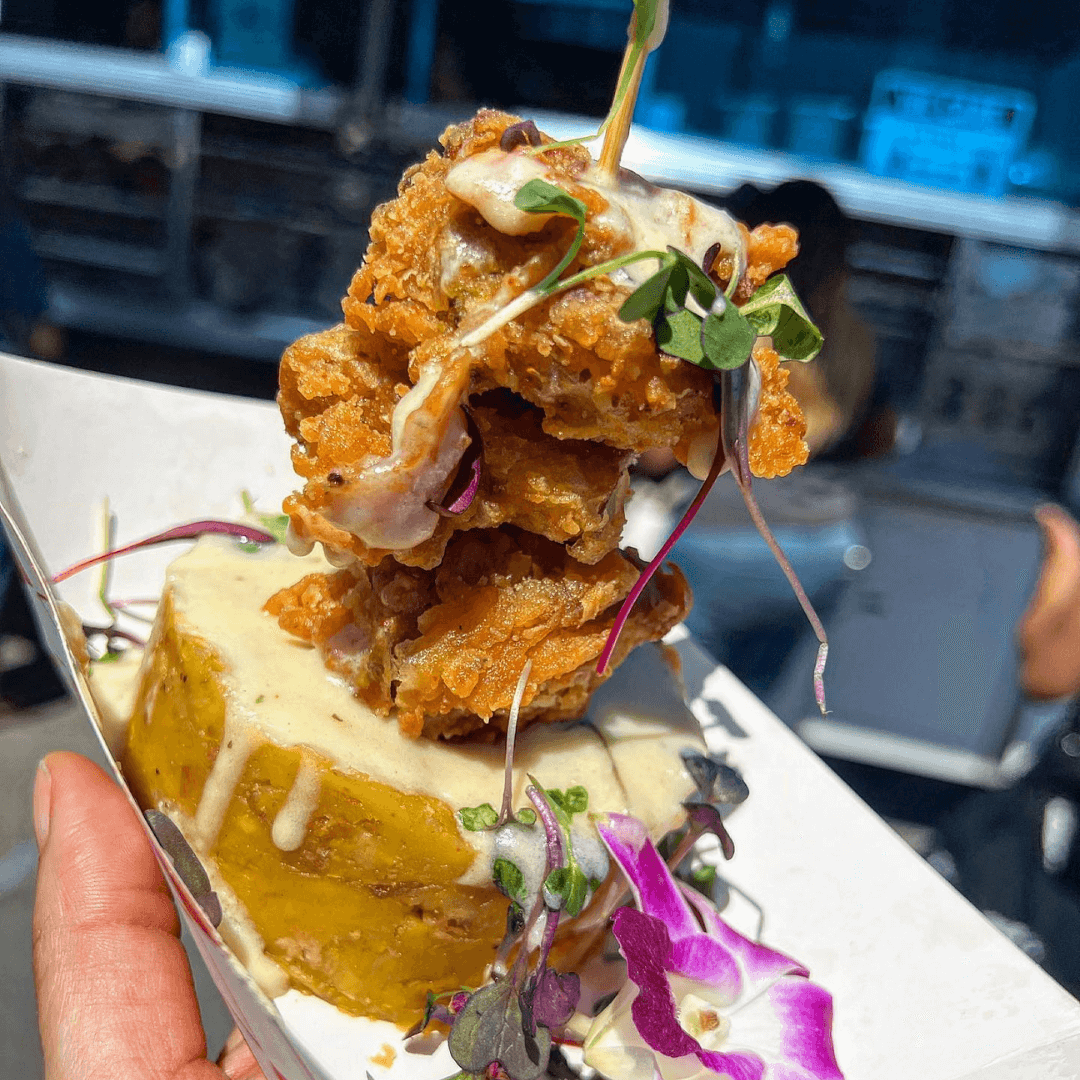 Black Rican Vegan
2 Black Rican Vegan
Chef and founder Lyana Blount started her business of making vegan Puerto Rican comfort food in the middle of the pandemic. Swing by the stand for mofongo, empanadas, or a crispy oyster mushroom burger.
Find them at: Smorgasburg Prospect Park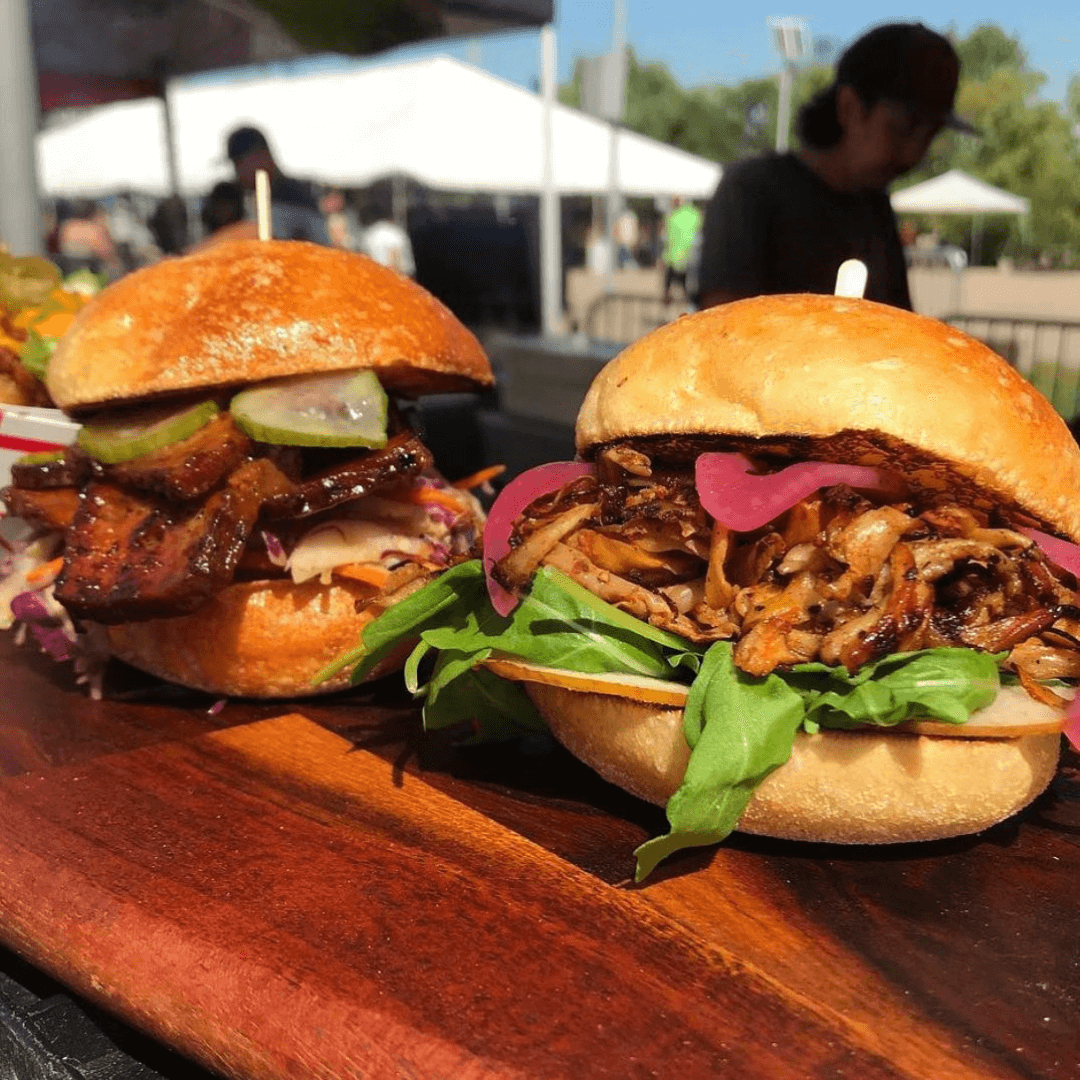 Monk's Meats
3 Monk's Meats
We love a vegan barbecue spot, and at Monk's Meats, you'll find seitan that's cooked using traditional barbecue techniques. The housemade vegan ribs, made with sugarcane to simulate bones, are smoked low and slow and then slathered in tangy, sticky sauce. Or, you can get crispy seitan chicken wings served with creamy vegan potato salad and sliced pickles.
Find them at: Smorgasburg Williamsburg and Smorgasburg Prospect Park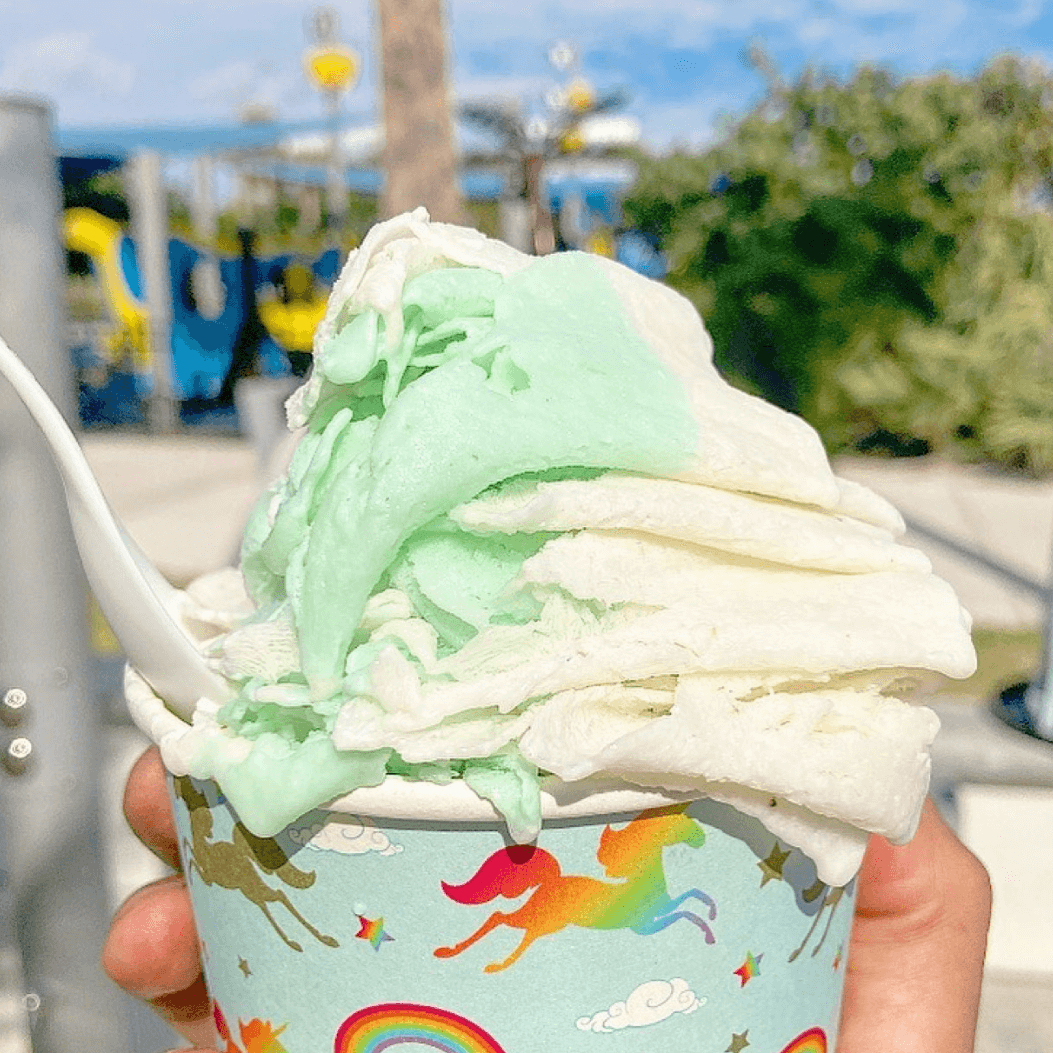 Frubae
4Frubae
Inspired by Hawaiian shaved ice and Taiwanese baobing, Frubae makes its frozen dessert by shaving hunks of frozen fruit blocks with a hand-cranked machine.
Find them at: Smorgasburg Williamsburg and Smorgasburg Prospect Park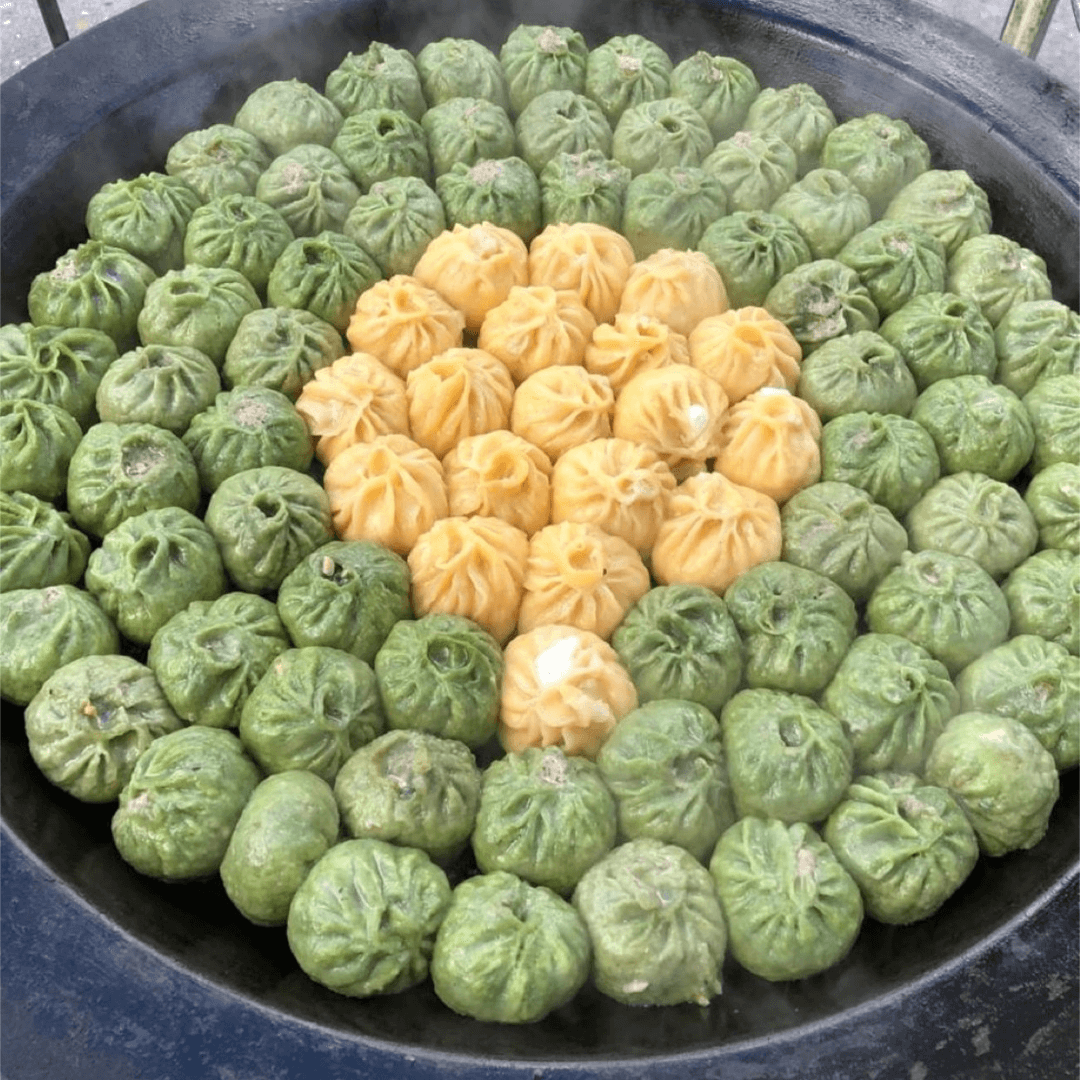 Mao's Bao
5 Mao's Bao
There's one vegan option at Mao's Bao, a stand that specializes in shengjian bao, a type of pan-fried dumpling from Shanghai. They're crispy on the bottom and chewy on top and made with doughs that are color-coordinated to the filling. The green one is filled with ground Impossible Foods meat.
Find them at: Smorgasburg World Trade Center, Smorgasburg Jersey City, and Smorgasburg Prospect Park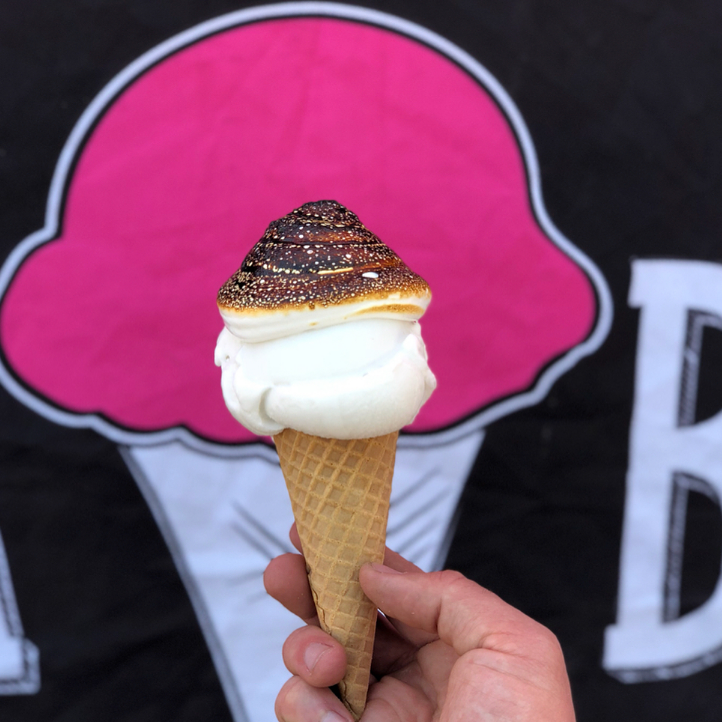 Bona Bona Ice Cream
6 Bona Bona Ice Cream
Chef Nick Di Bona's small-batch ice cream company, Bona Bona, stands out because of its crown of brûléed meringue. Thankfully, there are two vegan flavors: banana peanut butter and coconut sorbet. The vegan meringue topping is made from aquafaba instead of eggs.
Find them at: Smorgasburg World Trade Center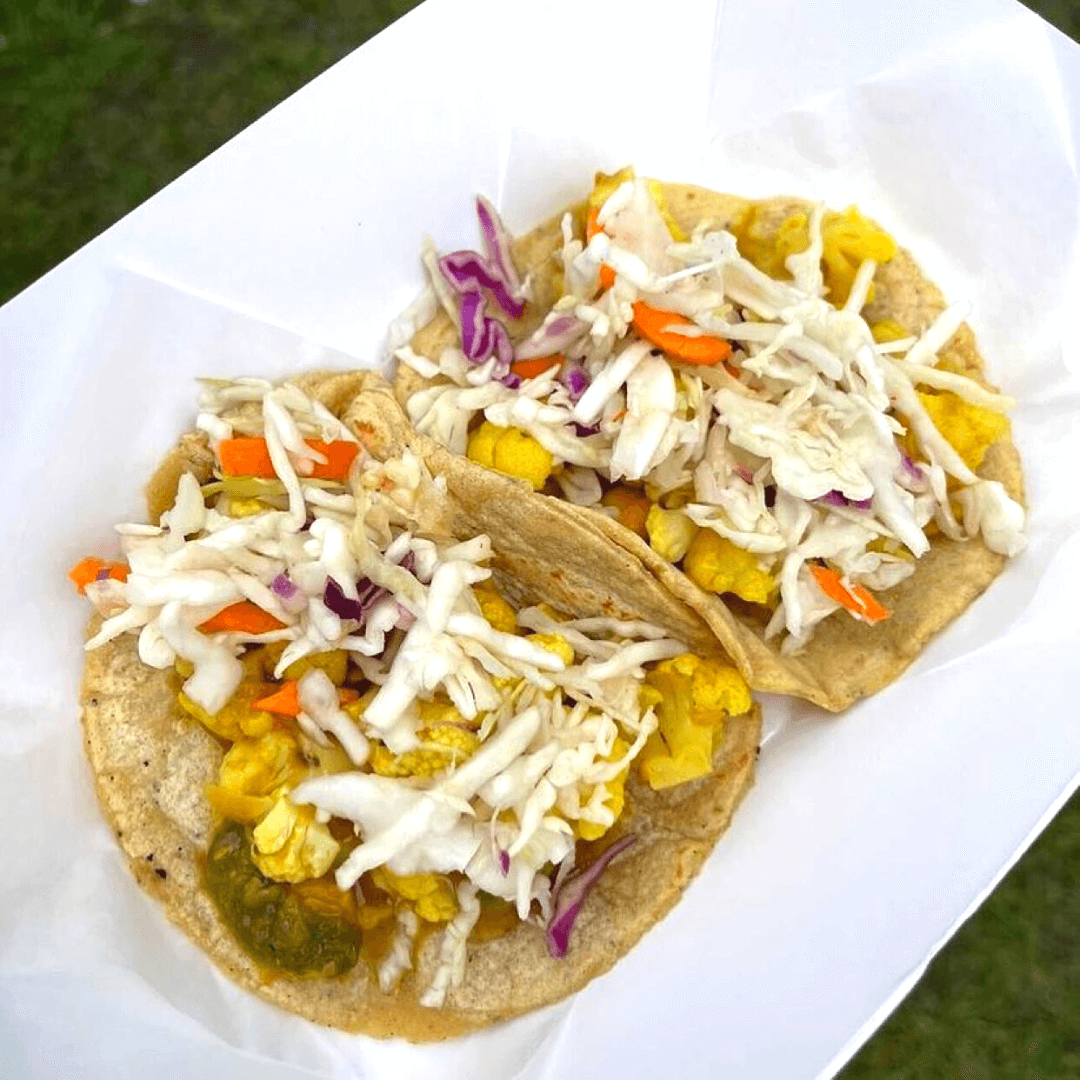 Wah Gwann
7 Wah Gwaan
Wah Gwaan is known for its Jamaican-Mexican tacos with a flavorful plant-based option. The vegan tacos are made with curry cauliflower and chickpeas, pickled coleslaw, and mango chutney. There's also homemade mint lemonade—perfect for beating the NYC heat this spring and summer.
Find them at: Smorgasburg Prospect Park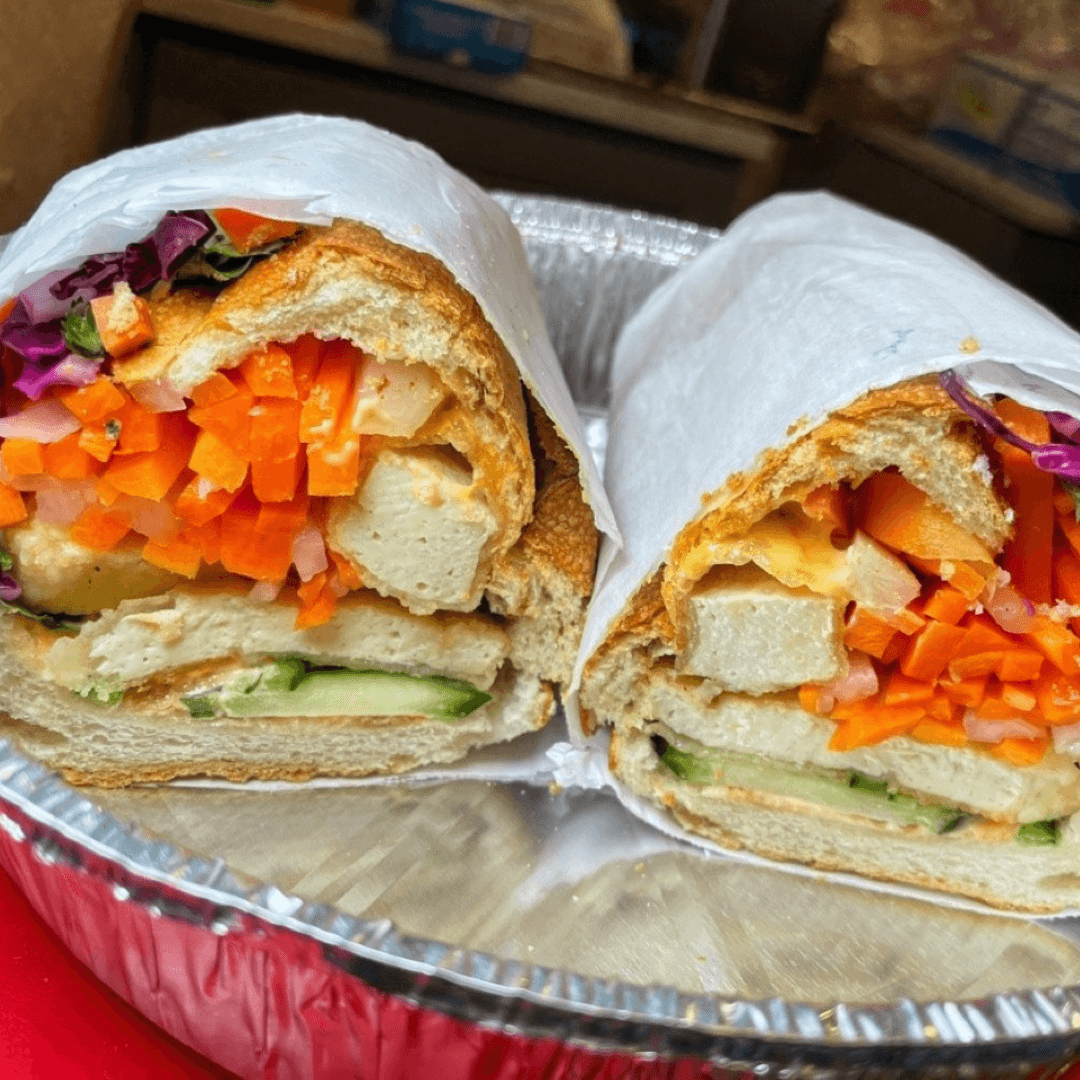 Mama's Cupboard
8Mama's Cupboard
Grab the vegan duck bánh mì from Mama's Cupboard, a Thai-Vietnamese food stall that you shouldn't miss. The popular sub-esque sandwich features an airy Vietnamese baguette stuffed with meatless duck, pickled carrot and daikon, purple cabbage, jalapeño, cilantro, and spicy mayo.
Find them at: Smorgasburg Williamsburg and Smorgasburg Prospect Park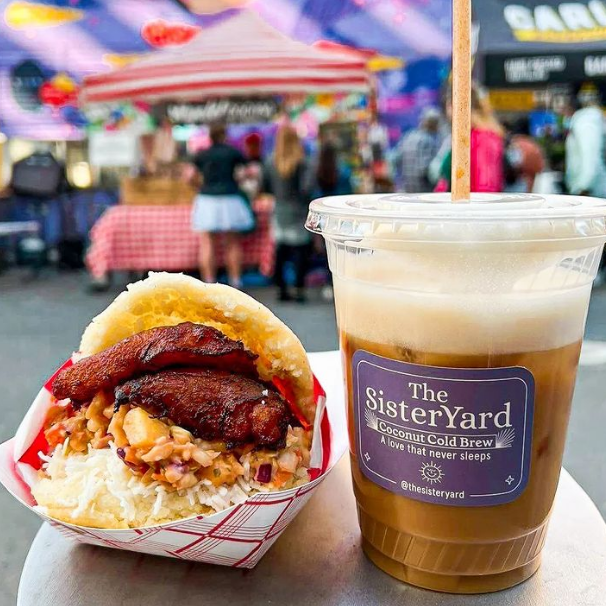 Váyalo! Cocina
9 Váyalo! Cocina
Get your Venezuelan food fix at Váyalo! Cocina. First up, try the La Vegana Tropical, a gluten-free arepa stuffed with dairy-free cheese, coleslaw, and fried sweet plantains. Pick up a Sweet Negritas—a corn empanada stuffed with sweet plantains and black beans—and yucca fries, too. Don't forget a drink: the papelón con limón is a tart, sweet drink made from limeade and brown sugar.
Find them at: Smorgasburg Williamsburg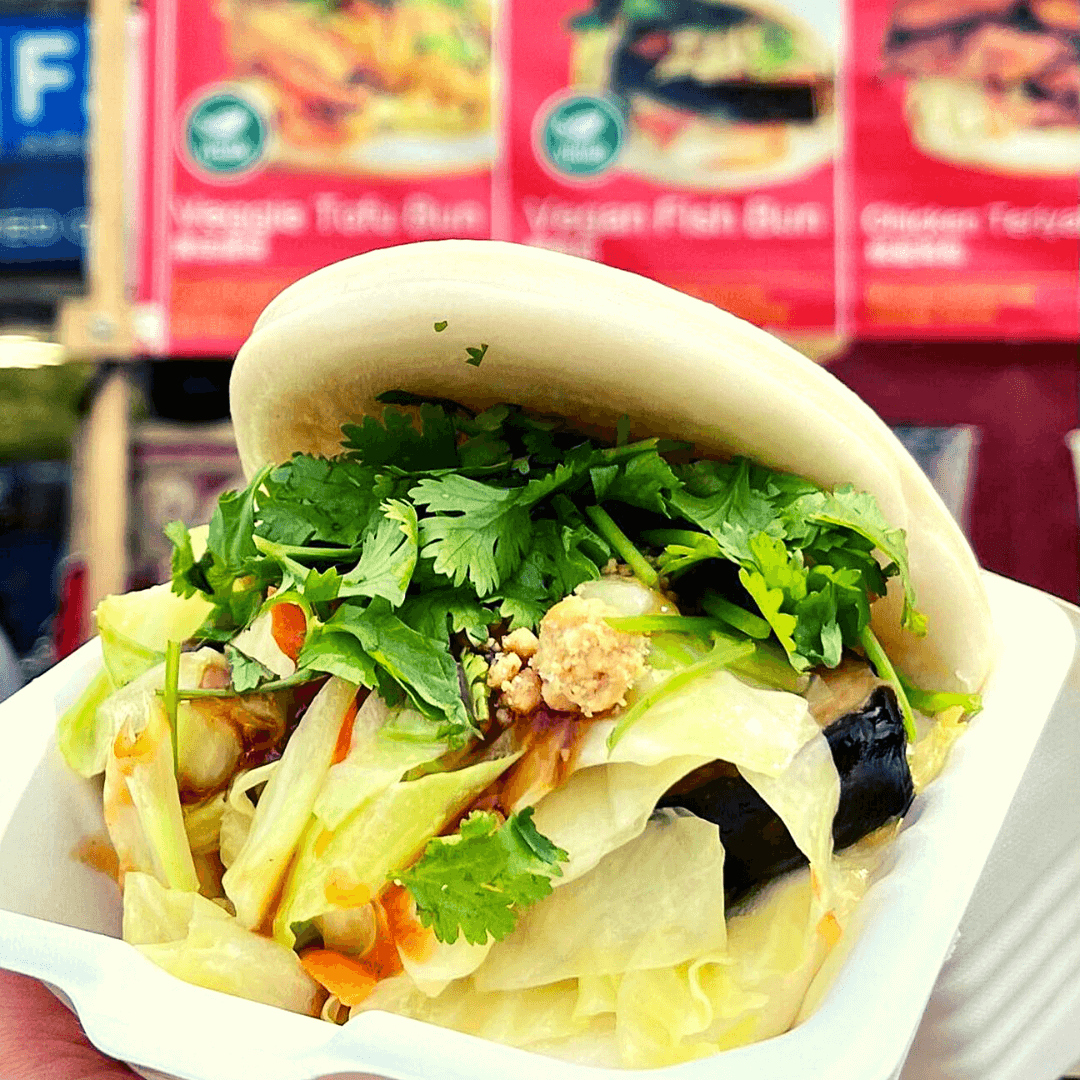 C Bao
10C Bao
You really can't ever go wrong with steamed buns stuffed with vibrant flavors and pleasing textures, and that's what you'll get at C Bao. They have two vegan options: vegetable tofu and vegan fish.
Find them at: Smorgasburg Williamsburg, Smorgasburg World Trade Center, and Smorgasburg Prospect Park
For more vegan guides to New York City, check out these articles: