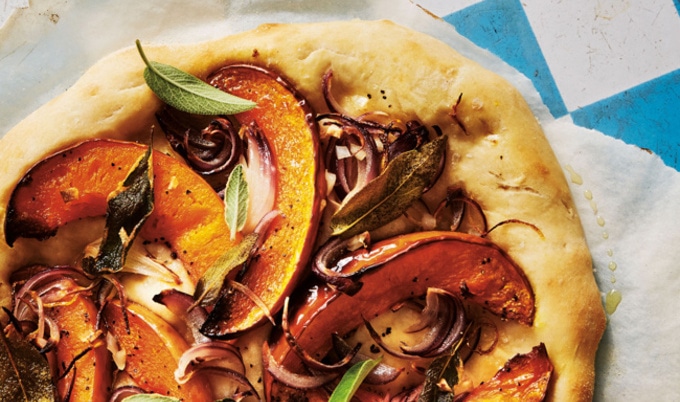 Vegan Pizzette with Roasted Pumpkin, Red Onion, & Sage
April 19, 2016
What you need:
For the dough:
1-3/4 cups white bread flour
1 teaspoon sea salt
1 teaspoon active dry yeast
1 teaspoon sugar
7/8 cup lukewarm water
1 tablespoon olive oil, plus more for oiling
Fine semolina, for dusting
For the topping:
18 ounces pumpkin, seeded and sliced into crescents
1-1/2 teaspoons sea salt
4 tablespoons olive oil, plus more for drizzling
1 red onion, sliced
2 garlic cloves, minced
Handful of sage leaves
Grated zest of 1 lemon (optional)
What you do:
1. Preheat oven to 400 degrees. Into the oven, place a large baking sheet to heat it up.
2. Into a large bowl, place flour and salt. In a pitcher, mix yeast, sugar, and water, and leave to bubble for about 5 minutes. Pour yeast mixture into flour mixture and add olive oil.
3. Mix together, then knead dough on work surface until smooth (you may also use a food processor up to this stage, if you prefer). Return dough to bowl, cover, and leave to rest in a warm place for 1 hour.

4. On a rimmed baking sheet, toss pumpkin slices and salt in olive oil (peeling the pumpkin slices is optional). Roast for 15 to 20 minutes, or until soft and caramelized around the edges, then add red onion and garlic and roast for another 10 minutes.

5. Transfer the risen dough onto an oiled surface, cut into twp pieces, and roll each piece into a circle. Dust two pieces of parchment paper with semolina and place a dough circle on each. Arrange the pumpkin and onion over the pizzette, scatter over sage leaves, and drizzle with olive oil.

6. Slide pizzettes onto the parchment paper and then onto hot baking sheet in the oven. Bake for 10 to 12 minutes. Remove from oven and sprinkle over the lemon zest, if using. Serve with a simple watercress salad.
Love vegan food and cooking as much as we do?
Get the BEST, editor-tested recipes inside every issue of VegNews Magazine. Find out why VegNews is the world's #1 plant-based magazine by subscribing today!