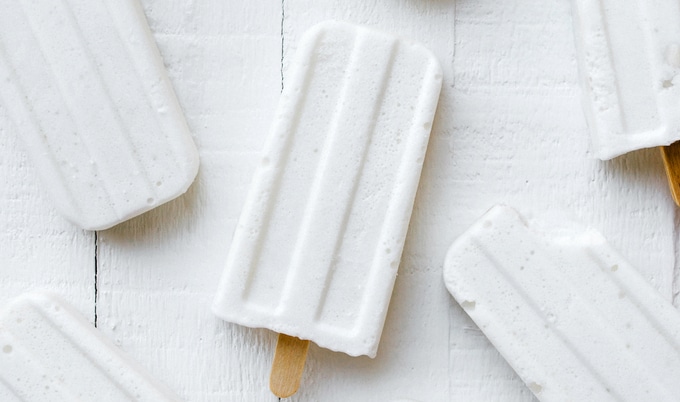 Vegan Marshmallow-Coconut Cream Popsicles
Aquafaba lends the signature fluffy, light texture of marshmallows to this frozen treat.
These sweet, kid-friendly pops from For the Love of Popsicles invoke those childhood memories of light-as-air marshmallow fluff. Want to step it up? Make it boozy by adding a splash of bourbon. Cheers!
What you need:
½ cup aquafaba
¼ teaspoon cream of tartar
¼ cup sugar
½ cup canned coconut milk
¼ teaspoon vanilla extract
What you do:
1. Into a medium bowl, add aquafaba and cream of tartar and beat with a hand mixer. When liquid starts to become foamy, gradually add sugar. Continue whipping at high speed until mixture has stiff peaks.
2. With mixer on, slowly pour coconut milk into bowl until fully incorporated, and then stir in vanilla. Pour into popsicle molds, leaving a little space at top for them to expand. Insert sticks and freeze for at least 4 hours, until frozen.
3. When ready to serve, run molds under warm water for a few seconds to loosen them up, then remove popsicles and enjoy.
Love vegan food as much as we do? Then you're going to LOVE the VegNews Ultimate Vegan Meal Planner with THOUSANDS of editor-approved, easy-to-make recipes. On sale now for 40% off!
Click here