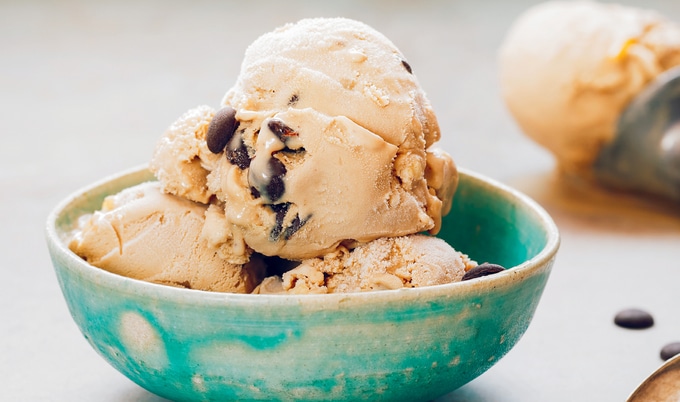 Vegan Chocolate Chip Oat Milk Banana Ice Cream
Four simple ingredients are all you need to make this healthy, frozen novelty treat.
Bananas, not dairy, make up the base of this chocolate-studded treat from The Oat Milk Cookbook. Swirl in ribbons of your favorite peanut butter and melted chocolate or crushed chocolate sandwich cookies to step it up even more.
What you need:
2 bananas, cut into 4 chunks, frozen
¼ cup oat milk
¼ teaspoon vanilla extract
¼ cup chocolate chips
What you do:
In a food processor, blend bananas, oat milk, and vanilla until smooth. Mix in chocolate chips. Place in a freezer-safe container and freeze for at least two hours, or overnight. Let sit at room temperature for 10 minutes to soften before serving.
Love vegan food as much as we do? Then you're going to LOVE the VegNews Ultimate Vegan Meal Planner with THOUSANDS of editor-approved, easy-to-make recipes. On sale now for 40% off!
Click here