Traditional proclamations of love—going out for a white-tablecloth dinner, holding hands in a movie theater, dancing the night away amongst a crowd—will still largely be on hold this Valentine's Day. In lieu of these public activities, show your love with swoon-worthy vegan sweets. These 12 vegan treats go way beyond the lackluster box of chocolates found at the grocery store, and they ship nationwide. From experiential chocolate tastings to beautifully decorated cookie dough-filled cakesicles, these goodies are too sweet to pass up.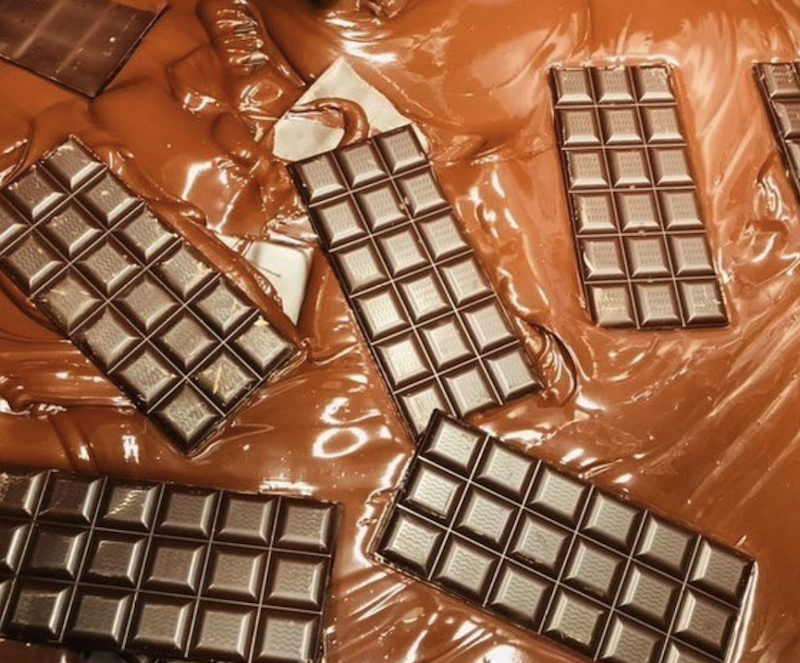 1. Dandelion Chocolate
The Willy Wonka-style chocolate factory tours have long closed, but this San Francisco chocolatier has invented a new way to experience its edible craft. The $75 Origin Stories virtual course includes six single-origin bars (shipped to you in advance) and a two-hour online discussion with the chocolatiers. The Online 103 Tasting offers a shorter, one-hour experience with five bars and a zoom conference on flavor notes, chocolate vocabulary, and improving your chocolate tasting palette.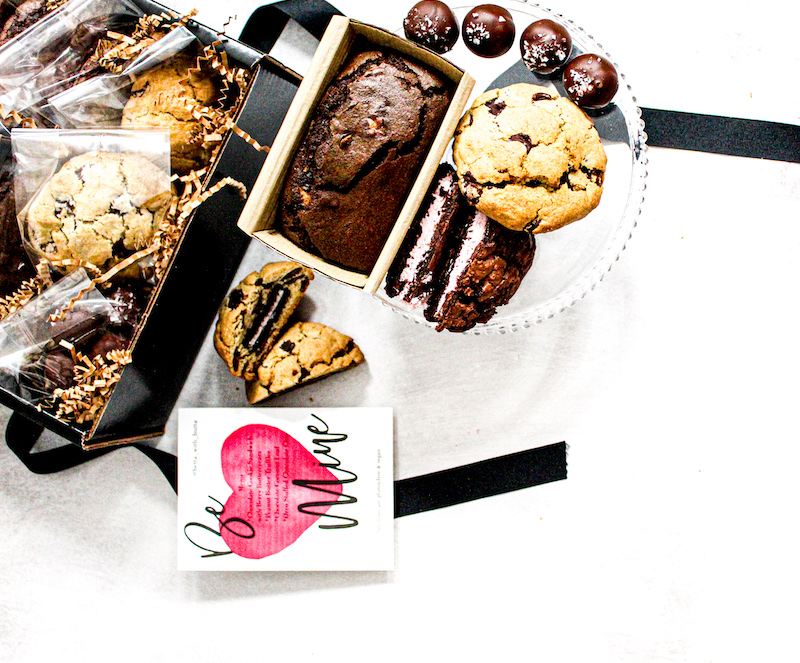 2. Chris Tucker (Betta with Butta)
Fans of The Great American Baking Show might recognize this name. Tucker was a contestant on the last season of this UK reality spinoff, and while actual 'butta' was used on this show, Tucker has transitioned a majority of his baking to plant-based. He's sharing his talents with the world by shipping his delectable scones, cookies, and other treats. For Valentine's Day, he's created a Be Mine box packed with Oreo-stuffed chocolate chip cookies, Double Chocolate Cookie Sandwiches, a chocolate coconut loaf, and four peanut butter truffles.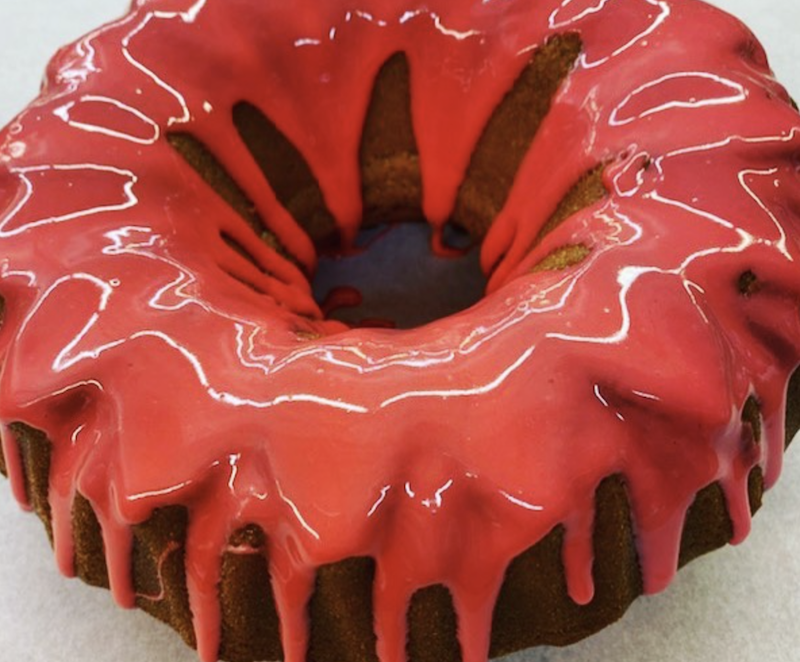 3. Southern Roots Vegan Bakery
It may not be heart-shaped, but what could possibly say "I love you" more than a red velvet bundt cake? Perhaps a strawberry or a Chocolate Luxury bundt cake? Fortunately, this San Antonio-based vegan bakery offers all of these flavors and more. If you really want to go the extra mile, fill the center of the cake with heart-shaped chocolate. At this point, it's semi-homemade!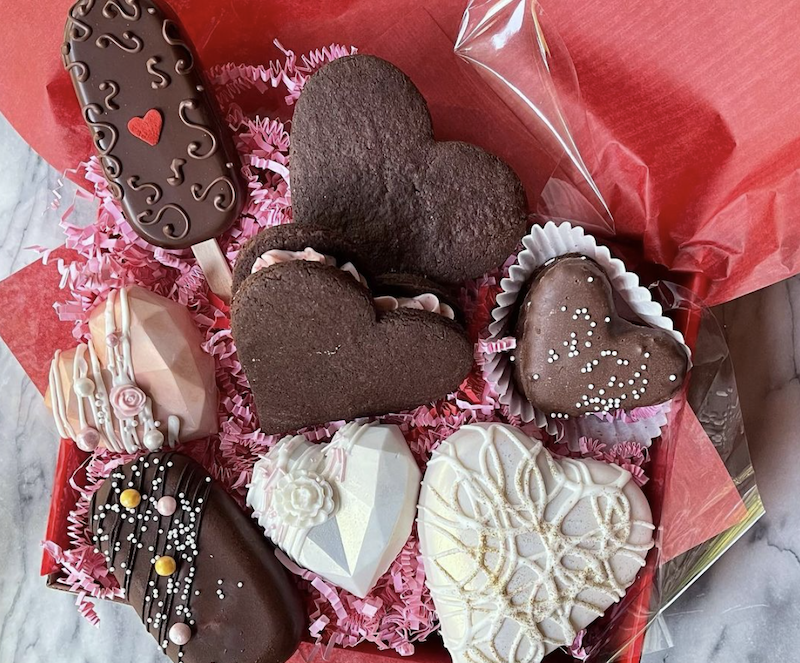 4. Karma Baker
Don't settle this Valentine's Day. While cake pops may seem cute, these measly one-bite sugar bombs do not compare to Karma Baker's monstrous cakesicles. These elegantly decorated hearts-on-a-stick are filled with chocolate cake, cookie dough, caramel, and peanut buttercream (depending on the variety). For a bit of everything, opt for the Deluxe or Small Valentine's box for an assortment of heart-shaped cakes, cookie sandwiches, and cakesicles.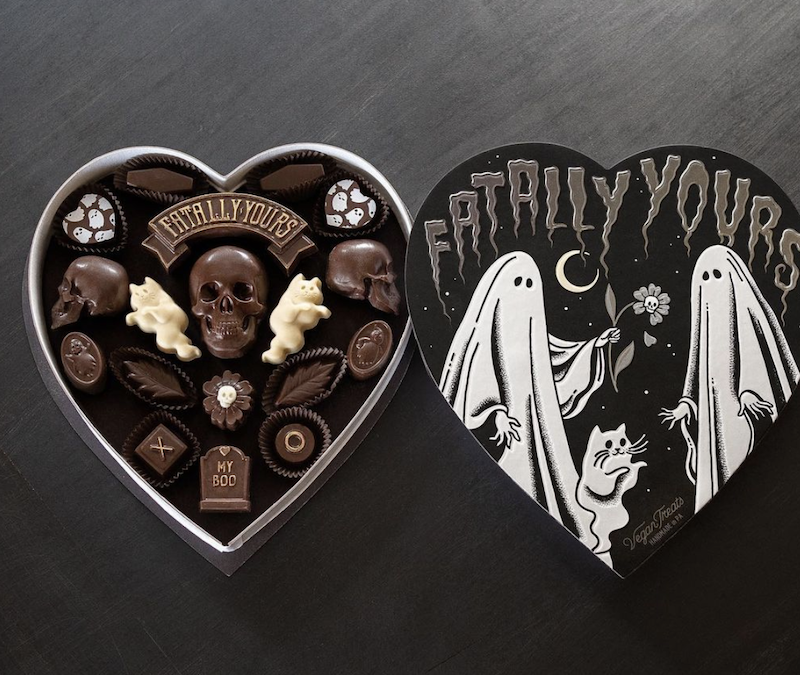 5. Vegan Treats
Even the blackest souls need love. This Bethlehem, PA vegan bakery is taking pre-orders for its Fatally Yours confections box featuring cookie dough-filled chocolate skulls, White Chocolate Strawberry Crunch Cats, Bolivian Rose Salted Caramel Ghosts, and more delightful treats to show your true devotion. A more traditional My Vegan Valentine box is also available, along with select confections à la carte.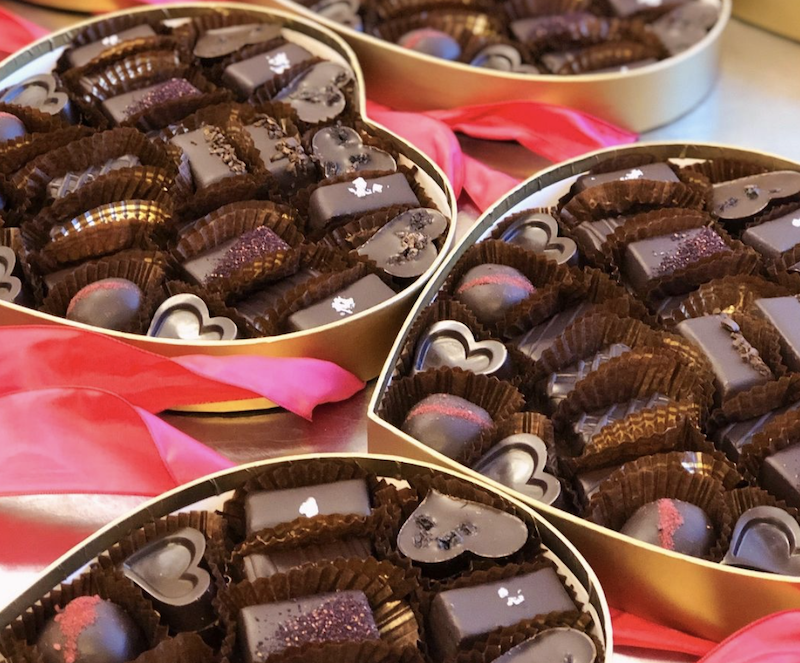 6. Amore Di Mona
Looking for the ultimate heart-shaped chocolate collection? Amore Di Mona has you covered. Choose from a wide selection of assorted chocolates—from a 16-piece to a generous 33-piece set—with flavors ranging from Currant Ganache to Caffe. Pro tip: make this gift go the extra mile and turn it into a couple's chocolate tasting adventure. Take turns biting into the chocolates to see who can guess the flavor correctly.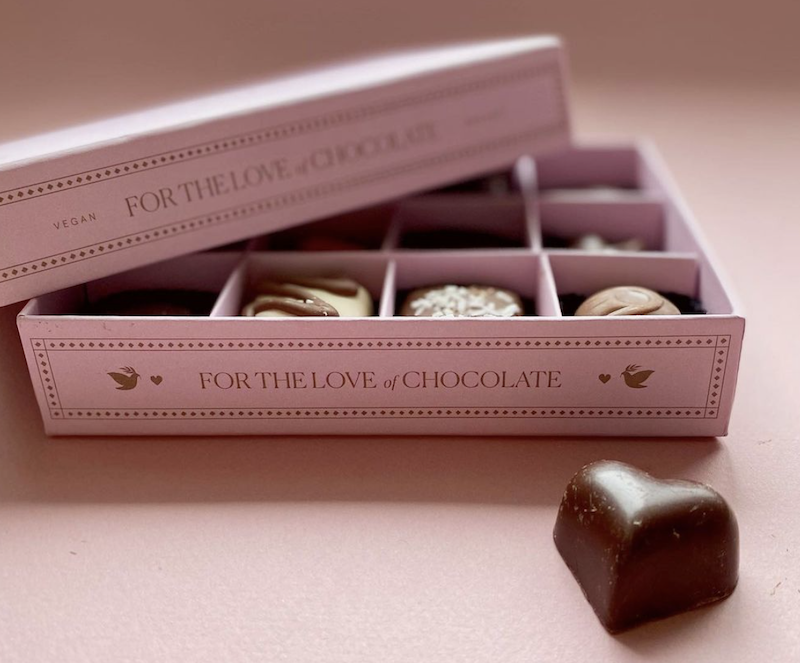 7. SJAAK's
This reputable vegan chocolatier has a treat for all your loved ones—be that a romantic partner or your six-year-old niece. Check out the white chocolate, almond butter-filled Cupid Kisses for a new sweetie, or declare your love with the decadent 12-piece For the Love of Chocolate truffle box. For the kiddos (or kids at heart), the Bear Hug dark chocolate heart is filled with vegan gummy bears.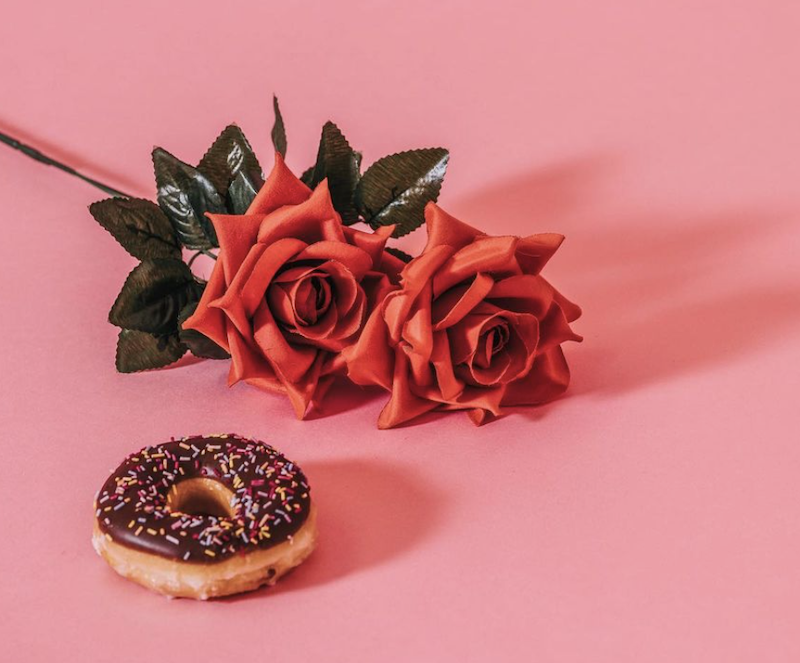 8. Giselle's Vegan Kitchen
Every order from Giselle's feels like it's Valentine's Day. The sweet, light pink boxes and delicate flower adornments on every order prove that this inclusive baker goes above and beyond to show her customers some love. Send your soulmate the comprehensive Mystical Box that includes your choice of pie along with nine best-selling treats. À la carte options are also available for vegan keto brownies, peanut butter and jelly bars, frosted coffee cake slices, and more.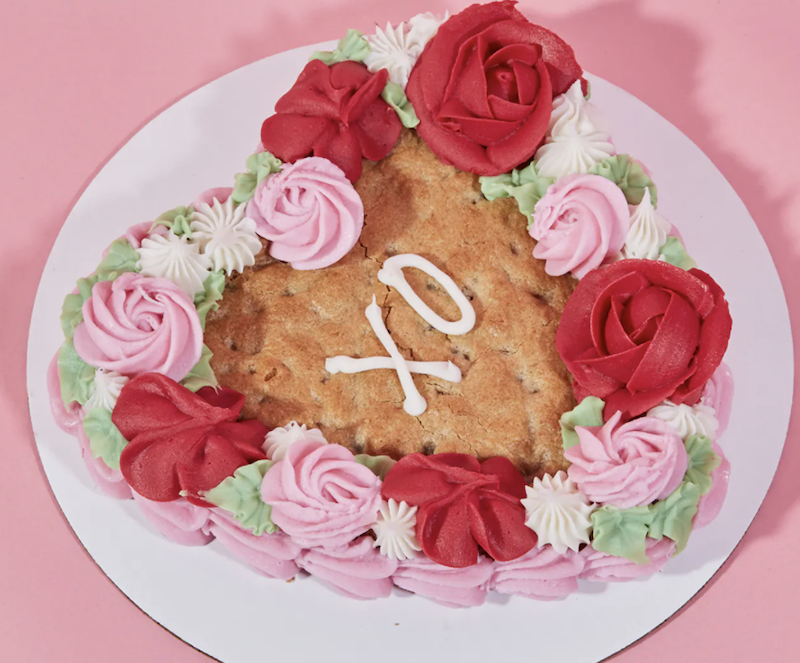 9. Erin McKenna's Bakery
Remember malls? Good. Now, go back, way past 2020, to the days where there was a Mrs. Fields in virtually every food court. Laser your recollection on the frosted giant cookie cakes, and take that memory back to the present, because this allergen-friendly baker has brought it back! McKenna's eight-inch, gluten-free chocolate chip cookie cake is decorated with buttercream flowers and a choose-your-own inscription (either "XO" or "Darling"). Her Goldbelly site also offers a red "I Love You" cake in the flavor of your choice (Chocolate, Carrot, or Vanilla) along with her year-round bakery staples. Even if you don't have a special someone, you should definitely treat yo'self this year.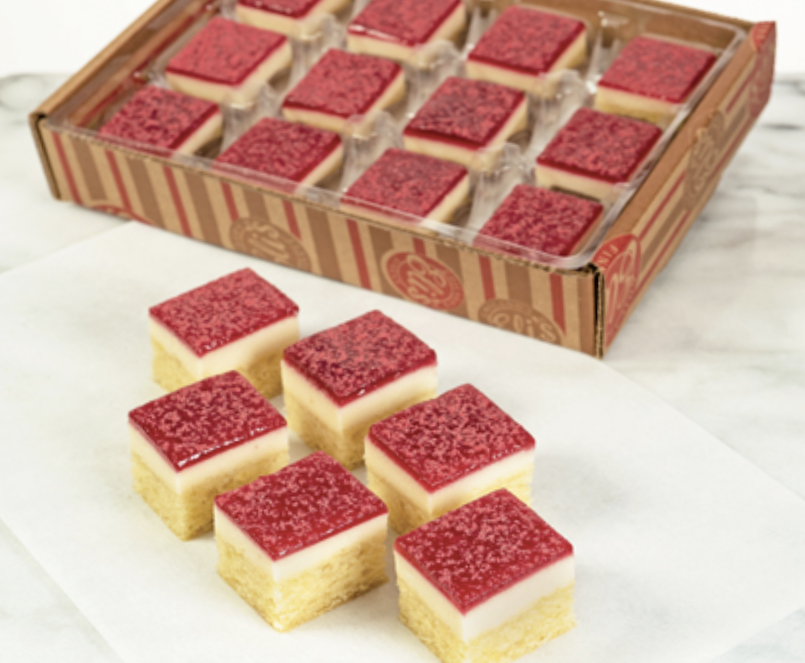 10. Eli's Cheesecake Company
Be bold this Valentine's Day. Instead of presenting your lover with an expected box of chocolates, watch their eyes light up as they open the lid and discover these adorable vegan Lemon Raspberry Cheesecake Cuties. The $59 box includes 12 one-inch-square sweet and tart cheesecake bites. The non-vegan company also offers a vegan Chocolate Cutie option for those who wish to abide by the chocolate tradition.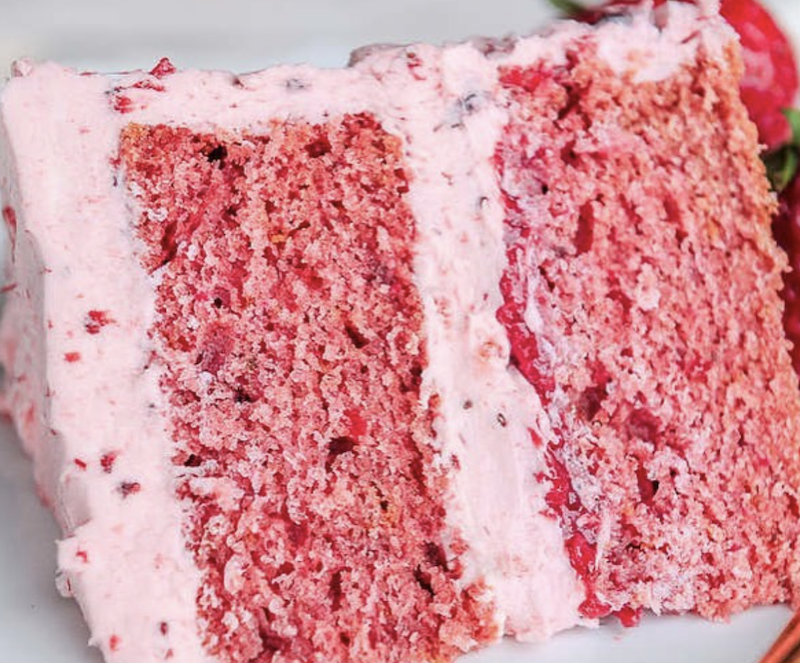 11. Vegan Soul Bakery
Strawberry cake isn't always easy to come by, so when you find it, you best make the most of the opportunity. Vegan Soul Bakery's Strawberries and Cream Cake is perfectly moist, sweet, and swoon-worthy. Delete that box of chocolate-covered strawberries from your basket and order this cake instead.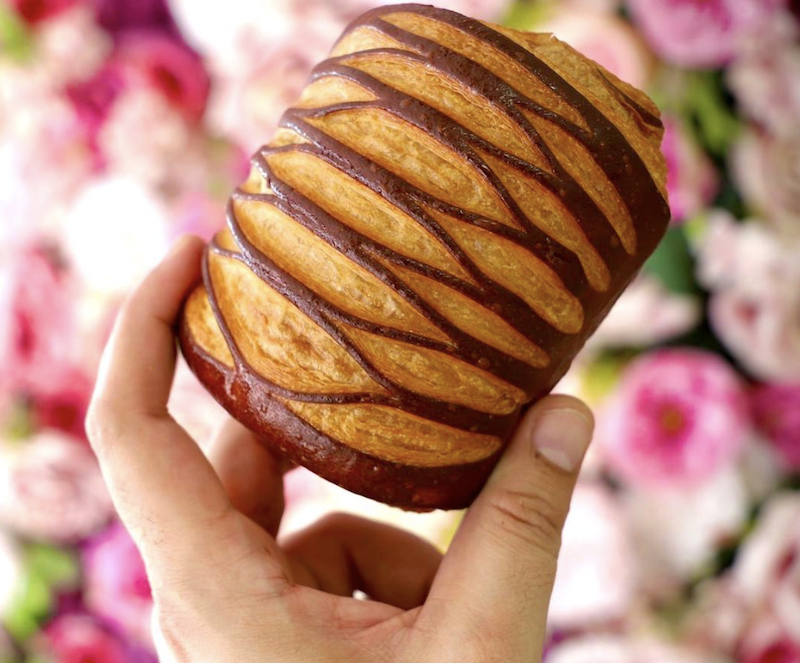 12. L'Artisan Creative Bakery
What's better than breakfast in bed? A plateful of impossibly flaky, chocolate-filled croissants. One buttery bite, and your significant other won't even think about all of the pastry shards flying onto the bedcovers.
Tanya Flink is a Digital Editor at VegNews as well as a writer and runner living in Orange County, CA.
Photo credit: Chris Tucker, Karma Baker, Vegan Treats