Iconic vegan brand Follow Your Heart (FYH) has added three first-of-its-kind vegan cheeses to its product lineup. The brand has introduced Bleu Cheese Style Dairy-Free Crumbles that are creamy and crumbly, just like the traditional dairy version, and can be used in salads, tarts, and crostini. The cheese comes in six-ounce tubs and is available at Whole Foods Market, Stater Bros., and select Acme and Safeway stores in the Mid-Atlantic and Northeast regions.
FYH also introduced new reformulated finely shredded vegan cheeses in cheddar and mozzarella varieties, which offer improved texture and meltability for dishes such as quesadillas, mac and cheese, and pizza. The seven-ounce packages are available nationwide at select retailers including Sprouts, Vons, Albertsons, Wegmans, and Walmart.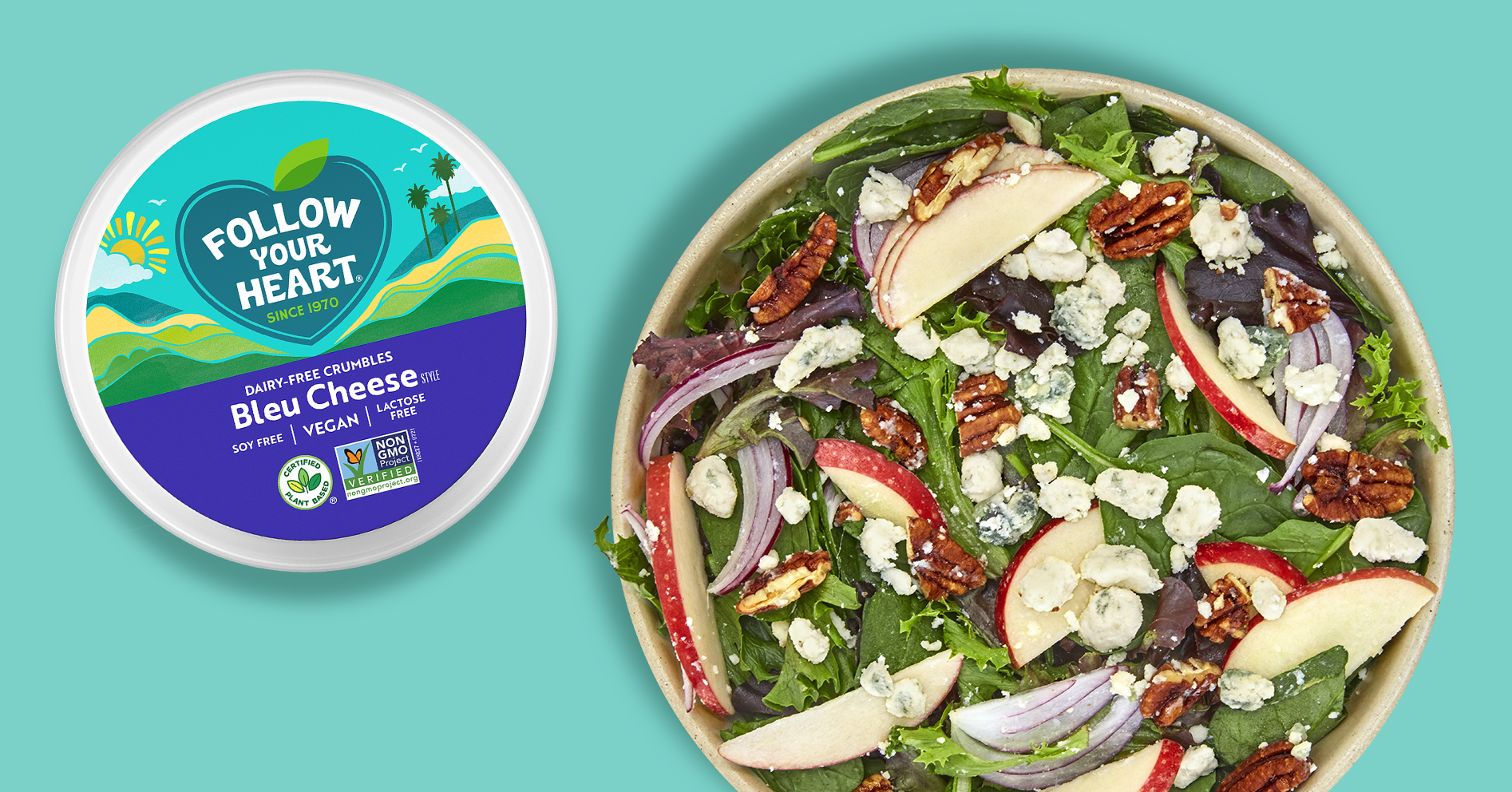 "We've rewritten the rule book with this trio of cheeses to close a wide gap in the dairy-free cheese category and further satisfy the increasing demand for plant-based alternatives," FYH Co-founder and CEO Bob Goldberg said in a statement. "Our new Finely Shredded cheeses are not only rich and creamy, they have an unbelievable melt. Plus, our new lusciously creamy Bleu Cheese Crumbles are a game changer and will have dairy cheese consumers switching without any sacrifice."
Follow Your Heart's vegan bleu cheese hits restaurants
Several restaurants and food brands are already using FYH's new vegan cheeses. National pizza chain Mellow Mushroom offers vegan options using the brand's new finely shredded mozzarella, and Banza, the maker of chickpea-based pasta and pizza, features the mozzarella on their new Plant-Based Cheese Pizza. Additionally, vegan fast-casual restaurant chain Veggie Grill is highlighting the Bleu Cheese Crumbles on its new steakhouse burgers at all locations.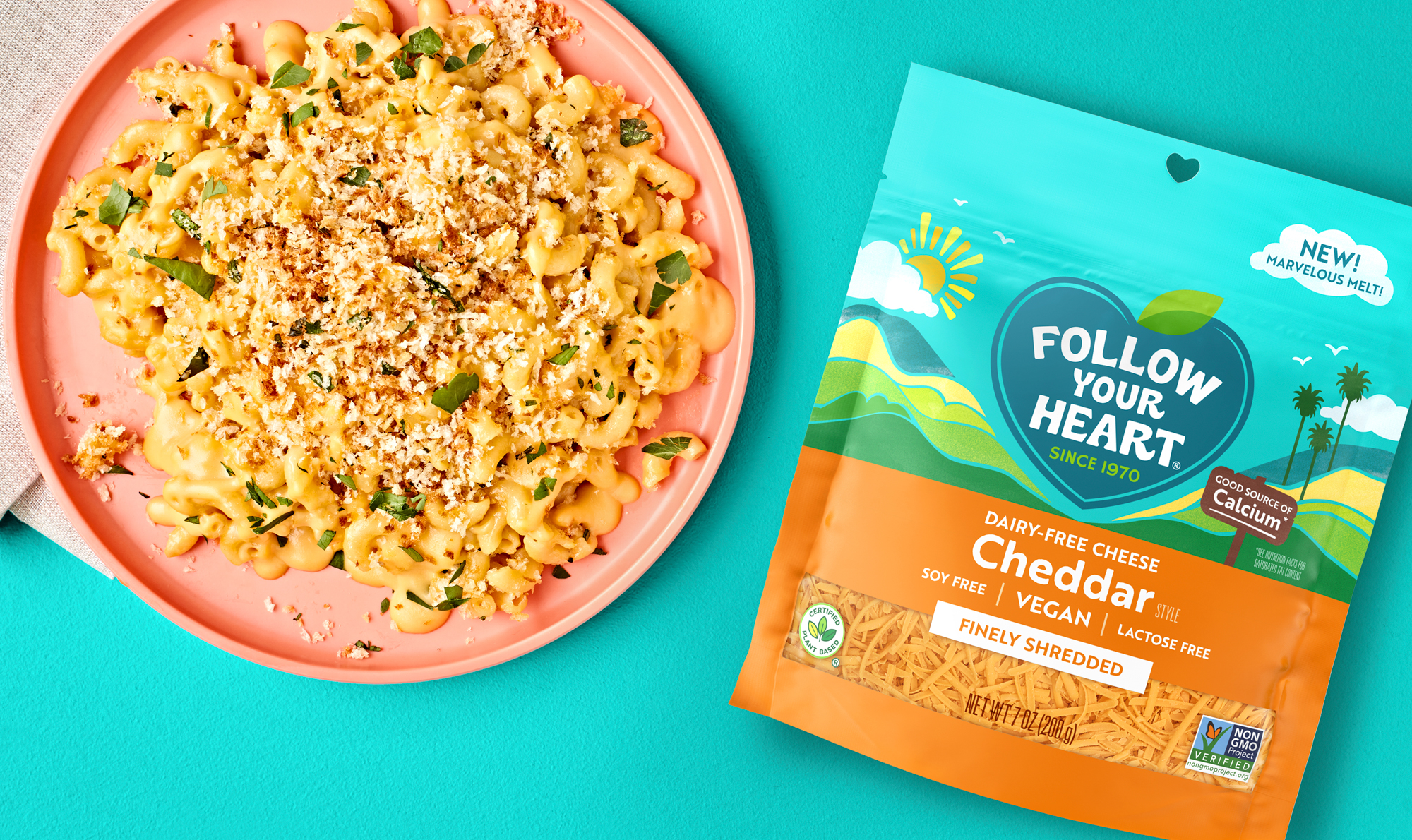 "Follow Your Heart's new dairy-free mozzarella hits all of the ingredient quality standards we take pride in at Mellow Mushroom," Anne Mejia, Vice President of Brand Development at Mellow Mushroom, said in a statement. "The taste and compatibility with our Mellow Mushroom crust and red sauce really hits the mark and our customers are already commenting that it is delicious on our stone-baked pies."
Follow Your Heart's growth
FYH first started as a vegetarian café in 1970 in Southern California and became a retail food brand in 1988 with the launch of the now-popular vegan condiment Vegenaise. Now, the brand—which was acquired by food giant Danone earlier this year—offers a variety of vegan products, including cheeses, salad dressings, and VeganEgg. The new Bleu Cheese Crumbles follows the launch of its Dairy-Free Feta Crumbles Cheese Alternative in 2020, also a first-of-its-kind crumbled vegan cheese made with coconut oil.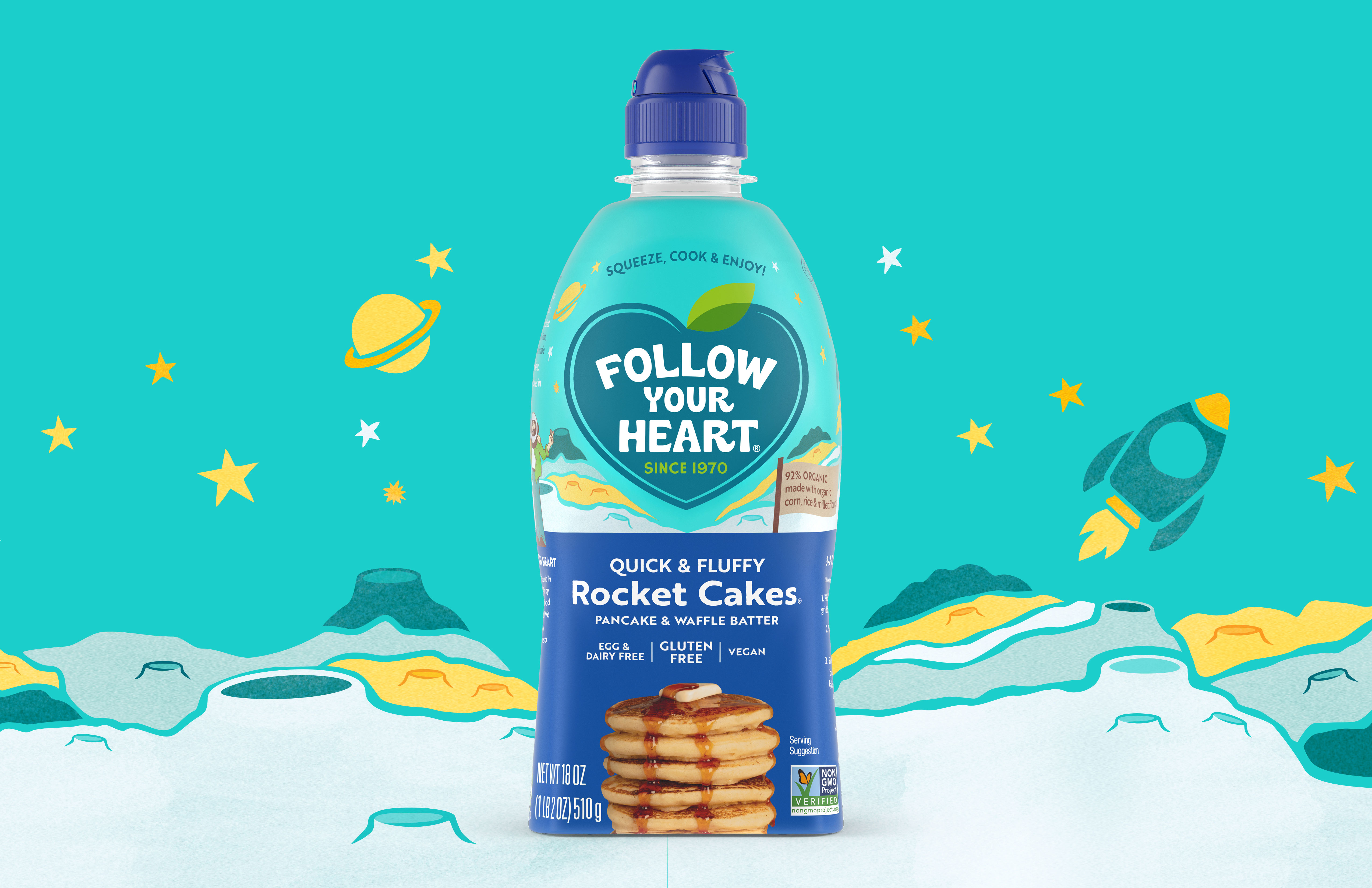 Earlier this year, FYH brought another first-of-its kind product to market: Rocket Cakes. In development for five years, Rocket Cakes is a pourable vegan pancake and waffle batter developed in partnership with sisters Jenny Engel and Heather Bell of vegan company Spork Foods.
As part of its growth strategy, FYH expanded the distribution of its products to more than 4,000 Walmart stores nationwide in May—increasing the brand's footprint at the store by approximately 80 percent. The retail giant now carries the brand's Original Vegenaise, American Slices, and Smoked Gouda Slices, along with its new Finely Shredded Cheddar and Mozzarella.
For more about vegan cheese, read:Vegan Cheese Options at Trader Joe's Expand with Launch of Dairy-Free Feta
Vegan "Dairy-Identical" Cheese Will Launch in 2023
Dairy Brand Boursin Launches Vegan Cheese Spread