Iconic vegan brand Follow Your Heart (FYH) recently expanded the distribution of its products to more than 4,000 Walmart stores nationwide. The retail giant now carries FYH's Cheddar and Mozzarella Fine Shreds and Grated Parmesan along with Original Vegenaise, American Slices, and Smoked Gouda Slices. While Walmart previously offered FYH products, the expansion increases the brand's footprint at the store by approximately 80 percent.
"There are thousands of Walmart locations spread across the US, often located in smaller towns and cities where natural grocery stores can be few and far between," FYH Marketing Manager Laura Sklov told VegNews. "This product expansion in Walmart significantly increases the accessibility of plant-based products, making better-for-you options available to nearly everyone."
Follow Your Heart's vegan legacy
FYH first started as a vegetarian café in 1970 in Southern California and became a retail food brand in 1988 with the launch of vegan condiment Vegenaise. Now, the brand offers a variety of vegan products, including cheeses, salad dressings, VeganEgg, and more. To celebrate its 50th anniversary in 2020, FYH launched Dairy-Free Feta Crumbles Cheese Alternative, a first-of-its kind crumbled vegan cheese made with coconut oil. Earlier this year, FYH brought another first-of-its kind product to market: Rocket Cakes. In development for five years, Rocket Cakes is a pourable vegan pancake and waffle batter developed in partnership with culinarians and sisters Jenny Engel and Heather Bell (owners of vegan company Spork Foods).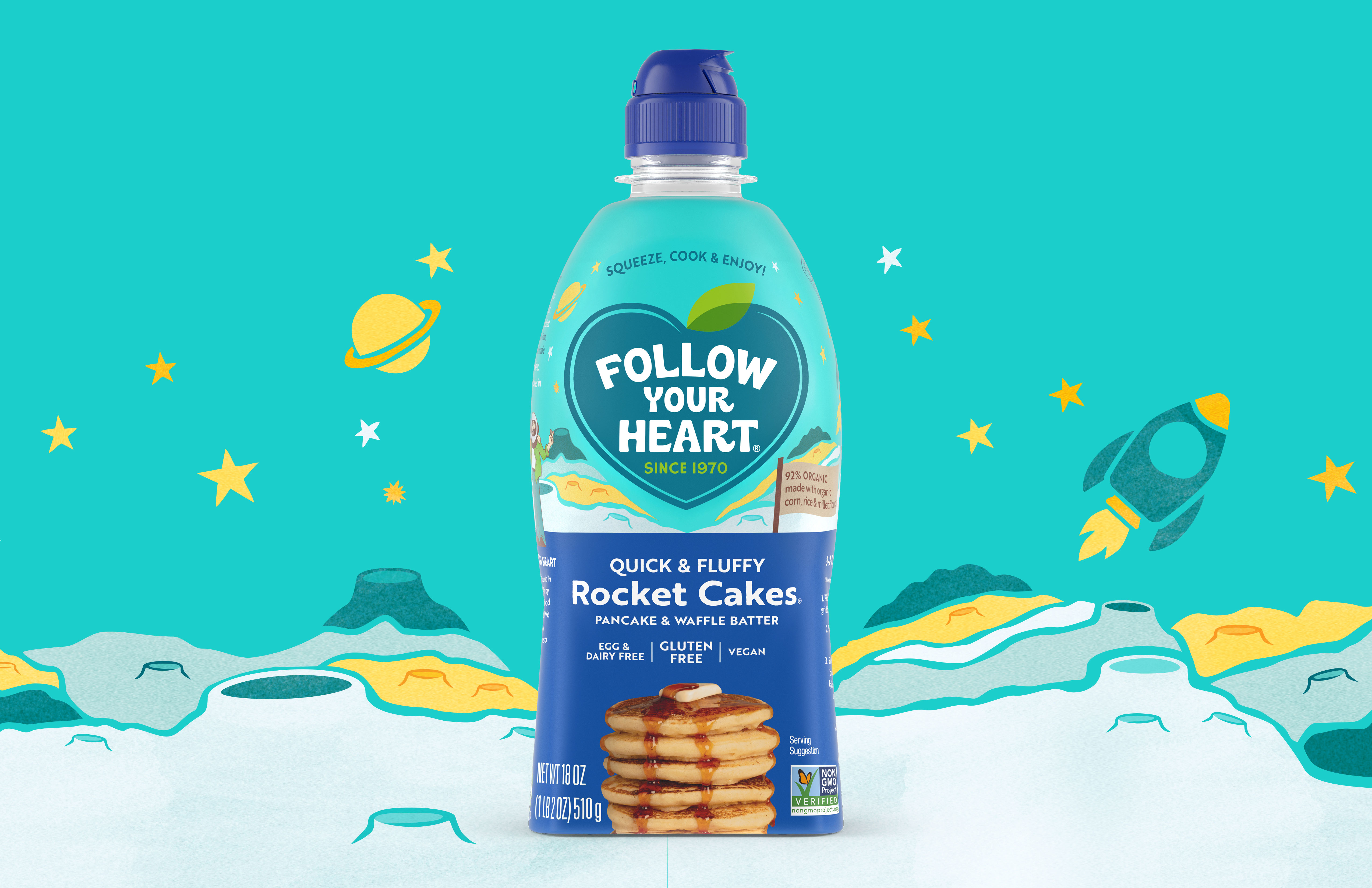 The launch of Rocket Cakes was also a part of FYH's strategy of developing widely accessible vegan breakfast products—which will be accelerated by its recent acquisition by $40 billion food giant Danone. The multinational company owns other vegan brands, including Silk, Vega, and So Delicious, under White Wave Foods, and has made strides to introduce its own plant-based brands in recent years. Danone's acquisition of FYH will help the vegan brand reach additional consumers, helping them to replace animal products with its vegan cheeses, dressings, and spreads.
"We are still early in our acquisition with Danone and are just starting to work together," Sklov said. "We are thrilled to be a part of Danone's family of plant-based brands and look forward to bringing more plant-based options to shoppers everywhere."