International bakery chain Le Pain Quotidien recently introduced a vegan Apple Oat Latte as part of its new fall menu at all 260 locations worldwide. The new drink uses apple cider as the base along with oat milk. It aims to replicate apple pie à la mode in a hot beverage.
"We wanted to offer a beverage that celebrates fall flavors but was great for the whole family—being that it is a non-caffeinated latte," Le Pain Quotidien chef consultant Kaegan Welch told VegNews. "Inspired by apple butter and apple pie à la mode, we paired it with oat milk, as apple and oat often find themselves together [like in] apple oat crumble and apple cinnamon oatmeal. The result tastes like apple pie à la mode in a beverage. It also happens to be plant-based, which is a bonus."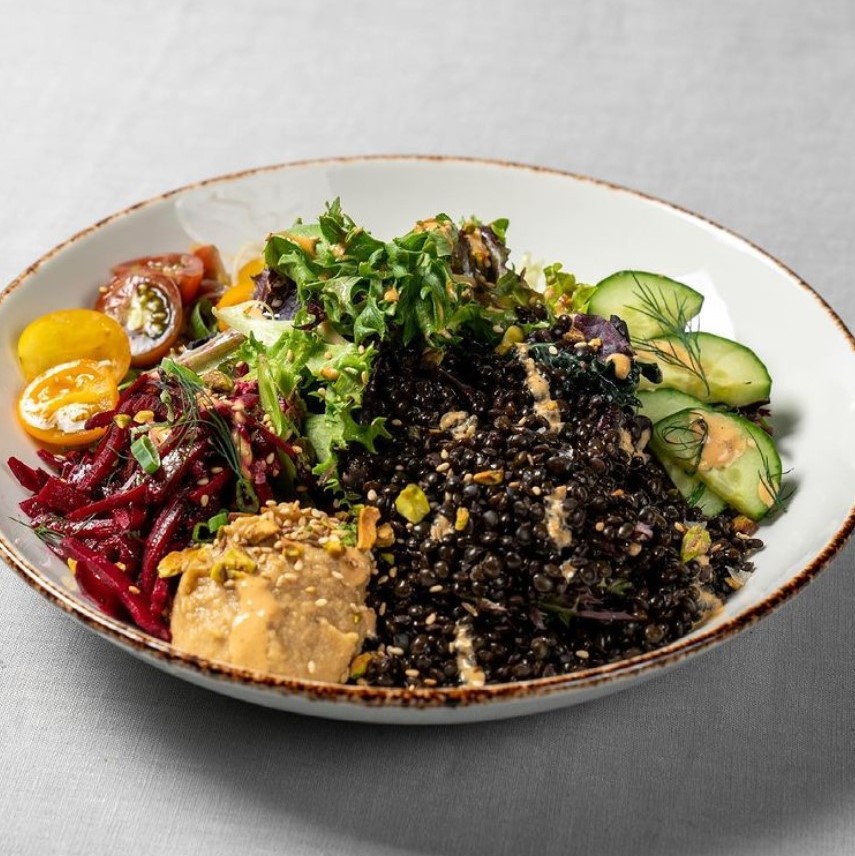 The chain also added a vegan Ginger Spiced Apple Cider to its fall menu using the same apple cider base. In addition to the new drink offerings, Le Pain Quotidien offers a variety of vegan dishes, which are labeled "100 percent botanical" on its menu. Vegan dishes include an Ancient Grain Bowl with roasted vegetables; Muhammara Toast with roasted delicata squash and cauliflower; Veggie Banh Mi with roasted mushrooms, black lentil pate, and pickled vegetables; and avocado toast with citrus cumin salt and chia seeds. All of its organic breads are also vegan, except for the brioche. For its coffee beverages, the chain offers almond and oat milk options.
Are vegan apple lattes the new PSL?
This fall, international coffee chain Starbucks—known for its seasonal Pumpkin Spice Latte (PSL), which cannot be ordered vegan in the United States—also added a new apple-inspired beverage to its fall menu. The Apple Crisp Macchiato is made with a combination of milk, brewed espresso, apple brown sugar syrup, and comes topped with a spiced apple drizzle. The deep apple flavor of the beverage comes from apple purée and apple juice concentrate, and features cinnamon, nutmeg, and brown sugar.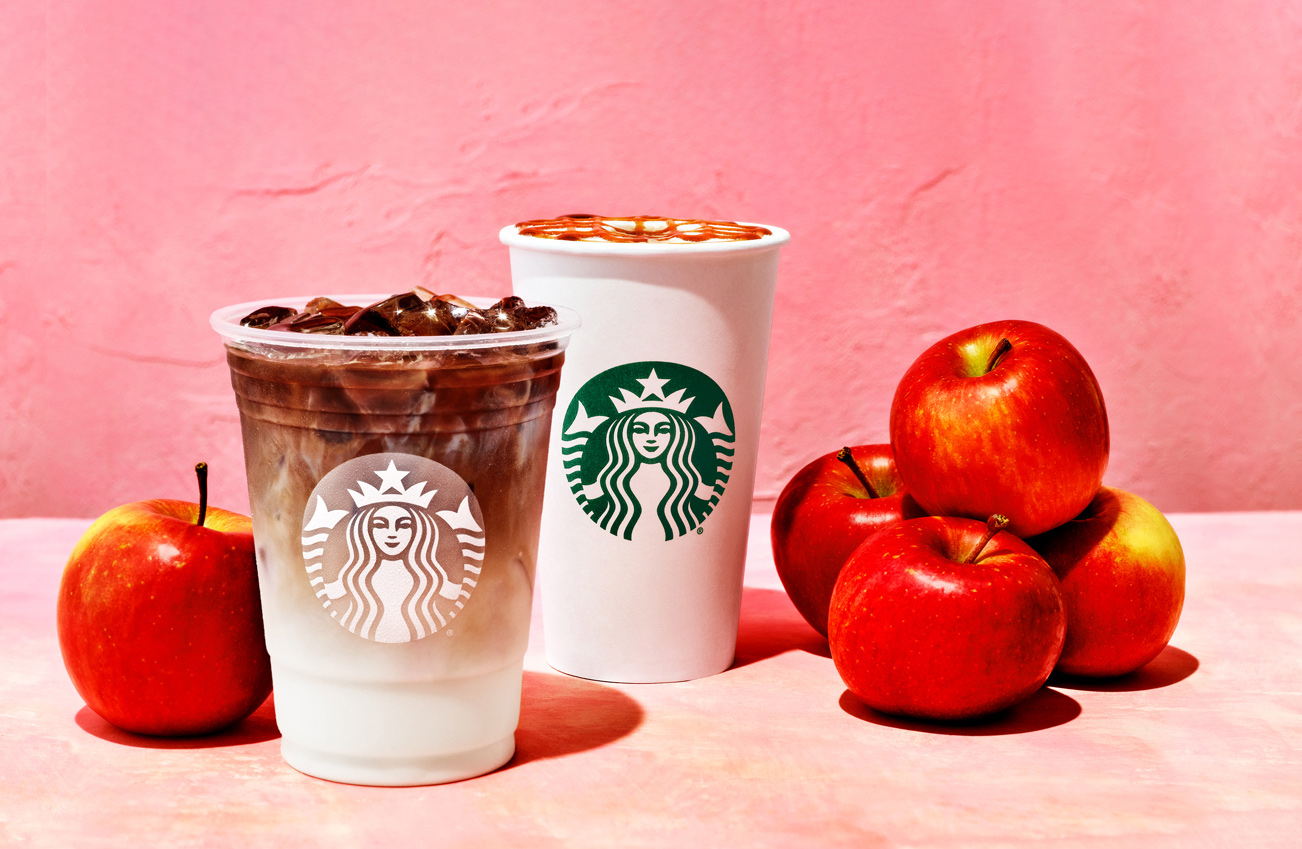 While the hot version of the Apple Crisp Macchiato was crafted to taste like apple-packed autumn baked goods, the iced version of the drink is meant to evoke the flavors of apple pie à la mode. To order the drink vegan, customers can swap the dairy milk for any of Starbucks' four vegan milk options (oat, almond, soy, or coconut).
Why isn't the Pumpkin Spice Latte vegan?
While Le Pain Quotidien has catered to vegans with its new apple oat latte offering, Starbucks has yet to create a vegan version of its cult-favorite PSL. In the United States, the chain makes its PSL with a pumpkin base that contains sweetened condensed milk.
In 2018, Starbucks in Europe removed the dairy from its PSL to create the "Vegan Pumpkin Sauce with Spice Flavorings." The veganizable version of the PSL was initially available in the United Kingdom, Netherlands, France, Switzerland, and Austria. Customers in these regions can order the PSL hot, iced, frappuccino style, or as an Iced Cold Foam Macchiato and make it vegan by requesting plant-based milk. Starbucks UK locations also offer vegan whipped cream.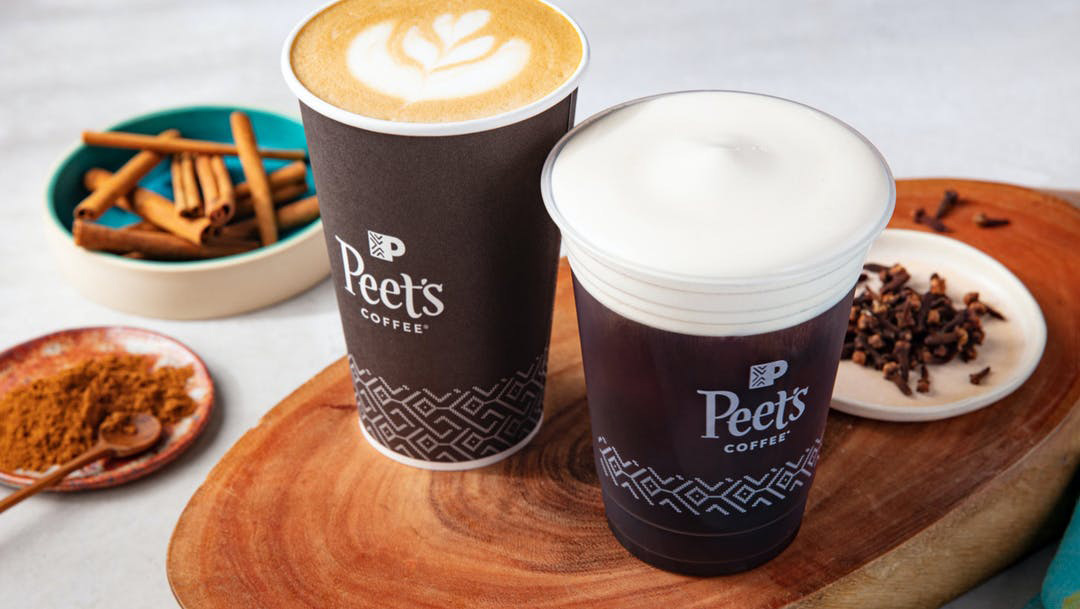 Luckily, this fall, coffee chain Peet's Coffee created its own, dairy-free take on Starbucks' pumpkin spice coffee beverage concept with the launch of a vegan Pumpkin Oat Foam Cold Brew. The vegan-as-is beverage is made with the chain's Baridi Blend cold brew coffee that is layered with a sweetened pumpkin pie spice microfoam made from oat milk. And, unlike Starbucks, the chain's classic Pumpkin Latte can be ordered vegan by swapping cow's milk for non-dairy milk (oat, almond, or soy).
For more on vegan options at coffee chains, read:
Essential Vegan Guide to Starbucks Fall Drinks
Everything You Need to Know About Ordering Vegan at StarbucksHow Much Extra You'll Pay for Dairy-Free Milk at These Coffee Shops