Vegan TikTok star Tabitha Brown is opening her first plant-based restaurant. The actress, social media influencer, and bestselling author is bringing Chicago-based Kale My Name—a vegan restaurant and bar—to Los Angeles county. While an opening date has yet to be announced, Kale My Name will open on Ventura Boulevard in Encino, CA, approximately 20 miles from Los Angeles.
The original Kale My Name, located in Chicago's Albany Park neighborhood, first opened in Spring 2020 amid the ongoing COVID-19 pandemic. The plant-based restaurant and bar specializes in globally inspired dishes such as potato and vegetable-stuffed empanadas; Italian-inspired seitan wraps (featuring mushrooms, kale, mozzarella, sun dried tomatoes, and garlic aioli); and traditional Balkan ajvar (a sweet spread made with roasted bell peppers, eggplant, and sea salt); alongside a variety of tacos, burgers, smoothies, brunch items, and cocktails. "Kale is a powerful […] superfood. As we were designing the menu, we kept replacing ingredients like lettuce and spinach with kale because we were obsessed," restaurant owner Nemanja Golubovic previously told Block Club Chicago.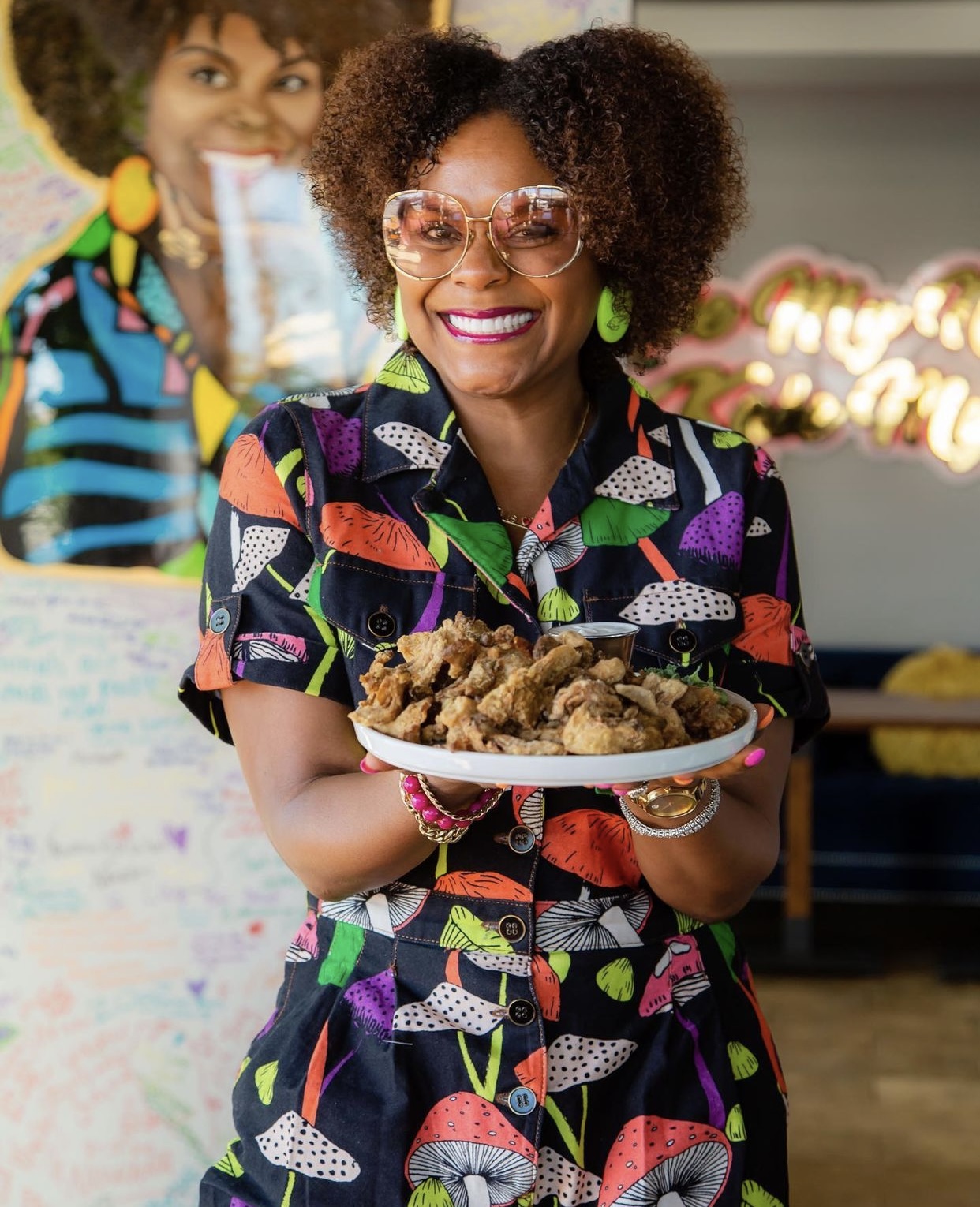 Kale My Name
Golubovic and Brown first connected earlier this year. While the actress was in Chicago filming Showtime's The Chi, she stumbled upon Kale My Name on Instagram during her search for a vegan place to visit in the city. "I don't live in Chicago. As much as I love Chicago, I needed Kale My Name on a regular basis," Brown teased in her video announcement. "I thought, 'What if I talk to the owner and said maybe we should do a Kale My Name LA.'"
Prior to its grand opening, Kale My Name will make its Los Angeles debut at the Vegandale food festival on October 23 where it plans to preview a selection of its menu items.
Tabitha Brown: From TikTok star to opening a vegan restaurant
Brown is a social media superstar with millions of followers across multiple platforms, including on TikTok where she shared a vegan carrot bacon recipe that instantly went viral last year. Kale My Name marks Brown's first foray into the vegan restaurant world, and she's already teasing this won't be her last.
"This is going to be my first restaurant experience, something I never even thought I could do. [I have] a great partner and a restaurant I love and believe in here in California. I'm not going to stop here. That's what my spirit is saying: 'Tab, this is the first but not the last,'" Brown said.
In her signature fashion, Brown left fans with an inspirational message following her announcement: "If you have an idea, a dream, or a thought, honey, do something with it."
Tabitha Brown takes over the world
Brown, who first went vegan in 2017, gained popularity after sharing a now viral video of herself enjoying a vegan TTLA sandwich—made with tempeh bacon, tomato, lettuce, and avocado—from Whole Foods Market in between driving for Uber. Since then, Brown has maintained a prominent presence on social media platforms, sharing off-the-cuff vegan recipes and sage advice. Prior to joining the cast of The Chi during its fourth season, Brown starred in two seasons of her own show, All Love, on the Ellen Network and earned an NAACP Image Award.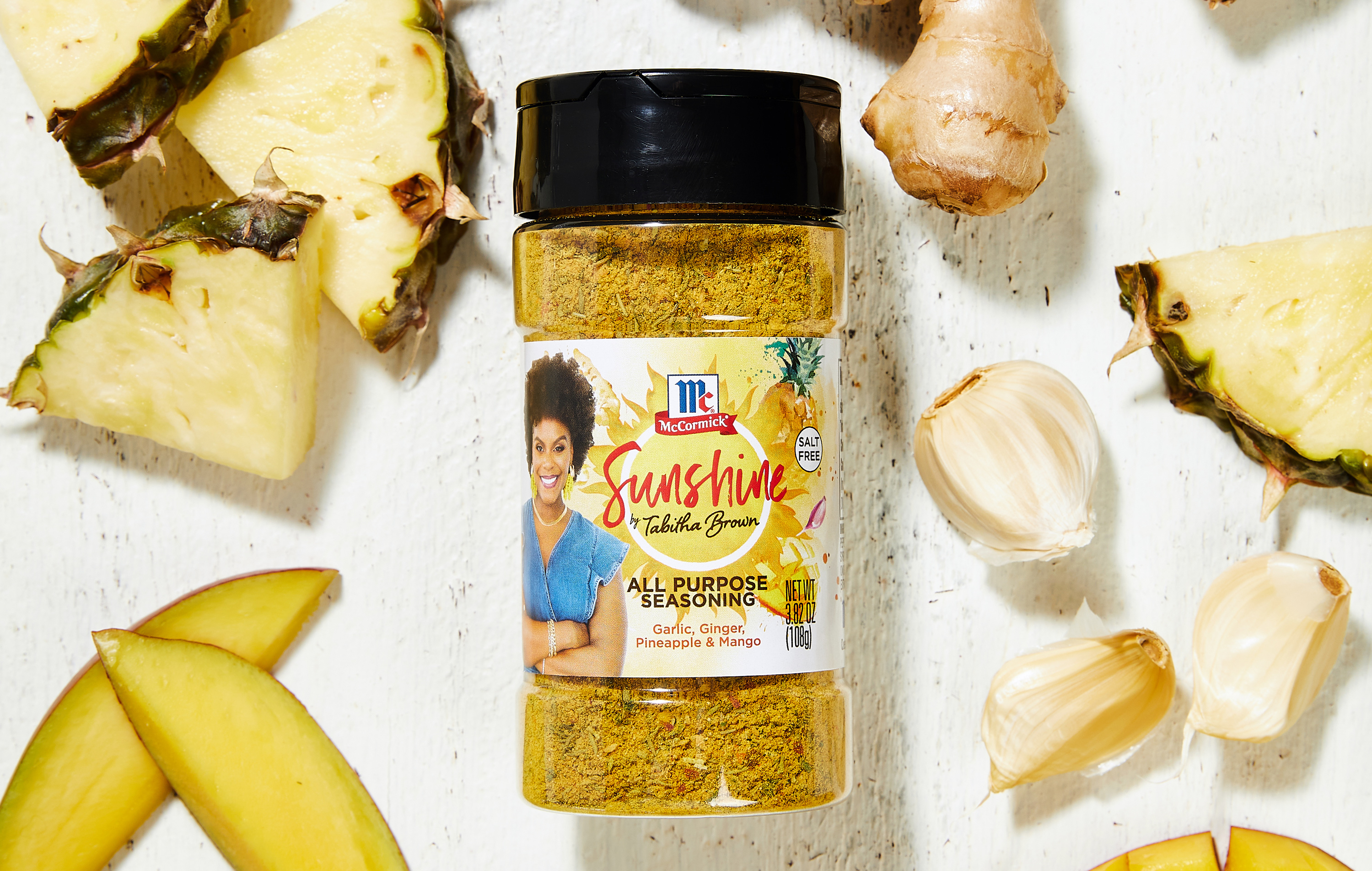 In the last year, the multi-hyphenate has excelled in just about everything. After lending her voice to the Calm app earlier this year, Brown partnered with McCormick for the limited-time Sunshine All Purpose Seasoning (which was so popular that it generated its own resale market) and recently became a New York Times bestselling author with her self-help book Feeding the Soul (Because It's My Business).
For more about Tabitha Brown, read: