Vegan brand Follow Your Heart (FYH) just launched its first line of boxed vegan mac and cheese at Whole Foods Market stores nationwide. The new SuperMac vegan mac and cheese line comes in Cheezy Carrot and Creamy Caulifredo varieties. In developing SuperMac, the brand reimagined the popular convenience food with the addition of vegetables such as carrots, butternut squash, and cauliflower, along with navy beans and cashews for a nutritional base.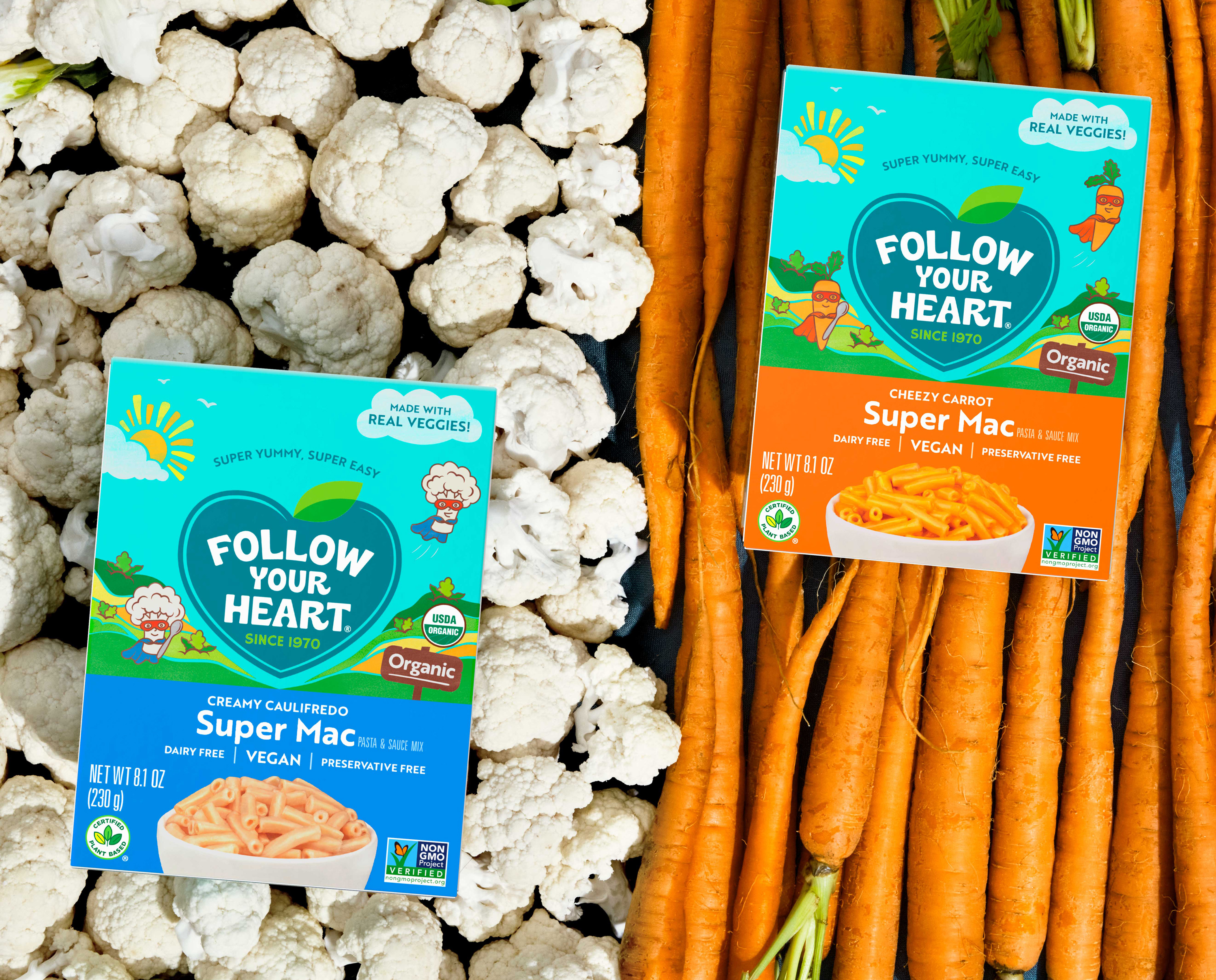 "While we have a long history in the refrigerated section, we're always looking for exciting ways to expand the universe of healthy, plant-based solutions no matter where they're found in the store," FYH Co-founder and CEO Bob Goldberg said in a statement. "SuperMac is an innovative, organic replacement for traditional mac and cheese as its sauces are made with vegetables, cashews, and beans. It's quick, simple, plant-based, and it's not only for kids. For so many occasions, it's a meal in under 10 minutes that will put a smile on your face."
Available exclusively at Whole Foods until March 2022, SuperMac retails at $5.99 per 8.1-ounce box.
Follow Your Heart's vegan mac and cheese
Its new mac and cheese was developed in partnership with sisters Heather Goldberg and Jenny Engel of vegan company Spork Foods, who created SuperMac with busy moms and kids in mind. "We've broken the mold in the mac and cheese category with SuperMac," Engel said in a statement. "Now, eating a nutrient-dense, healthier meal can also be extremely quick, delicious, and comforting. We're hoping to help busy people like us make better-for-you, compassionate choices." The new vegan mac and cheese, Goldberg says, is a good way to help kids eat their vegetables, adding, "And the best part is that our kids absolutely love it and can't tell that they're actually eating carrots and cauliflower. They'll thank us later."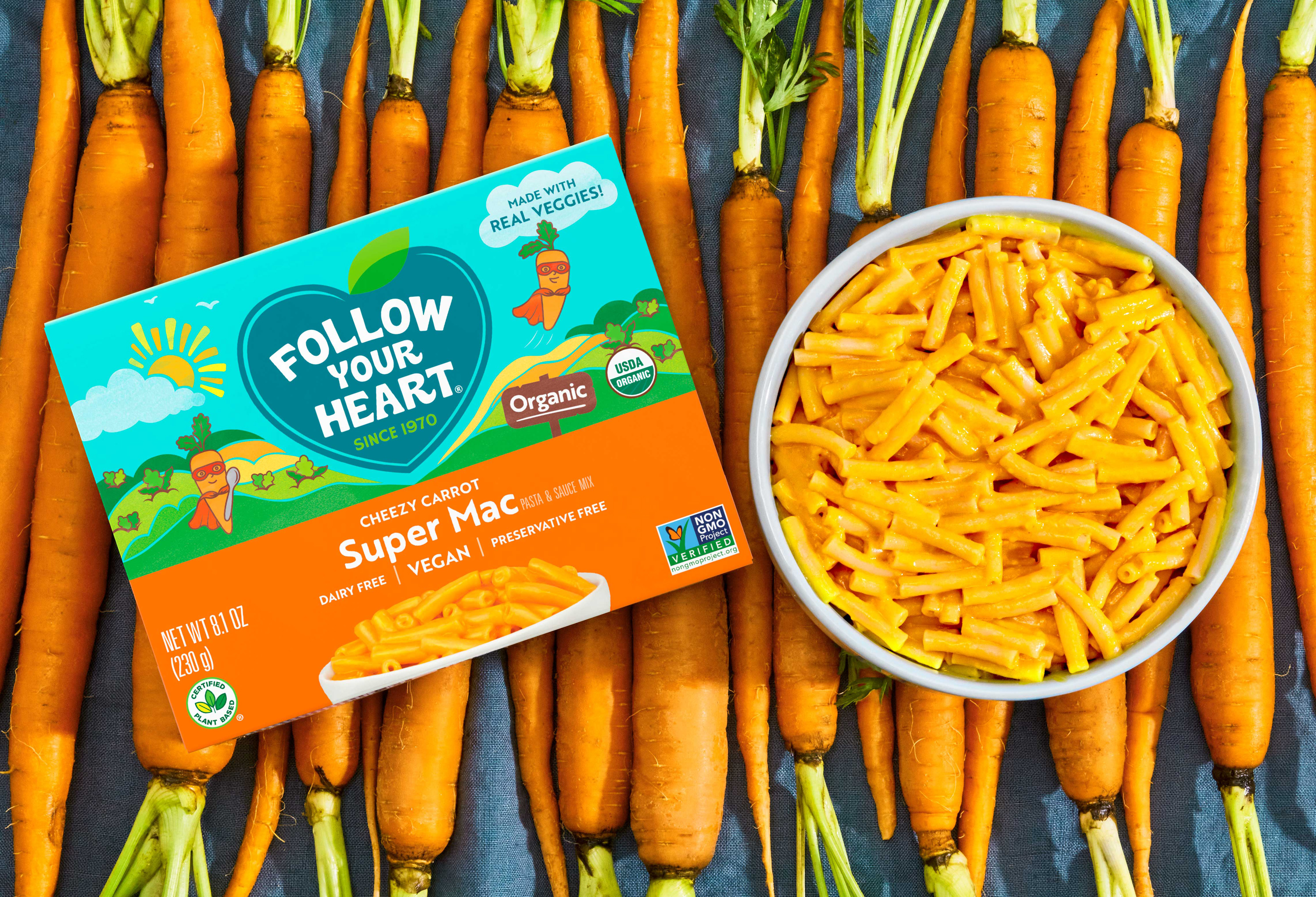 Cheesy SuperMac joins FYH's growing selection of vegan cheeses which include slices and shreds in flavors such as Mozzarella, Smoked Gouda, and Parmesan. In May, FYH expanded distribution of its cheese line to 4,000 Walmart locations nationwide—increasing the brand's in-store footprint by 80 percent. Most recently, FYH expanded its cheese offerings with the launch of Dairy-Free Feta Crumbles Cheese Alternative and Bleu Cheese Style Dairy-Free Crumbles—both cheese varieties that are typically hard to find in vegan form.
Outside of its own offerings, the brand also worked with dairy brand Bel Group—which recently committed to offer dairy-free versions of its iconic cheese products—to help it launch its first vegan product: Boursin Dairy-Free Cheese Spread Alternative. Launched last October in Garlic & Herbs flavor, the soft, spreadable cheese is now available at many retailers, including grocery chain Trader Joe's.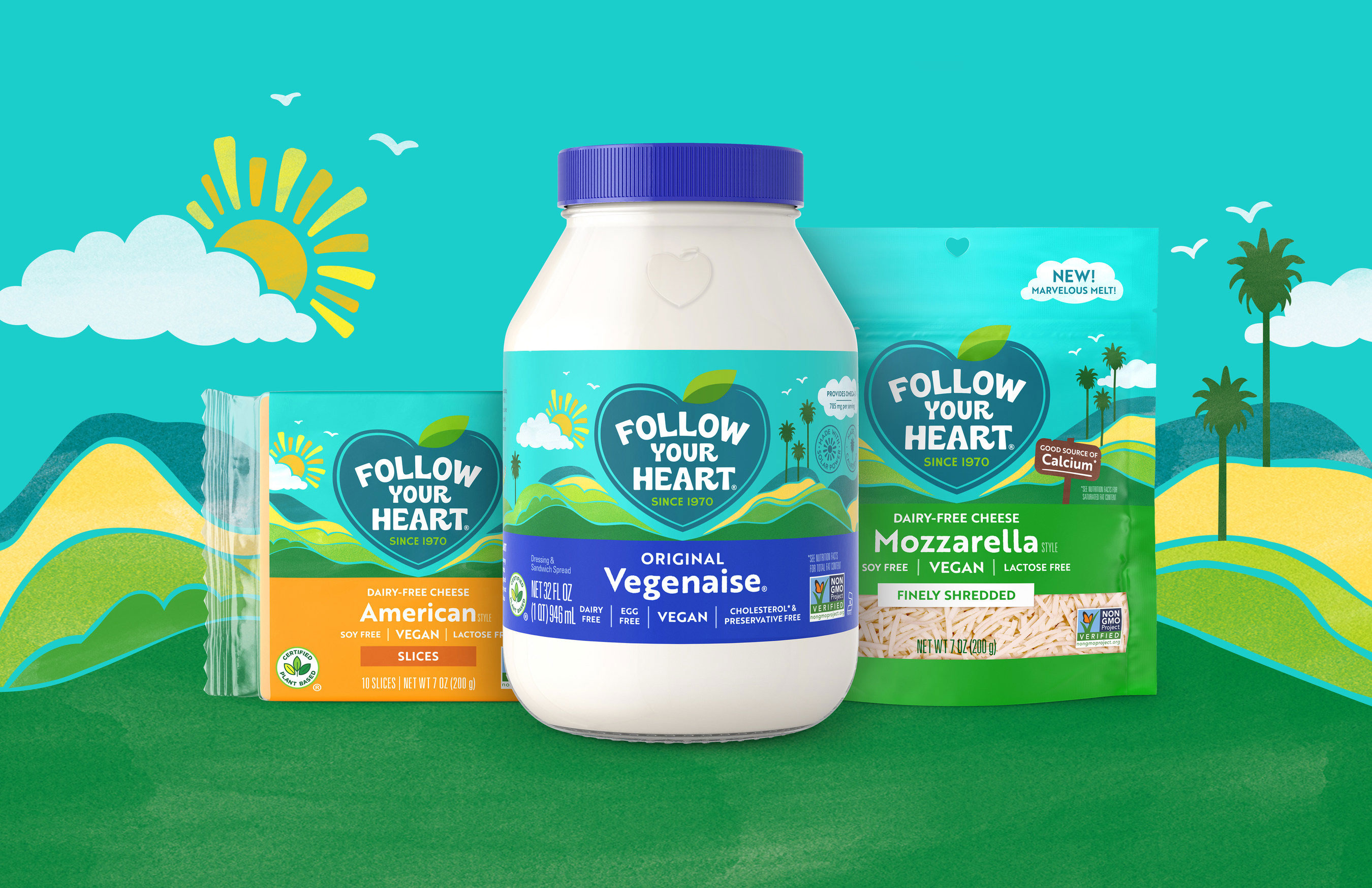 Follow Your Heart's vegan legacy
FYH first started as a vegetarian café in 1970 in Southern California and became a retail food brand in 1988 with the launch of vegan condiment Vegenaise. Now, the brand offers a variety of vegan products, including cheeses, salad dressings, VeganEgg, and more. FYH recently underwent a brand refresh—created in partnership with Chase Design Group—that harkens back to its roots with bright, '70s-era illustrations while maintaining a modern flare.
A pioneer in many ways, in 2020, FYH also launched a first-of-its kind pourable vegan pancake mix. Called Rocket Cakes, the brand also worked with Golderg and Engel to develop the innovative product over the course of five years. Sold in a rocket-shaped bottle, the vegan pancake mix is made with 92-percent organic ingredients and ancient grains including corn, millet, and quinoa.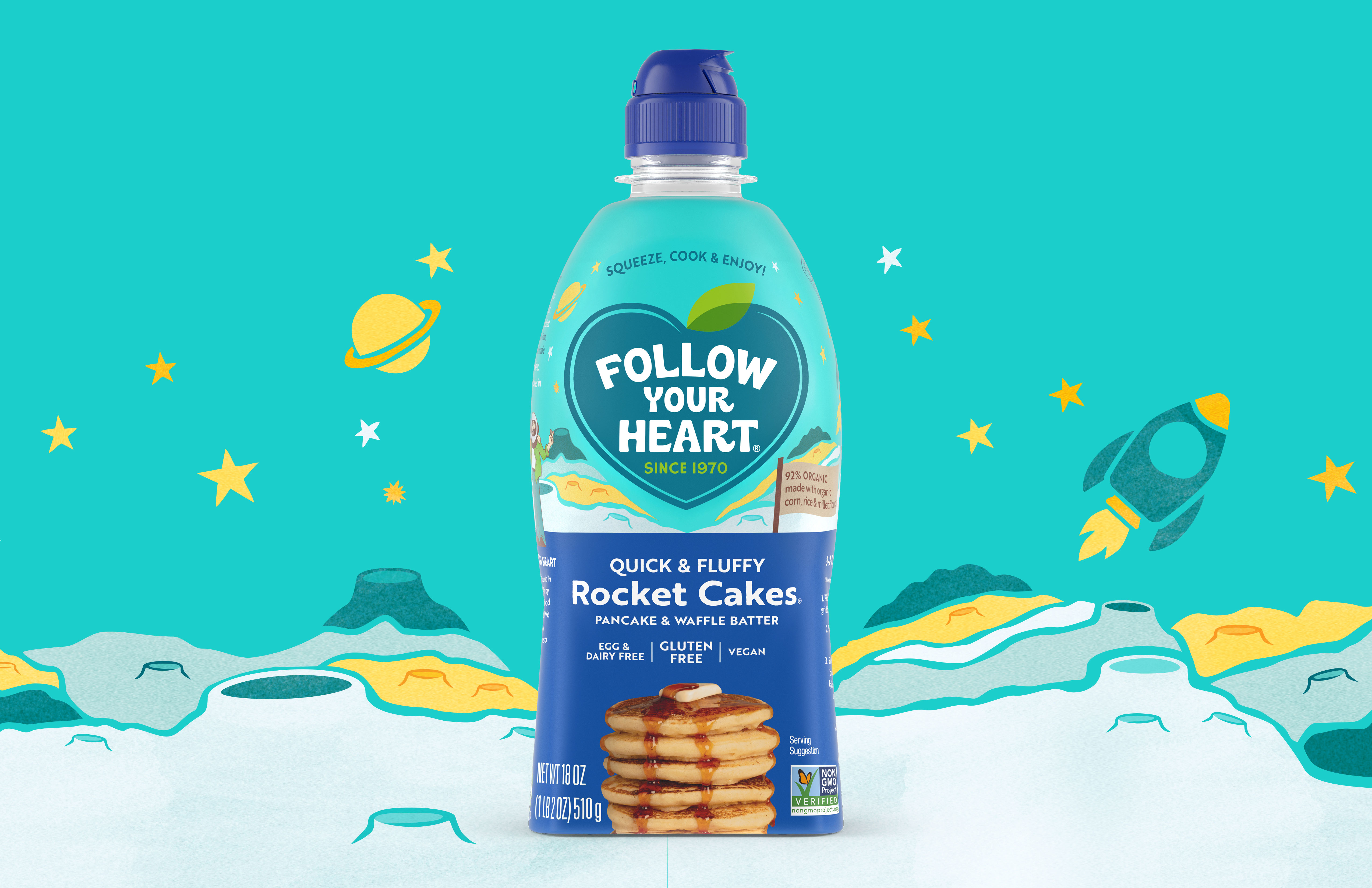 In February, FYH parent company Earth Island was acquired by dairy giant Danone, in a move that allows Danone to meet its goal of growing its global plant-based sales to $6 billion by 2025 while giving Earth Island an opportunity to substantially grow its presence.
For more about Follow Your Heart, read:
How a Retro Jar of Vegan Mayonnaise Led to a Plant-Based Legacy
Follow Your Heart Is the First to Launch Vegan Bleu Cheese Crumbles
Follow Your Heart Is Recycling Its Snack Wrappers Into Park Benches