On November 20, Louisiana-based chicken chain Popeyes will open its first location in the United Kingdom inside the Westfield Stratford City shopping center in London, where it will also debut its first-ever vegan chicken sandwich. The Creole Red Bean Sandwich features a vegan patty and comes with lettuce, tomato, and a Creole sauce made with onion, garlic, peppers, tomato, and parsley. Instead of offering a sandwich made by an existing brand—a popular move among fast-food giants looking to enter the plant-based space—Popeyes' new option will feature a house-made patty made from a base of red beans that is breaded and fried.
Popeyes aims to eventually open 350 locations across the UK, where the popularity of veganism is soaring with nearly 40 percent of Brits either reducing or removing meat from their diets within the last five years according to The Vegan Society.
Stateside, vegan options at Popeyes are few and far between (aside from soft drinks, corn without butter, and some condiments) and most of its sides either contain animal products or are fried in lard.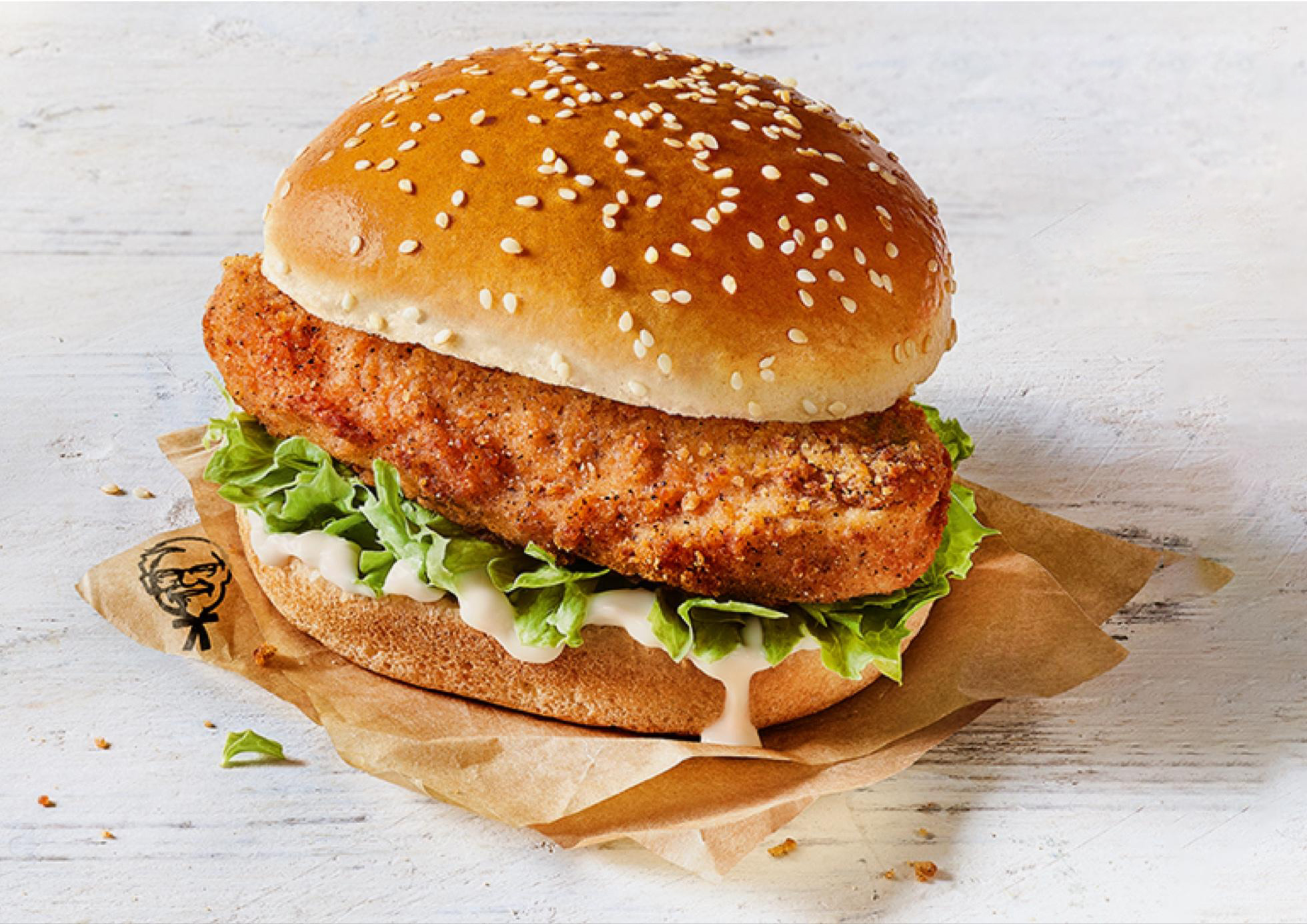 Popeyes vs KFC: the vegan chicken wars have begun
Popeyes is making its UK debut with a vegan chicken sandwich in tow but its competitors have already established themselves in the popular plant-based chicken space. In 2019, KFC UK first added the Original Recipe Vegan Burger (then called the "Imposter Burger") to select UK locations for a limited run but after the burger sold out within four days, the chain expanded the option to all of its 900 UK locations in January 2020. KFC worked with popular local brand Quorn to develop a bespoke vegan chicken patty coated with Colonel's Original Recipe herbs and spices and the sandwich is slathered with vegan mayonnaise, topped with lettuce, and served on a vegan bun.
Burger King UK is also a viable opponent in the vegan chicken wars. In May, the fast-food chain added the Vegan Chicken Royale and a new, fully vegan Plant-Based Whopper—which is now made with vegan mayonnaise instead of the egg-based version it previously offered.
And while it has to contend with KFC, Burger King, and UK-grown chains in the mounting vegan chicken wars, Popeyes' biggest competitor, Chick-Fil-A, has yet to expand to the UK due to vocal protests about the chain's anti-LGBTQ practices.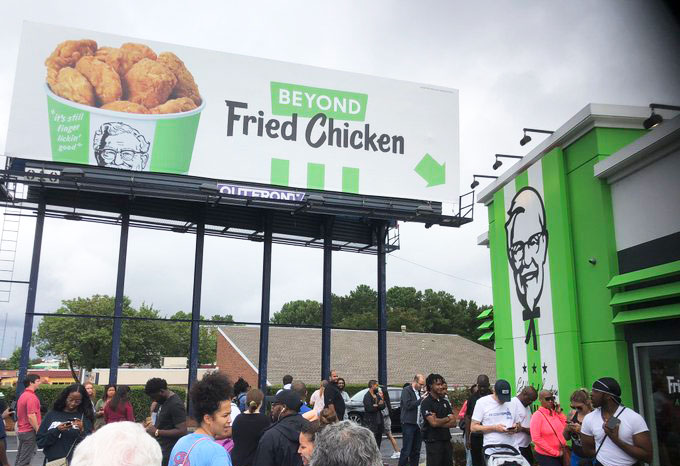 Vegan chicken in the US
Stateside, out of all of the chicken wars competitors, KFC is the only one to have tested a vegan option with the limited launch of Beyond Fried Chicken in 2019 at one location in Atlanta—where it sold out in less than five hours. KFC expanded the vegan chicken to additional locations in the South and Southern California for a limited time but has yet to add it to its national menu.
While the others figure out their game plan, McDonald's may potentially come out of left field with a vegan chicken sandwich option. The chain is working with Beyond Meat under a three-year deal to develop its McPlant platform which will tailor plant-based food launches to regional needs. McPlant launches could result in new options such as breakfast sandwiches and meatless chicken items.
Thus far, McDonald's new platform has produced the McPlant burger which it first tested in Europe earlier this year before adding a fully vegan version to its United Kingdom menu (a full rollout of which is currently in progress). This week, McDonald's expanded the McPlant—served with dairy cheese—to select US locations, the first time the fast-food giant has tested a meatless burger domestically.
For more about vegan chicken, read:
KFC-Inspired Vegan Chicken Shop Opens in UK
22 Vegan Chicken Sandwiches That Beat Chick-Fil-A and Popeyes
KFC Is Working To Make Vegan Chicken Perfect