In January 2022, German brand Ritter Sport will launch a new vegan milk chocolate bar in its home country. The new Vegan Pur Ohne Muh (which translates to "Vegan Pure Without Moo") chocolate bar is crafted with simple ingredients that deliver a milk chocolate experience without the use of any dairy products. The cocoa used in the bar comes from the Cacao-Nica program, an initiative that Ritter Sport has been working with for 30 years to promote sustainable cocoa practices in Nicaragua.
"With Vegan Pur Without Moo, Ritter Sport is aimed at all chocolate fans who are looking for products with exclusively plant-based ingredients and for whom sustainability is an important aspect when choosing their food, but for whom chocolate should above all be one thing, really delicious," Ritter Sport said in a statement. The chocolate is made with cocoa mass, high-quality almond flour (which replaces powdered milk), cocoa butter, and sugar. "As a result, the variety tastes particularly mild and creamy, comparable to classic milk chocolate," the company stated. "By completely avoiding milk, the Vegan Pur is also suitable for people with lactose intolerance." Developed to serve the growing vegan German population—which is up to 1.13 million people according to a 2020 poll—the new Vegan Pure Without Moo will be priced at €1.99 ($2.31) per 100-gram bar.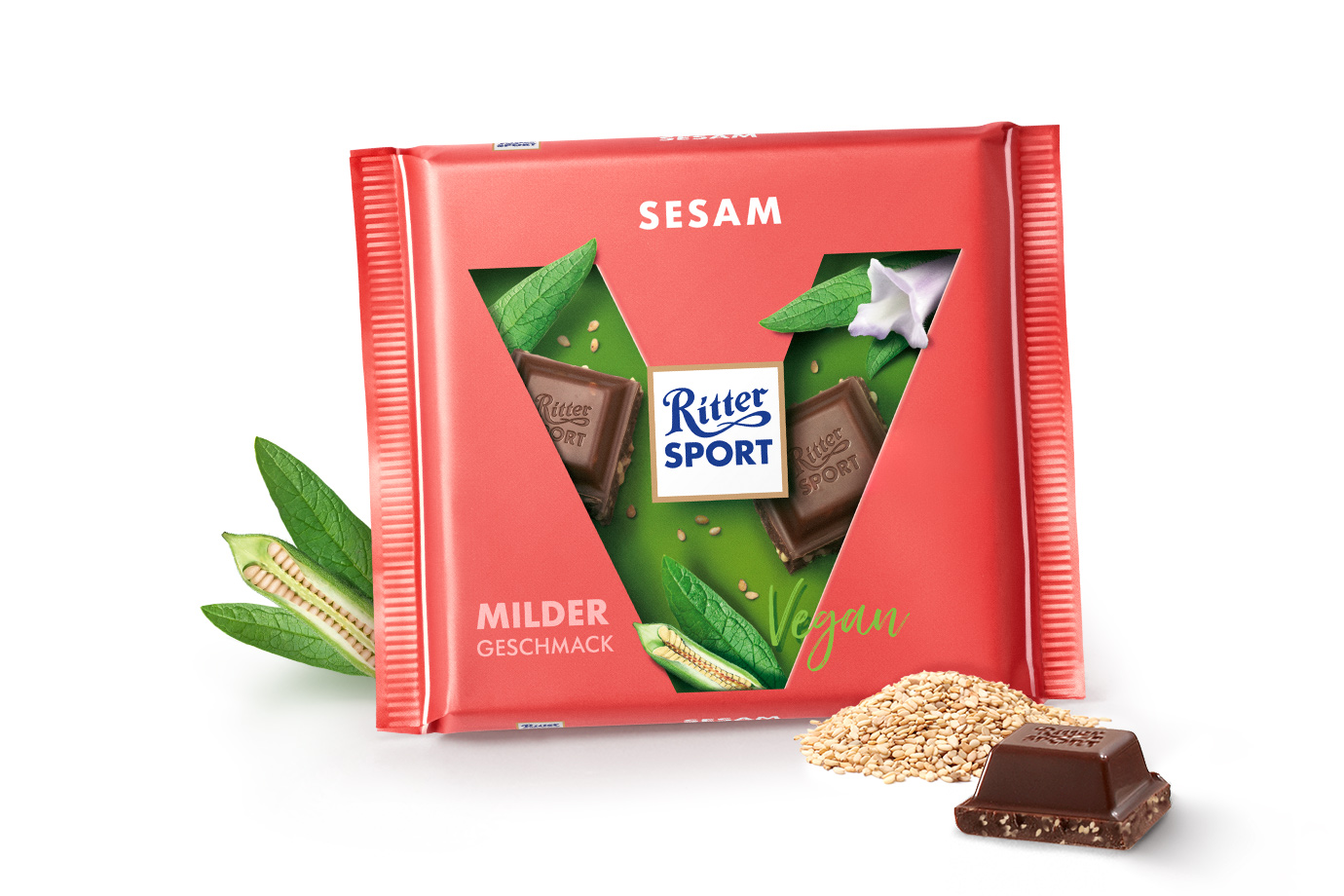 Ritter Sport's vegan chocolate bars
The launch of Vegan Pur Without Moo follows Ritter Sport's pioneering entry into the vegan milk chocolate industry in 2017 with the launch of its first vegan-certified bars in two flavors: Dark Whole Hazelnuts Amaranth and Dark Almond Quinoa. Both of these flavors used hazelnut cream to replace dairy and the line was recently updated with a Sesame flavor which, like Vegan Pur Without Moo, is made with almond flour.
Ritter Sport has also offered so-called "accidentally vegan" chocolate bars for some time. Last year, the brand leaned into those offerings—which include Marzipan; 74% Intense Dark Chocolate from Peru; single-origin 61% Fine Dark Chocolate from Nicaragua; and 50% Dark Chocolate—to promote its vegan chocolate options to United Kingdom residents during the Veganuary campaign, which tasks people to go vegan for the month of January and beyond.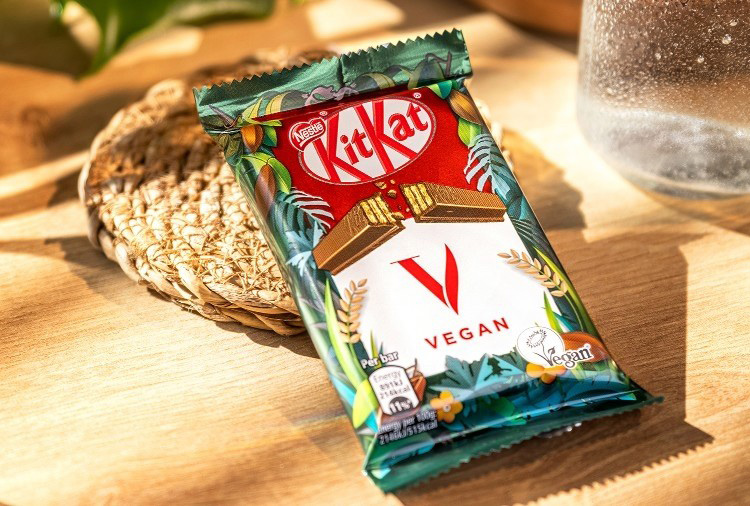 Candy giants get into vegan milk chocolate
In recent years, vegan milk chocolate offerings from major confectionary brands have exploded. In 2019, after six months of research and development, confectionary company Mars debuted its first vegan milk chocolate Galaxy line in the United Kingdom. The bars are made with hazelnut paste and rice syrup instead of dairy milk and come in Smooth Orange, Caramel & Sea Salt, and Caramelized Hazelnut flavors.
This year, Nestlé debuted a vegan version of its iconic KitKat bar made with rice milk in the UK, Poland, Estonia, Latvia, Lithuania, Australia, and Brazil. While the bars are available in many countries, they will not be coming to the US—where the KitKat brand is owned by The Hershey Company. However, Hershey is currently working on its own vegan launch. This summer, the company began a real-time test of a new Oat Made line that features two flavors: Classic Dark and Extra Creamy Almond & Sea Salt. The vegan chocolate bars are available at select retailers, including some Target locations, until June 2022.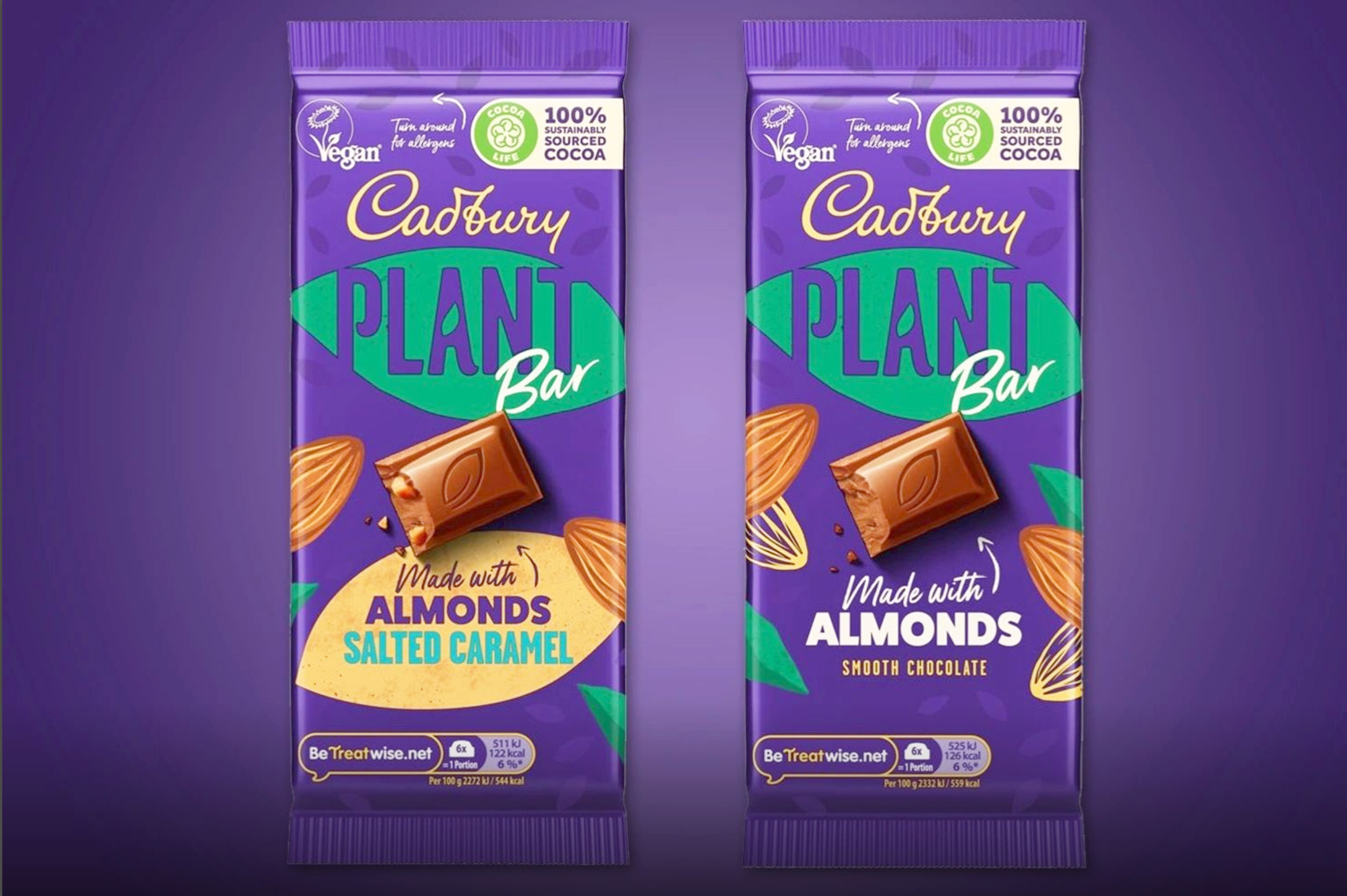 Chocolate giant Cadbury got into the vegan business with the launch of its first vegan milk chocolate line made with almond paste instead of dairy. The Cadbury Plant Bars come in two flavors: Smooth Chocolate and Salted Caramel, and are available at UK grocery chain Sainsbury's starting this month and will roll out to other retailers next year.
In January 2022, Swiss chocolatier Lindt & Sprungli will launch Lindt Classic Recipe vegan milk chocolate bars made with oat milk. The bars will be available in two varieties: Smooth and Hazelnut. To create the new certified vegan products, Lindt replaced dairy milk with gluten-free oat milk and almond paste. The new bars will expand Lindt's selection of vegan chocolate bars, joining the three-flavor HELLO line it launched last year in Germany and the UK.
For more about vegan chocolate, read:
Trader Joe's Vegan Milk Chocolate Bar Is Finally Here
The VegNews Guide to Vegan Chocolate

25 Accidentally Vegan Chocolate Bars You Need To Know About