On December 31, doughnut chain Krispy Kreme will launch new vegan doughnuts at its United Kingdom locations. The chain is updating its menu in time for Veganuary, a campaign that challenges people to go vegan for the month of January and beyond. Typically, the Veganuary campaign results in many new product offerings and deals at restaurants and retailers across the world and Krispy Kreme is joining the celebration for the second year in a row.
This year, Krispy Kreme will offer its new vegan doughnuts in three flavors: Fudge Brownie Bliss (filled with rich chocolate and topped with brownie pieces); Caramel Choc Delight (Belgian chocolate and caramel fillings topped with caramel icing and chocolate icing drizzle); and Apple Custard Crumble (apple and custard filling topped with cinnamon crumble).
"We are really excited to bring this range to customers and spread a little joy in January and are confident it delivers on the irresistible taste we are known and loved for whilst being accessible to a broader network of customers," Louise Direito, Krispy Kreme UK and Ireland's Head of Innovation, said in a statement.
Krispy Kreme's new doughnuts are certified vegan by UK's The Vegan Society and represent the first time that Krispy Kreme has offered a vegan version of its filled doughnuts.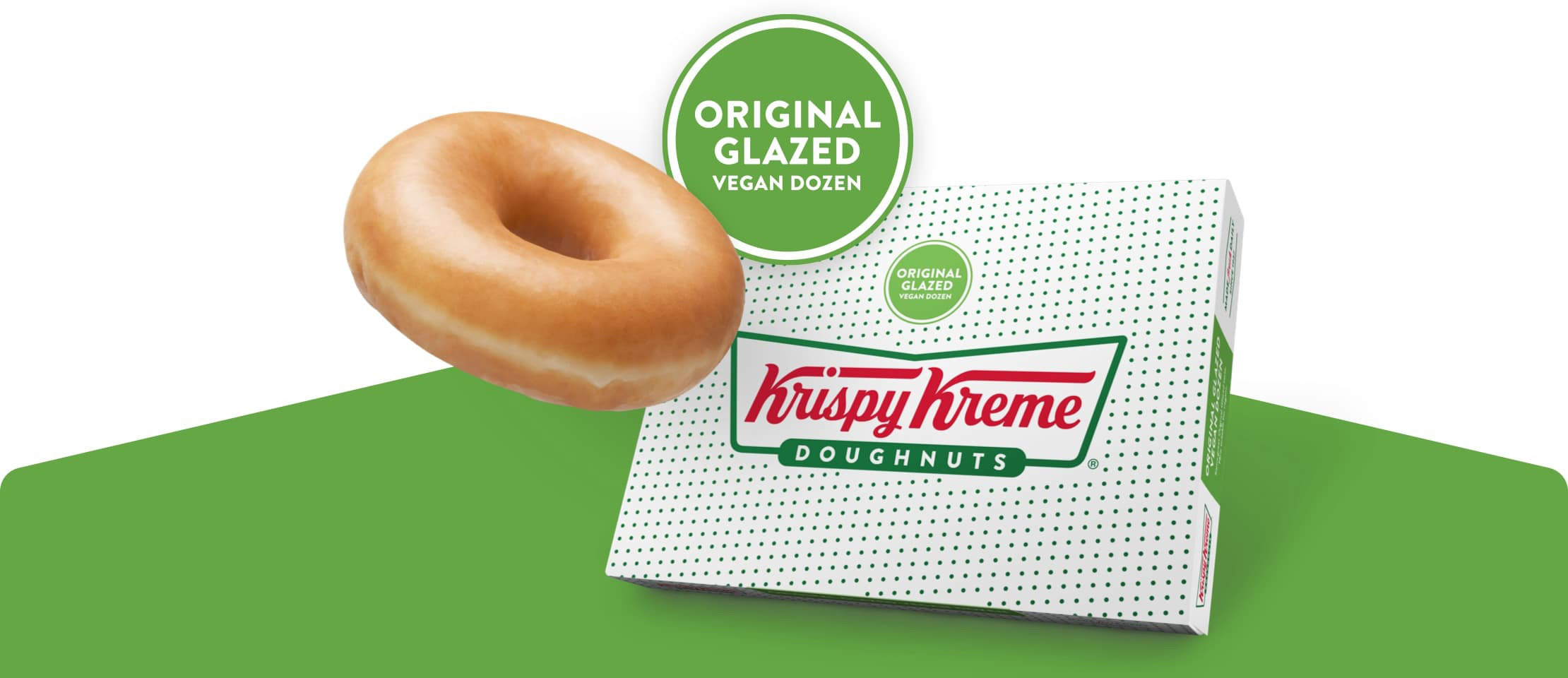 Krispy Kreme's vegan doughnuts
United States-based Krispy Kreme was founded in 1937 in North Carolina and expanded across the country in the 1990s, when the Smithsonian recognized the doughnut chain as an American cultural icon. The historic chain was built around a secret doughnut recipe that founder Vernon Rudolph bought from a French chef in New Orleans.
While that recipe has not changed much since its founding, Krispy Kreme did develop a vegan version of its yeast-raised doughnuts for its UK stores. Krispy Kreme's first vegan doughnut, the Original Glazed Vegan Doughnut, debuted in time for Veganuary last year and is available for delivery across the UK.
"We are excited to extend our range of iconic irresistibly original doughnuts with the launch of our first ever vegan offering, available exclusively in the UK," Direito said in a statement last year. "We know January is a time that many are trying out new lifestyles and set ourselves the challenge to create a plant-based doughnut that is equally delicious as the original, with absolutely no compromise."
VegNews has reached out to Krispy Kreme to inquire about its plans to launch vegan doughnuts at its US locations.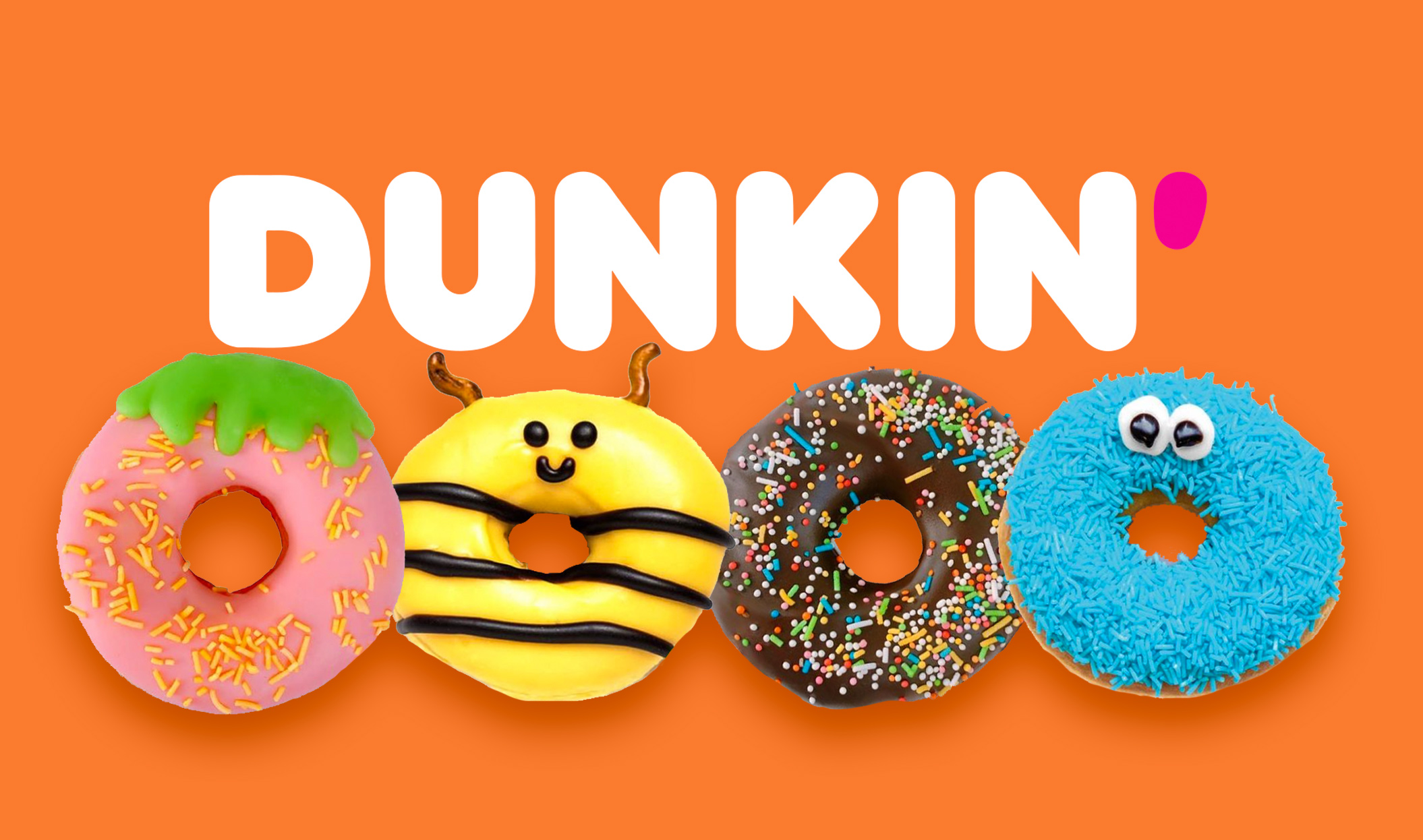 Vegan doughnuts at Dunkin'
Krispy Kreme's biggest global competitor is Dunkin', which updated its doughnut menu in Belgium in a major way last year. There, the chain introduced a whopping 41 vegan doughnut options from simple creations such as Original Glazed, Pistachio, and Cinnamon Swirl to filled varieties such as Double Stuffed Strawberry, Sugared Raspberry, and Cinnamon Jam. Dunkin' Belgium even went all out with inventive creations inspired by the Cookie Monster (complete with googly eyes), candy rings (in Strawberry Red and Strawberry Ring), and a vegan doughnut decorated to resemble a bee with salted pretzel antennae. For Christmas this year, Dunkin' Belgium is offering a cheery vegan doughnut decorated with red and green icing.
Outside of Belgium, however, Dunkin's vegan doughnut options are sparse (if not entirely non-existent). In the US, Dunkin' previously made some plant-based menu updates such as the Beyond Breakfast Sandwich, avocado toast, and oat milk. Last year, former CEO David Hoffman also hinted at the potential of a vegan doughnut. "As it relates to a vegan doughnut, we continue to investigate a viable vegan doughnut option," Hoffman said during a shareholder meeting. "We are looking at it closely."
Hoffman left his post at Dunkin' in September to pursue other interests—including investing in vegan bacon brand Hooray Foods—leaving the future of vegan doughnuts at Dunkin' hanging in the balance.
For more about vegan doughnuts, read:Washington, DC Gets Its First Vegan Doughnut Shop18 Best Vegan Doughnuts in the Us You Have to TryA Queer-Owned Vegan Doughnut Truck Is Coming to Seattle