Candy brand Starburst just unveiled its first gelatin-free gummy candy. The new pack of Plant Based Original Gummies—which Starburst shared in a recent Instagram story—are available in a mixed bag that contains four classic flavors: Strawberry, Cherry, Orange, and Lemon. The new product is a plant-based version of its existing Starburst Gummies line, which is not vegan as it contains gelatin.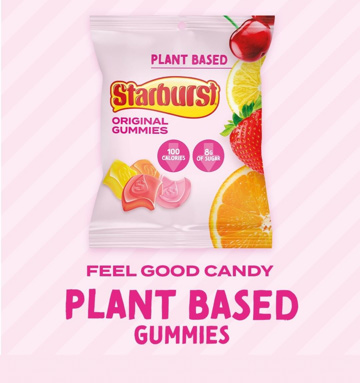 In addition to the new plant-based line, Starburst has been innovating its gummy candies in other ways. This summer, Starburst launched its Airs Gummies line, which reimagines gummy candy by aerating it to create a fluffier texture. The non-vegan Starburst Airs Gummy line became available at select grocers in Original and Sour Tropical flavors this fall and is hitting national retailers in 2022.
VegNews has reached out to Starburst parent company Mars Wrigley for more information about its new Plant Based Gummies, including to ask if the brand plans to release a plant-based version of the new Airs Gummies, as well.
Are Starburst candies vegan?
Most Starburst candies, including its classic fruit chews, are not vegan because they contain animal-derived products such as confectioner's glaze (made from the secretions of lac beetles) and gelatin (an ingredient sourced from collagen found in animal bones). In other regions, including the United Kingdom, however, Starburst fruit chews are made without gelatin.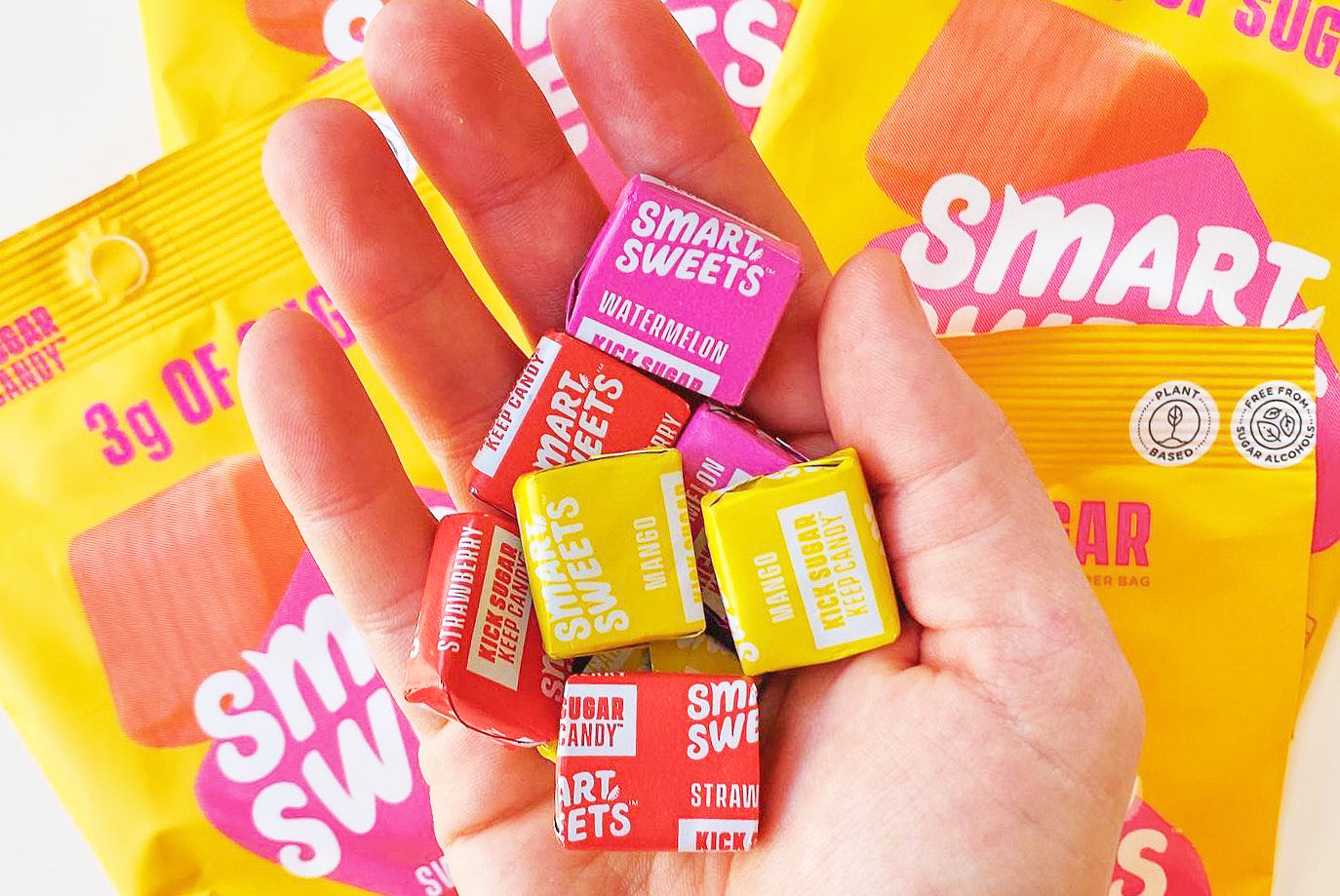 While Mars Wrigley is just getting into the plant-based candy business in the United States, vegan Starburst copycats are already on the market. Last year, woman-owned confectionary brand Smart Sweets released its Starburst-like candy chews in mango, strawberry, and watermelon flavors. Unlike Starburst, Smart Sweets' version does not contain gelatin and instead is made with pectin—a fruit-derived ingredient with similar properties to gelatin but without animal cruelty. Smart Sweets plant-based chews are also sweetened with monk fruit to reduce the amount of added sugar. While some of Smart Sweets' candies do contain gelatin, the company also offers other plant-based candies such as Sweet Fish, Sour Blast Buddies, and Peach Rings.
Big candy goes vegan
Some of the biggest names in confectionery—including Cadbury, Lindt, and Nestlé—have broken into the lucrative vegan candy market in recent years. Over in the United Kingdom, Mars launched its first vegan milk chocolate Galaxy line in time for Veganuary 2020. There, the brand worked for six months to perfect its vegan milk chocolate, which is made from hazelnut paste and rice syrup instead of dairy milk. Chocolate giant Nestlé got into vegan candy last summer with the launch of KitKat V in the UK, Europe, Australia, and parts of South America. The US has yet to see the KitKat V—which was developed in KitKat's birthplace of York, England—because the brand is licensed and manufactured by The Hershey Company stateside.
However, Hershey is currently testing its own vegan chocolate bars in the US with the limited launch of its Oat Made line. The new line features two vegan flavors, Classic Dark and Extra Creamy Almond & Sea Salt, which are available in a real-time marketing test at retailers such as Target until June 2022.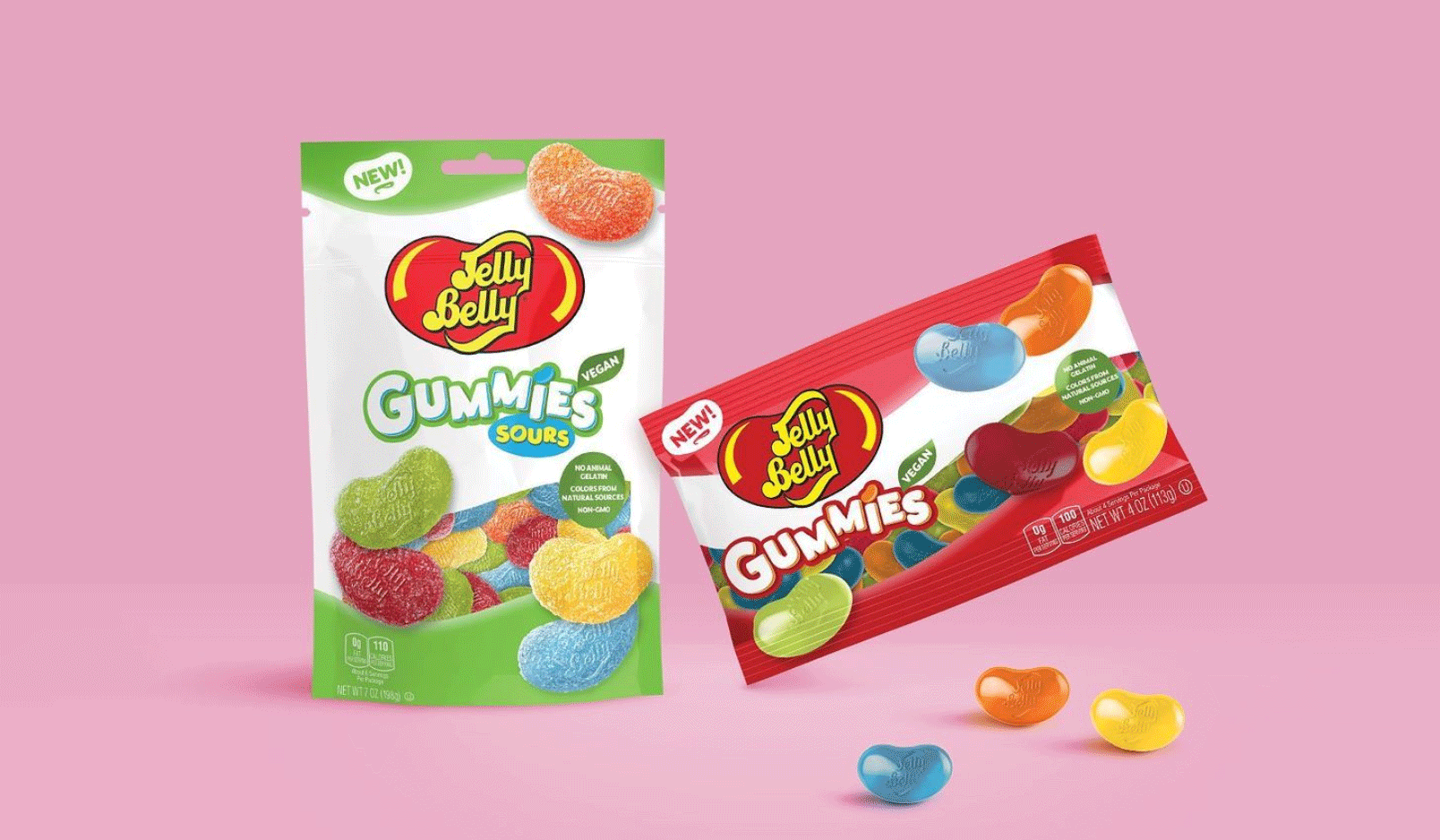 Outside of the chocolate category, Starburst's new plant-based line will join a similar gummy line launched last year by Jelly Belly. While its core line of jelly beans is not vegan due to the inclusion of beeswax and confectioner's glaze, Jelly Belly's new vegan gummy line is free from gelatin and is available in two original and sour varieties in bags of five assorted flavors: Apple, Berry, Lemon, Orange, and Very Cherry.
For more about vegan candy, read:
35 Essential Vegan Candy Bars You Can Buy Year-Round
The Ultimate Guide to Vegan Halloween Candy 2021
Soap Legend Dr. Bronner's Is Launching Vegan Chocolate Candy Bars