Billionaire Mark Cuban invested $2 million in Numilk, a plant-based milk machine, on the most recent episode of reality series Shark Tank. Numilk was founded by entrepreneurs Joe Savino and Ari Tolwin with the mission of creating the freshest dairy-free milks from oats, almonds, and other plant-based bases while eliminating waste from single-use bottles. NuMilk launched its first large-format kiosks in select Whole Foods Market grocery stores in 2018 and has since developed Numilk Professional machines specifically for use by baristas at cafés. "Three years ago, we asked ourselves: What if we could revolutionize plant-based milk to make it what it should be—waste-free, pure, nutritious and delicious; better for our taste buds, health, and better for the environment?" Tolwin told VegNews. "We are excited to partner with Mark because he is truly aligned with our mission to make plant-based what it should be."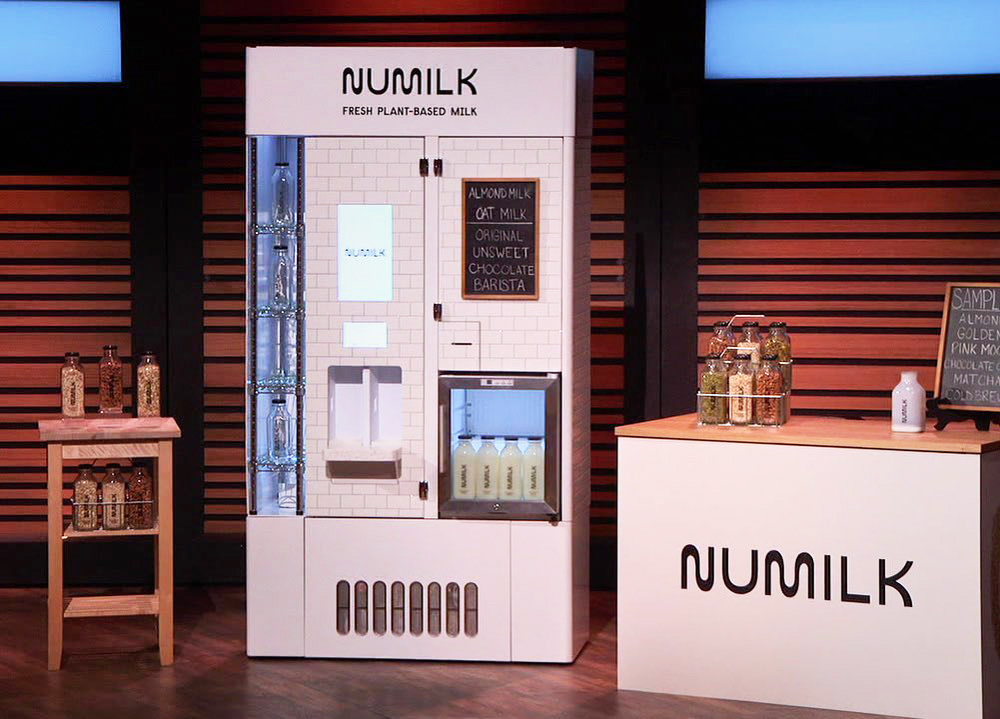 The brand recently launched a Kickstarter campaign to promote its newest product: Numilk Home, and has raised already $37,000 more than its $100,000 goal. This machine utilizes pre-filled pouches that create vegan milk, lattes, and protein shakes blended with water with the push of a button and dispensed into a reusable bottle for a 90-percent carbon footprint reduction compared to pre-packaged milks. "With Numilk, you make your own delicious clean plant-based milks, lattes, and protein-based shakes in less than a minute," Tolwin said. "Numilk is better tasting, better for you, and better for the planet. The best thing we can do to accelerate the movement to plant-based is make plant-based as awesome as it can be, and Numilk does just that." The Numilk Home machine is now available for pre-order with an estimated delivery of August 2022 at a Shark Tank special price of $199 per machine.
Numilk is the largest vegan investment Cuban has made on Shark Tank to date, and is tied with horror events production studio Ten Thirty One Productions—which pulled in $2 million from Cuban on Season 5—as his largest Shark Tank investment of all time.
Cuban's vegan investments
A vegetarian since 2019, Cuban has invested in a number of vegan companies throughout his decade-long run on Shark Tank, including $600,000 in dessert hummus company Delighted by Hummus; $300,000 in snack brand Pan's Mushroom Jerky; $300,000 in Black-owned vegan meat brand Everything Legendary; $250,000 in pork-free rinds brand Snacklins; and $100,000 in date-based spreads company Wanna Date?.
In 2019, vegan meat brand Mrs. Goldfarb's Unreal Deli received $250,000 in funding from Cuban in exchange for 20 percent of the company. Since then, the brand greatly expanded the availability of its plant-based corned beef across the country, including at delis in several cities, select Whole Foods Markets, Veggie Grill locations nationwide, and test locations of Quiznos in the Seattle area, along with a limited run ending this month at vegan chain Next Level Burger.