The ongoing COVID-19 pandemic has completely changed our world. And while we work to adjust, recover, and protect ourselves, two devastating side effects have emerged: the massive impact on the restaurant industry, and the increased occurrence of discrimination and violence against those of Asian descent.
In the early days of the outbreak, Chinatown enterprises in cities across the country were among the first to suffer from huge losses in business—some up to 50 percent before mandatory quarantines began, with others shuttering for good. A spike in violent attacks against Asian Americans has put millions on edge, and in New York alone, unemployment among the demographic skyrocketed by 10,210 percent (compared to 1,927; 2,904; and 3,222 percent for Black, white, and Latinx populations, respectively).
Thankfully, the results of a positive shift can be seen: businesses have adopted delivery, takeout, and pickup models to stay afloat, and interest in Chinese food not only rebounded but spiked as Americans turned to delivery for dinner.
But we're far from out of the woods. Asians across the diaspora continue to face unfair discrimination and hardships, and for those that are entrepreneurs, hard-won businesses still hang in the balance. So now is the time to stand up against racism and to be an ally to the Chinese and Asian American community—the fact that you can do just that by following, sharing, and enjoying the food of vegan restaurants makes it all that much easier. Here are a few places to start.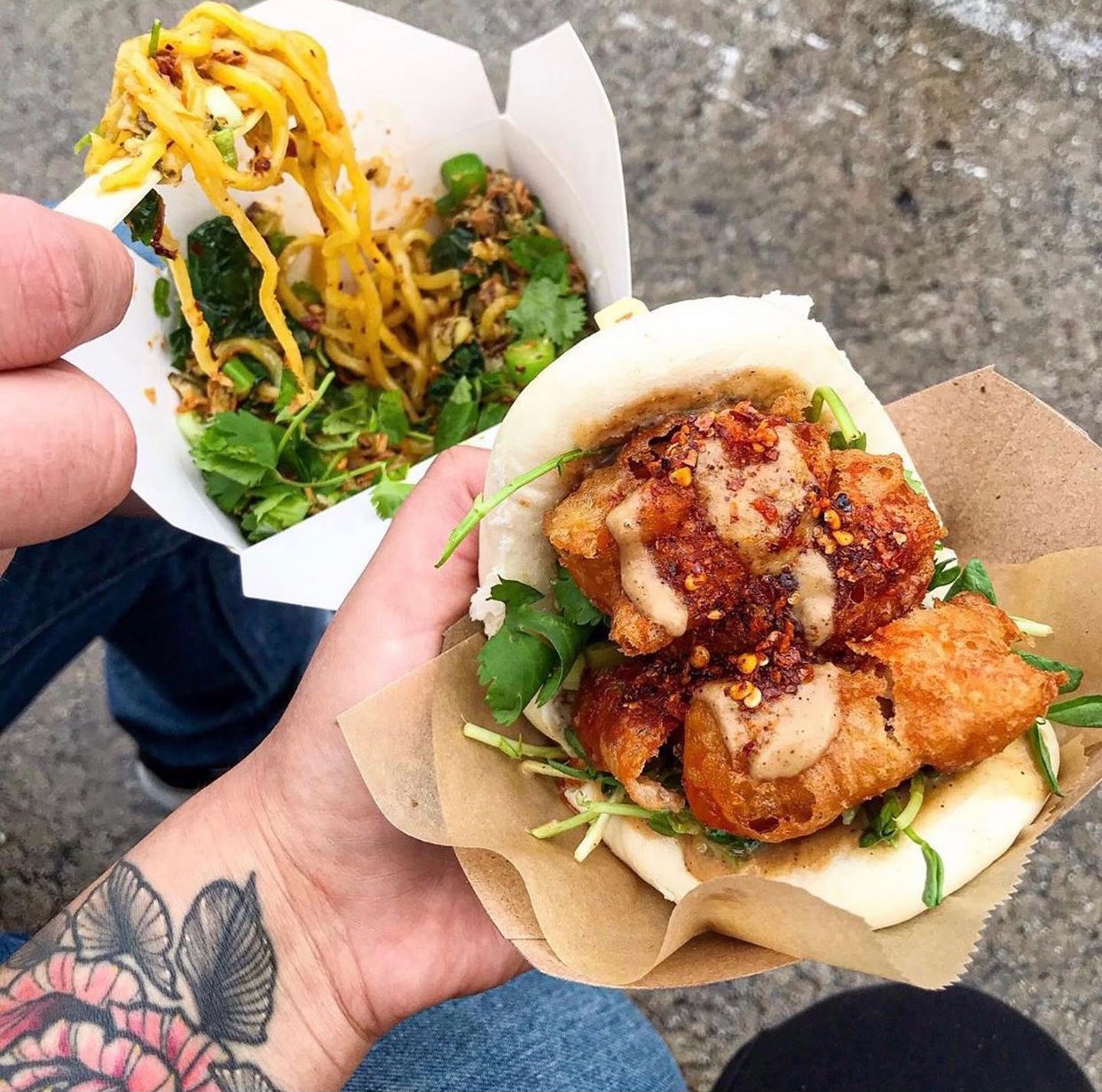 MANEATINGPLANT
MANEATINGPLANT's Garlic Chile Noods and Fried Shroom Bao

1 MANEATINGPLANT
Los Angeles, CA
Owners Candice Tzeng and Phil Kwan helm this vegan pop-up-slash-catering service that draws throngs of crowds with the flavors of their Chinese and Taiwanese roots. Street food favorites like crispy mushroom bao buns, garlic chile noodles, and Singaporean crab cakes have helped MEP amass a loyal following (that includes VegNews editors), while elegant supper clubs and intimate eight-course dinners showcase their tremendous skill.
Where to follow: instagram.com/maneatingplantla
Visit their website here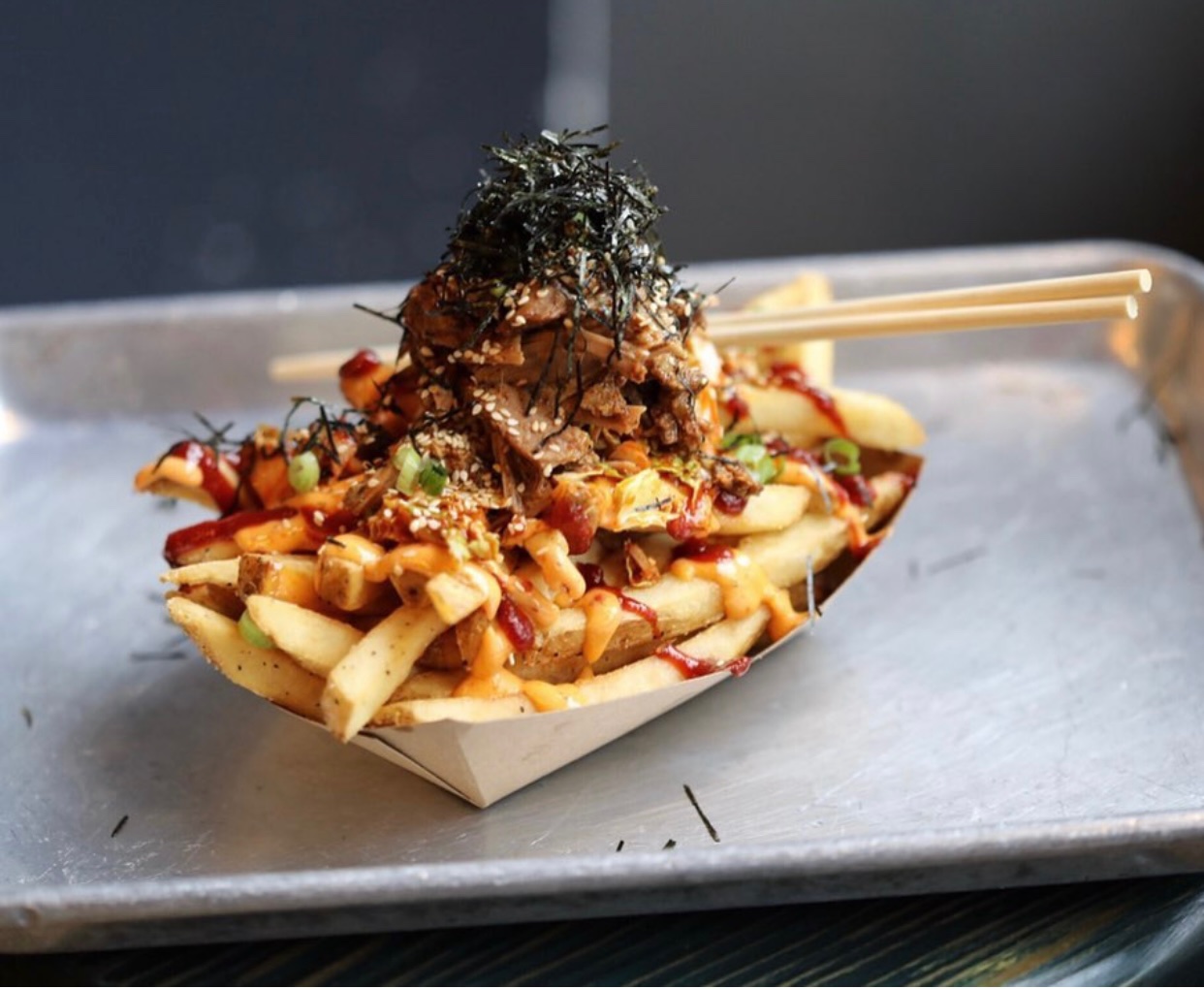 Pow Pow
Pow Pow's Korean BBQ'd Jackfruit on Trolley Fries
2 Pow Pow
Washington, DC
An all-vegan, fast-casual eatery featuring Chinese, Japanese, and Korean flavors? It's a delicious reality at Pow Pow in the Near Northeast neighborhood of Washington, DC. Spearheaded by Stephen Cheung, John Yamashita, and Shaun Sharkey, Pow Pow's fun and creative brand of "New Asian" cuisine includes dishes like Taiwanese fried chicken parmesan, gigantic pineapple kimchi-chicken egg rolls, and a sweet-and-sour Natalie Porkman bowl.
Where to follow: instagram.com/eatpowpow
Visit their website here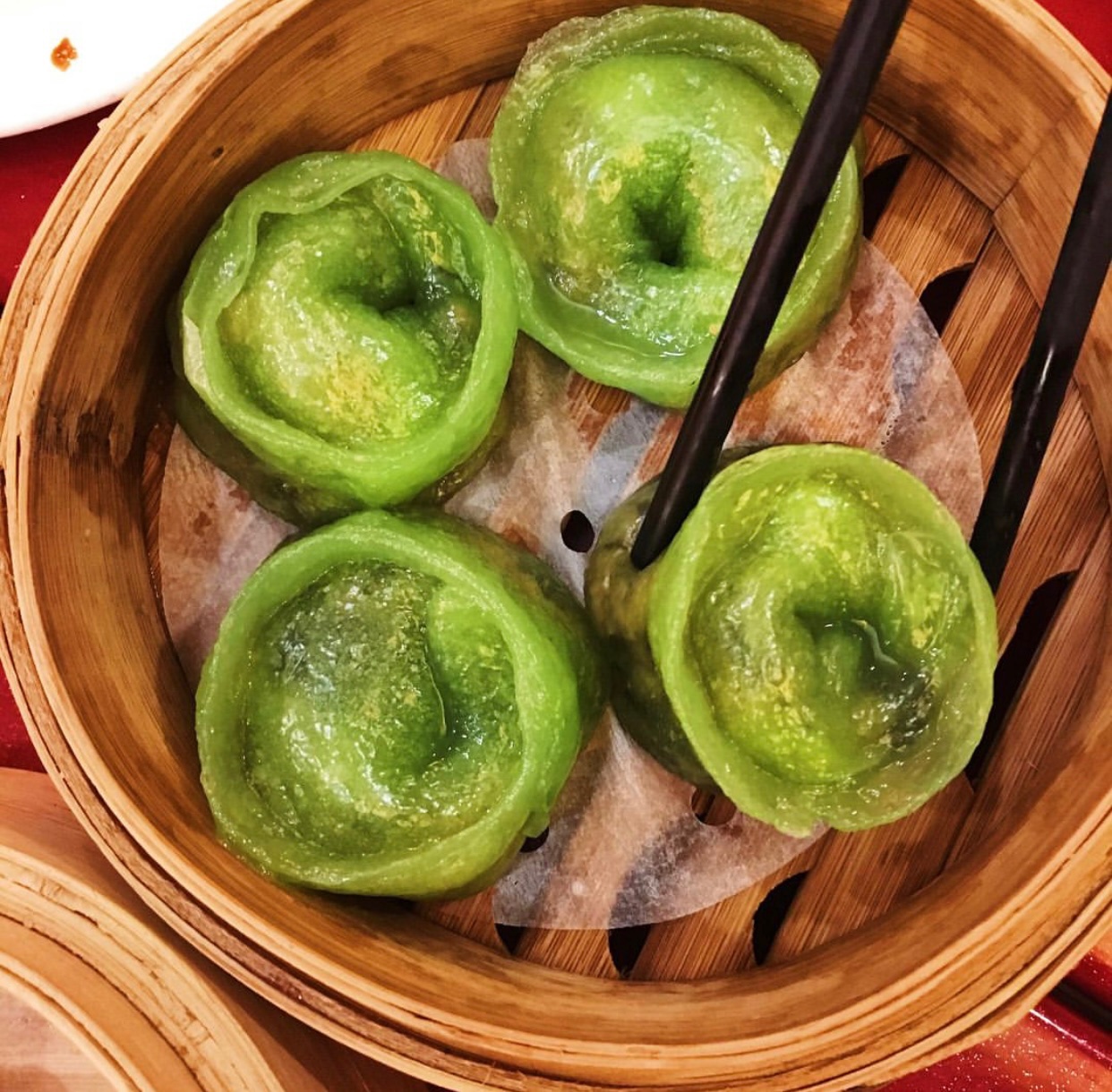 @thelilpufferfish
Bodhi Kosher's Vegan Steamed Green Jade Dumplings
3 Bodhi Kosher Vegetarian Restaurant
New York City, NY
One of the most beloved spots in New York, Bodhi Kosher Vegetarian Restaurant's entirely vegan take on traditional dim sum attracts diners from all around the country. Expect authentic plant-based bites like soup dumplings, fried shrimp dumplings, and even vegan shark fin soup—an animal-free version of the infamously popular Chinese dish that owner Kent Zhang makes to illustrate how traditional meals can be enjoyed without animals or destruction of the environment.
Where to follow: instagram.com/buddhabodhai
Visit their website here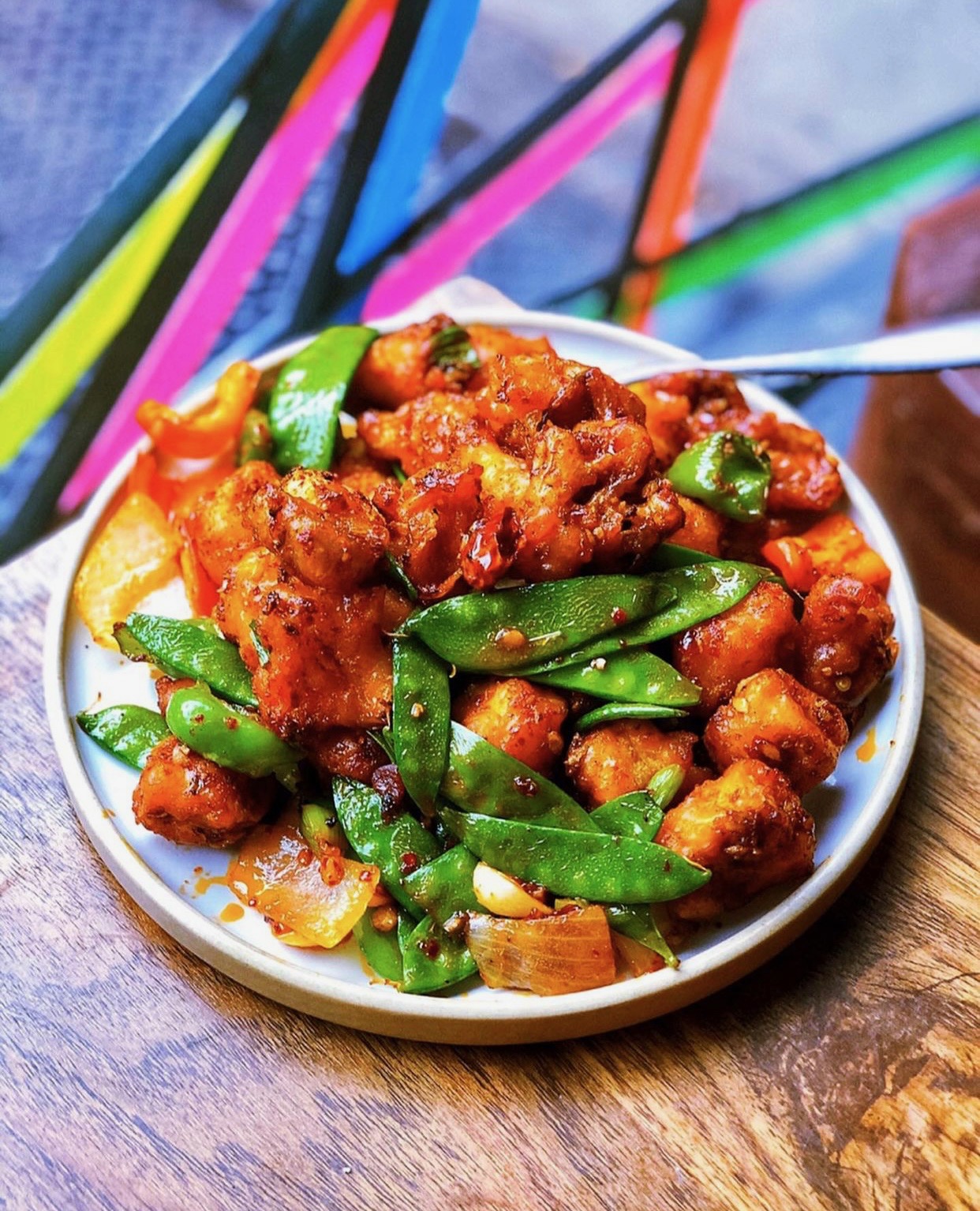 @tastynybites
Spicy Moon's Dry Pot
4 Spicy Moon
New York City, NY
In New York's East Village, a vegan Szechuan hot spot is making its mark with bright, bold, Instagrammable dishes. Traditionalists flock to classic fare like dan dan noodles, vegetable fried rice with Beyond beef, and spicy mapo tofu, while fun bites like cumin-dusted French fries, fried pickles with Szechuan sauce, and crispy mountain yam puffs stuffed with vegan cheese lure more modern gourmands.
Where to follow: instagram.com/spicymoonnyc
Visit their website here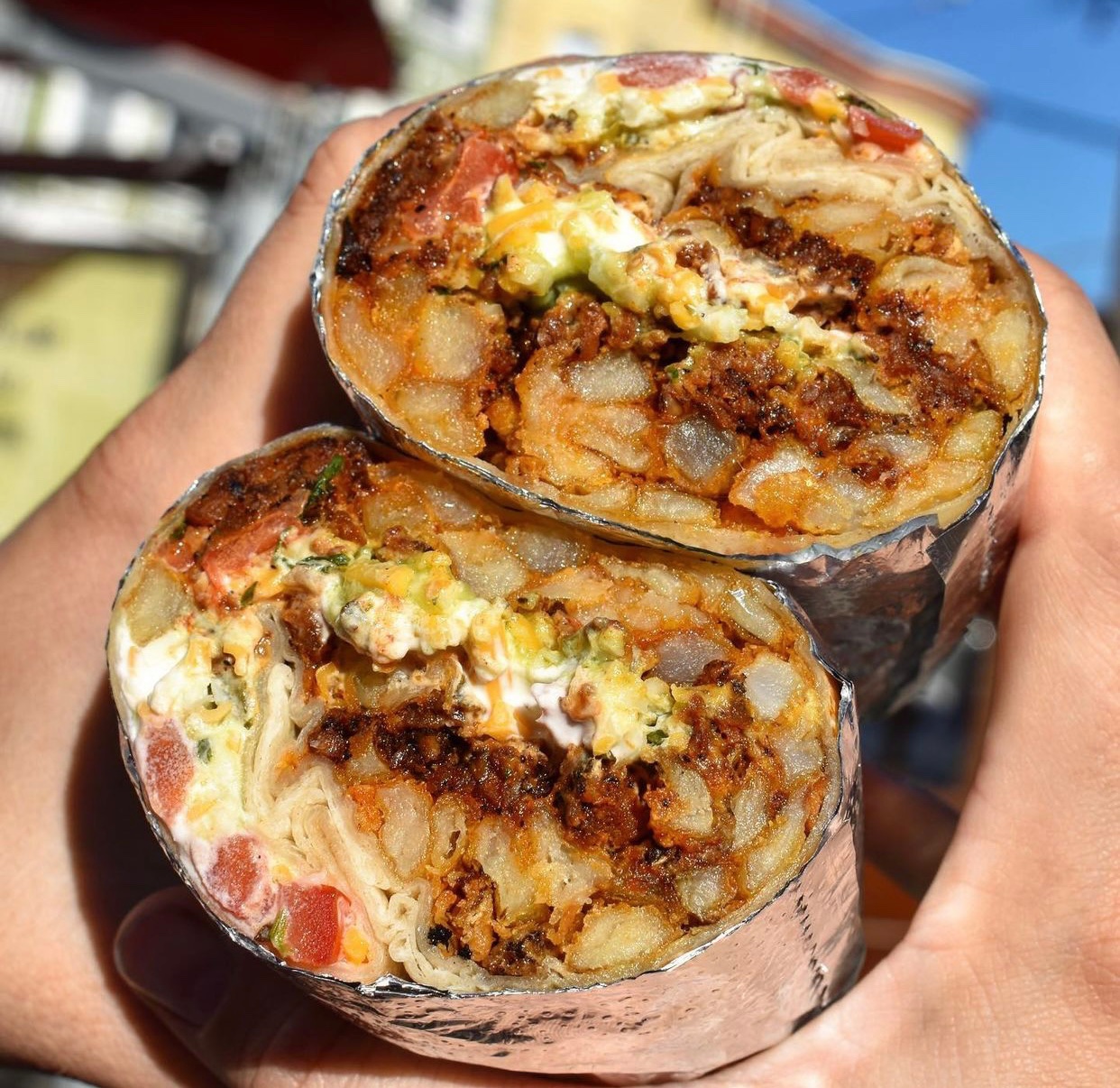 @flnyfoodcentral
Señor Sisig Vegano's California Sisig Burrito
5 Señor Sisig Vegano
San Francisco, CA
A decade after launching the Filipinx-Mexican fusion food truck that revolutionized San Francisco's street food scene, founders Evan Kidera and Gil Payumo introduced Señor Sisig Vegano, a new concept offering an all-vegan take on their menu. And while Señor Sisig has always been vegan friendly—giving veg-heads the option to stuff and top their burritos, nachos, and tacos with tofu—Señor Sisig Vegano is making headlines for slinging vegan pork and chicken sisig, tocino, and longanisa chorizo.
Where to follow: instagram.com/senorsisig
Visit their website here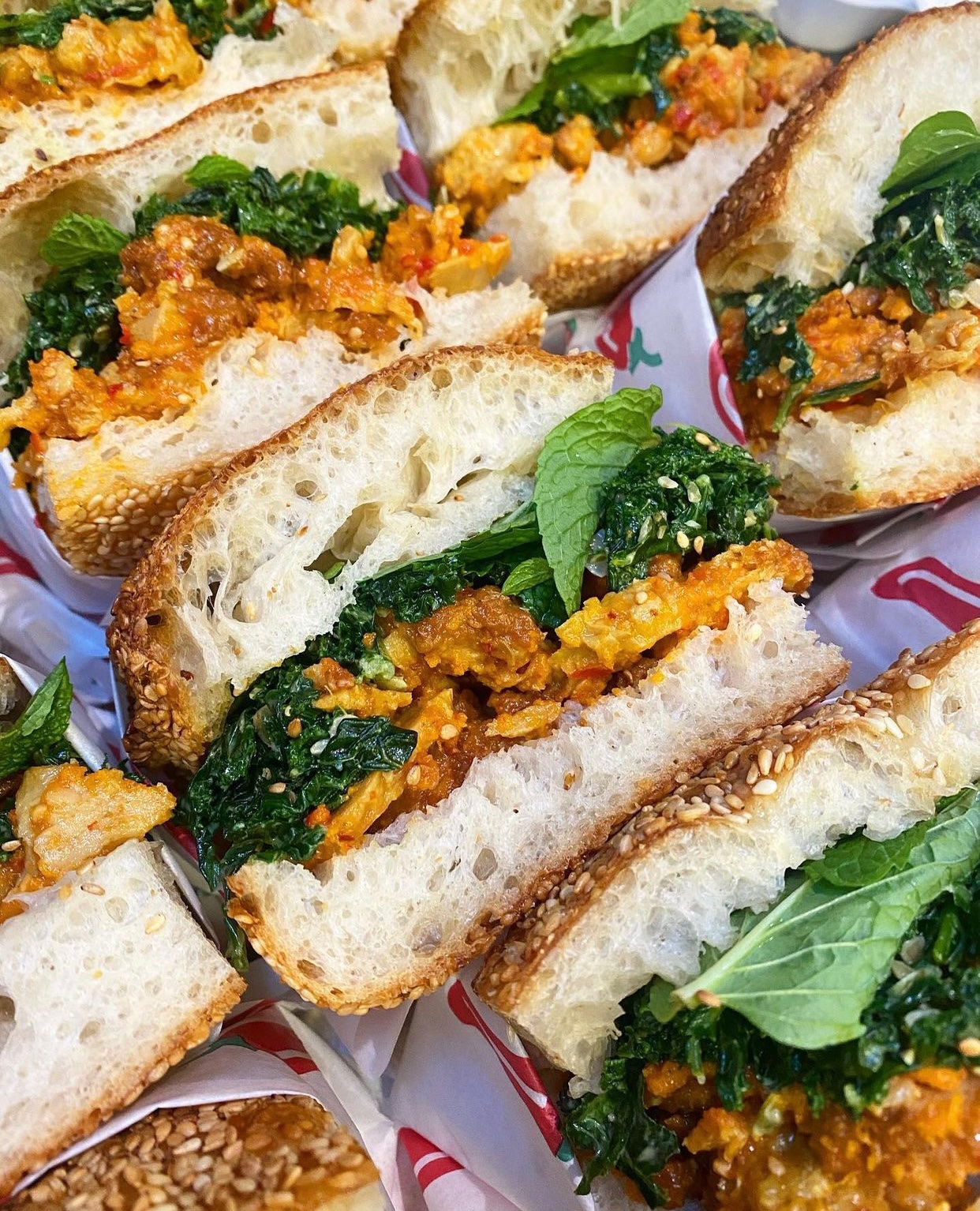 @smveganchefs
Lion Dance Cafe's Shaobing Sandwich
6 Lion Dance Cafe
Oakland, CA
Marie Chia and Shane Stanbridge head this plant-based institution in San Francisco's East Bay, wowing patrons with inventive and perfected food inspired by their Teochew-Singaporean and Italian roots. Find their one-of-a-kind food at Lion Dance Cafe, where you can enjoy an LDC Laksa (spicy coconut soup with rice noodles, tofu, pulled yuba, pumpkin, and laksa leaf) or an ever-changing Shaobing Sandwich on fresh-baked sesame flatbread.
Where to follow: instagram.com/liondancecafe
Visit their website here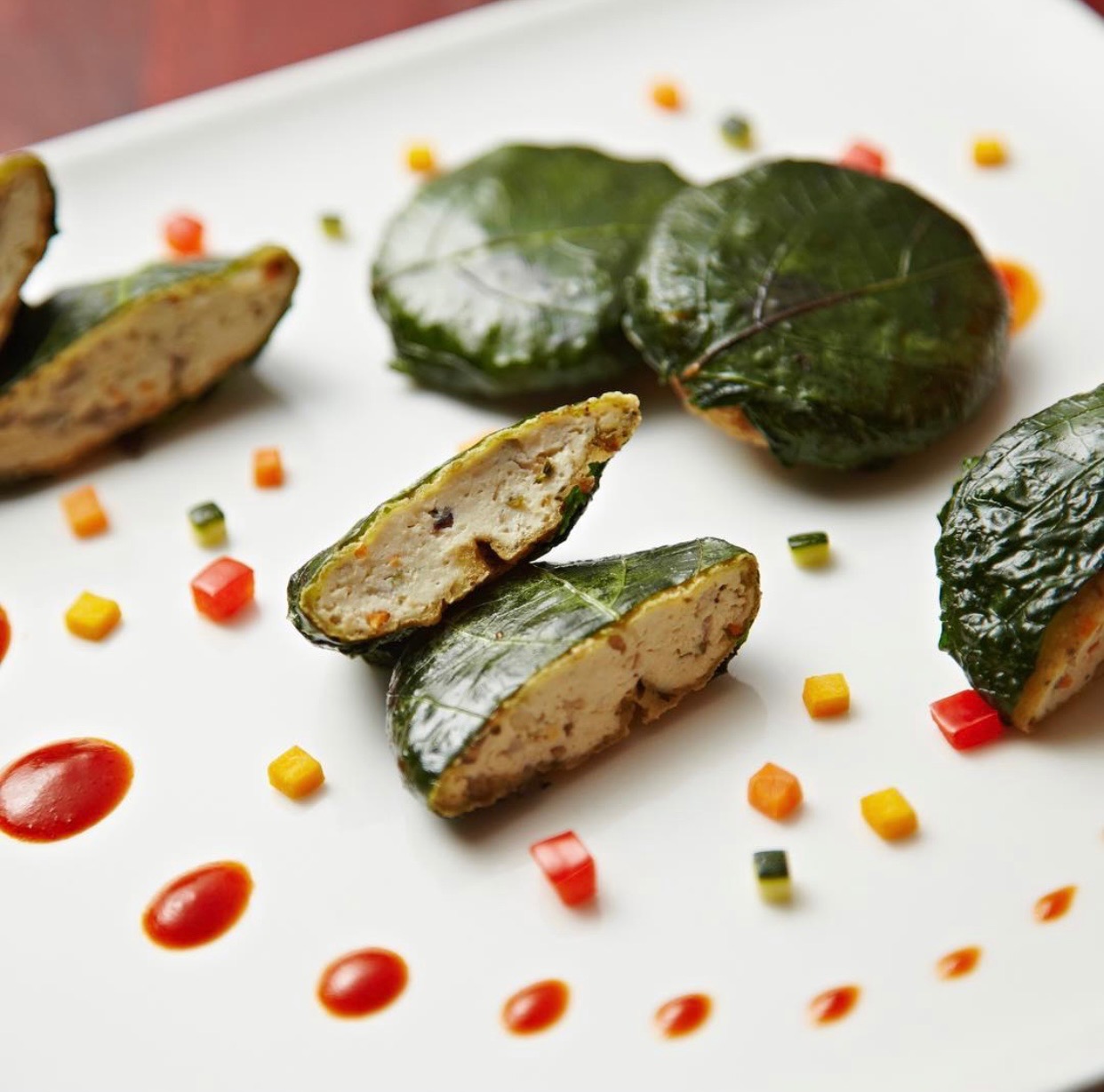 Hangawi
Hangawi's Sesame Leaf Tofu
7 Hangawi
New York City, NY
This NYC institution owned by Seoul native Terri Choi aims to share with the western world the innate beauty and vibrance of Korean cuisine, artfully veganized with the help of ancient mountain greens and roots, sea vegetables, and wild mushrooms. Choi and her team approach food adhering to the tenet of um and yang (Korean for yin and yang), or balance. Find that inner balance for yourself with not one, but two spicy kimchi stone bowls.
Where to follow: instagram.com/hangawi
Visit their website here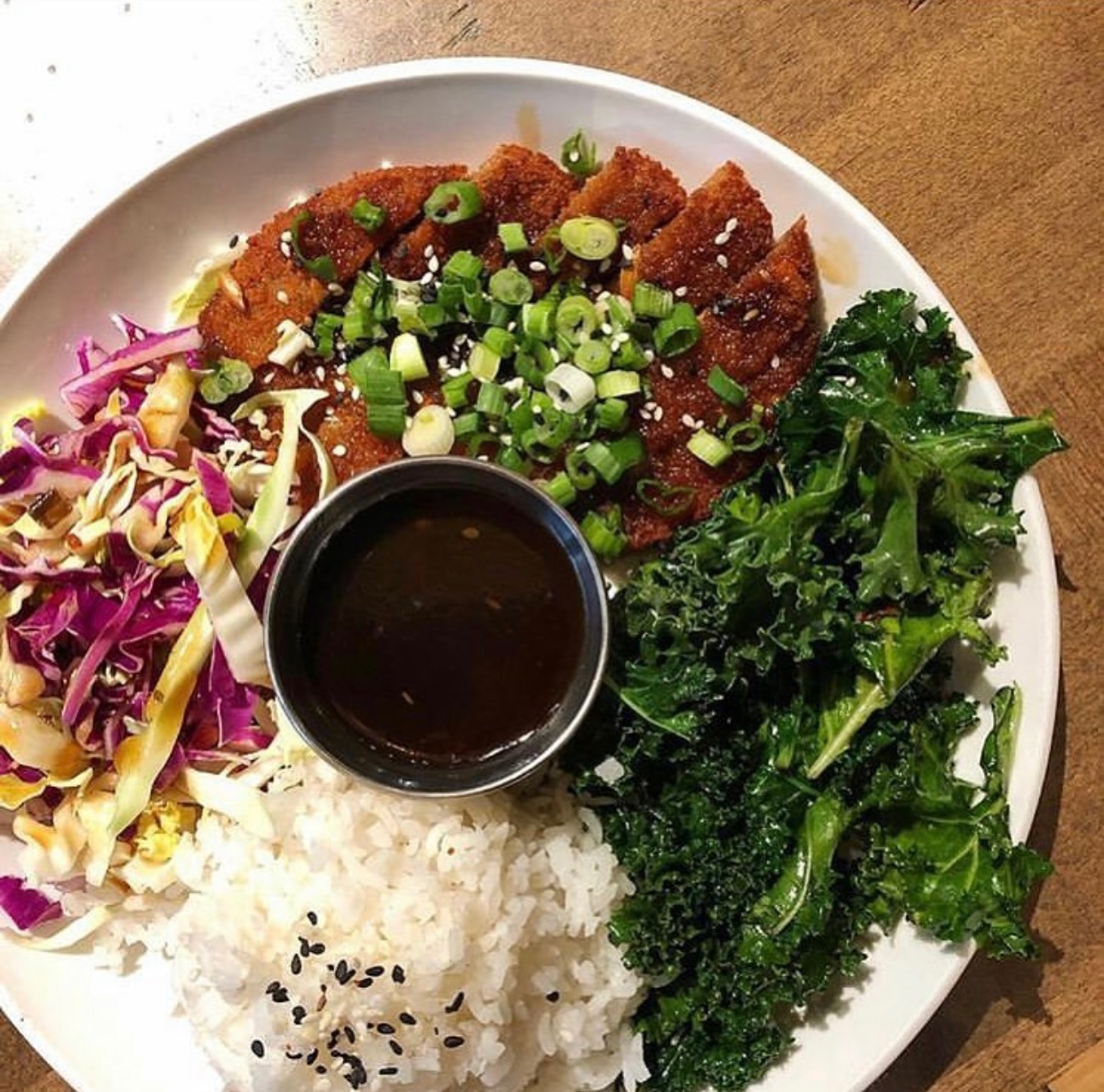 Beelman's
Beelman's Katsu Everdeen Bowl
8 Beelman's
Los Angeles, CA
This downtown Los Angeles sports bar got a complete plant-based overhaul in 2017 thanks to Filipina chef Caroline Concha, who transformed the previous animal-heavy menu to a fun, fusion-filled lineup of comforting pub eats. Named the best female chef in Los Angeles (vegan or otherwise) in 2018, Concha showcases her deftness with flavor in offerings like the Viet Nom Nom Wrap—with citrus spare ribs, green papaya, daikon, Thai basil, and rice—and Impossible Burgers with plantains mixed in, served with gochujang aioli, pineapple, and shredded kale on a pretzel bun.
Where to follow: instagram.com/beelmansdtla
Visit their website here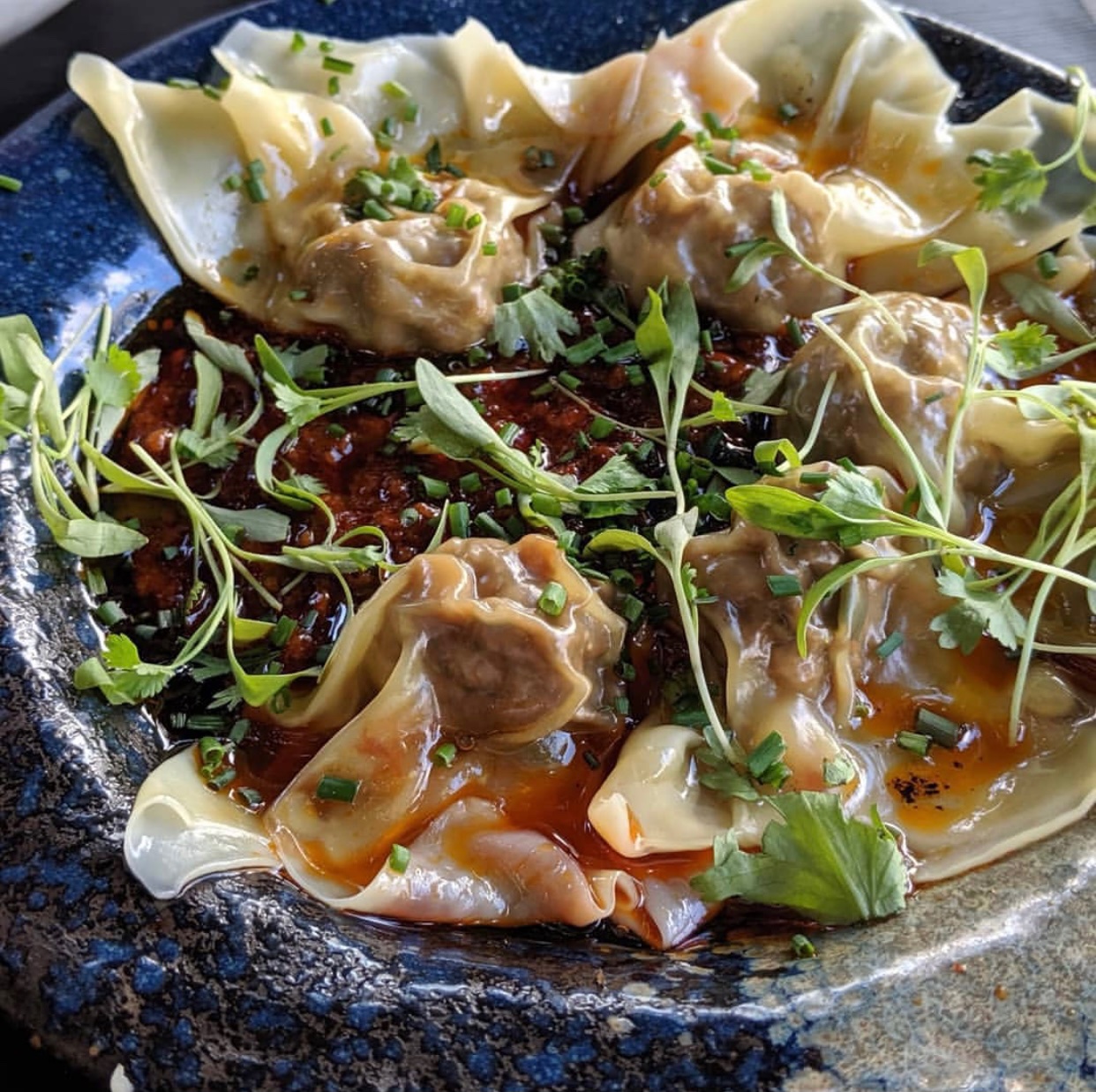 @reneezmudadesign
Jade Rabbit's Chili Oil Wontons
9 Jade Rabbit
Portland, OR
A standout among Portland's excellent vegan eats, the cozy, queer-owned restaurant Jade Rabbit, forermly Ichiza Kitchen, boasts an impressive menu of carefully curated teas and an assortment of small plates and bowls that are available for delivery and pick-up. Owner Cyrus Ichiza, a former drag queen and traveling body piercer, draws upon his backgrounds in Filipinx and Taiwanese cuisine for pan-Asian dishes like Cantonese Cheung Fun (wide rice noodles filled with vegan shrimp, bacon, pork, and fried garlic) and chicken adobo marinated in coconut vinegar and black soy sauce on rice with calamansi dressing.
Where to follow: instagram.com/jaderabbitpdx/
Visit their website here
Chef Kenny's Vegan Asian Restaurant's assorted vegan sushi
10 Chef Kenny's Vegan Asian Restaurant
Las Vegas, NV
Local Vegas legend Chef Kenny Chye brings his brand of approachable, hearty Chinese-style food at this strip mall favorite just west of the Las Vegas Strip. Expect to find takeout classics like General Tzo Chicken, Kung Pao Beef, and Orange Chicken. But a refined menu of vegan sushi—including plant recreations of salmon, eel, and tuna—is what makes the place special.
Where to follow: instagram.com/chef_kenny_chye
Visit their website here
Âu Lạc's Lemongrass Fish
11 Âu Lạc
Fountain Valley, CA
After a plant-based diet helped her to overcome a serious illness in 1997, Mai Nguyen set out to share her story with the world by way of her tasty, meat-free twists on Vietnamese food. Since then, Nguyen and her longtime partner Chef Ito have helped this stunning restaurant to be a long-lasting institution, garnering praise for its delightfully healthful, full-flavored cuisine.
Where to follow: instagram.com/aulacrestaurant
Visit their website here
San & Wolves Bakeshop's Ube Halaya Brioche Donuts
12 San & Wolves Bakeshop
Long Beach, CA
This Filipinx, woman-owned bakeshop and pop-up was a staple in the Brooklyn vegan scene before owner Kym Estrada packed up and moved across the nation to bless Los Angeles County with her sweet, often-purple pastries. Everything is fantastic, from her mango royale cakes with layered coconut cream, mango, and crushed coconut graham crackers to the silvanas made up of layers of aquafaba meringue wafers, Swiss buttercream, and gluten-free graham crackers.
Where to follow: instagram.com/sanandwolvesbakeshop
Visit their website here
Fat Choi's Chili Wontons
13. Fat Choi
Toronto, ON
When Lauren and Johnny Soo started adopting a more plant-based diet, they knew their traditional Malaysian restaurant would have to soon follow. So in 2018, their über-popular, family-run eatery Soos began operating as a completely vegan kitchen two nights out of the week as Fat Choi, where customers can't get enough of dishes like its crowd-favorite Mushroom Rendang, and Indonesian Opor Sayur with rice noodle squares, okra, long bean, tomato, cabbage, pea shoots in a kaffir lime coconut sauce with calamansi. Stuffed Roti, Mushroom Rendang, and Sago Sago are on regular rotation and diners can't get enough.
Where to follow: instagram.com/fatchoito
Visit their website here
Wild Chive's Tempura Banh Mi Bowl
14 Wild Chive
Long Beach, CA
With years of working in vegan kitchens and super-successful pop-ups under her belt, Long Beach-resident Soozee Nguyen is preparing for her comfort food eatery's first brick-and-mortar location this year. Known for its epic vegan Sunday brunches, towering sandwiches, and riffs on international cuisine, Wild Chive's leagues of fans are eagerly awaiting the launch of its takeout menu, hoping menu favorites like grilled ham and cheese sandwiches nestled between caramelized potatoes make the cut.
Where to follow: instagram.com/thewildchive
Visit their website here
The Herbivorous Butcher's Korean BBQ Ribs
15 The Herbivorous Butcher
Minneapolis, MN
Growing up with a meat-heavy diet in Guam, Aubry Walch decided to follow a vegan diet, spending years perfecting meatless alternatives with the same flavors that she grew up with. After a few years watching Aubry thrive on a vegan diet, her brother Kale followed in her footsteps and the two later opened up Minneapolis's first-and-only vegan butcher shop. From vegan jerky and filet mignon to Korean BBQ ribs, The Herbivorous Butcher's vegan meats have reached high acclaim with features in Guy Fieri's Diners, Drive-Ins and Dives and stints at Coachella feeding hungry festival-goers.
Where to follow: instagram.com/theherbivorousb
Visit their website here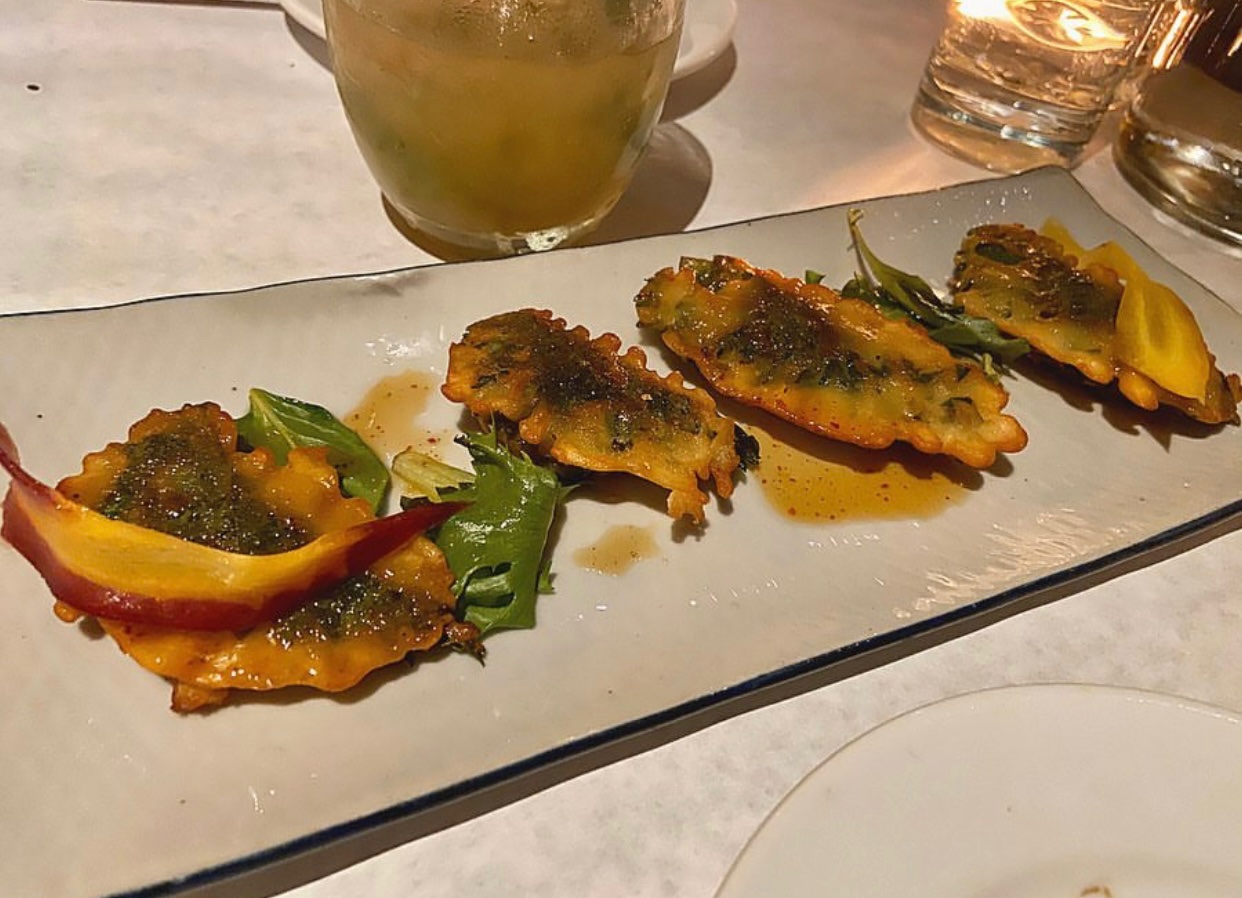 @theorangeofmyeye
Shojin's Shojin Gyoza
16 Shojin
Los Angeles, CA
Tucked away inside a shopping mall lies a hidden vegan oasis owned by Tsuguhiro Morishima. A favorite among Hollywood celebs, Shojin draws from shojin ryō—a vegan/vegetarian Buddhist devotion diet that aims to purify the body and mind. The extensive menu features carefully crafted dishes such as Kabocha Pumpkin Croquette, Garlic Maitake Steak, and a generous selection of sushi. Pro tip: save room for the tempura banana and chocolate mousse cake.
Where to follow: instagram.com/shojinlove
Visit their website here.
Kati Vegan Thai's Kati's Green Curry with Thai Eggplant
17Kati Vegan Thai
Seattle, WA
Focusing on fresh, healthy fare, Seattle's Kati—"coconut milk" in Thai—uses fresh ingredients and spices for its vast selection of curry, noodle, and rice dishes. Kati crafts mouthwatering Thai staples such as popular street food-favorite Kuay Tiew Kua Gai (stir-fried wide noodles, housemade tofu eggs, napa cabbage leaves, and pickled radish, served with chili sauce) and Northern Thai classics like the Khao Soi featuring rice noodles in a rich curry broth topped with pickled cabbage, fried tofu, and red onions.
Where to follow: instagram.com/kativeganthai
Visit their website here
Shizen's Surprise Ending Sushi
18 Shizen
San Francisco, CA
The Bay Area mainstay attracts long lines and wait times with diners coming from far and near to try a taste of Chef Kin Lui's innovative, fish-free creations. Born in Hong Kong and raised in Hawaii, Lui brings plant-based sushi to the masses as a way to do his part for his first love, the ocean. And it shows through the cult-favorite sushi bar's main mission: to conserve the ocean through responsible yet delectable dining. Savor vegan tempura rolls, ramen, and fish-less nigiri and never look back.
Where to follow: instagram.com/shizensf
Visit their website here
Srey Vegan's The Hook Up
19 Srey Vegan
Los Angeles, CA
A fixture in Los Angeles' vegan pop-up scene, Sreyneang Lor's plant-based eatery is a godsend for her fellow Cambodian immigrants looking for a plant-based taste of home. Lor's boldly flavored creations range from sticky-sweet, golden-fried pineapple walnut shrimp rice bowls topped with a tropical flower to num pang—Cambodia's answer to the Vietnamese bánh mì. Wash it all down with a Cambodian iced tea and you've got yourself a meal to remember.
Where to follow: instagram.com/sreyvegan
Visit their website here

For more vegan restaurants, read:
25 Black-Owned Vegan Restaurants to Try ASAP
10 Best Places for Vegan Ethiopian Food in New York City
The 9 Best Vegan Restaurants in Vancouver