This summer, vegan chain Veggie Grill is boldly entering the ongoing chicken sandwich wars with a new offering: the Crispy Buffalo Chickin' Sandwich. Available now through July 27, the new vegan sandwich features a plant-based chicken patty slathered in dairy-free ranch and Buffalo sauce, topped with pickles, lettuce, and tomato, and served on a toasted egg-free brioche bun. Veggie Grill created the new limited-time sandwich to give the ongoing chicken sandwich wars a plant-based twist.
"We believe our plant-based Crispy Buffalo Chickin' Sandwich rivals any other fried chicken sandwich offered on the market," Veggie Grill Founder and Executive Chairman T.K. Pillan said. "All our menu items at Veggie Grill are meant to be familiar and delicious, for those that are embracing their conscious food journey and to showcase just how good plant-based food is today."
To complement the spicy vegan chicken sandwich, Veggie Grill also added a new key lime cheesecake as a zesty summertime dessert option.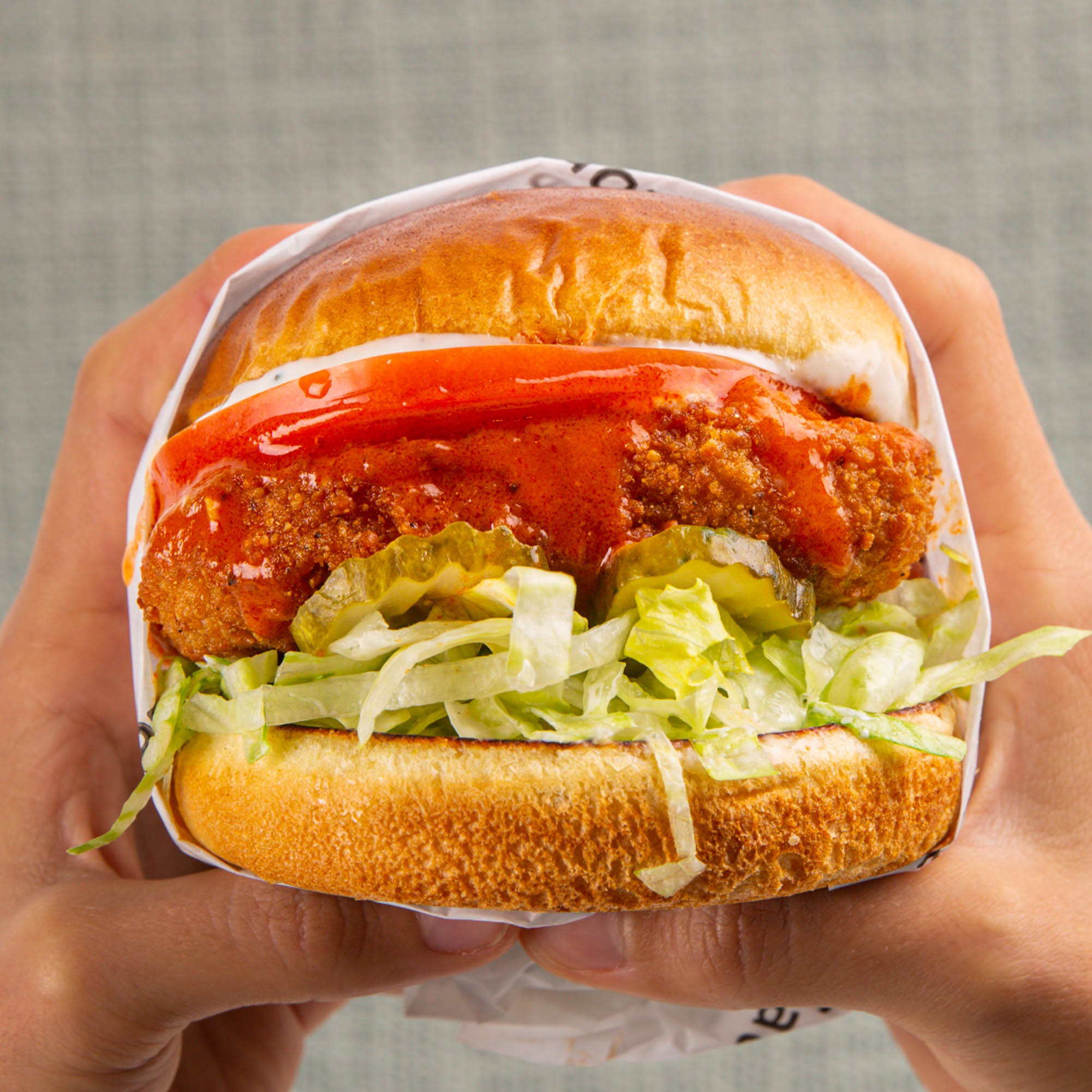 Chicken wars go vegan
Popeyes is said to have kicked off the chicken sandwich wars in 2019 with a sandwich that sold out consistently after launch. Fast forward to 2021 and every chain, from Chick-fil-A to Taco Bell, has launched its own chicken sandwich to rival Popeyes. Given that 99 percent of animal products in the United States come from factory farms, the popularity of chicken sandwiches comes at a detriment to birds—9.3 billion of whom were slaughtered in 2020 for food.
Luckily, in addition to Veggie Grill, plant-based entrants are making their mark on the ongoing chicken wars. Vegan restaurants such as Souley Vegan, HipCityVeg, and Veltree have been making vegan chicken sandwiches for years and exciting newcomers are now making plant-based chicken to rival the real thing.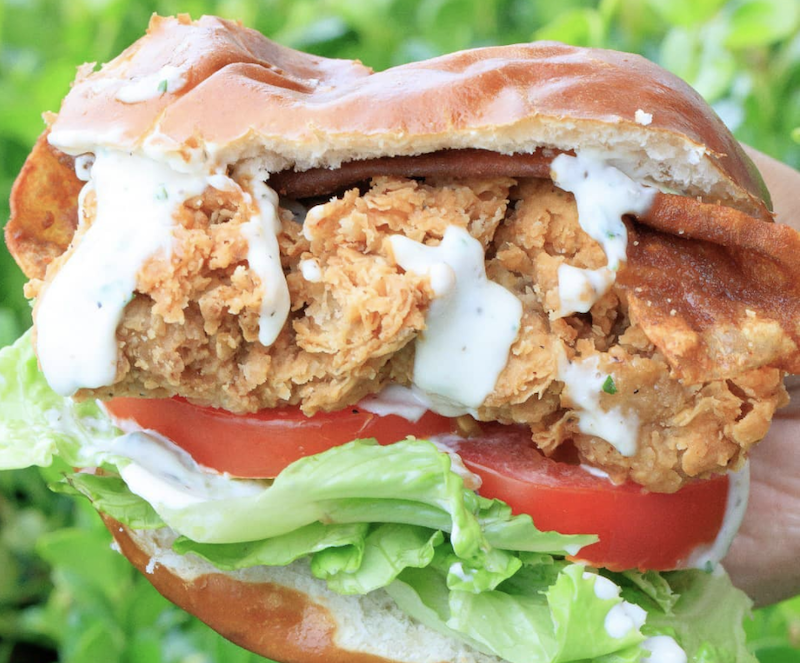 In 2019, Deborah Torres turned down a $1 million deal on ABC reality show Shark Tank to focus on growing her vegan chicken business Atlas Monroe while maintaining 100-percent ownership. Now, Torres is selling one million pounds of vegan chicken and expanding production to a two-story, 10,000-square-foot warehouse to support the growth of her vegan chicken business, with a second production facility already in the works.
In Texas, entrepreneur Lucas Bradbury aims to flip the script on chicken with his Project Pollo chain where he serves a variety of vegan chicken dishes and sandwiches. Currently, Bradbury operates a handful of locations—most operating out of shuttered fast-food chains, including a former Church's Chicken. He plans to open 100 Project Pollo outposts by 2024 with the goal of putting Chick-fil-A out of business with his vegan chicken empire by 2030.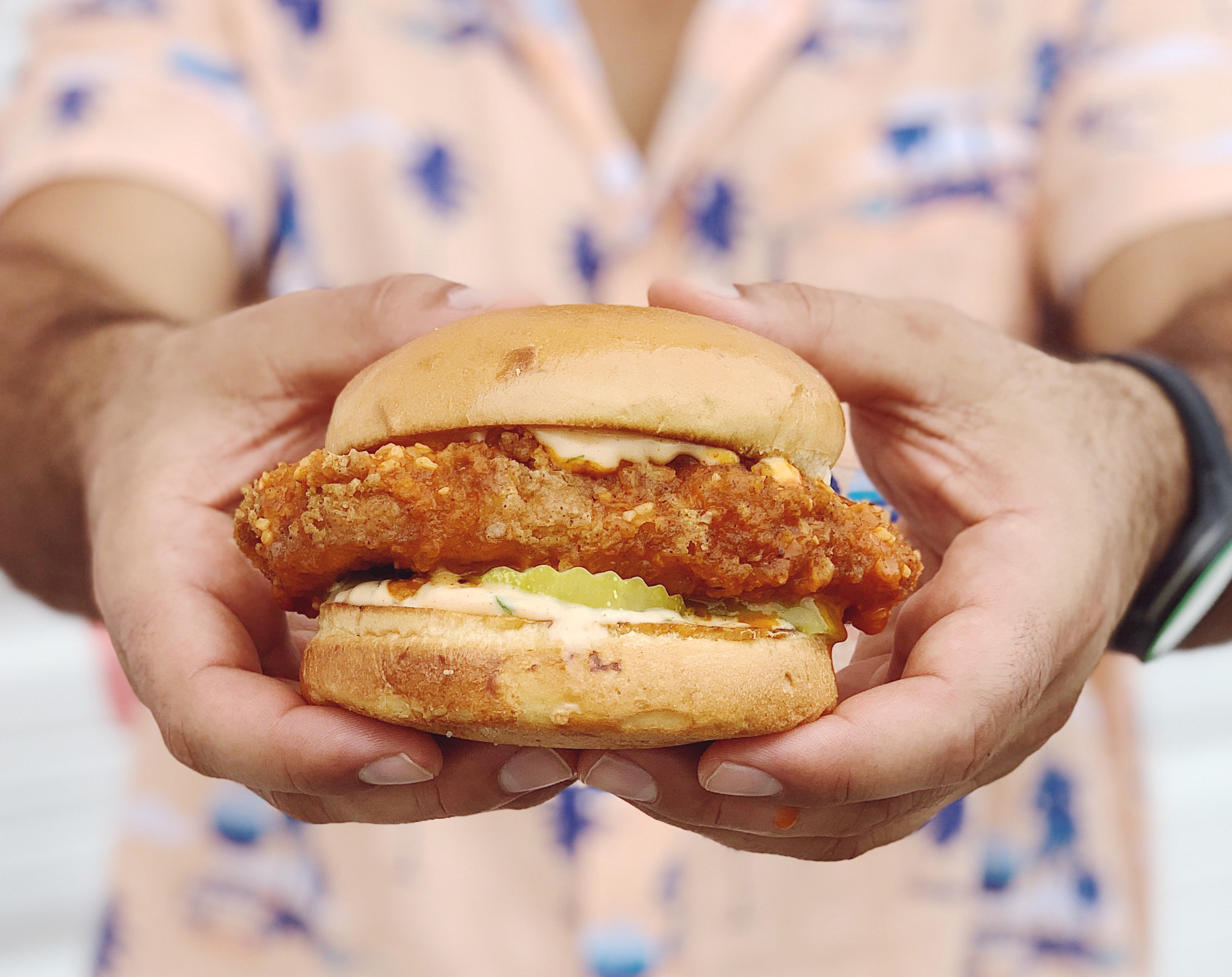 In Canada, Toronto-based Stefano's Sandwiches is serving up a vegan chicken sandwich that's quickly become a favorite of Schitt's Creek star Dan Levy. Developed with the help of television personality and former Discovery Channel host Ziya Tong, the celeb-backed sandwich features vegan chicken from Barcelona-based brand Heura breaded in Tong's secret spice recipe, and is served with vegan mayonnaise, lettuce, and pickles on housemade ciabatta bread.
Chicken wars and COVID
The COVID-19 pandemic proved disastrous for the chicken wars as meat shortages cropped up due to the closure of major slaughterhouses due to unmitigated viral spread among workers who stand shoulder-to-shoulder and work at breakneck speeds to keep up with the slaughter line. And while traditional players in the chicken wars struggled to keep their sandwiches stocked, vegan businesses pivoted to open new plant-based concepts.
Veggie Grill introduced several new concepts during the pandemic, including Mas Veggies, a ghost kitchen that operates inside each of the chain's 29 locations in California, Massachusetts, New York, Oregon, and Washington. At Más Veggies, Veggie Grill focuses on vegan Mexican-inspired cuisine such as Crispy Poblano Chickin', Shredded Jackfruit Chipotle Carnitas, Cauliflower Asada, Savory Tex-Mex Taco Meat, and Crispy Baja Fish in the form of tacos, burritos, nachos, and bowls.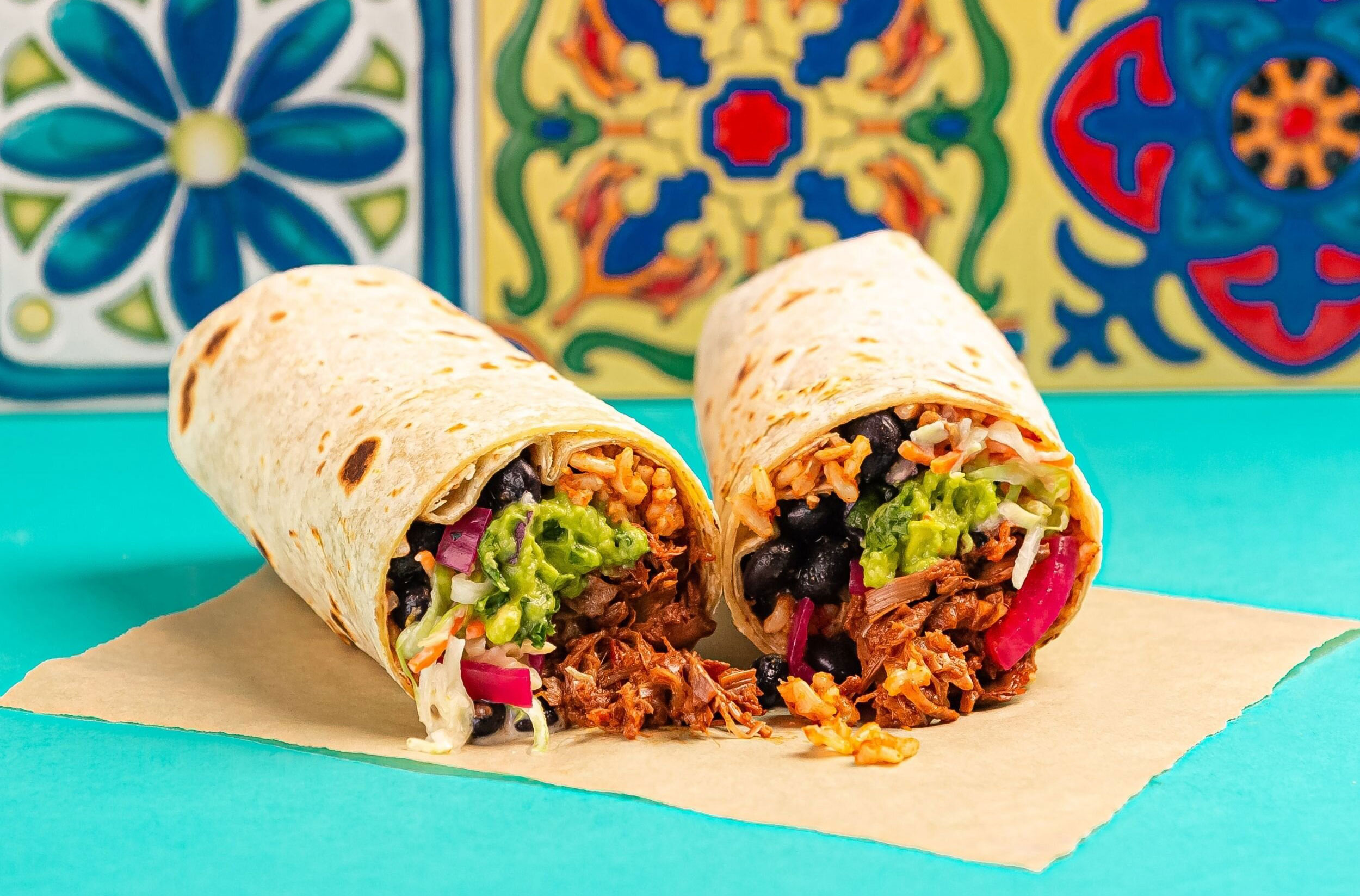 Veggie Grill is currently expanding yet another new concept: Stand-Up Burgers. Currently operating locations in Berkeley, CA and Chicago, IL, the modern burger shop serves burgers made with plant-based Impossible Burger patties; Save the Animals-style Fries (a nod to In-N-Out); and chicken war-worthy vegan sandwiches.