This month, ice cream chain Baskin-Robbins is adding another vegan option to its 2,500 shops nationwide. The chain's new Non-Dairy Salted Fudge Bar flavor is made with a creamy salted dark chocolate oat milk base that is swirled with smooth fudge ribbons and dotted with fudge pieces. While the flavor does not contain animal products, Baskin-Robbins cannot guarantee that there will be no cross-contact between products or ingredients.
"Each bite of this rich flavor packs a punch of indulgence with melt-in-your-mouth creaminess from the oatmilk-base that makes it the greatest thing since ice cream," the brand states. "Baskin-Robbins flavor experts worked hard to create an oatmilk base with such a smooth and creamy consistency it delivers on the indulgent experience of traditional ice cream. The result is a perfect balance of elements that delivers on the flavor experience Baskin-Robbins' guests love and expect."
The new Non-Dairy Salted Fudge Bar flavor is also available in a Fresh-Pack which comes in pint, quart, and half-gallon sizes.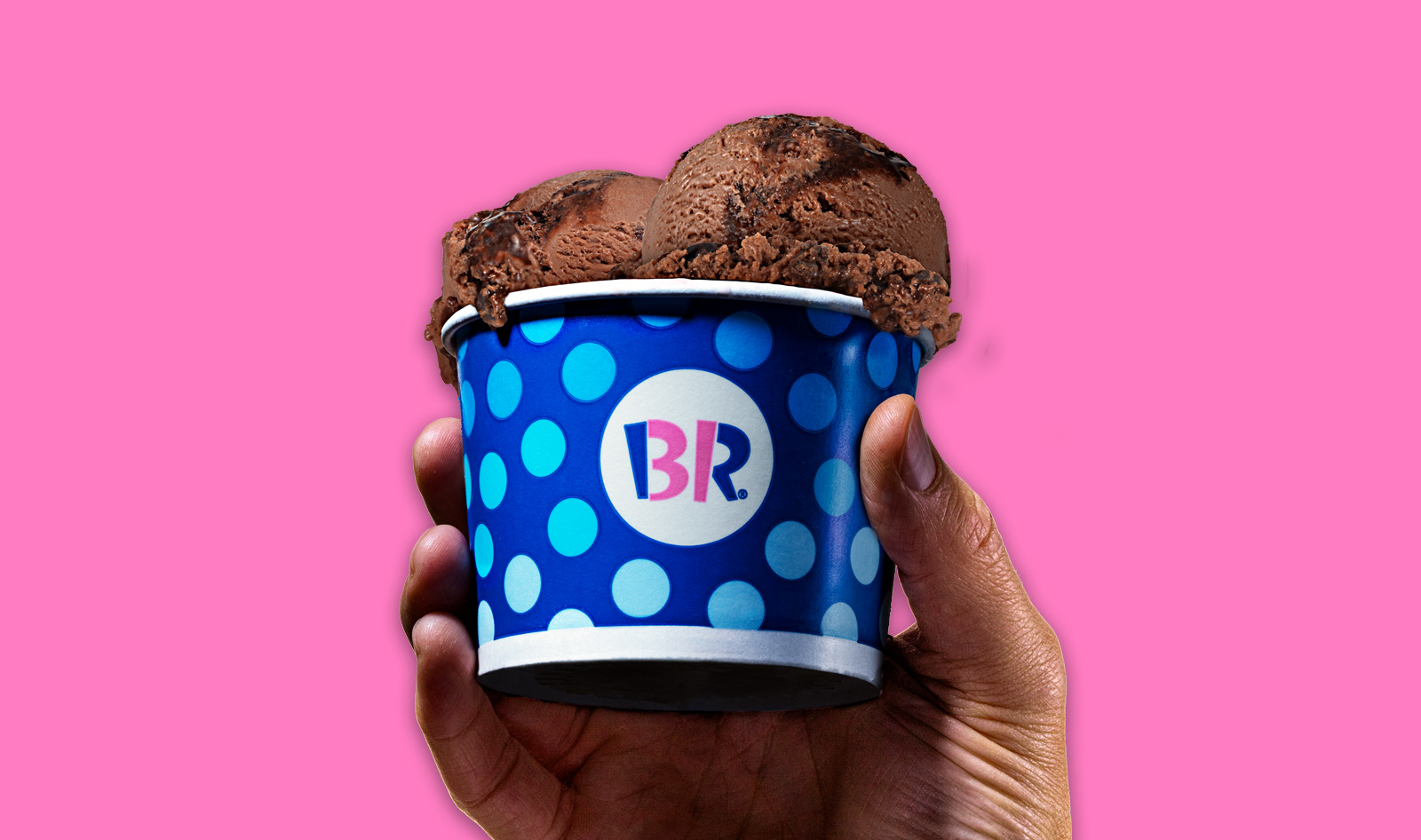 Baskin-Robbins is all about oat milk ice cream
Baskin-Robbins launched oat milk-based Non-Dairy Strawberry Streusel as its flavor of the month for May—making it the first national chain to add oat milk-based vegan ice cream to its menu. Made with a creamy oat milk base dotted with strawberries, cinnamon granola, and crumbly streusel, the Non-Dairy Strawberry Streusel was the first of additional oat milk-based flavors Baskin-Robbins promised to deliver this year.
"We're so passionate about this new base and Flavor of the Month as it's not just an evolution of our offerings, but a sign of our passion and commitment to creating what's 'next' in frozen desserts," Shannon Blakely, Vice President of Marketing & Culinary at Baskin-Robbins, said.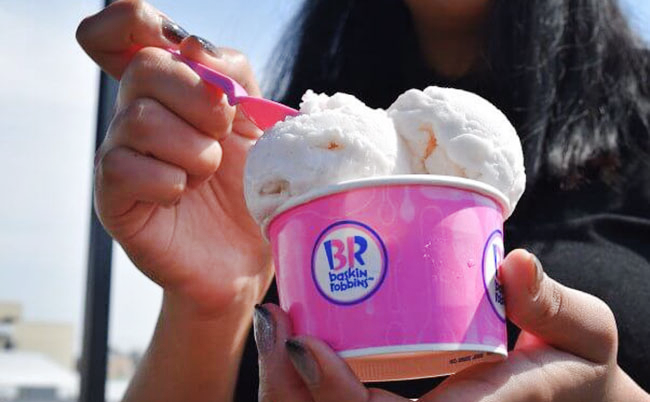 While using oat milk as a base for its ice cream is new, Baskin-Robbins, the world's largest ice cream chain, has consistently offered sorbet as a non-dairy option. The chain launched its first vegan ice cream flavor in August 2019. Developed over the course of two years, the chain's first official vegan ice cream was made with a base of coconut oil and almond butter and available in Chocolate Chip Cookie Dough and Chocolate Extreme flavors. The chain expanded its vegan menu with a November 2019 flavor of the month: Vegan Coffee Caramel Chunk which featured an espresso-flavored base dotted with chocolate chunks and caramel ribbons.
In March, Baskin-Robbins also launched the fully vegan Mangonada—a spicy drink that pays homage to the Mexican favorite made with a mango purée and spiced with Tajín. The chain also added a new Watermelon Swirl Sorbet made with a sweet watermelon sorbet combined with a tart raspberry swirl.
Major chains add oat milk
A growing number of national chains are adding oat milk to their menus as a vegan and allergen-friendly option. Baskin-Robbins is part of the Dunkin' Brands Group, which also owns fast-food chain Dunkin'—another place where oat milk has gained steam. Last year, Dunkin' partnered with vegan influencer Tabitha Brown to announce the nationwide launch of its oat milk which is made by Planet Oat, a brand operated by 174-year-old company HP Hood, LLC. At Dunkin', the oat milk is available as part of an Iced Oat Milk Latte, as well as a variety of hot and cold drinks and as a substitute to any milk option.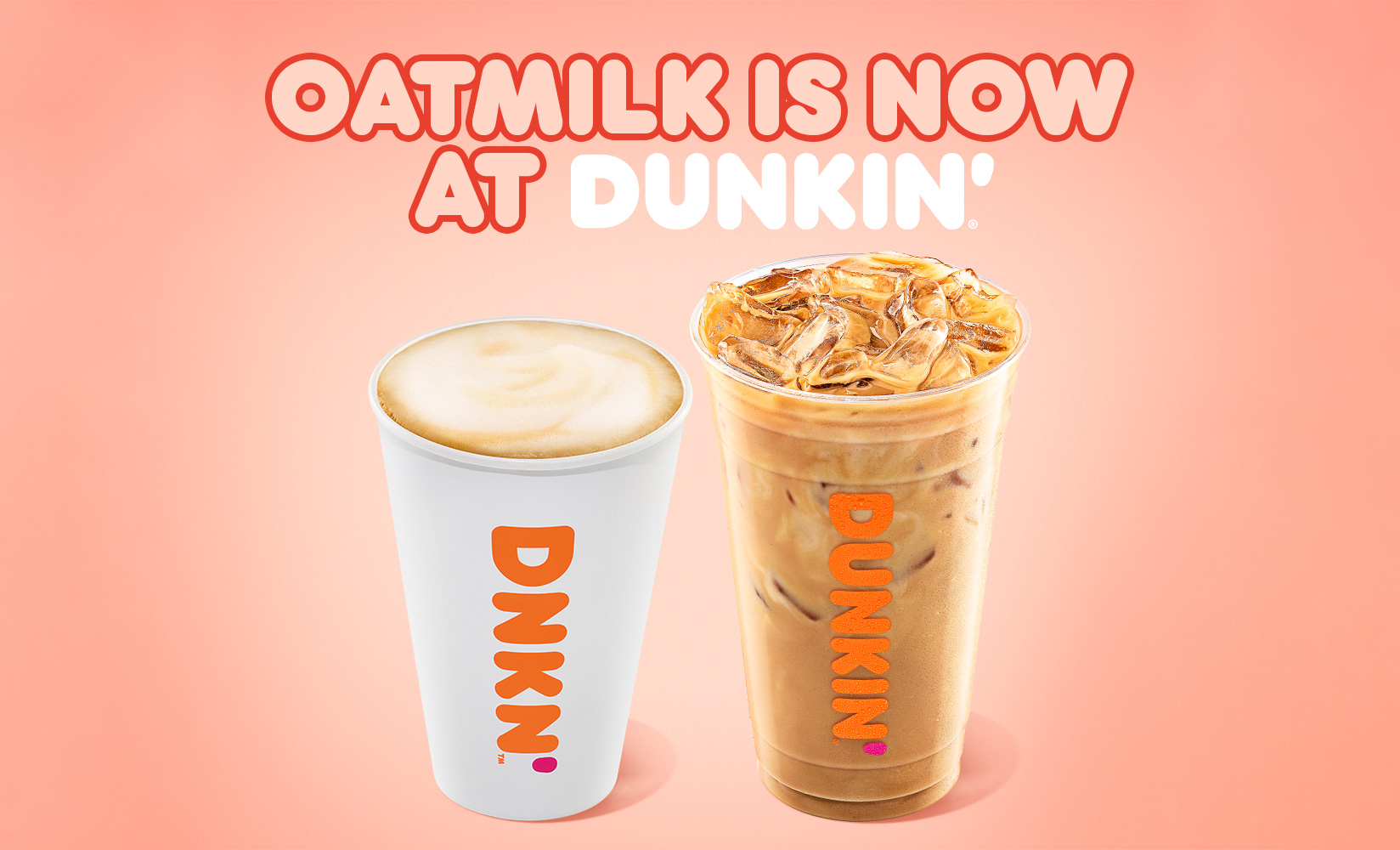 Starbucks is also going all in on oat. While the chain previously offered almond, coconut, and soy milk options, Starbucks added Oatly's oat milk to its more than 6,000 stores across the United States in March. The chain—which also offers oat milk in Canada—showcased the new vegan milk in an Iced Brown Sugar Shaken Oatmilk Espresso which combines brown sugar and cinnamon, and is then topped off with oat milk. That drink became so popular that it contributed to a shortage of oat milk at Starbucks by April.