In time for National Waffle Day (August 24), Eggo is adding vegan chicken to its waffle packs for the first time. The limited-edition Chik'n and Waffles combo pack features vegan chicken from the Incogmeato line of fellow Kellogg's-owned brand MorningStar Farms. The vegetarian product was created to give Eggo fans a new way to enjoy waffles, either topped with vegan chicken tenders or as a waffle chicken sandwich, and includes two meatless recipes.
"Eggo has been helping parents and waffle lovers 'L'Eggo with Eggo' and celebrate small wins all year long, and as the number one waffle in America, we knew we had to celebrate National Waffle Day in a big way," said Joe Beauprez, Marketing Director of the Eggo brand at Kellogg Company. "On the biggest waffle day of the year, we're teaming up with Incogmeato to expand the wins beyond breakfast and give waffles lovers the chance to enjoy our delicious waffles in new ways all day long."
The limited-edition Incogmeato Chik'n Tenders and Kellogg's Eggo Buttermilk Waffles pack is only available through a one-day giveaway (official entry rules can be found here) in celebration of National Waffle Day tomorrow. The company is giving away 700 packs and will randomly select winners on August 25. A spokesperson for Kellogg Company told VegNews that while this exact product will not be in stores, the company is continuing to explore the plant-based space.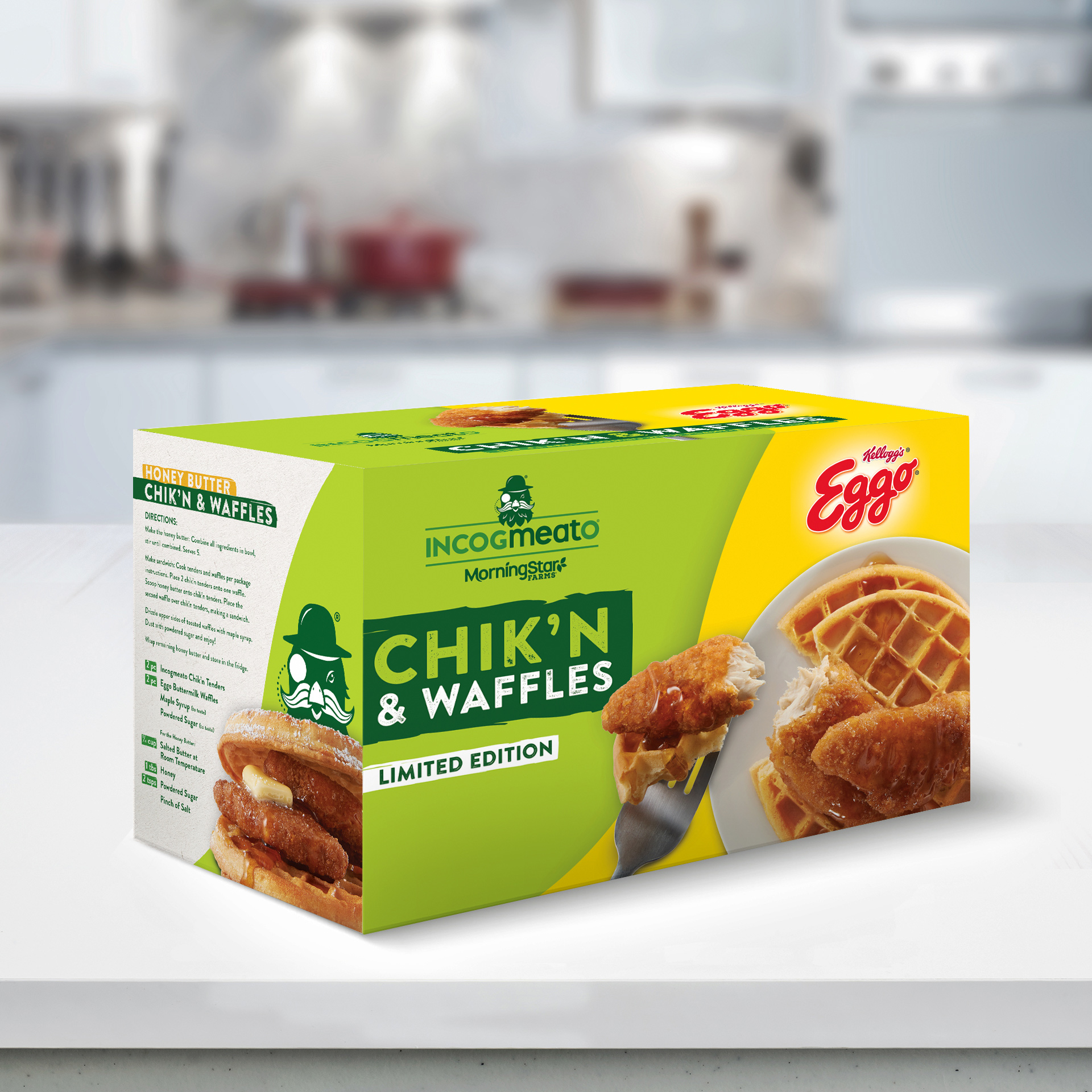 Incogmeato's vegan chicken
MorningStar Farms launched its vegan Incogmeato line last year which featured the company's first ready-to-cook, "next-gen" burger patties and chicken products. Since then, the brand has expanded the line to include vegan sausages and partnered with Disney to launch vegan Mickey Mouse-shaped nuggets.
In April, MorningStar Farms released Incogmeato Chik'N Tenders, breaded tenders that are made using a proprietary technology that creates a pull-apart texture that is indistinguishable from chicken meat. The new tenders—which feature 27 percent more protein than their animal-based counterparts—are available in grocery stores and on select restaurant menus.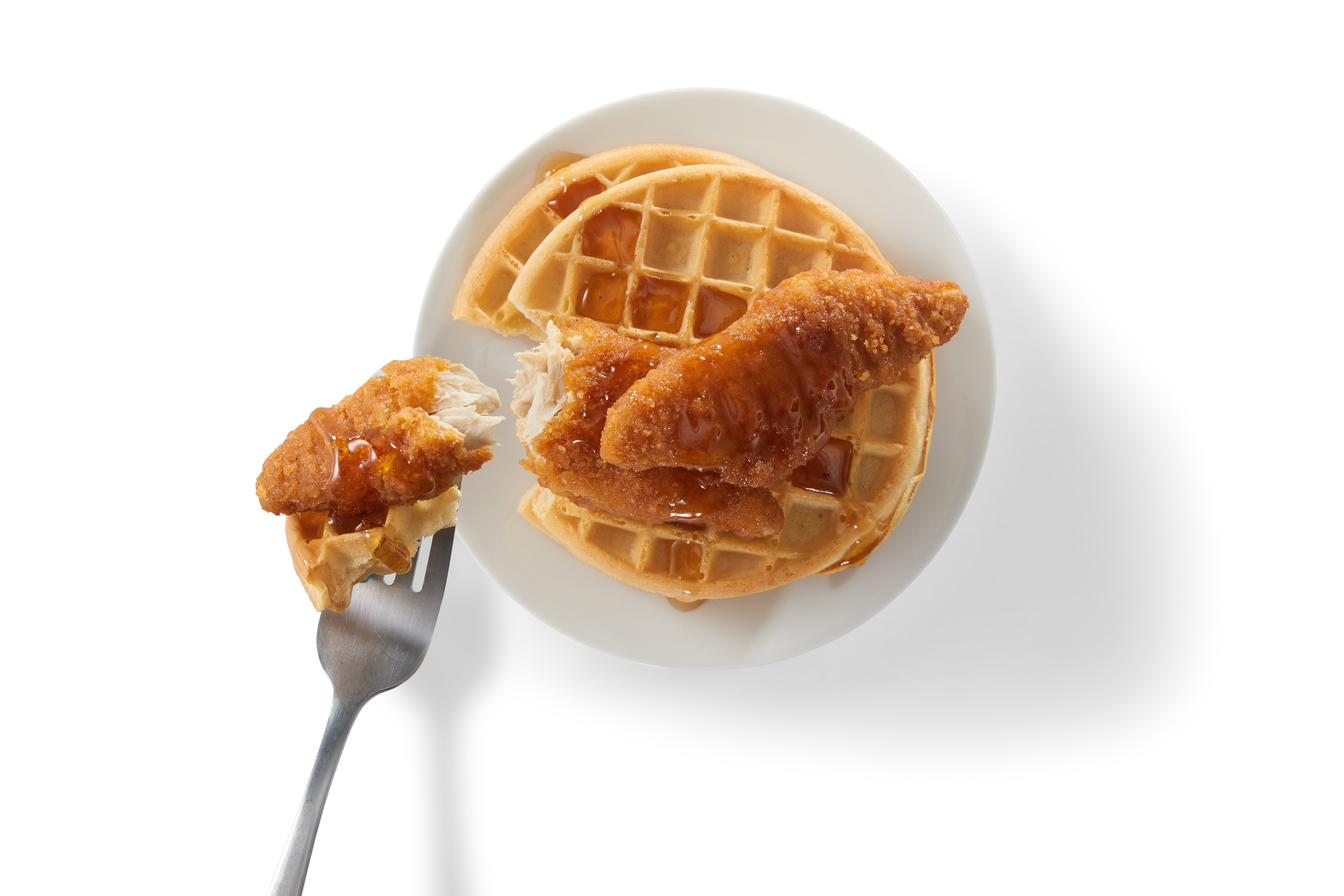 The Eggo combo pack, while only available for a limited time, introduces Incogmeato's vegan Chik'N Tenders to new customers. "We're always looking for new ways to make vegetarian foods more accessible for everyone, so we're excited to partner with an iconic brand like Eggo to put a delicious new spin on a beloved dish like chicken and waffles," said Heidi Ray, Marketing Director of MorningStar Farms and Incogmeato at Kellogg Company. "This limited-edition combo pack gives people another opportunity to see how delicious plant-based can be and experience our Chik'n Tenders that look, cook, taste, and tear just like the real thing."
Currently, MorningStar Farms is transitioning its entire portfolio of products to be fully vegan by the end of the year, a move that will spare 300 million chicken eggs annually.
Are Eggo waffles vegan?
While the chicken in the limited-edition combo pack is completely vegan, the waffles are Eggo's original buttermilk recipe and contain animal products. Currently, Eggo does not offer any vegan flavors of its frozen waffles. However, brands such as Nature's Path, Kashi, and Vans all have vegan flavors of toaster waffles.
Last year, Vans expanded its vegan products with the launch of protein-packed pancakes and waffles. Previously, Van's offered gluten-free vegan waffles (in Original, Blueberry, Apple Cinnamon, and Ancient Grain flavors), two vegan organic waffle options (Original and Blueberry), and an Original gluten-free vegan pancake flavor. With the new expansion under its Protein line, Vans added pancakes in two flavors (Original and Chocolate Chip) and waffles in three flavors (Original, Chocolate Chip, and Blueberry).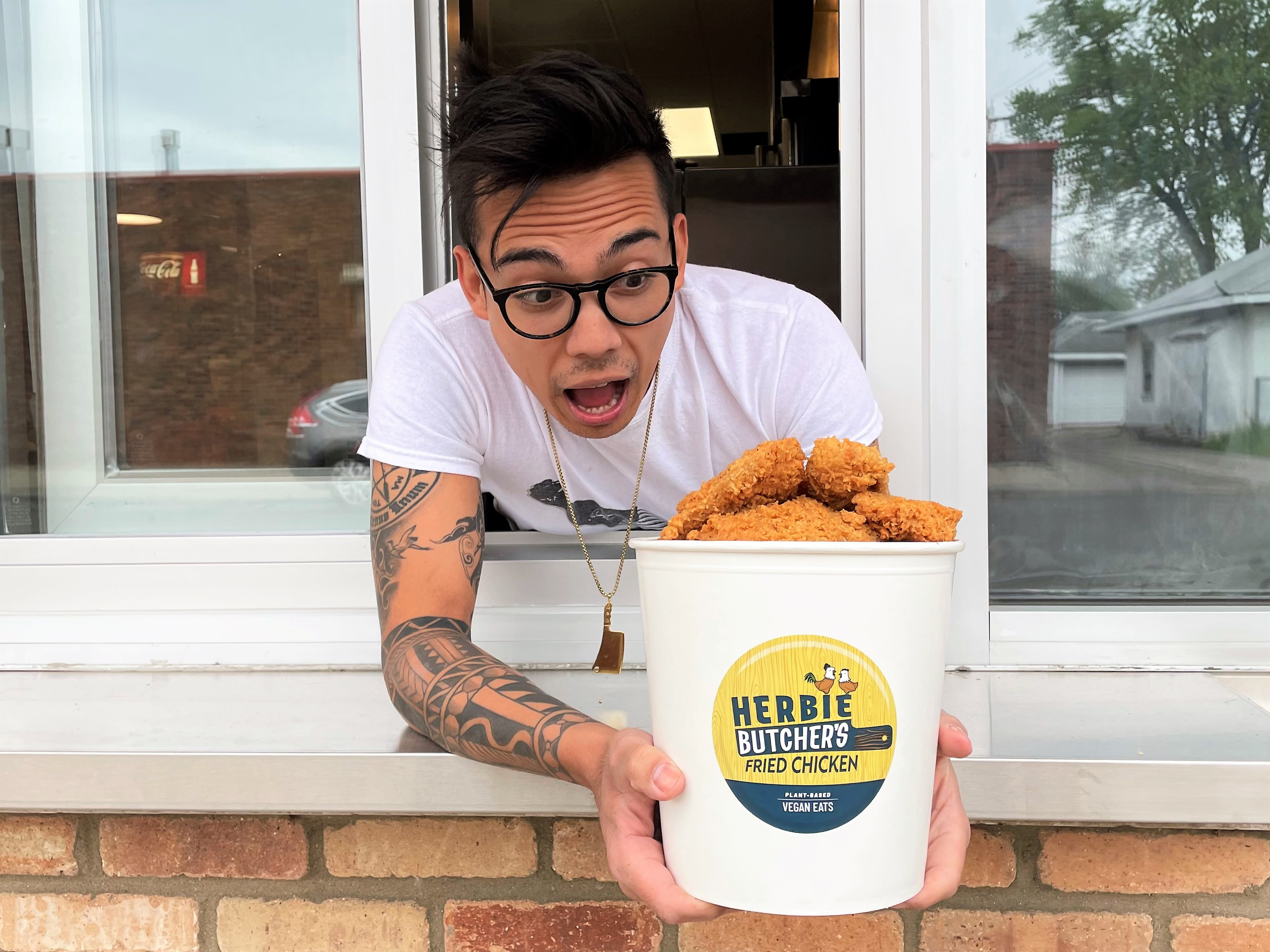 Vegan chicken takes off
In addition to Incogmeato's new Chik'N Tenders, the number of vegan chicken options is growing exponentially. This summer, Beyond Meat launched its own Beyond Chicken Tenders at 400 restaurants nationwide where the vegan chicken is being used in place of poultry in sandwiches, appetizers, pastas, and more. Competing brand Impossible Foods is also eyeing the plant-based chicken space and unveiled its Impossible Chicken at the DOT Foods trade show in July. Impossible's plant-based chicken is poised to make its debut through the foodservice channel, potentially on school lunch menus.
From Veggie Grill to PLNT Burger to Monty's Good Burger, chicken sandwiches are hitting menus at vegan fast-food chains nationwide. Going one step further, Minnesota recently got its first vegan fried chicken shop courtesy of Aubry and Kale Walch—the sibling duo behind the country's first vegan butcher shop, The Herbivorous Butcher. The Walches' new venture, Herbie Butcher's Fried Chicken, opened to much fanfare in May and serves vegan versions of classics such as fried chicken buckets, coleslaw, mac and cheese, and milkshakes through a takeout window in Minneapolis.