OmniFoods' vegan pork just landed at nearly 200 Whole Foods Markets in 16 states and 371 Sprouts Farmers Markets across 23 states, representing the first time the vegan meat brand has distributed its products in the United States retail sector. OmniFoods is owned by the Green Monday Group, a multinational sustainability organization founded in Hong Kong by entrepreneur David Yeung, and its groundbreaking OmniPork is available in the freezer section in three varieties: OmniPork Ground, OmniPork Strips, and OmniPork Luncheon (a vegan alternative to Hormel's Spam).
"After our successful expansion throughout Asia, Australia, and the UK since 2018, we are incredibly excited to bring OmniFoods to more people and communities by being on shelves at all Sprouts Farmers Market and select Whole Foods Market across America, bringing OmniFoods to an estimated 40,000 point of sale locations around the world," David Yeung, founder of Green Monday Holdings and OmniFoods, said. "By providing our growing consumer base with a healthy and delicious plant-based pork alternative, we continue to fulfil our mission to construct a multi-faceted global ecosystem of future food that helps to combat climate change, food insecurity, public health crisis, planetary devastation, and animal suffering."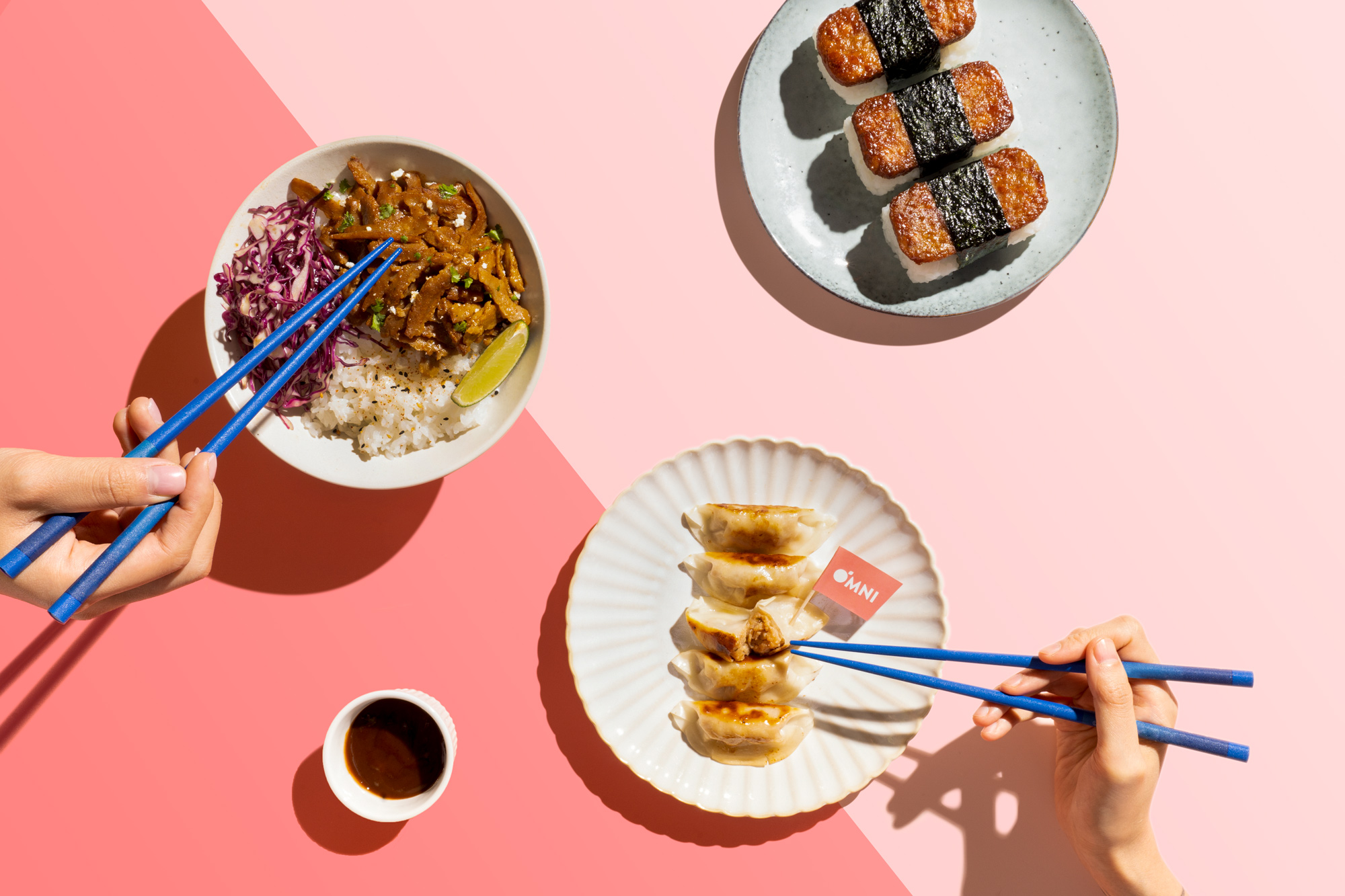 OmniFoods vegan pork hits US restaurants
OmniFoods' US retail launch follows its foodservice debut with 25 restaurants and chef partners in California and Hawaii this summer. OmniPork is made from non-GMO soy, peas, shiitake mushrooms, and rice and the three different formats were created to give chefs and home cooks a vegan pork substitute that works in any dish, including musubi, dumplings, burgers, noodle dishes, ramen, and more.
US chefs are now creating a wide array of dishes with the versatile pork alternative. At Northern California vegan Filipinx eatery Chef Reina, owner Reina Montenegro spotlights OmniPork in a vegan version of Spam musubi (along with several other dishes), while San Francisco's upscale vegan sushi restaurant Shizen is using OmniPork as a meaty element in its limited-time Singing Telegram roll (which features asparagus and avocado topped with the vegan pork, pickled pineapple, fried kale, and miso teriyaki drizzle). Meat-centric restaurants are also incorporating OmniPork into their menus, including Los Angeles restaurant RiceBox, where the addition of OmniPork allowed the chefs to recreate traditional Cantonese recipes, such as bao buns, using plant-based pork.
Currently, OmniFoods is on the road across the Midwest with pop ups that showcase its vegan pork—which is expected to launch at additional US restaurants in the coming months.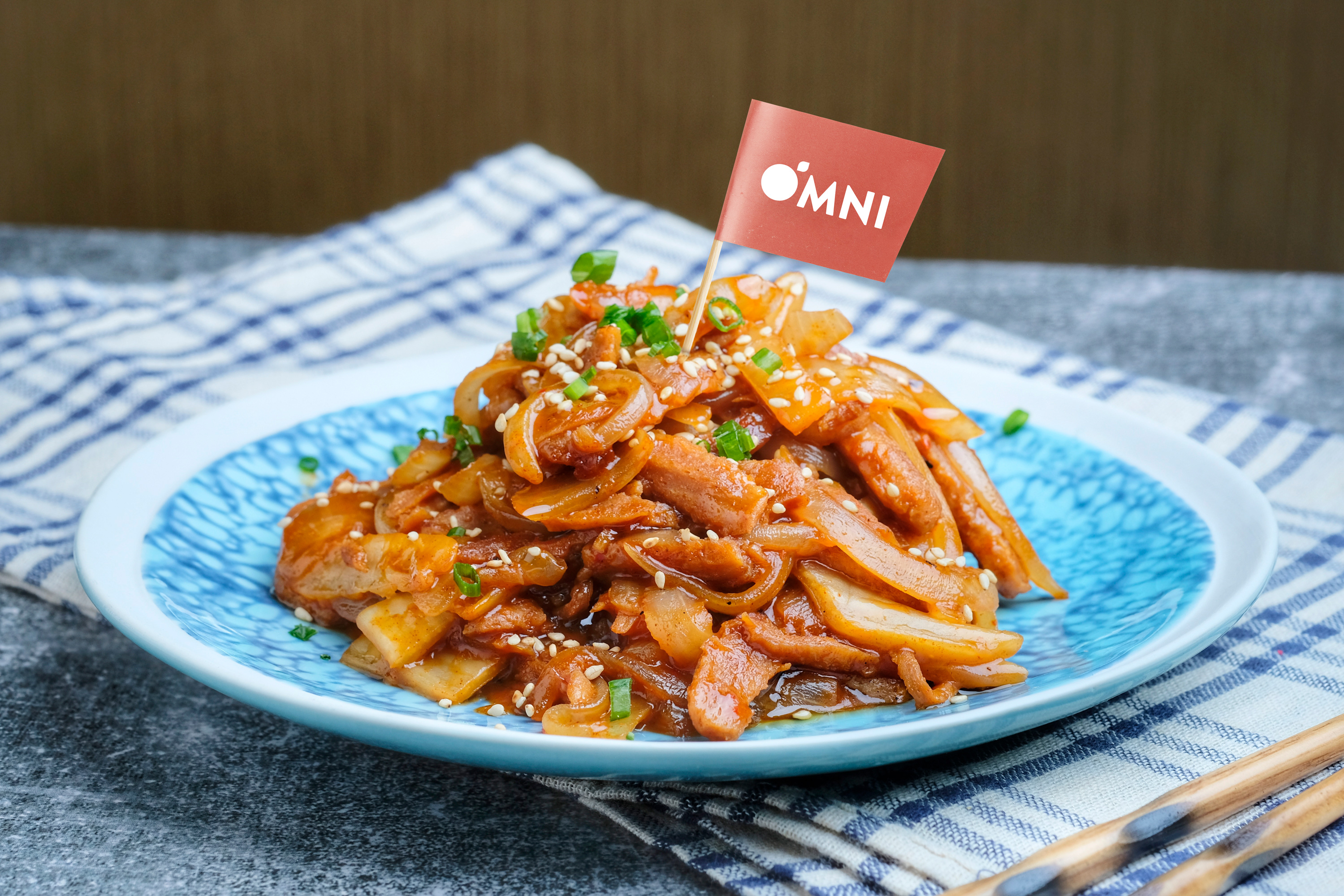 Vegan pork's success in Asia
While many Western startups are creating alternatives to beef and chicken, OmniFoods is taking aim at the most-consumed animal product in the world: pork. Since its debut in 2018, OmniPork has found its way onto many store shelves and menus across Asia, including at some top fast-food chains.
Last year, Starbucks added new plant-based options to its menu at 4,200 locations across China, including salads and bowls topped with Omnipork. OmiPork's vegan Spam is available at McDonald's in three cities in China (Shanghai, Guangzhou, and Shenzhen), along with more than 200 locations in Hong Kong and Macau. IKEA Hong Kong also put OmniPork on the menu for the month of June 2021. The vegan pork is also part of plant-based instant cup meals available at all 3,600 locations of FamilyMart, a major convenience store chain across Taiwan.
In Taiwan, vegan pork is served inside of dumplings at Yunji—the country's largest fast-food chain. Within one month of its debut in January 2020, the chain reported it was selling one million vegan OmniPork dumplings every week at its nearly 1,000 locations.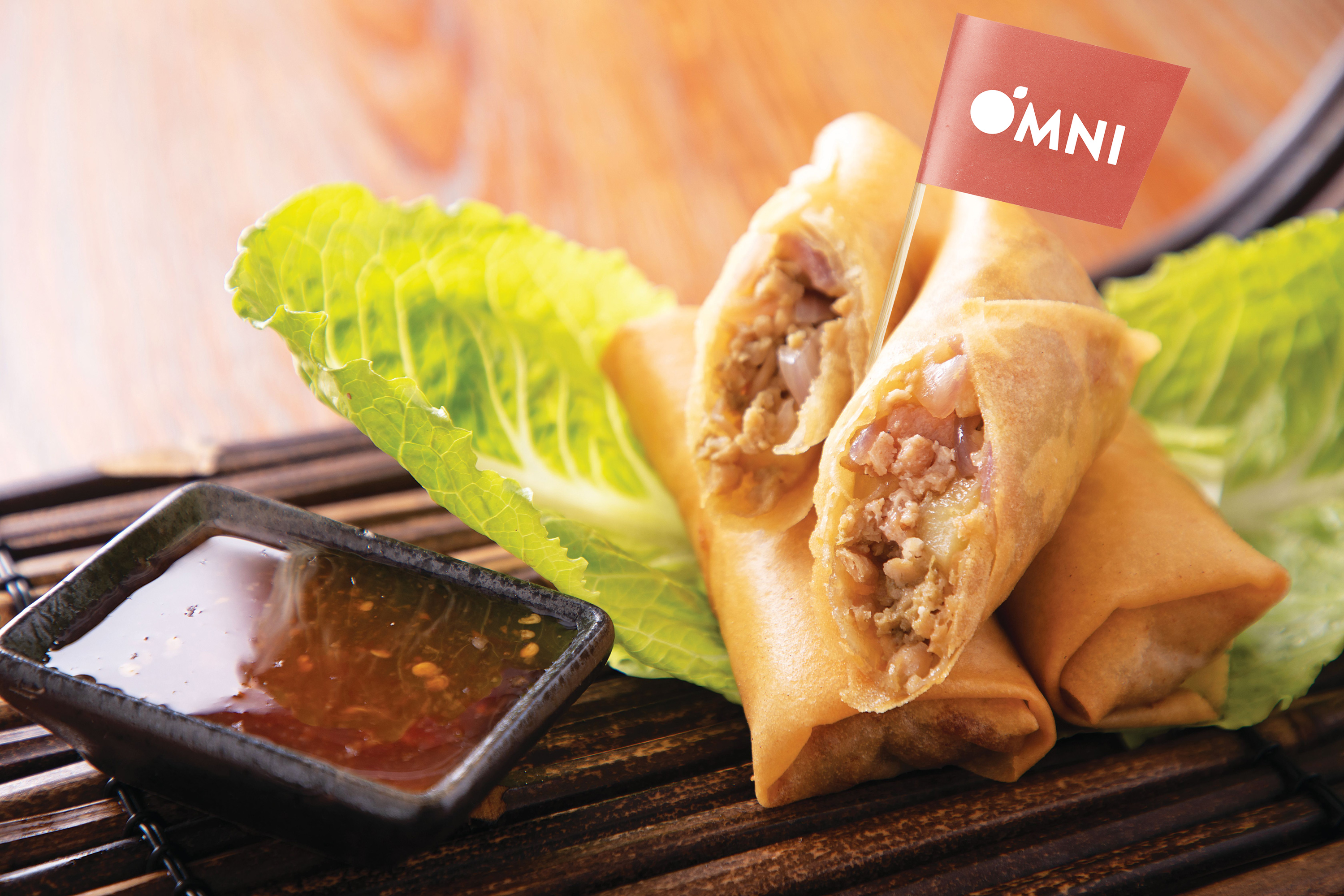 Saving the world with vegan meat
Yeung created OmniPork during a time when swine flu was spreading across Asia, wiping out more than 200 million farmed pigs. Prior to the COVID-19 pandemic, the entrepreneur rang the alarm about the urgent need to change our food systems by moving away from intensive animal agriculture and toward a more equitable, plant-based approach.
"The combination of climate change, food insecurity, and public health issues mean we are at a very critical juncture in the history of the planet," Yeung said during a 2018 conference in Singapore. "If we don't do something, we will push the limits and no one knows what the impact of that will be. If we continue to consume the way we do now, unless some miracle happens, our food system and ecosystem are bound to collapse."
To tackle the issue of industrial fishing and its continual destruction of the world's oceans, Yeung also launched a vegan seafood arm of OmniFoods earlier this year. To provide vegan replacements for Asia's top meat category (seafood), OmniFoods now offers Omni Classic Fillet, Omni Golden Fillet, and Omni Ocean Burger—in original, battered, or breaded fish burger varieties—along with OmniTuna and a soon-to-be-launched OmniSalmon. The new OmniSeafood line is available at Yeung's vegan grocery store Green Common in Hong Kong, as well as local restaurants.