Musical artist and longtime vegan Billie Eilish will release her first pair of Air Jordans created in partnership with athletic brand Nike—and the shoes will be fully vegan. A fan of Air Jordans from a young age, Eilish's new vegan shoes will feature her signature on the insoles and be available in two styles: Air Jordan 15 in a neutral taupe hue and Air Jordan 1KO style in a "Ghost Green" colorway—reminiscent of Eilish's slime green hair color prior to her new platinum look.
"I am so excited to finally share my two Air Jordan silhouettes with you," Eilish announced on Instagram. "I've always loved [Air Jordans] and it was such an incredible and surreal experience getting to create these, especially in a sustainable fashion."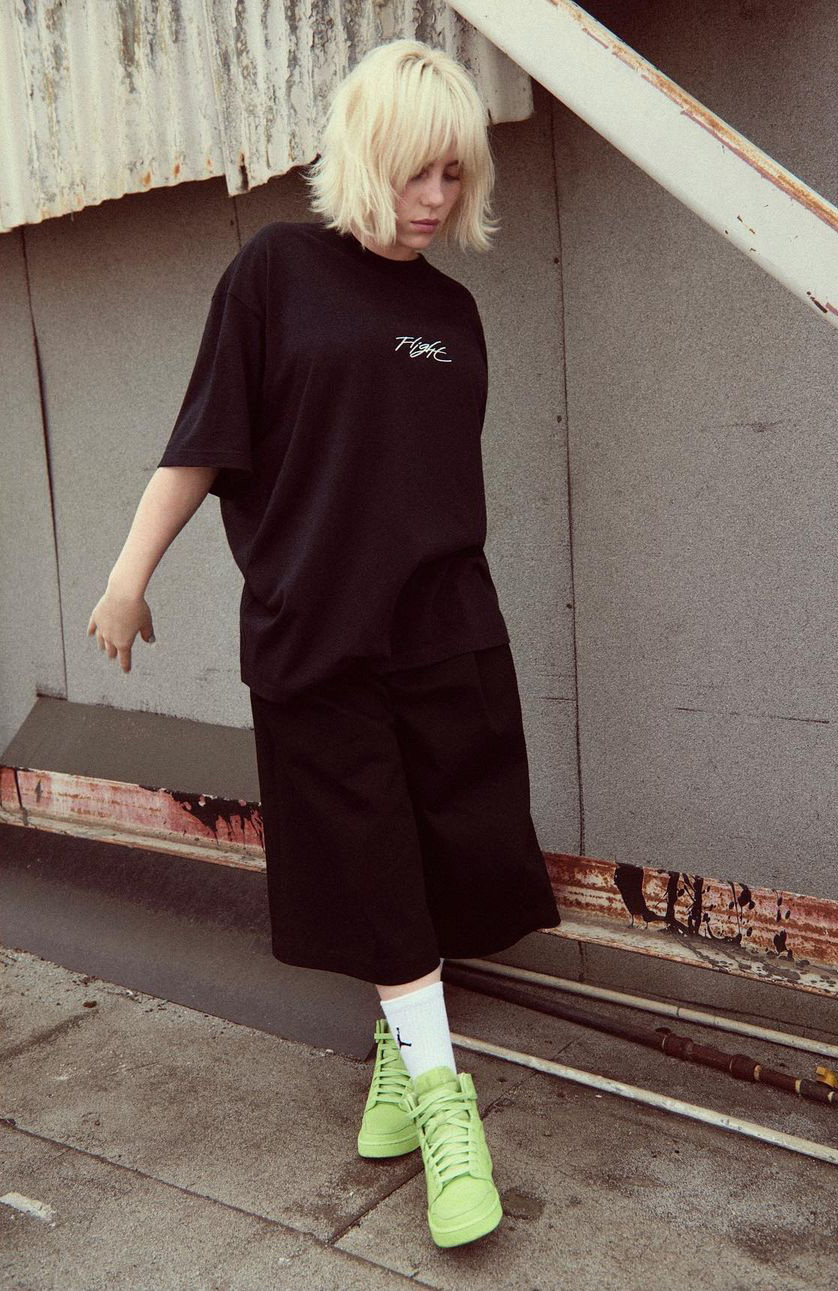 The musical artist chose to create a vegan version of the Air Jordan 15 (which she admits is "not a popular shoe") because it was her favorite style as a child. The Air Jordan 1KO style is another favorite of hers because they are gender neutral and can be worn with anything, from pants to shorts to skirts. This tongue of the shoe will also feature her signature "Blohsh" logo, which Eilish drew when she was 14 years old. "I really wanted to have, kind of like, almost an ode to myself in an appreciative way," Eilish said about the slime green-colored shoes in a video. "In like a kind of sentimental way … this was me for a while."
The Billie Eilish x Air Jordan styles will be available through Eilish's website on September 27 before launching in the Nike SNKRS app on September 30.
Billie Eilish's Air Jordans will be vegan
Eilish's anticipated Air Jordans will be made without animal products to align with her vegan lifestyle. "I've always loved Jordan and it was such a crazy, surreal, exciting, overwhelming experience to create these. Like a big part of that was the sustainability aspect," Eilish said. "We worked really hard on making them all 100-percent vegan, no leather, no animal anything. They're over 20-percent recycled materials. Which is so dope to me. We can make cool sh*t and you don't have to be wasteful."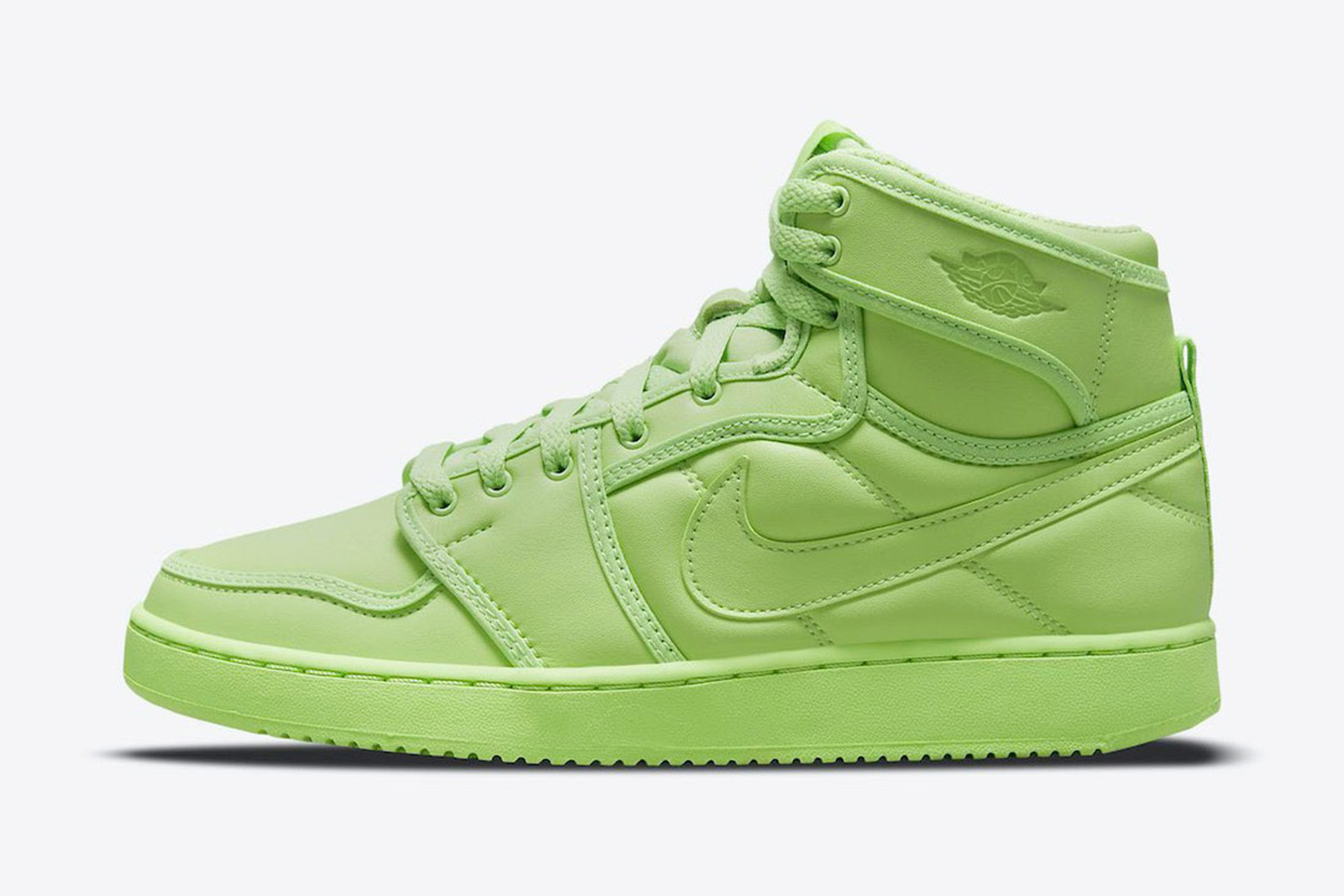 Outside of its collaboration with Eilish, Nike has recently been exploring plant-based alternatives to animal leather. This summer, Nike launched its Happy Pineapple collection, which includes reimagined versions of iconic styles made with Piñatex—a vegan leather made from pineapple leaves—instead of animal hides. The pastel-hued collection comprised Air Max 90, Air Max 95, Air Zoom Type, and Air Force 1 styles accented with swooshes and logos made from the innovative vegan leather.
Billie's vegan journey
Eilish transitioned to veganism when she was 12 years old and has used her fame to promote animal rights and the environmental benefits of a plant-based diet, often asking her millions of social media followers to consider ditching animal products.
"I've been vegan for, damn, seven years," Eilish said in a Vogue interview earlier this year. "I learned about the dairy industry and the meat industry, which I already knew about. Once you know about that kind of thing and you see it, it's really hard to go back. And, even now, while I have many friends that eat dairy and meat and I don't want to tell anybody what to do, I just can't go on in my life knowing what's going on in the animal world and not doing anything about it."
Throughout the COVID-19 pandemic, Eilish worked to feed vulnerable communities while supporting local vegan restaurants through the Support + Feed initiative launched by her mother, Maggie Baird. From launching a sustainable vegan collection with H&M to teaming up with fellow vegan Woody Harrelson to create a short film that ties animal agriculture to the climate crisis, the 19-year-old has already done a lot for the animals.
Eilish's most recent vegan activism was on full display during this year's Met Gala, which served a fully vegan menu for the first time in its more than 70-year history. Eilish arrived at the event in a peach-hued Oscar de la Renta gown with a train that covered a flight of stairs. While the dress was voluminous and eye-catching, the real statement was an ultimatum that Eilish gave to the designer to abandon its use of fur forever. Oscar de la Renta obliged, joining peers such as Gucci, Prada, Versace, and many more in banning fur from their collections.