Vegan deli meat company Mrs. Goldfarb's Unreal Deli is expanding its vegan sub sandwich delivery to six major cities across the country. Last fall, Unreal Deli sub sandwich menus became available for delivery through 12 ghost kitchen locations in the New York/Tri-state area and in seven locations in the greater Los Angeles area. Now, Unreal Deli ghost kitchens in Orange County, CA; Raleigh, NC; Austin, TX; and Miami, FL are launching or already in operation.
"I grew up munching on the best deli sandwiches and amazing sub sammies, and I wanted a version that could cut the animals out of the equation and still deliver the delicious classics I know and love," Unreal Deli founder Jenny Goldfarb told VegNews.
Menus vary by location but subs include Unreal Deli's popular vegan meats such as steak, turkey, and corned beef—a favorite of Shark Tank's Mark Cuban, an investor in the vegan brand. While the ghost kitchens are not physical locations, Goldfarb decided to take this approach to get her concept rolling. "I was ready to push this into gear sooner than [popular sub shop] Jersey Mike's was ready to take us on," Goldfarb said. "Also, Mark Cuban thought we should hit the ghost [kitchen] space, even before these new remote lifestyles were upon us."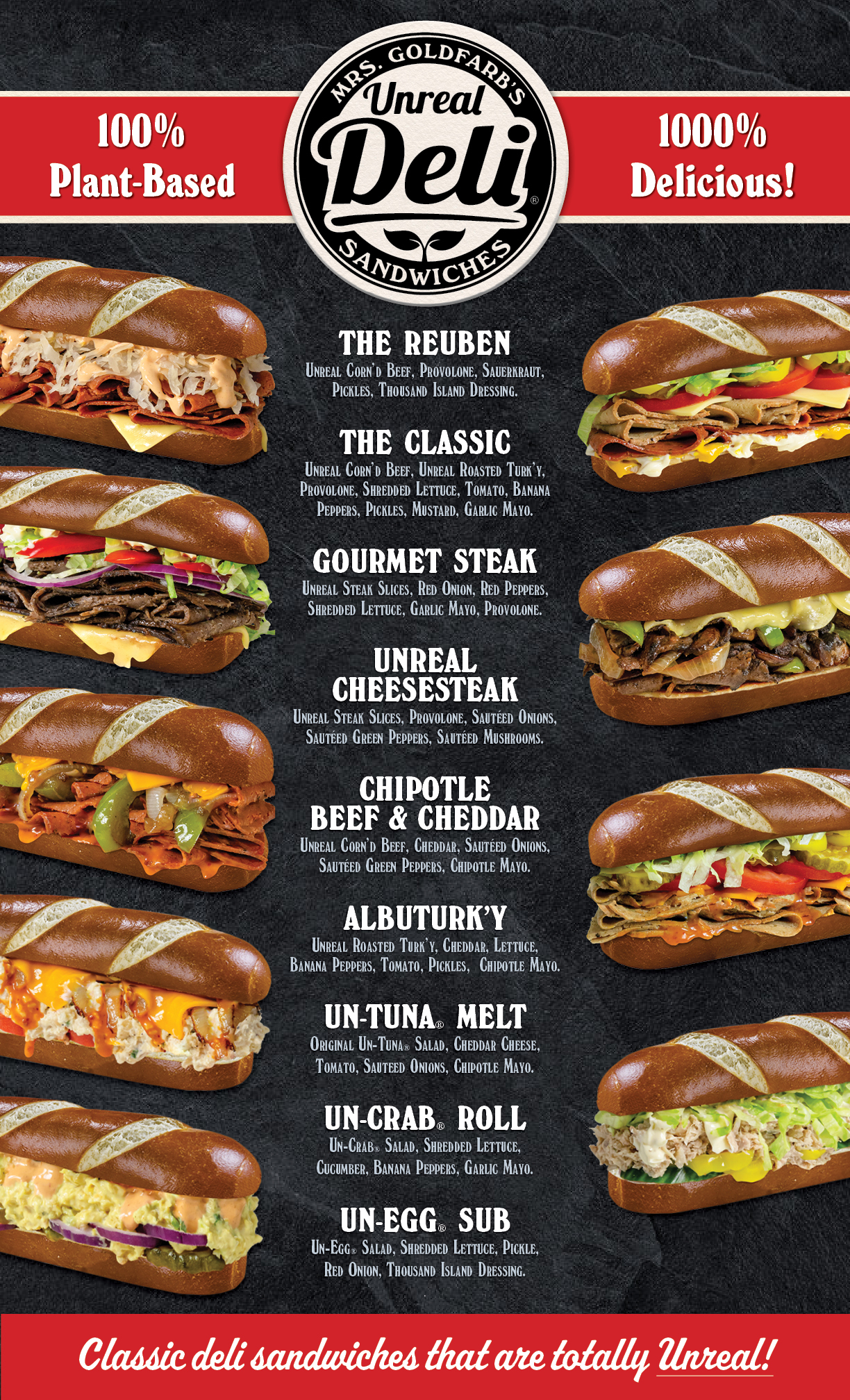 Vegan sub sandwiches, delivered
In the New York area, the Unreal Deli sub shop menu features classic sandwiches made with Unreal Deli meats, Violife cheese, and Only Plant Based sauces, such as the Reuben (corned beef, provolone, sauerkraut, pickles, and Thousand Island dressing); Gourmet Steak (steak slices, red onion, roasted red peppers, shredded lettuce, garlic mayonnaise, and provolone); Chipotle Beef and Cheddar (corned beef, cheddar, sauteed onions and green peppers, and chipotle mayo); and the Albuturk'y (roasted turkey, cheddar, lettuce, banana peppers, tomato, pickles, and chipotle mayo).
The LA area menu features the same classic sandwiches offered in New York with the addition of an Un-Tuna Melt (vegan tuna salad, cheddar cheese, tomato, sauteed onions, and chipotle mayo); Un-Crab Roll (vegan crab salad, shredded lettuce, cucumber, banana peppers, and garlic mayo); and Un-Egg Sub (vegan egg salad, shredded lettuce, pickles, red onion, and Thousand Island dressing); along with three vegan cookie flavors (Oatmeal Chocolate Chunk, Campfire Brownie, and Peanut Butter Chocolate Chunk) from LA-based vegan dessert company Vegan Madness. The sub's vegan tuna, egg, and crab are made by vegan food company Rabbit Hole Foods.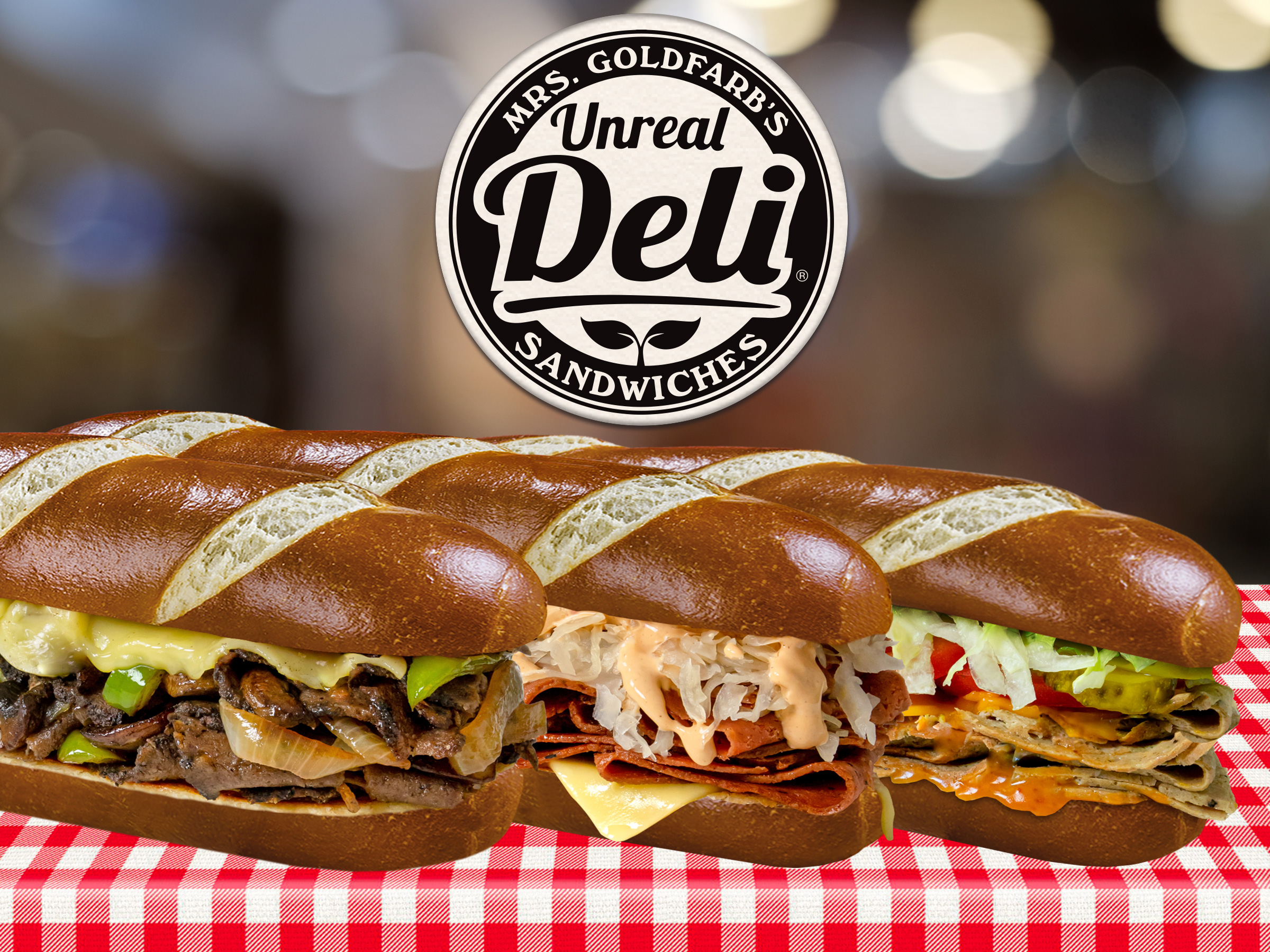 The expansion of Unreal Deli
Goldfarb founded Unreal Deli with the mission of making vegan versions of the classic New York-style deli meats she grew up eating. Since receiving $250,000 in funding from Mark Cuban on a 2019 episode of reality investment show Shark Tank, Unreal Deli's products have quickly expanded to more than 1,000 retailers and restaurants nationwide. The company is best known for its vegan corned beef, which launched at 58 Whole Foods Markets in the Southern Pacific region in 2019 and became a top-selling sandwich in the supermarket's grab-and-go section.
Last year, Unreal Deli corned beef debuted in 16 Seattle locations of fast-food chain Quiznos, following a launch at Veggie Grill locations nationwide. Earlier this year, Unreal Deli introduced a Reuben burger at plant-based burger chain Next Level Burger. With the introduction of a first-of-its-kind vegan sub delivery chain in partnership with delivery only virtual brand Acelerate, Goldfarb hopes to expand further into the foodservice industry with the goal of having Unreal Deli shops across the country.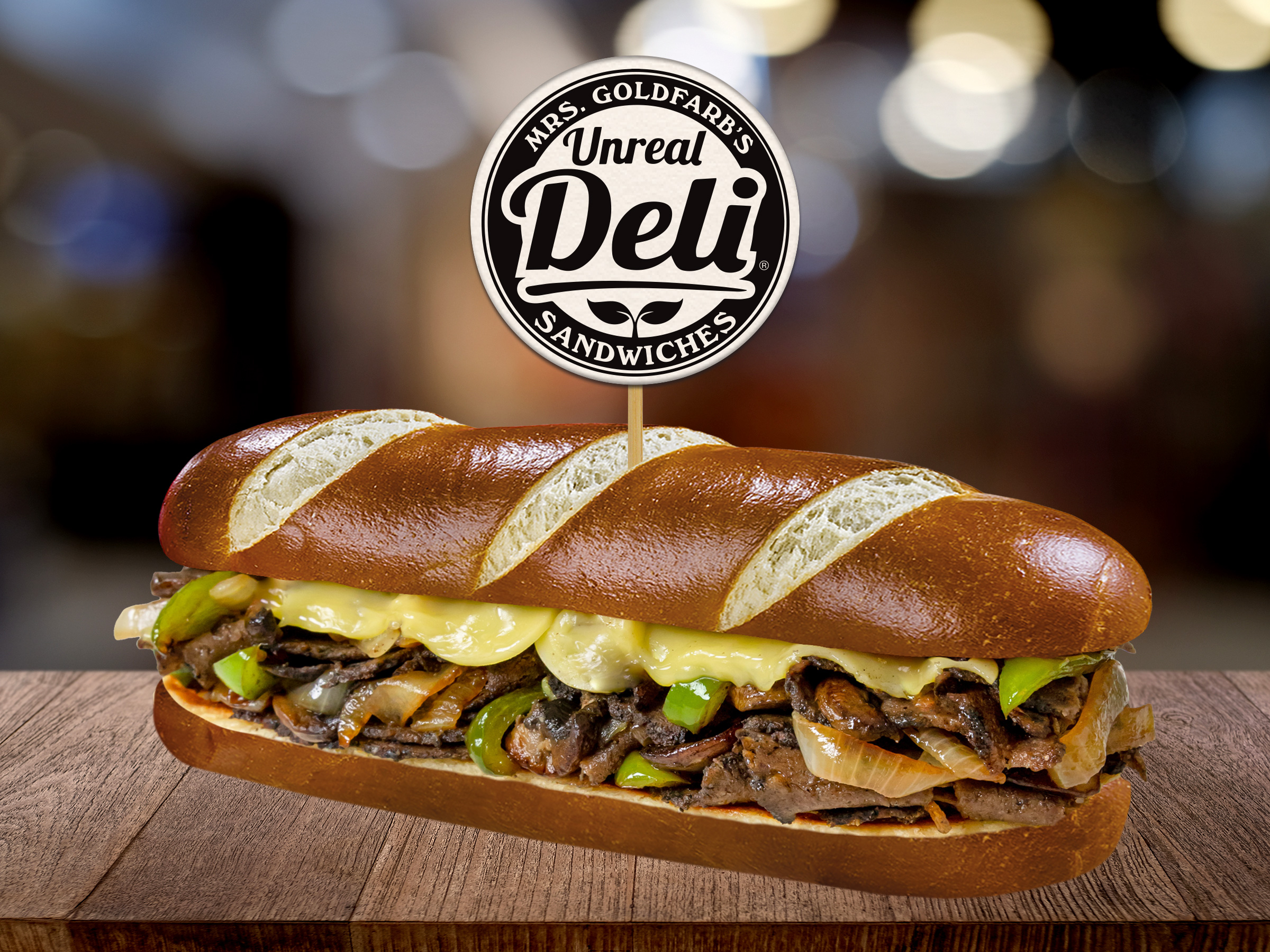 Unreal Deli sub shop locations
For a full list of ghost kitchens and their locations, click here. Anyone within a three- to five-mile radius of the locations are able to order Unreal Deli directly from popular delivery apps, including DoorDash, GrubHub, UberEats, Seamless, Postmates, and Caviar.