Legendary rapper Snoop Dogg might soon expand his business empire with vegan hot dogs. The musical artist recently filed for an intent-to-use application with the United States Patent and Trademark office for the use of "Snoop Doggs" in regard to "hot dogs and other sausages."
While little is known at this time about the new venture, Snoop Dogg previously expressed disgust about consuming traditional hot dogs—which are made from ground-up remnants of slaughtered animals—during an appearance on Jimmy Kimmel Live in 2016. During the segment titled "How is it Mizzade?," Snoop Dogg was challenged to guess the end product by watching a video of it being made. As the hot dog meat went through various stages of processing, he responded in utter disgust, ultimately stating, "I ain't never eating a mother f*cking hot dog."
Should Snoop Dogg's trademark filing turn into a (hopefully vegan) hot dog brand, Snoop Doggs will join the legendary rapper's other business ventures, including cannabis company Leafs by Snoop and alcohol brand Indoggo Gin.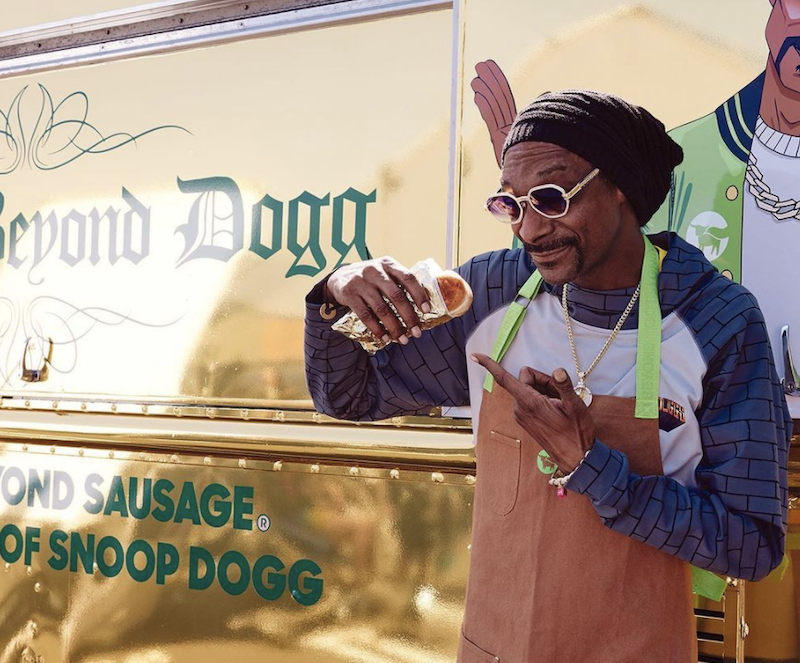 Beyond Meat
Snoop Dogg's love of vegan hot dogs and burgers
In recent years, Snoop Dogg has taken an interest in plant-based foods, a further indicator that Snoop Doggs could very well be a vegan hot dog company. In a 2020 Forbes interview, the 50-year-old rapper explained that his friends are helping him transition to a healthier diet.
"With such a busy schedule, I needed to make sure that I'm taking care of myself both mentally and physically," he said. "I needed to change up my diet a bit to help me give me all the nutrients I need to continue to be at the top of my game. Some of my immediate family are vegan and vegetarian so they helped me figure out the best plan with me."
To get his fix of vegan burgers, the D-O-double-G frequents Los Angeles-based truck Vurger Guys and has been "sluttified" on at least one occasion at Atlanta's Slutty Vegan, a popular burger shop that features provocatively named, Impossible Burger-based creations.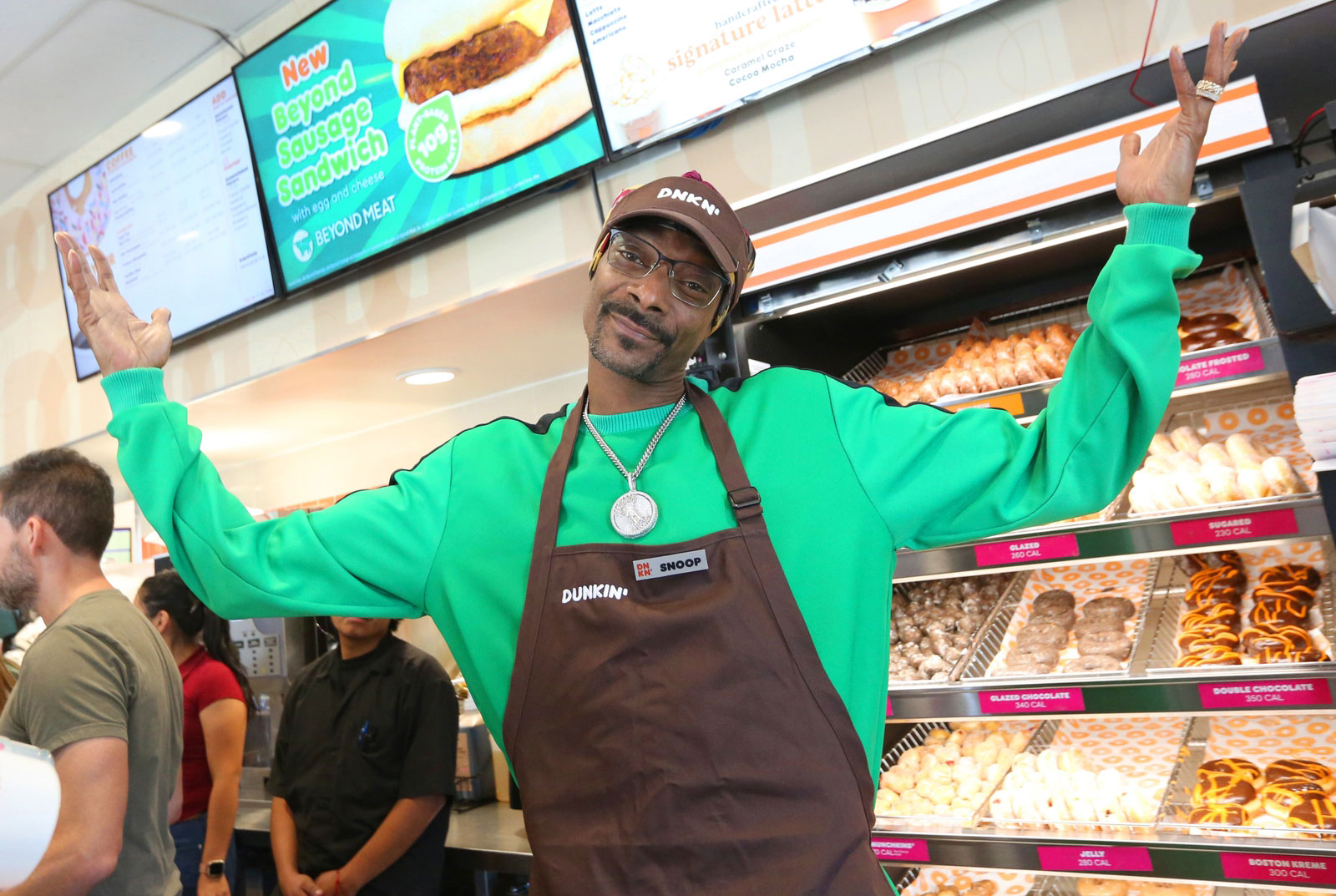 Beyond Meat
Snoop Dogg invests in plant-based meat
Snoop Dogg is also putting his money where his mouth is with investments in several plant-based brands. The rapper is a celebrity ambassador of and investor in Beyond Meat and in 2019, Snoop celebrated the launch of the Beyond Sausage Breakfast Sandwich at Dunkin' locations nationwide by personally handing out the meatless sandwiches behind the counter at one Dunkin' location. That year, Snoop Dogg threw a pre-party for the Grammy Awards where he served Carl's Jr. Beyond Famous Star burgers—the fast-food chain's first meatless burger launched in partnership with Beyond Meat.
At the onset of the COVID-19 pandemic in 2020, Snoop Dogg joined Beyond Meat's Feed A Million+ campaign, which donated more than one million vegan burgers over the course of 30 days to frontline workers. He also appeared in a promo video for Beyond Meat in 2020 in which he revealed that he sneaks plant-based meat into meals for his friends and family to help them try alternatives to animal products.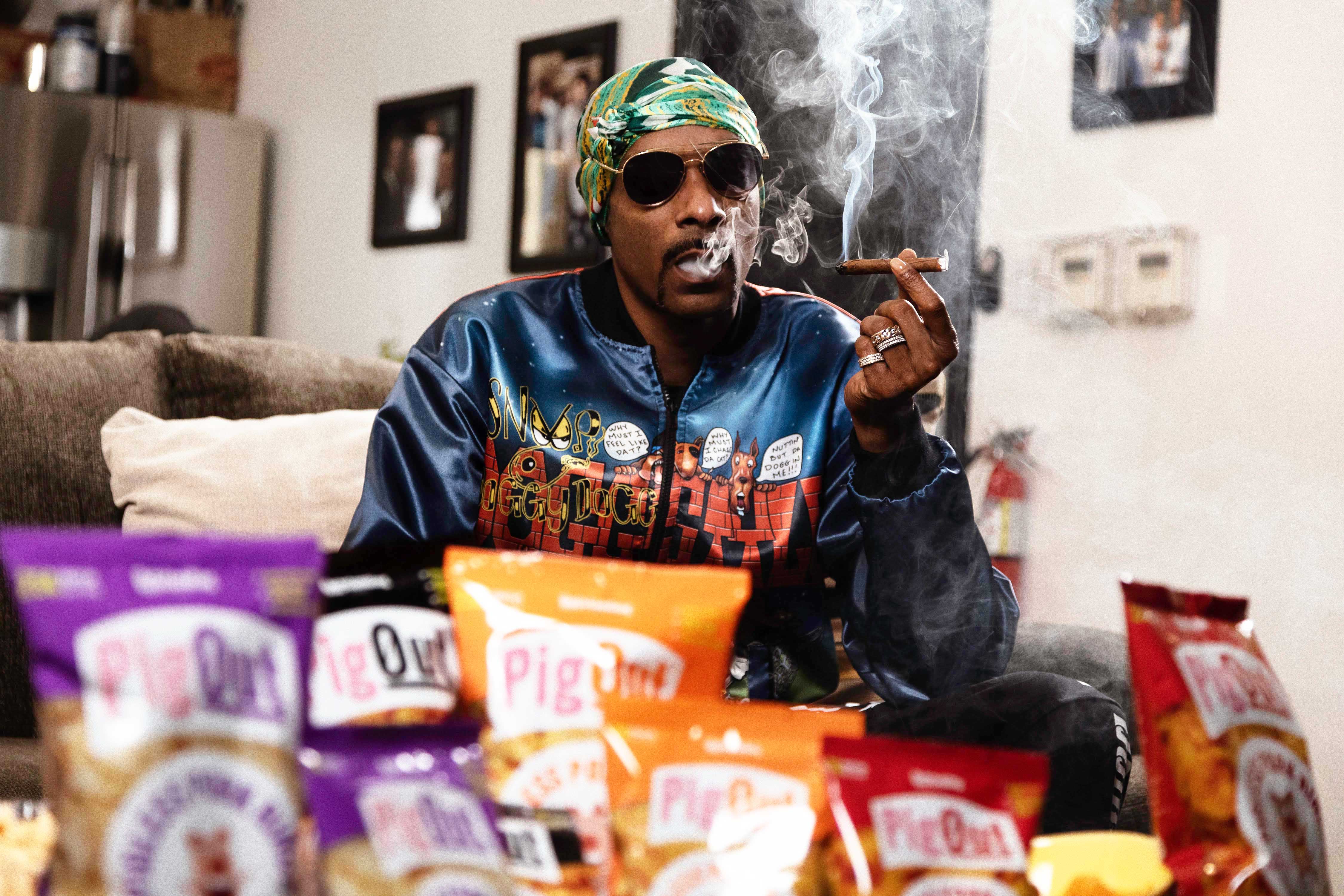 Outstanding Foods
Snoop Dogg is also an investor and celebrity ambassador of vegan bacon snack brand Outstanding Foods and appeared in a campaign to promote its pigless "munchies." As part of the partnership, Snoop Dogg launched a dedicated website to sell Outstanding Foods' vegan pork rinds donating 10 percent of sales to Snoop Special Stars, a non-profit organization that helps to provide opportunities for inner-city children to participate in youth football and cheerleading.
To kick off the 2021 NFL season, Snoop joined forces with professional football player Derwin James to hand out 600 free plant-based meals at a special pop-up event in Los Angeles. Both Snoop Dogg and James used Beyond Meat products to create vegan menu items which they served out of their own food trucks. While James chose to create an indulgent Beyond Burger, Snoop Dogg went with a hot dog creation. The Snoop Beyond Tailgate Dogg featured a Beyond sausage, Beyond chili sauce, vegan cheese, and crispy onion strings on an artisan bun. Could this have sparked the idea for Snoop Doggs? Only time will tell.
For more about vegan hot dogs, read: Wienerschnitzel Launches Its First Vegan Hot Dog at All 327 Locations
Nathan's Famous Just Launched Its First Meatless Hot Dog

What Are Vegan Hot Dogs? Plus: The 7 Best Brands to Try