Spanish vegan cheese brand Mommus first started in a small kitchen in 2018. Founder Cristina Quinto quit her job to pursue her hobby of vegan cheesemaking. Today, Mommus products are coming to supermarkets across Spain, thanks to a new partnership with industrial food ingredients company Dacsa Group.
Based in Elche, a small town about an hour outside the coastal city of Alicante, Mommus produces a variety of vegan cheeses, including blue, semi-cured truffle, and black garlic, along with spreadable cheeses such as tomato and garlic cream cheese.
But the one product that Quinto has said "marked a milestone" for the company and contributed to its success was a vegan Camembert, made with more than 70 percent cashews, plus water and salt, and naturally fermented. In addition, it is covered in penicillium camemberti, which gives the cheese the traditional white coating of camembert and contains probiotics and heart-healthy plant fats.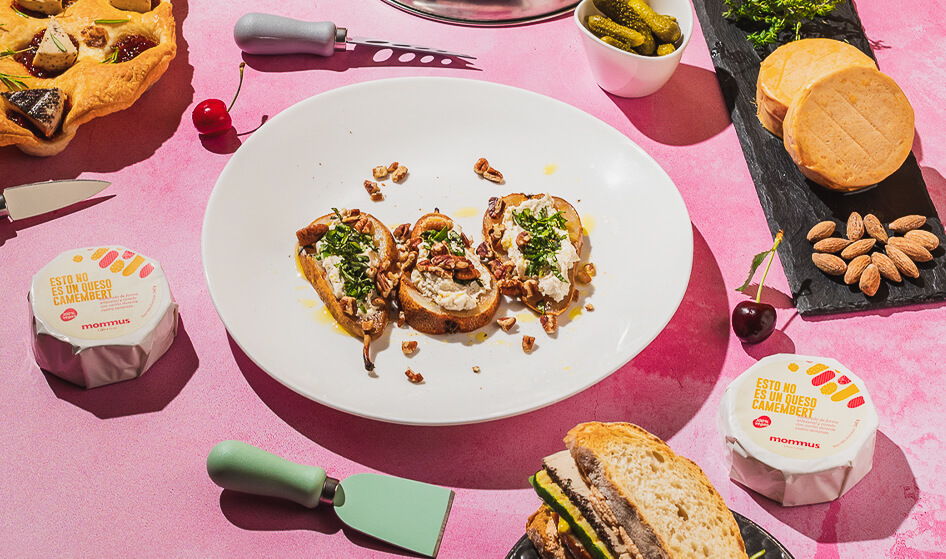 Mommus
Mommus has received numerous awards for its vegan cheese products—including being recognized as one of the best cheeses in the world by Abillionveg community review—and is a part of the science park of the Miguel Hernández University of Elche, a science and business ecosystem that promotes cooperation between the university and local companies.
According to the university, Mommus, through its partnership with Dacsa Group, is the first Spanish vegan cheese company to receive an investment.
Making vegan cheese more accessible
Until now, Mommus products have been available mostly at specialized stores. The partnership with Dacsa Group was forged in an effort to make the brand's vegan cheese products more accessible to consumers and to distribute them in main retail chains in the country.
Quinto notes that, according to a ProVeg study, Spanish consumers are the most likely to eat plant-based cheese instead of animal-based cheese (36 percent), to buy it regularly (38 percent), and to pay a higher price for it (28 percent) if the taste and texture are identical to those of animal-derived versions. And of the plant-based cheese, Spanish consumers would like to see grated cheese (40 percent) and sliced ​​cheese (39 percent) more readily available in supermarkets.
"It is on this last point that our alliance with Dacsa becomes important: Above all [else], our objective is to democratize the consumption of vegetable cheese, offering alternatives in common supermarkets at a competitive price," Quinto tells VegNews.
Dacsa Group's interest in Mommus comes after the company created a separate "Food Solutions" division to diversify its business beyond cereals and into other sustainable and innovative food products.
Since the creation of this new division in 2014, the company has developed a wide range of its own plant-based products in response to the growing interest in plant-based foods, including ready-to-eat meals and vegan meat and eggs.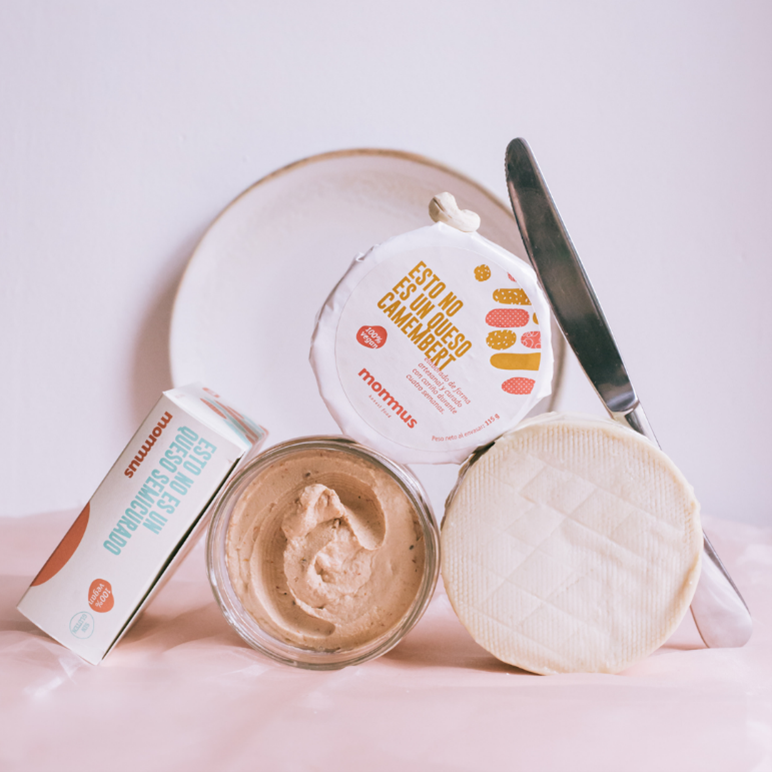 Mommus
"In recent years, [Dacsa] has noticed the growth of the vegan food industry and is investing capital in it, which is why [it] looked at Mommus to continue betting on plant-based foods," Quinto says. "In this way, Dacsa obtains investment in a product whose consumption is on the rise and is well known and valued by vegans, and at Mommus we obtain more resources to be able to bring our products to more people."
With the new partnership, Dacsa Group and Mommus will work side by side to develop more vegan alternatives to traditional dairy products. Dacsa will also help Mommus expand production capacity of the current Mommus range and provide support to reach a larger distribution.
Growing vegan market in Spain
Mommus's growing vegan empire comes at a time when plant-based products are starting to boom in the country. Last year, Spanish food brand Flax & Kale—owned by hospitality and food company Teresa Carles Healthy Foods—launched the largest range of plant-based meat and cheese ever produced in Spain. The range included 14 vegan meat products and 31 vegan cheese products that are now available in leading supermarkets in Spain as well as in major restaurants and online.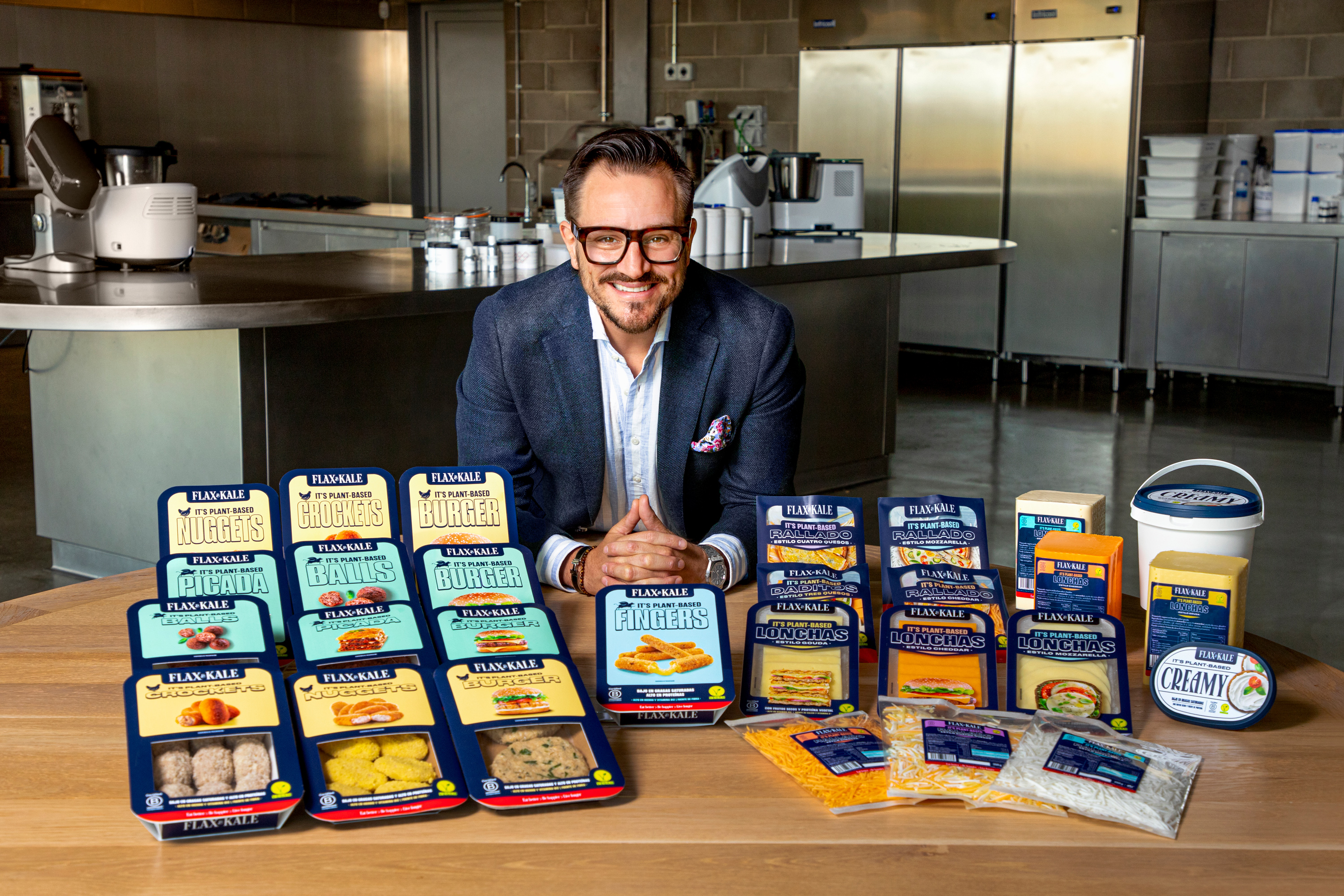 Flax & Kale
"At Flax & Kale, what we want is to transform the world of food with our own plant-based products: a wide range of products developed by our in-house research and development team and produced entirely at our facility in Lleida that are intended to revolutionize the market with healthy, tasty, and sustainable food," Jordi Barri, CEO of Teresa Carles Healthy Foods, said in a statement at the time.
The range includes vegan beef and chicken in different formats, including hamburgers, croquettes, nuggets, meatballs, and grounds. The vegan cheeses include gouda, cheddar, and mozzarella and they come sliced, cubed, and grated; as well as a spreadable Philadelphia-style cream cheese, a grated four-cheese blend, and mozzarella fingers.
"Our ambition is to become a leader in the plant-based market in Spain over the next few years with a very diverse range and truly competitive prices, which we can offer thanks to 100-percent local production and sizable investment over recent years in the latest generation industrial production lines," Barri said. "This launch is just the first step in that direction, and there will be many more steps in the coming months."
Parent company Teresa Carles Healthy Foods decided to expand its Flax & Kale brand with this new vegan range because it believes plant-based foods are a long-term trend that is here to stay, not only in Spain but worldwide.
Other Spanish brands helping to expand the plant-based sector in the country include Barcelona-based Heura which launched in 2017 and now offers a variety of products, including vegan chicken, burgers, meatballs, and pizza.
For the latest vegan news, read: