It seems that every week in the world of vegan food news is more exciting than the last and this week is no exception. Vegan restaurants are helping you have an easy Thanksgiving with specials that'll keep you well-fed and out of the kitchen. Califia Farms just released its first vegan whipping cream and tapped celeb chef Carla Hall to show everyone how to use it. Cocomels gets into oat milk-covered caramels this holiday season. Read on for more.
1Thanksgiving specials galore
As we turn the corner toward Thanksgiving, the thought of cooking a full vegan family meal might be exciting or, perhaps, terrifying. If you're in the latter group, vegan restaurants around the country have just the thing to help you savor Thanksgiving without spending any time in the kitchen.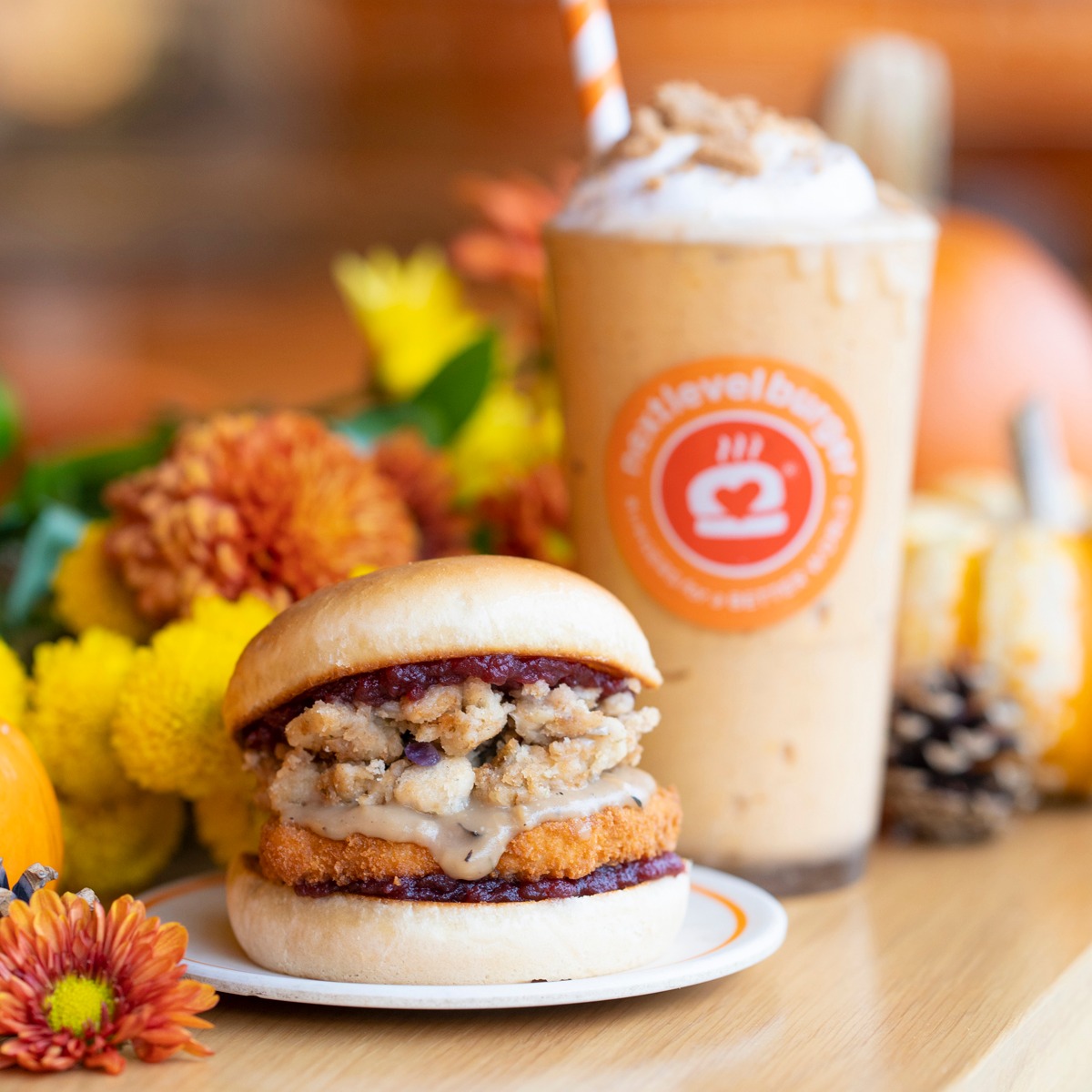 Next Level Burger
From now until November 24, the Next Level Burger brings back Thanksgiving favorites such as The Gobbler, a sandwich which features a turk'y patty smothered with holiday gravy, topped with multi-grain stuffing and cranberry sauce, all served up on a butter-toasted white bun. The vegan chain is also bringing back three shakes: Banana Cream Pie, Organic Pumpkin Pie, and Candied Pecan Pie.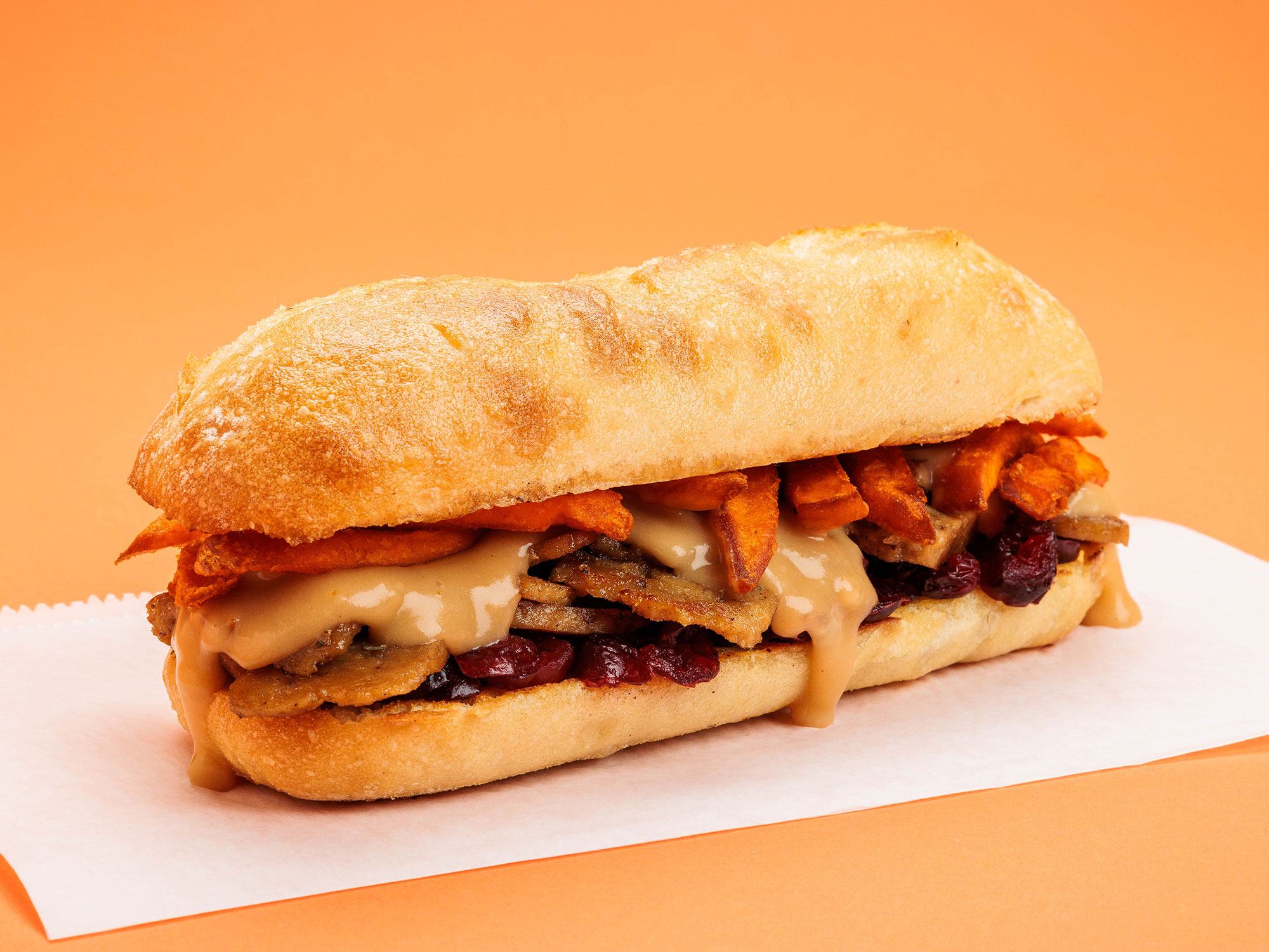 Native Foods
Native Foods is not waiting until after Thanksgiving to offer The Leftovers Sandwich, its November special which features plant-based roasted turkey slices, pickled cranberries, sweet potato fries, and homestyle gravy on a toasted baguette. For dessert, the Chicago-based chain is offering a new Pumpkin Cheesecake Parfait that features pumpkin crème, cheesecake crème, and gingersnap cookie crumbles.
At New York City's Beatnic, the vegan Gobble Gobble' sandwich is a special (available until November 27) that was created to do good. The limited-time sandwich is stuffed with seitan, sautéed kale, harvest stuffing, rosemary gravy, fresh cranberry sauce, and is served on a potato bun. And $1 from every sandwich sold will go to support City Harvest, a food rescue organization that has helped to feed hungry New Yorkers for 40 years.
2Current Foods' vegan smoked salmon
Lox bagels are a breakfast staple that are getting a vegan makeover thanks to Current Foods, a brand founded in 2019 working to save the oceans with its plant-based seafood. Made with a base of peas, algae, potato, and bamboo, Current Smoked Salmon was created to mimic its fish-based counterpart in every way, including texture and nutritional value such as omega-3 DHAs, iron, vitamin B12, fiber, and protein, without any mercury.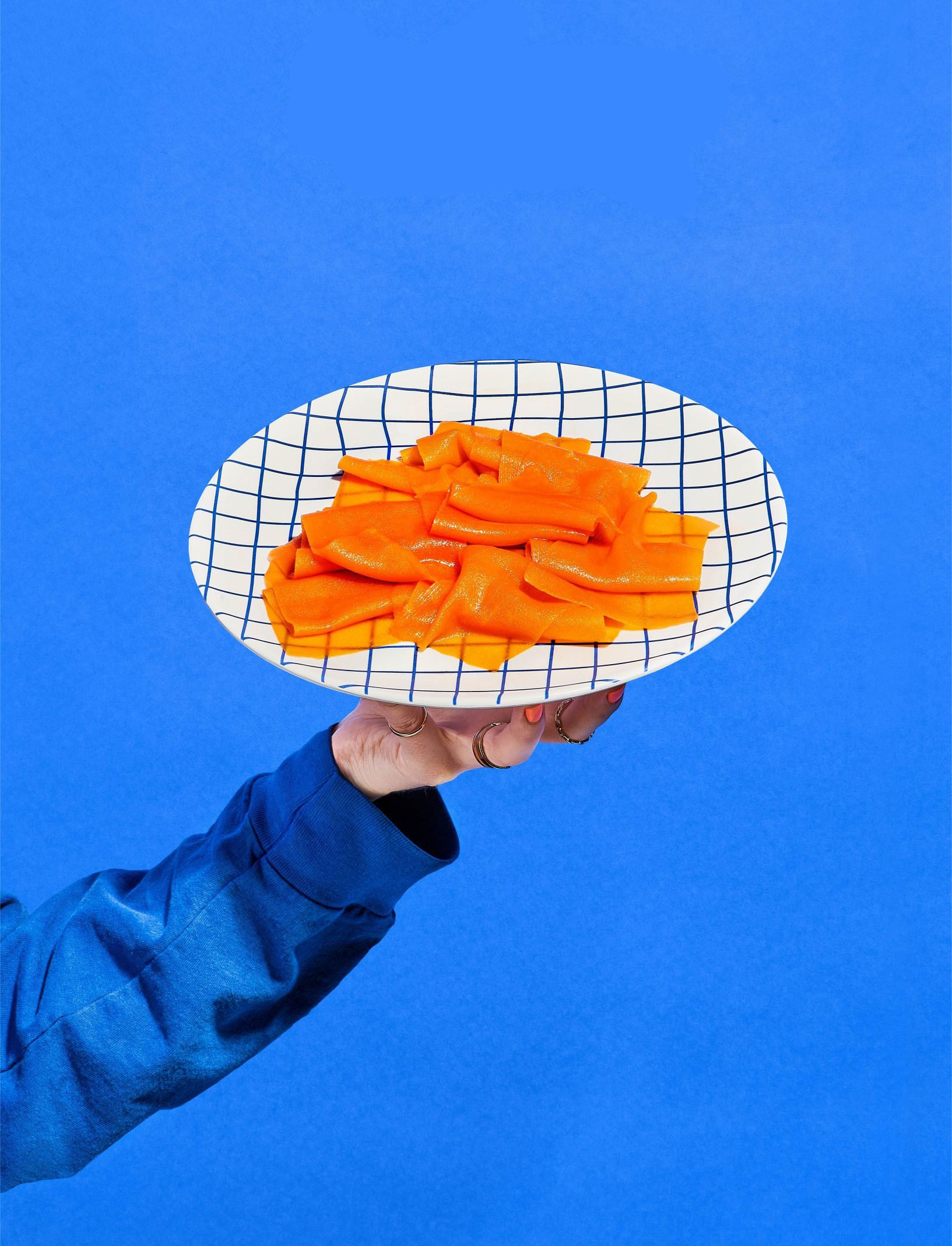 Current Foods
The new vegan salmon joins Current Food's flagship offering, Current Tuna, which TIME named as one of its top inventions of 2021 for its ocean-saving potential.
"Consumers enjoy our Current Tuna so much that we wanted to give them additional seafood options to choose from," Jacek Prus, CEO and co-founder of Current Foods, said in a statement. "Salmon was the next obvious choice as one of the most popular fish types in the world. We have worked hard to achieve the same taste and mouthfeel of the traditional fish, as we don't want consumers to make any compromise in enjoyment."
"At the same time, our smoked salmon is a far more sustainable way to consume seafood without dropping a single anchor into any of our heavily compromised oceans," Prus said.
The new Current Smoked Salmon is now available at retailers in Northern California (at Raley's, Mollie Stones, Berkeley Bowl, and more); Southern California (at Gelson's, Bristol Farms, and Bestie's Vegan Paradise); and in New York City (at Showfields, Gourmet Garage, Fairway Markets, and Orchard Grocer).
3Gingerbread nut butter
From cashew to peanut to almond, we're fans of plain 'ol nut butters. But who doesn't love a little holiday flare in their nut butter from time to time?
This holiday season, NuttZo is pulling out all the stops with its seasonal Gingerbread Seven Nut and Seed Butter. This vegan treat is not only full of holiday gingerbread flavor but packed with nutritious cashews, almonds, Brazil nuts, flax seeds, chia seeds, hazelnuts, and pumpkin seeds.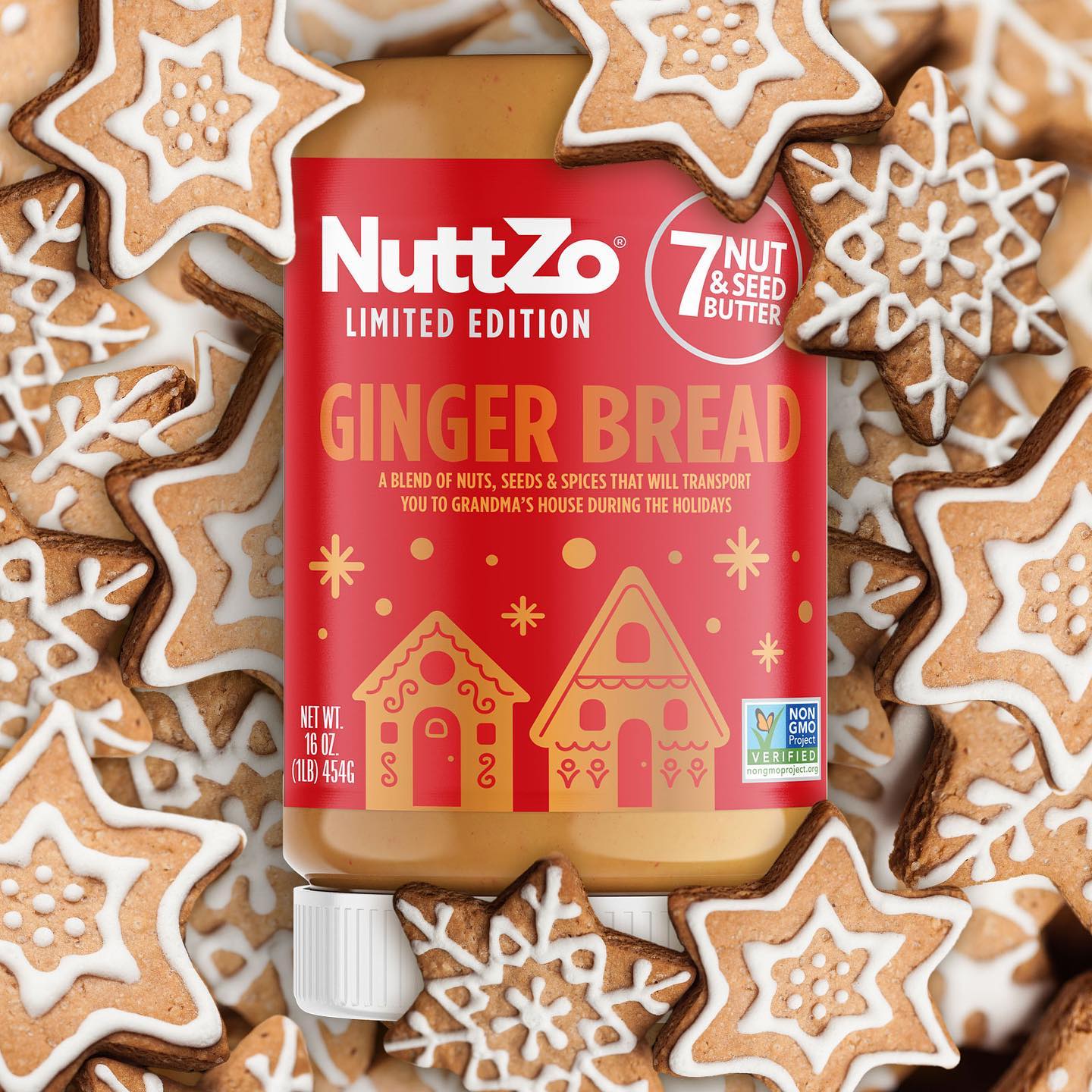 NuttZo
"I love being in the kitchen—the same kitchen where I first made NuttZo almost 15 years ago—creating new ways for our loyal fans to enjoy NuttZo," Danielle Dietz-LiVolsi, founder and CEO of NuttZo, said in a statement.
"We wanted to ensure that we captured the essence of one of the most iconic holiday flavors, gingerbread, and discovered the gingery, spicy profile really complements our unique creamy yet crunchy Power Fuel blend," Dietz-LiVolsi said.
The brand's limited-edition Gingerbread nut butter is available through Whole Foods Markets and on Amazon. A portion of proceeds from this flavor, and all other NuttZo products, goes to support Project Left Behind, its organization that supports underprivileged children.
4Cocomels' new oat milk caramels
Creamy oat milk chocolate enrobing vegan caramel and toffee? We're talking about a new line of tasty treats made by beloved vegan confectioners Cocomels.
"Our initial goal was to develop an option for milk chocolate lovers," JJ Rademaekers, Chief Candyman and founder of Cocomels, said in a statement. "We have fantastic dark chocolate-covered Cocomels, but wanted to expand our line to appeal to all chocolate lovers looking for dairy-free options."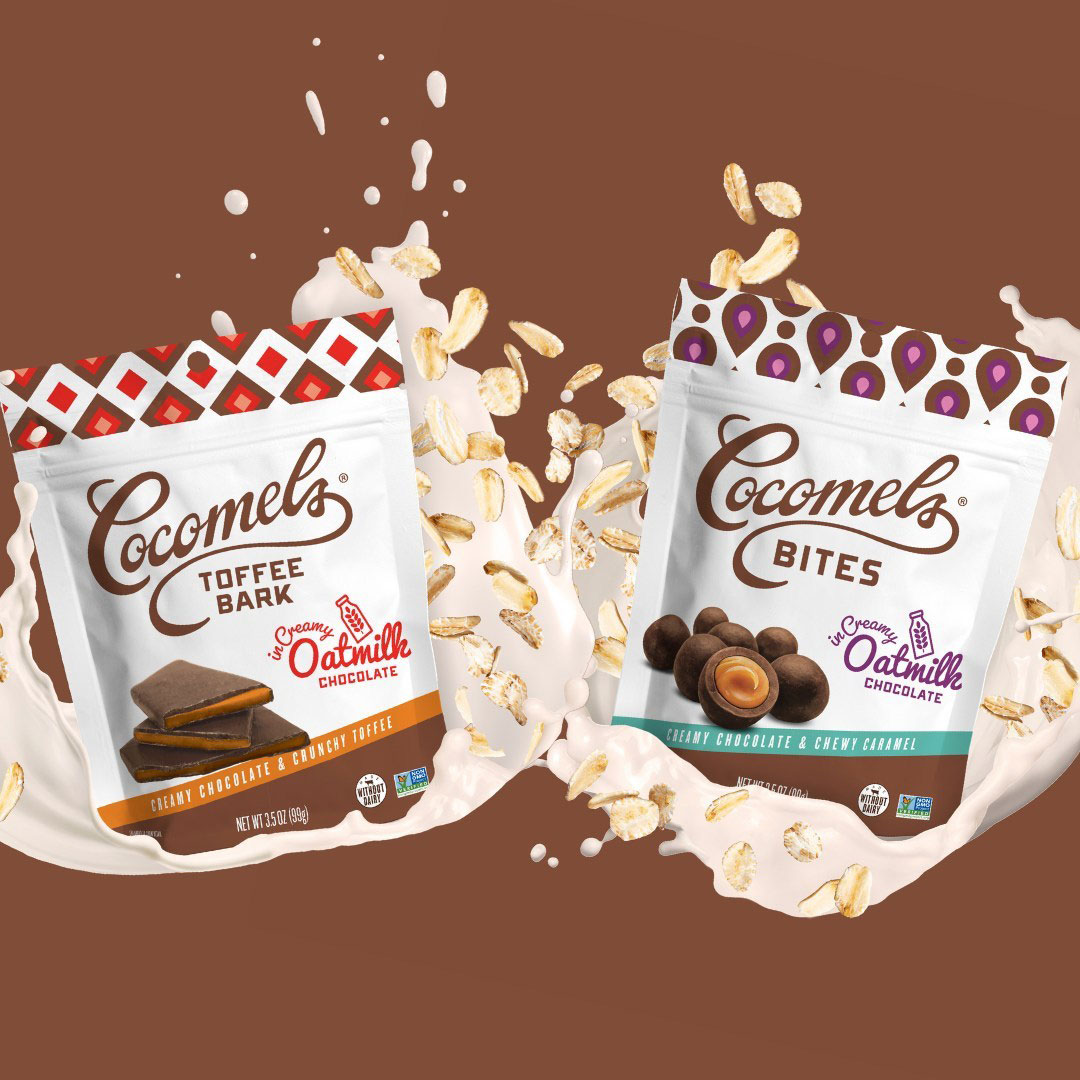 Cocomels
The brand is known for its luscious vegan caramels that it makes with coconut cream instead of dairy. Now, Cocomels is moving into the vegan milk chocolate realm with the launch of Oatmilk Chocolate-Covered Caramel Bites and Oatmilk Chocolate-Covered Toffee Bark.
"In development, we found oatmilk chocolate provides a sweet and creamy taste that's most similar to milk chocolate—more so than other alternative options we explored," Rademaekers said. "And with oat milk as a milk alternative rising in popularity over the past few years, introducing an oatmilk chocolate-covered line seemed timely and on trend."
Cocomels oat milk line will be available exclusively at Sprouts Farmers Markets until January 2023 after which it will roll out to additional retailers.
5Califia gets into vegan whipping cream
And who doesn't love a little vegan whipped cream on top of their weekly food news? Califia Farms, known best for its vegan milks, is getting into something new this holiday season with the launch of Heavy Whip, a coconut oil-based vegan whipping cream created to swap in place of the dairy version in every recipe.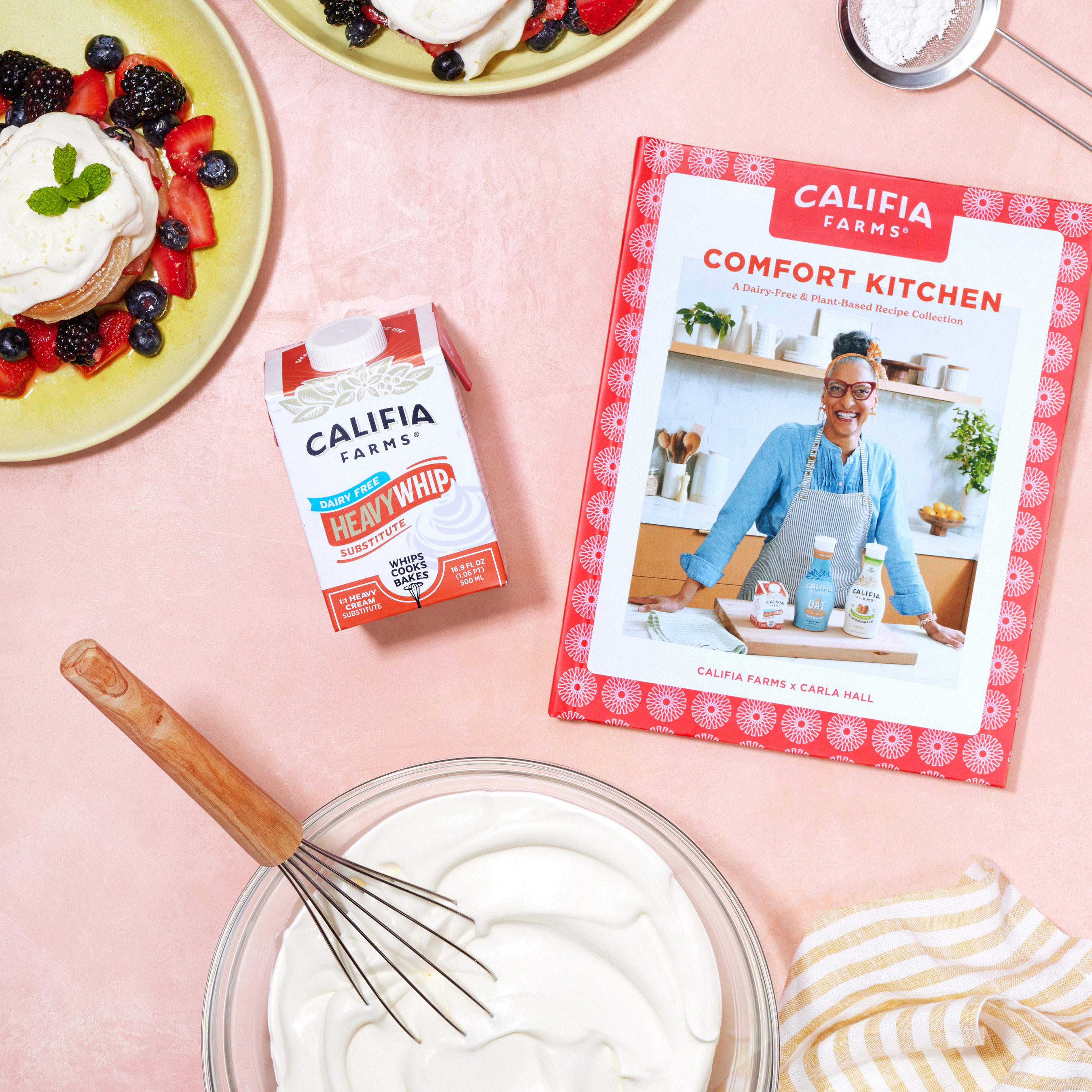 Califia Farms
To celebrate the launch of its first vegan whipping cream, Califia partnered with celebrity chef Carla Hall to release digital cookbook Comfort Kitchen: A Dairy-Free & Plant-Based Recipe Collection where two recipes feature its new product: Creamy Mushroom Soup and Flaky Biscuit Shortcake with Mixed Berries.
"I am thrilled to introduce this new recipe collection with Califia Farms," Hall said in a statement. "I love cooking and baking with their products, and their new, dairy-free Heavy Whip is a game-changer for cooks."
How does Hall use Califia's new Heavy Whip? "It's an ideal one-to-one swap that makes the creamiest, dairy-free soups and works equally well as a 100-percent plant-based dessert topping and as an ingredient in so many other recipes," Hall said. "I had so much fun creating these delicious, comfort food recipes and can't wait for everyone to try them."