British multinational confectionery company Cadbury is finally bringing its first line of vegan chocolate bars to North America, starting with retailers across Canada. The Cadbury Plant Bars come in two flavors: Smooth Chocolate and Salted Caramel. To create the vegan chocolate bars, the company replaced the dairy milk with almond paste, which provides a plant-based alternative to the classic Cadbury Dairy Milk but with a hint of nuttiness.
"We know many Cadbury-lovers have been excited for the arrival of the Cadbury Plant Bar, since it launched in the United Kingdom last year, and we're delighted to finally have a vegan option for Canadians," Chantal Butler, Vice President of Marketing at Mondelēz Canada (Cadbury's parent company), said in a statement. "As one of the leaders in snacking, we know Canadians' tastes are changing, which is why it's our ambition to provide a wide range of products for snack lovers with even more choices to suit their lifestyles."
The 197-year-old chocolate brand took two years to develop the vegan versions of its classic milk chocolate bar, and the company acknowledges that it was a long wait for vegans. When it launched in the UK last year, Cadbury's marketing campaign for the new products included letters and murals addressed to vegan Brits that apologized for taking so long to create the dairy-free bars.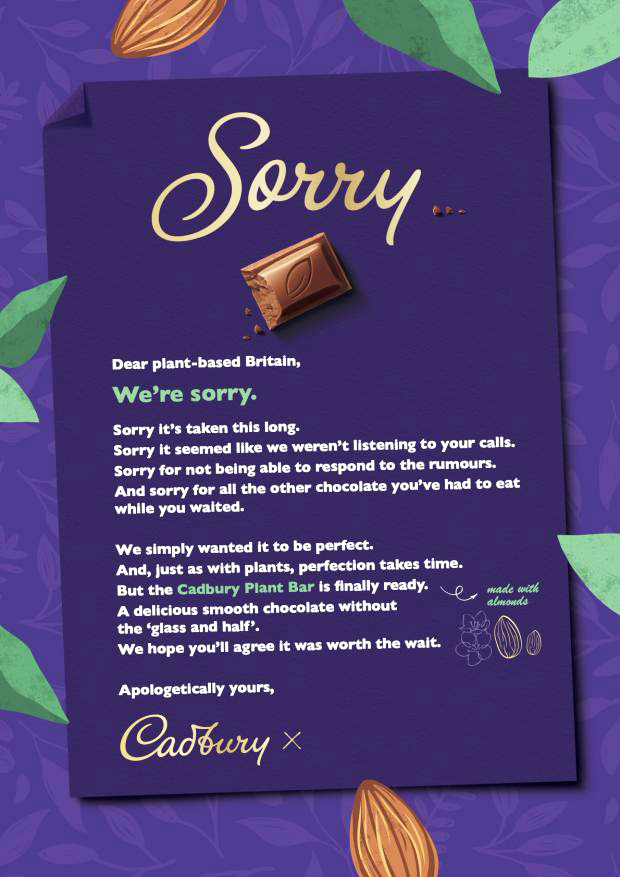 "Sorry it's taken this long," Cadbury wrote in its letter. "Sorry it seemed like we weren't listening to your calls … And sorry for all the other chocolate you've had to eat while you waited. We simply wanted it to be perfect."
Cadbury's vegan bars are a long time coming
Rumors surrounding the vegan bars first began swirling in 2020, when it was revealed that Cadbury was aiming to release the new product in time for Veganuary in January 2021—but the company did not perfect the recipe in time.
"We're delighted to finally confirm that the rumors swirling around Cadbury Plant Bar are true. We've worked hard to add this delicious, dairy-free option to our iconic range, and we can only apologize for making our fans wait," Michael Moore, Cadbury Marketing Manager, said in a statement at the time. "Ensuring we deliver against our commitment to exceptional flavor has taken quite some time, but as of November, the wait is over."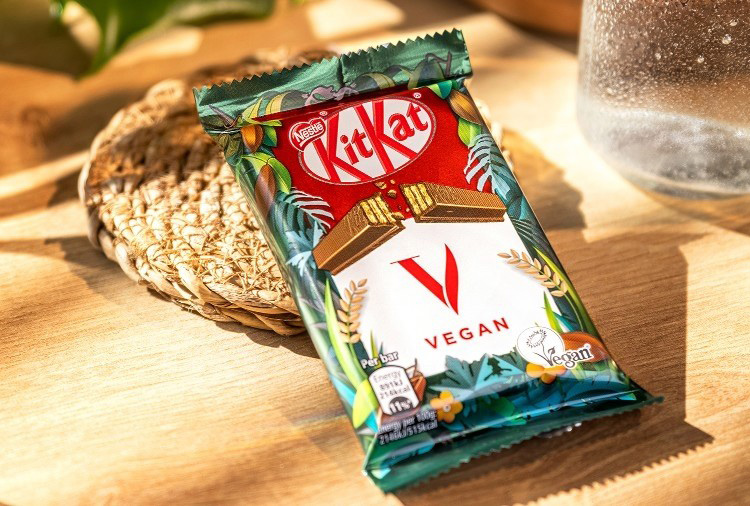 Vegan chocolate is everywhere
Cadbury joins a growing number of food giants that have developed vegan options of their iconic confections. Also in the UK, Swiss brand Lindt & Sprungli launched a vegan milk-chocolate line. The oat-based chocolate bars are sold under its HELLO collection in three flavors: Cookie, Salted Caramel, and Hazelnut.
Earlier this year, a vegan version of the iconic KitKat bar began rolling out across 15 European countries following a test launch in the UK and other countries in 2021. Made from a combination of vegan chocolate and vegan wafer fingers, the KitKat V was created by Nestlé's research and development team in York, United Kingdom. The expansion of the vegan KitKat is one of the biggest launches of a vegan version of a major confectionery product.
Stateside, The Hershey Company test launched its first vegan chocolate bars made with a base of oat milk at limited retailers, including select Target locations, last year. The Hershey's Oat Made bars were available for a limited time in flavors such as Classic Dark and Extra Creamy Almond & Sea Salt with each oat milk-based bar clearly labeled vegan.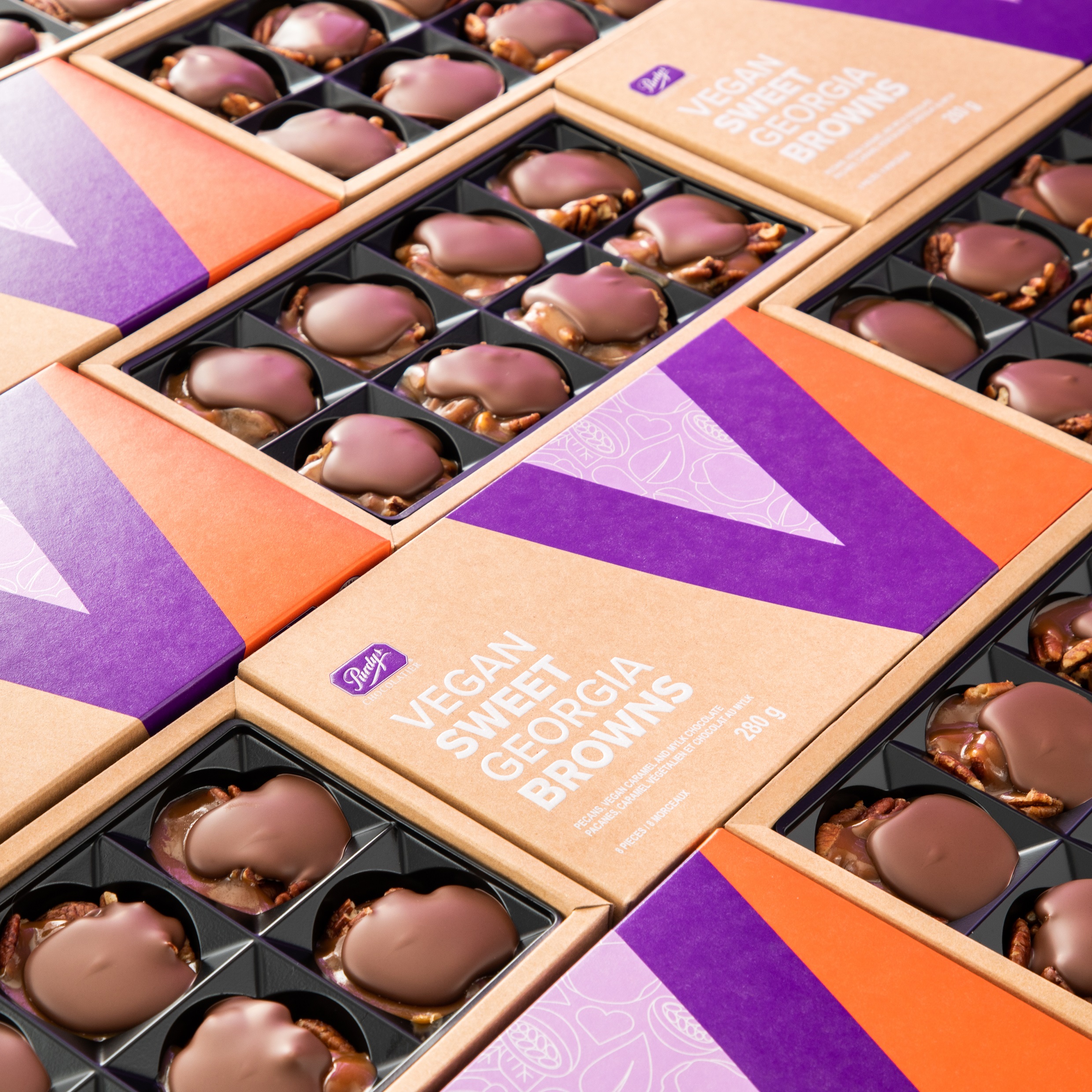 Purdys
And in Canada, chocolatier Purdys has introduced vegan versions of a number of its iconic chocolate products at its more than 75 locations across the country. The vegan options include Sweet Georgia Browns, Hawaiian Black Salt Caramels, Vegan Mylk Chocolate Bars, and new this year are Vegan Chocolate Advent Calendars.
Purdys developed a vegan version of its dairy-based chocolate by using rice milk powder instead of dairy milk, and makes its vegan caramel filling with coconut milk. And for all of its vegan products, Purdys uses a designated vegan-only molding and packaging line at its production kitchen.
For the latest vegan news, read: