British multinational confectionery company Cadbury has opened an all-vegan chocolate shop in the United Kingdom. Called the "Mean Tweetshop," the limited-time pop up store is located in the Soho neighborhood of London and aims to turn hate towards veganism into love.
The shop is stocked entirely with the company's first vegan chocolate bar, the Cadbury Plant Bar, and each plant bar is wrapped in limited-edition packaging that features a negative social media comment about plant-based products. The packaging features comments such as "Vegan chocolate? Sounds grim" and "Try vegan chocolate. It's so horrible, you won't want a second piece." By displaying such negative comments, Cadbury hopes that skeptics who try the chocolate bar will change their negative opinions toward plant-based alternatives.
"The Mean Tweetshop is a true celebration of Cadbury Plant Bar and we feel that this is a chocolate anyone can enjoy, including the sceptics," Michael Moore, Marketing Manager at Cadbury, said in a statement. "We hope that some of those who have been quick to judge plant-based products are brave enough to come down and try one for themselves, they really are that good!"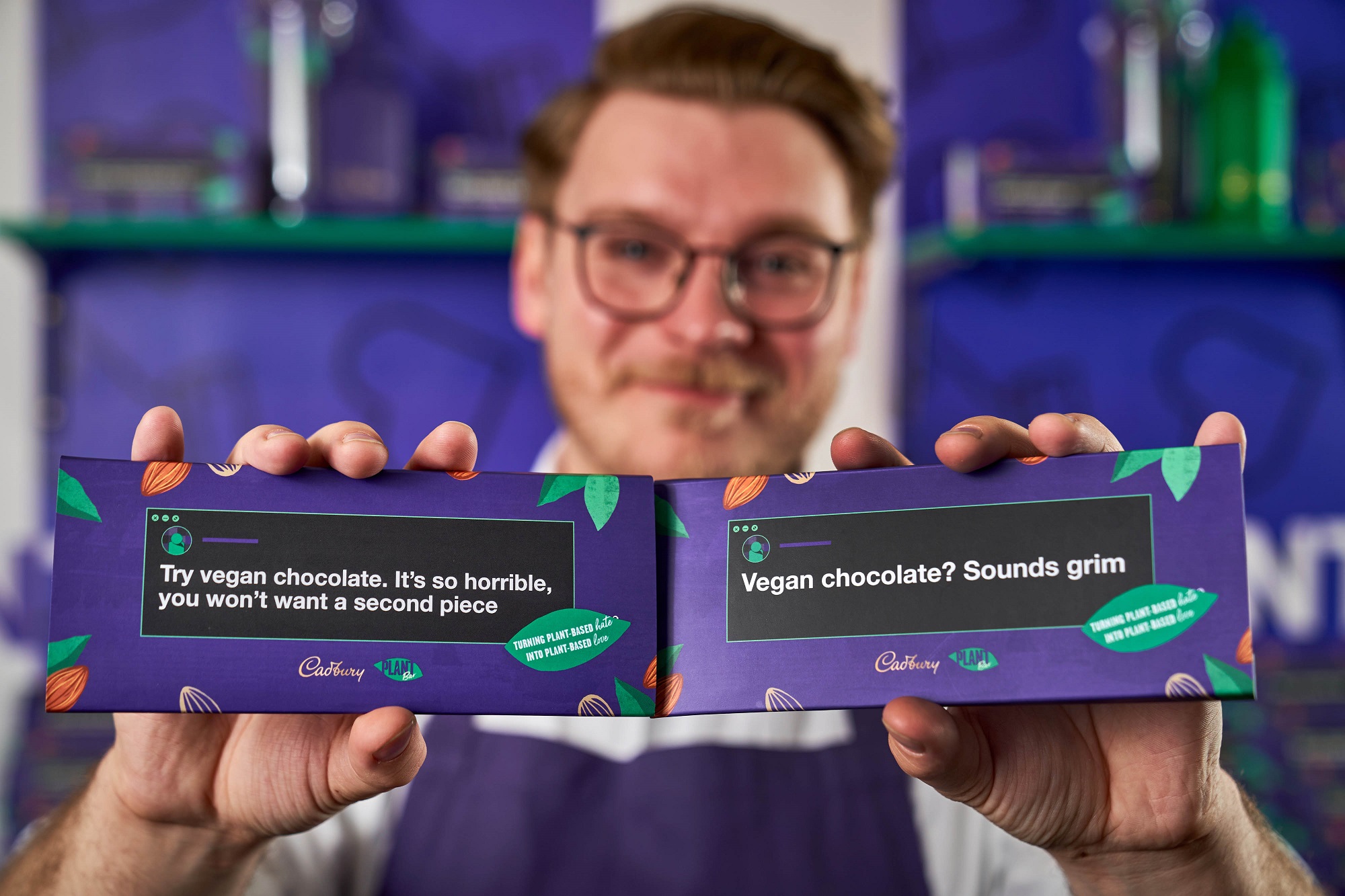 Cadbury UK
Prior to releasing its first vegan chocolate bar last year, the 197-year-old confectionary brand had always relied on dairy milk for its chocolate products, including its signature Cadbury Dairy Milk bars. The company took two years to develop a vegan version of its classic milk-chocolate bars, and they are now available in two flavors: Smooth Chocolate and Salted Caramel. To create the Cadbury Plant Bars, the company replaced the dairy milk with almond paste.
When its Cadbury Plant Bars launched in the UK, the company acknowledged that it was a long wait for vegans. Cadbury's clever marketing campaign for the vegan products included apology letters and murals to vegan Britains for taking so long to create the dairy-free bars. "Sorry it's taken this long," the letter said. "Sorry it seemed like we weren't listening to your calls … And sorry for all the other chocolate you've had to eat while you waited. We simply wanted it to be perfect."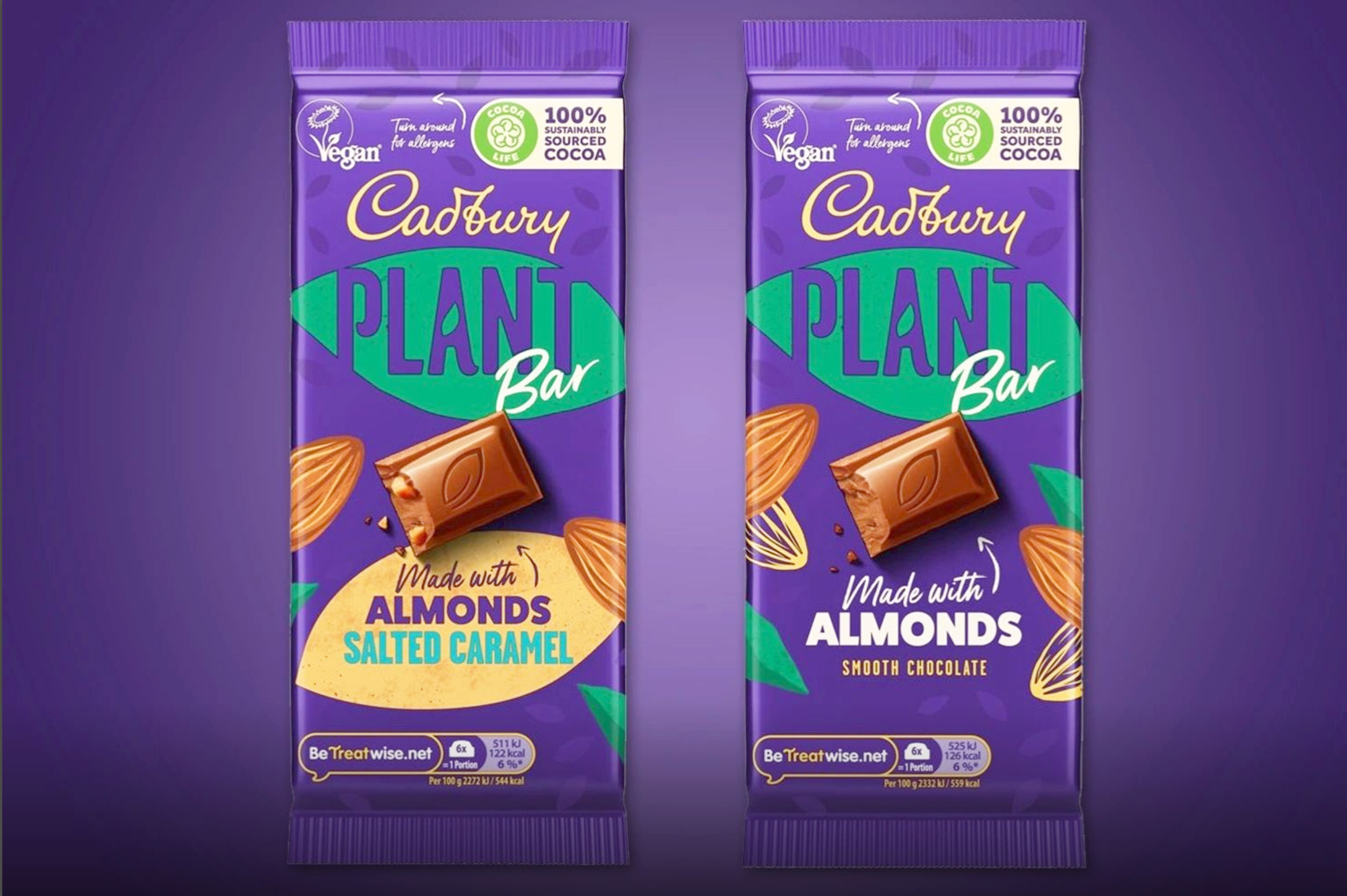 Cadbury UK
Cadbury, Nestlé, and Hershey's perfect dairy-free milk chocolate
Cadbury spent a long time perfecting dairy-free milk chocolate and it isn't the only major brand to give its core product line a vegan makeover. Last year, a vegan version of the iconic KitKat bar began making its way to store shelves in the UK. Made from a combination of vegan chocolate and vegan wafer fingers, the KitKat V was created by Nestlé's research and development team in York, UK.
Swiss chocolatier Lindt & Sprungli rolled out Lindt Classic Recipe vegan milk chocolate bars made with oat milk and almond paste. The bars are now available in Canada in three varieties (Original, Hazelnut, and Salted Caramel) and in the United Kingdom in two Smooth and Hazelnut flavors.
Stateside, the Hershey Company launched its first vegan chocolate bars made with a base of oat milk at limited retailers, including select Target locations. The Hershey's Oat Made bars come in flavors such as Classic Dark and Extra Creamy Almond & Sea Salt with each oat milk-based bar clearly labeled vegan. The launch of the bar is part of a real-time marketing test Hershey's is conducting. The new vegan chocolate bars are expected to be available until June.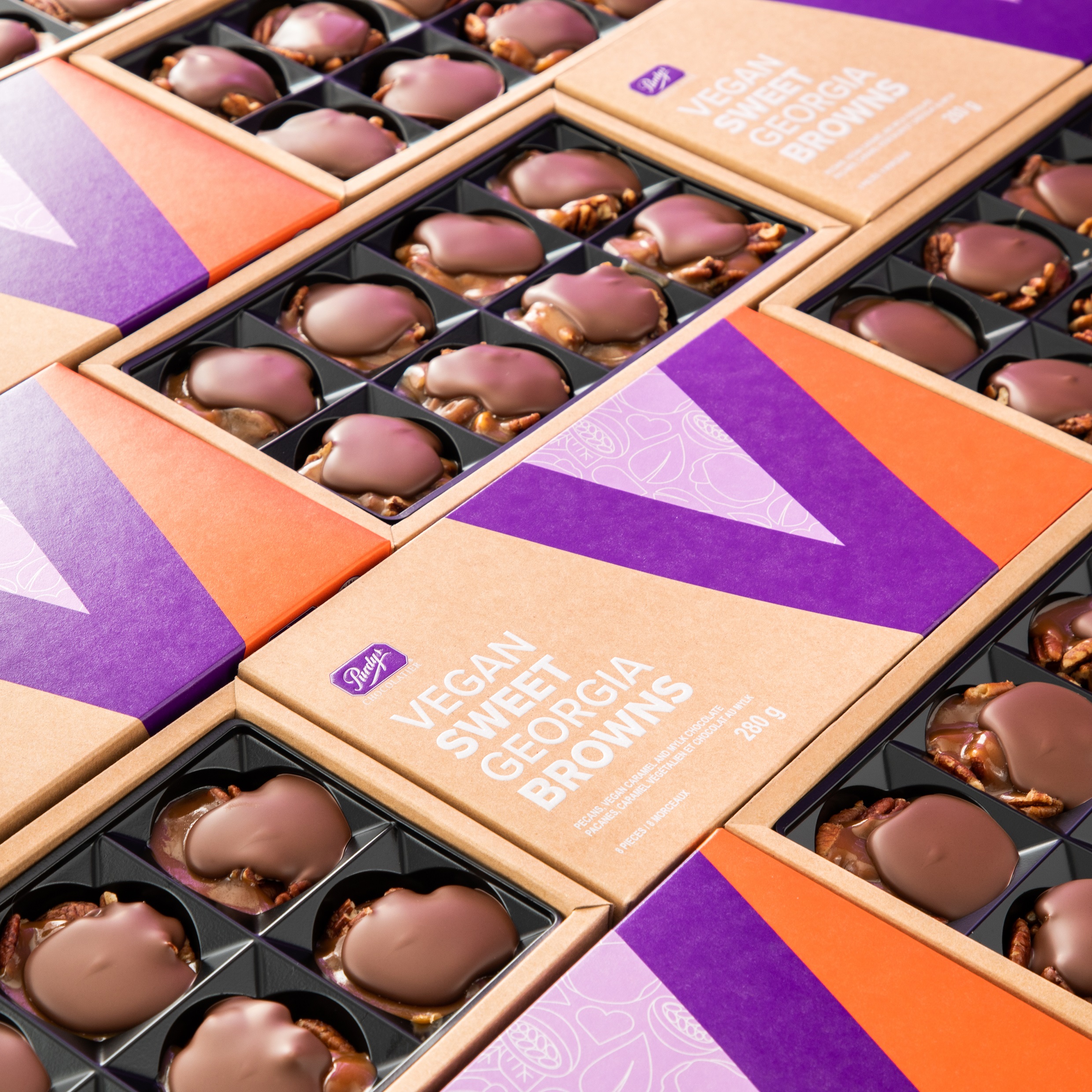 Purdys
And in Canada, chocolatier Purdys has been introducing vegan versions of its iconic treats at its more than 75 locations across the country. The brand now offers dairy-free chocolate bars in three varieties (Vegan Mylk Chocolate, Vegan Mylk Trail Mix, and Vegan Dark Trail Mix) and vegan Sweet Georgia Browns, which combine roasted pecans, vegan caramel, and a generous dollop of vegan milk chocolate. For all of its vegan products, Purdys uses a designated vegan-only molding and packaging line at its production kitchen.
Big brands promote vegan options
Major brands and restaurants around the world are seeing the benefits of promoting their vegan options with pop-up shops. Similar to Cadbury's vegan pop-up shop, restaurant chain Burger King recently opened an all-vegan location in London for one month to promote its growing number of vegan menu items.
The vegan Burger King location features the chain's largest plant-based menu yet, and includes its iconic Plant-Based Whopper and Vegan Royale along with 23 other options—from a vegan bacon double cheeseburger to vegan chicken nuggets.
For more on vegan chocolate, read:
The VegNews Guide to Vegan Chocolate

Billie Eilish Launches Vegan Milk Chocolate Bar
Hershey Commits to Adding Plant-Based Chocolate Products