It seems that every week in the world of vegan food news is more exciting than the last and this week is no exception. California's WaBa Grill is celebrating the one-year anniversary of adding vegan steak to its menu at more than 200 locations—and the plant-based protein is proving quite popular with customers. A creamy new vegan French Onion Dip is rolling out at Publix from Fresh Cravings. And move over Eggo, there's a new vegan chicken and waffle sandwich in town. Read on for more.
1Alpha Foods chicken and waffles sandwiches at Costco
Earlier this year, Kellogg's dropped a new product that turned heads: its first vegan Eggo waffle sandwich. This beauty features a Liege waffle stuffed with vegan chicken from the Incogmeato line by MorningStar Farms, another brand in Kellogg's portfolio.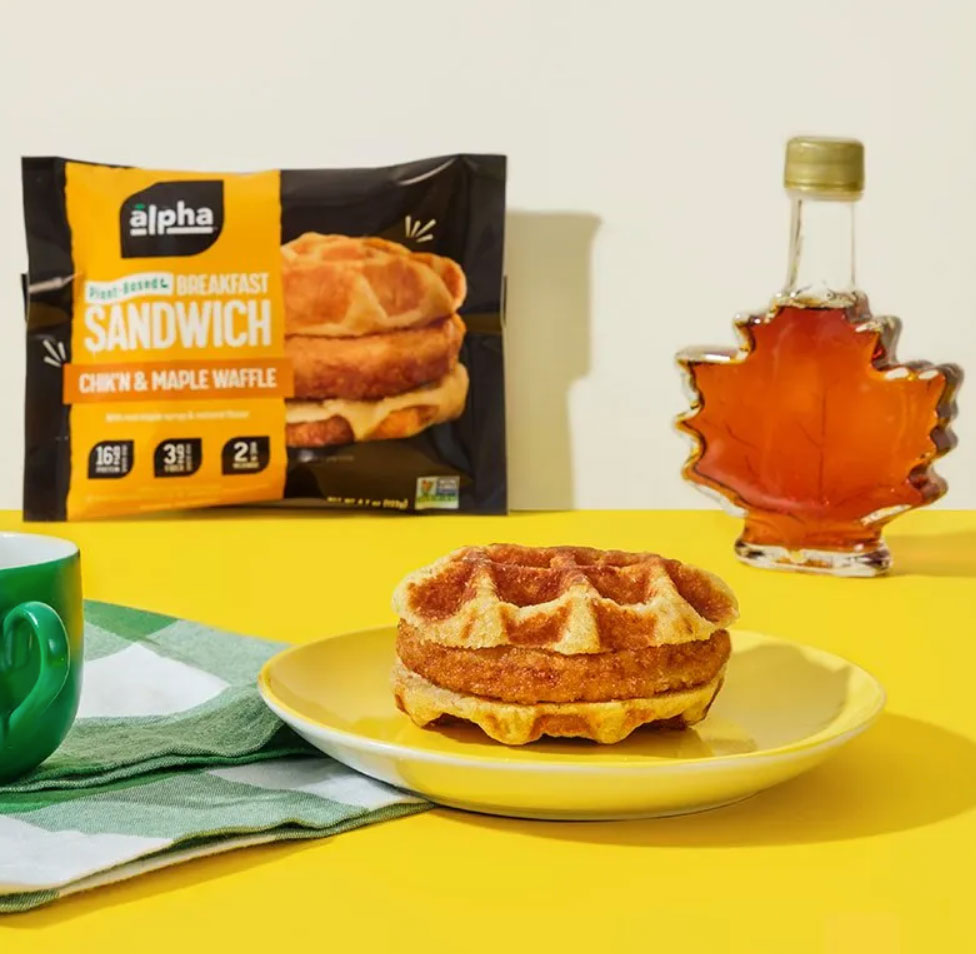 Alpha Foods
But guess what? It's not the only vegan chicken waffle sandwich in town. Vegan brand Alpha Foods recently launched its newest breakfast item, the Chik'n & Maple Waffle breakfast sandwich which also features a Liege-style waffle stuffed with vegan chicken, a sweet and savory combination inspired by the brunch favorite.
Alpha's newest vegan chicken and waffle sandwich joins its other frozen breakfast sandwiches and can be found at retailers such as Costco, Publix, Market Basket, and Food City.
2WaBa Grill celebrates plant-based steak
In 2021, California-based WaBa Grill added Plantspired Steak—a vegan steak made by tofu brand Nasoya Foods USA—to its menu at 200 locations. This week, the chain is celebrating the one year anniversary of the vegan protein, which has proved extremely popular.
"As a team, we are incredibly proud of our Plantspired Steak. The response we've gotten from customers validates that our plant-based protein option is on par with the quality protein options, including ribeye steak and wild-caught salmon, that guests have come to expect from WaBa Grill," Vivian Mendoza, WaBa Grill's Director of Marketing, said in a statement.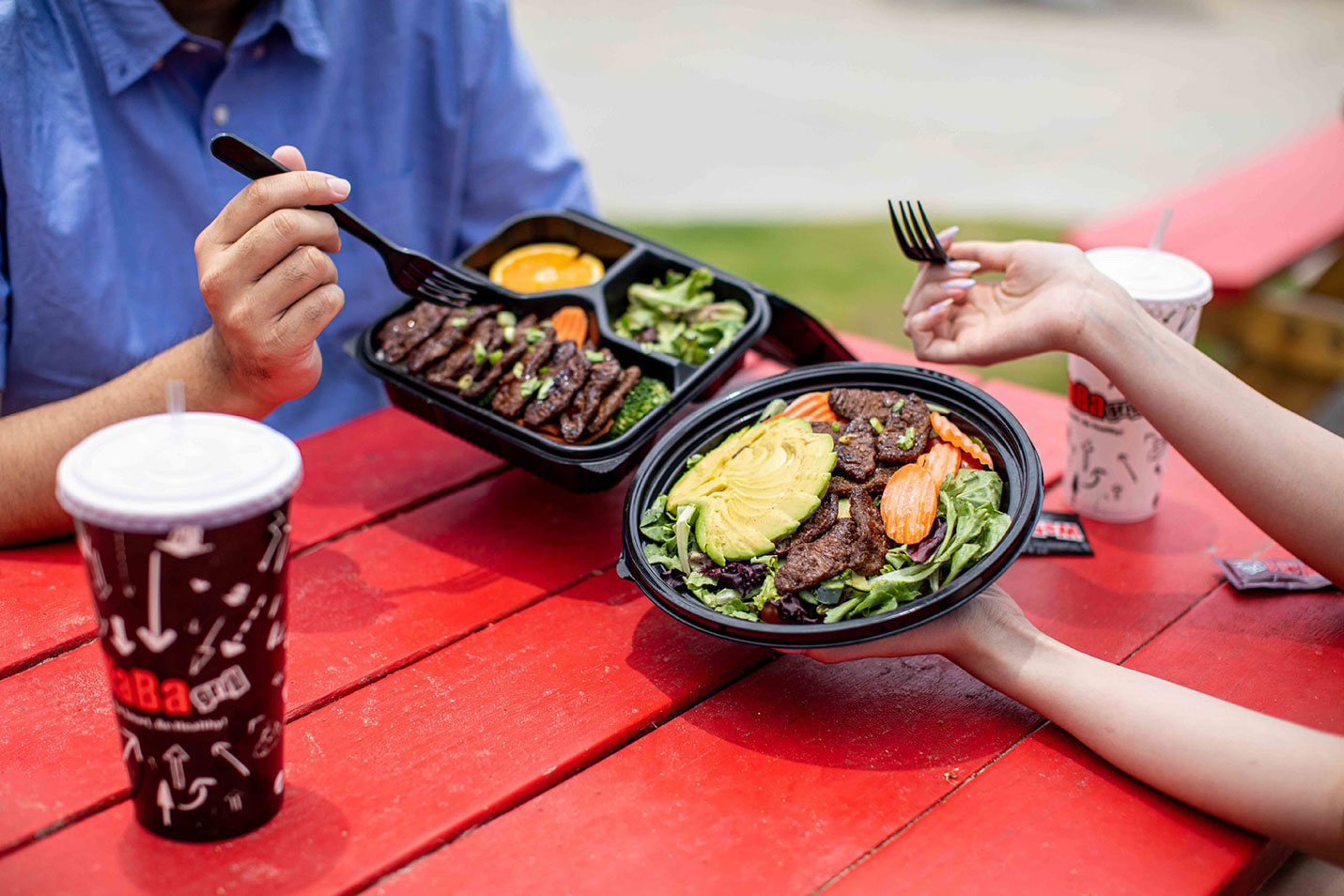 WaBa Grill
At WaBa, Plantspired Steak can be ordered as part of bowls or plates as a protein option. And customers have been ordering it a lot with 304,200 Plantspired entrees sold since it landed on the menu. Inspired by Korean bulgogi, the vegan steak now accounts for 25 percent of the chain's plant-based and seafood sales—solidifying it as a fan-favorite.
"The feedback we've received from customers truly speaks for itself, with guests sharing that they prefer the Steak to traditional beef," Mendoza said. "Some guests even return to the front counter to double check that they weren't accidentally given our ribeye steak."
"It's been amazing to see more and more people, especially those opting for more meatless variety and don't typically follow a vegan or vegetarian diet, choosing plant-based options," she said. "We've been overwhelmed by the positive response."
Outside of WaBa, Nasoya's Plantspired Steak can be found at retailers such as Albertsons, Safeway, Vons, Pavilions, Sprouts, Giant Eagle, Big Y stores, and more.
3Hemp meat taquitos at Kroger
California brand Planet Based Foods (PBF) makes unique vegan meats using hemp as their first ingredient. And this week, the brand launched three products at approximately 700 locations of major retailer Kroger in the Western states, including Arizona, California, Colorado, Idaho, Illinois, Nevada, New Mexico, Oregon, Utah, and Washington.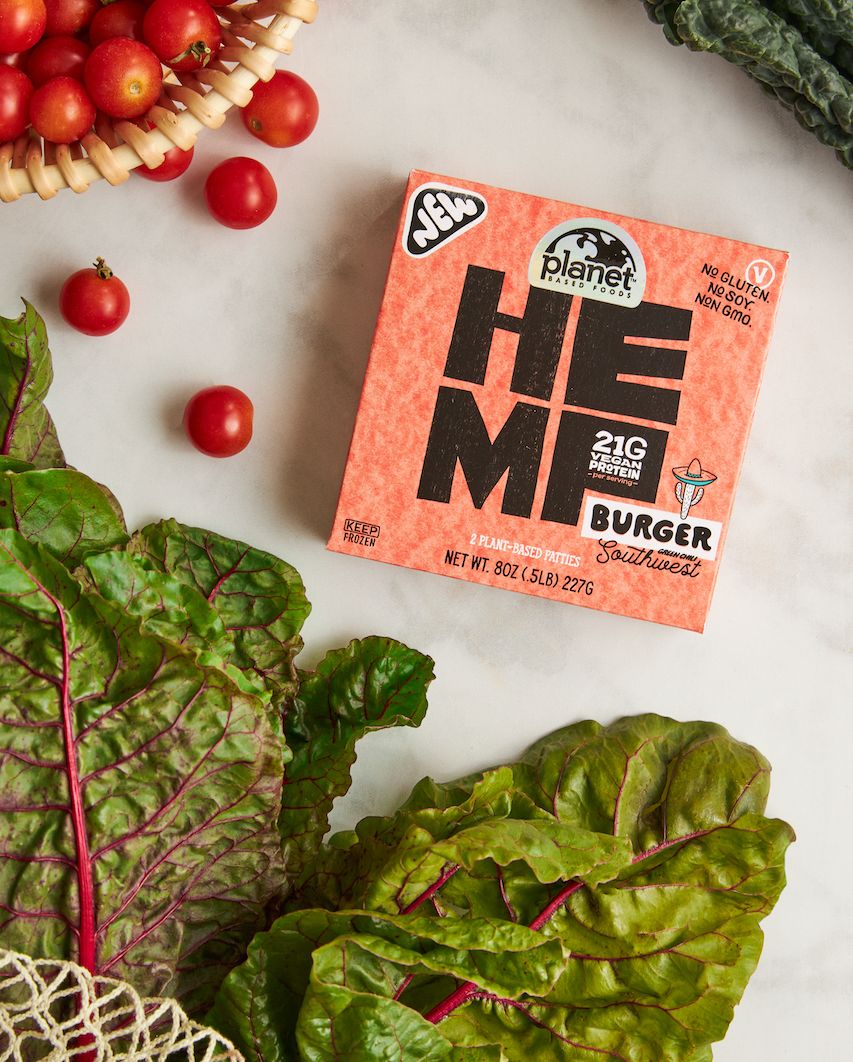 Planet Based Foods
In the frozen aisle, customers will find gluten-free Southwest Taquitos and Original Taquitos, as well as PBF's Green Chili Southwest Hemp Burger. While hemp might not be a common vegan meat base, PBF is sure the nutritious plant will be a hit.
"We're introducing consumers to hemp as a superfood protein by featuring our plant-based meat in craveable and familiar formats like taquitos," Braelyn Davis, PBF CEO and co-founder, said in a statement.
"Consumers are looking for convenient, plant-based options that they can easily heat for a quick snack or meal, and we're delivering," DAvis said. "We're excited to partner with Kroger to make our better-for-you, better-for-the planet hemp foods available to shoppers across the Western region."
4French onion dip at Publix
The shelves at Publix got a little more vegan-friendly this week, as well, with the arrival of cashew-based Fresh Cravings line of dips by family-owned company FoodStory Brands. The vegan dips are available in two flavors: French Onion and new Jalapeño Popper.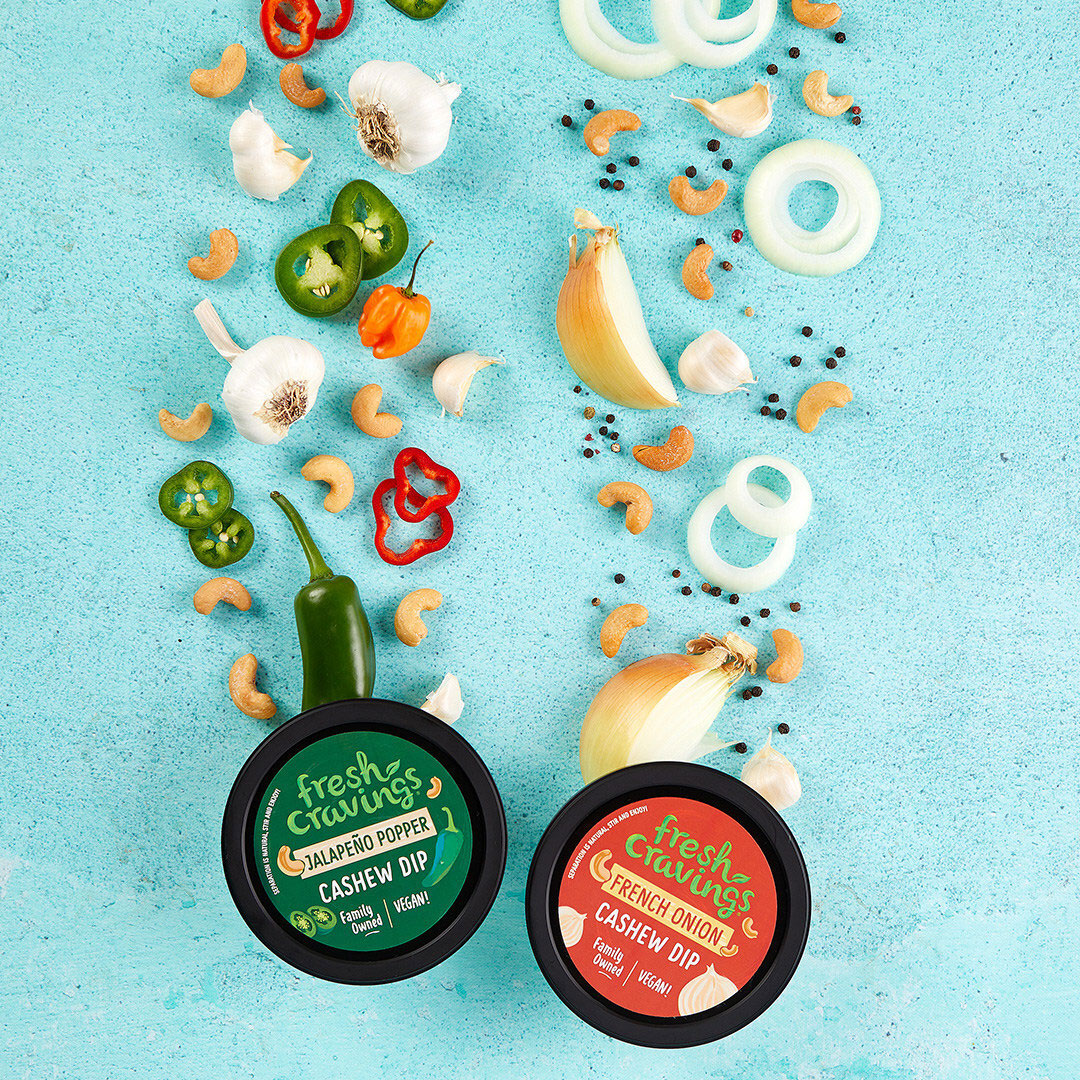 Fresh Cravings
"With these two new vegan dips, we are meeting shoppers where they are at with their dietary needs and preferences," Jay Whitney, CMO of FoodStory Brands, said in a statement. "We love rethinking classic dips and making craveable, elevated fresh-snacking options accessible to all."
In addition to the new dips—which tap into a hot product category— the Fresh Cravings brand also offers salsas, hummus, and Organic Kickin' Queso Plant Based Dip.
"We are excited to participate and contribute to the explosive growth occurring in the refrigerated plant based dip category," Whitney said. "As the fastest growing refrigerated salsa and hummus brand in America, and one that focuses on creating exceptional products, made with high-quality ingredients, we are thrilled to expand our plant-based dips at Publix."
5Macadamia milk tea
Milk tea is a simple, craveable beverage that is getting a macadamia milk makeover with the launch of Milkadamia Milk Tea. The new product from Australian brand Milkadamia features its macadamia milk blended together with black tea for a creamy pick-me-up with no dairy.
"Our new Milk Tea served with friends ignites moments of classic social fluency," Milkadamia CEO Jim Richards said in a statement. "So many friendships can be traced back to sharing tea together."
Milkadamia's Milk Tea is rich in healthy fats, offer antioxidant compounds, and contains vitamins and soluble fiber. With the environment in mind, Milkadamia packaged its new product in 32-ounce cartons rather than more wasteful single-serve packages typically used for this type of product.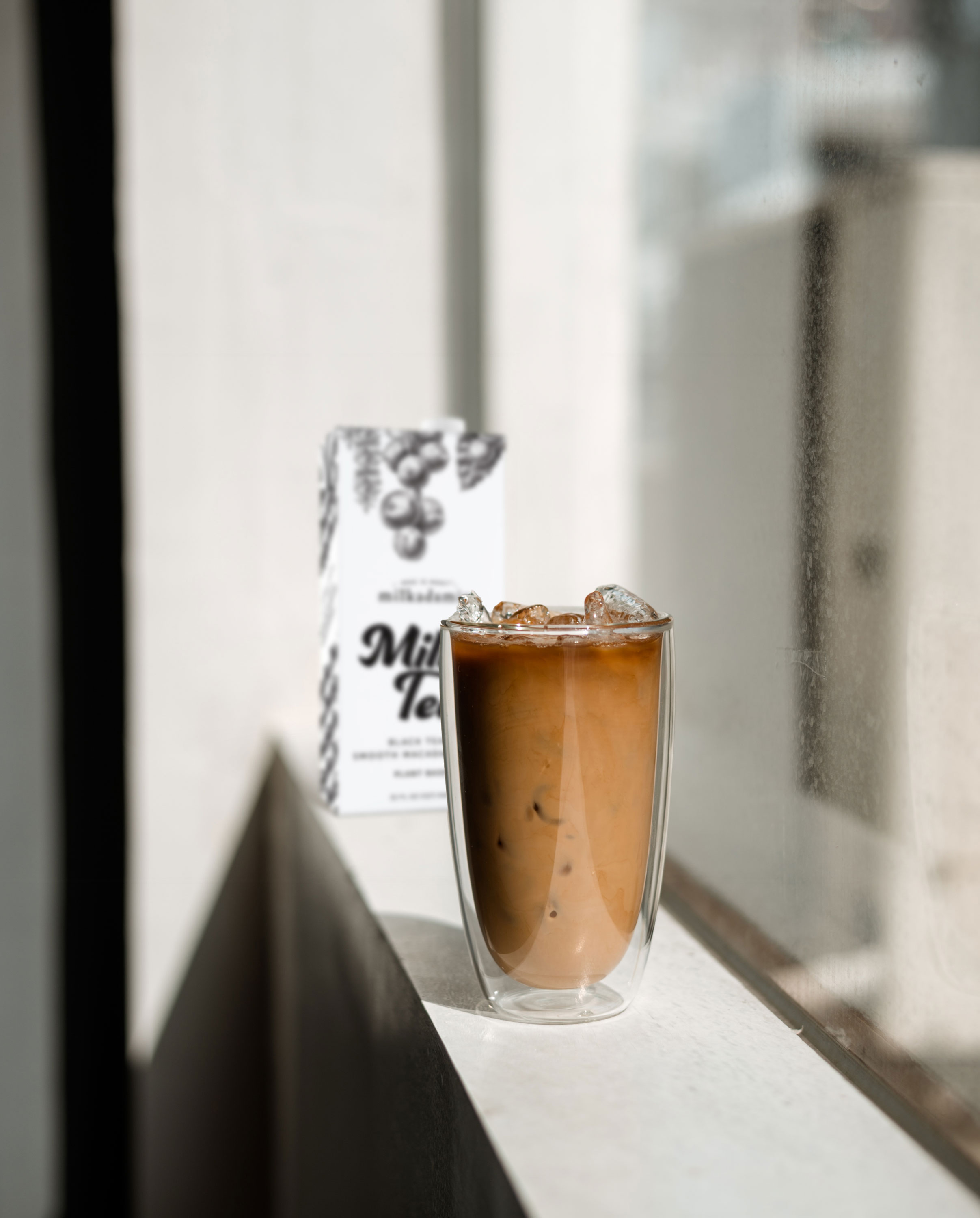 Milkadamia
"Introducing a Milk Tea that features our creamy, slightly decadent macadamias with rich black tea, at a lower cost and with less packaging waste than single serve teas is why we at Milkadamia are so excited to bring this new product to our fans," Richards said.
Milkadamia's new vegan milk tea will hit retailers in January 2023 and will also be available to food service providers.