With booming developments in the plant-based meat industry, recent years have shown that meat does not need to come from an animal. Some companies contend that it doesn't need to come from a plant, either.
Alongside meat made from plants and animals lies a third contender for meat replacers: fungi, which is in a class of its own. And sustainability-minded innovators are discovering the meaty possibilities of these unique organisms.
While many companies looking to make fungi-based meat alternatives focus solely on mycelium (its fast-growing root system), new California-based company Mamu is exploring the meaty possibilities of the entire organism.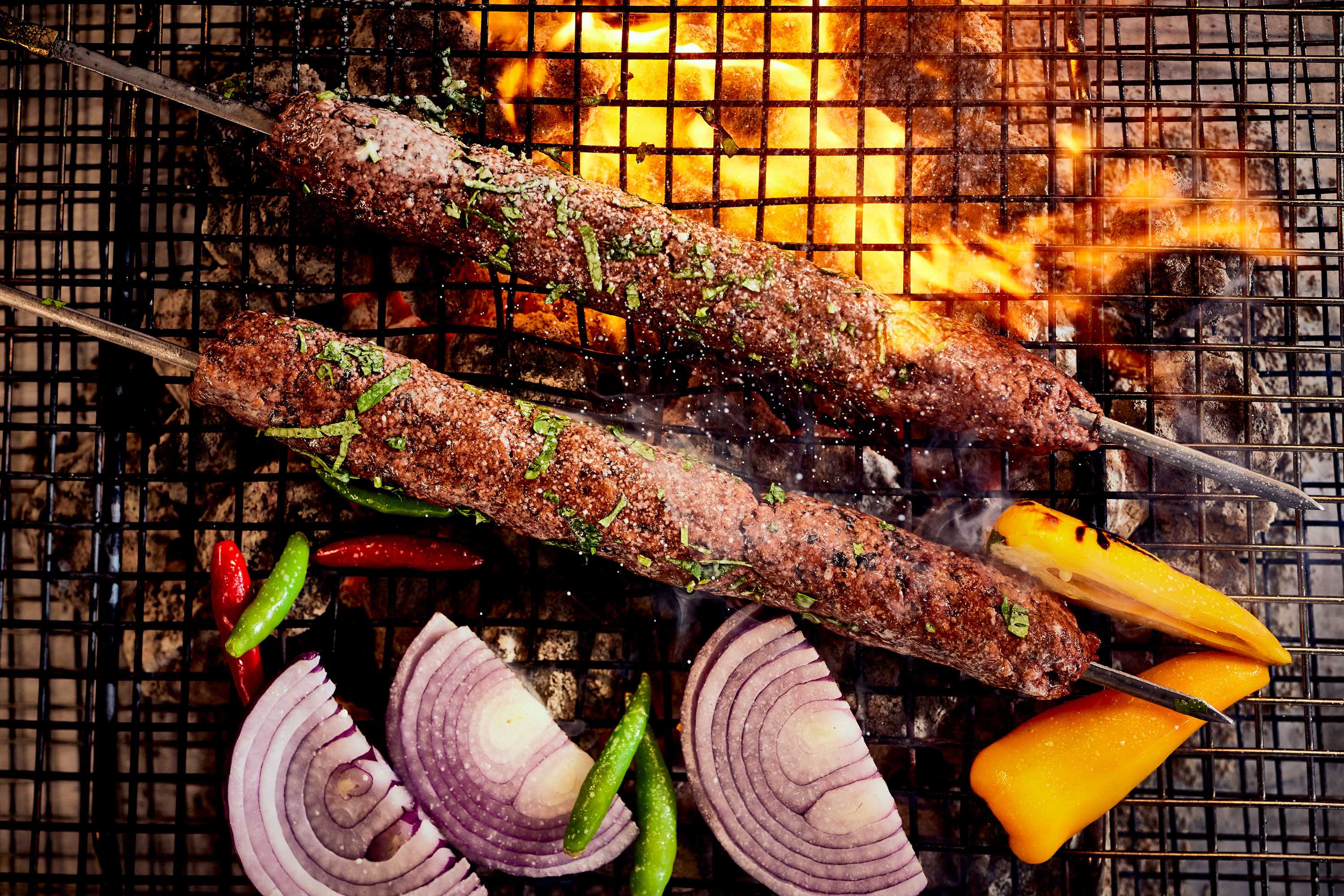 Kelly Puleio
The new vegan meat brand was crafted by two Michelin-starred chef Srijith Gopinathan and mushroom experts at Sempera Organics. It is made from both the fruiting bodies and root systems of three types of mushrooms (shiitake, white button, and oyster), along with chickpeas, canola oil, and water. These ingredients come together to create a succulent vegan meat that has the potential to transform the way culinarians use meat.
"We need to think about the larger urgent issue: how to feed 10 billion people without negatively impacting the planet," Nirmal Nair, Sempera Organics CEO and Founder, tells VegNews. "Eating less meat is clearly the right way to go, but the current solutions in the market have drawbacks to widespread adoption and growth. We need a different solution that does not just provide incremental change, that was an important driver in developing Mamu."
Mamu's mushroom meat at the center of the plate
Mycelium meats are growing in popularity from companies such as MyForest Foods (which just expanded distribution of its mycelium-based vegan MyBacon to additional retailers in New York City) and Meati Foods (a Colorado company that makes mycelium-based whole cut meats that were just recognized by TIME as one of the best food inventions of 2022).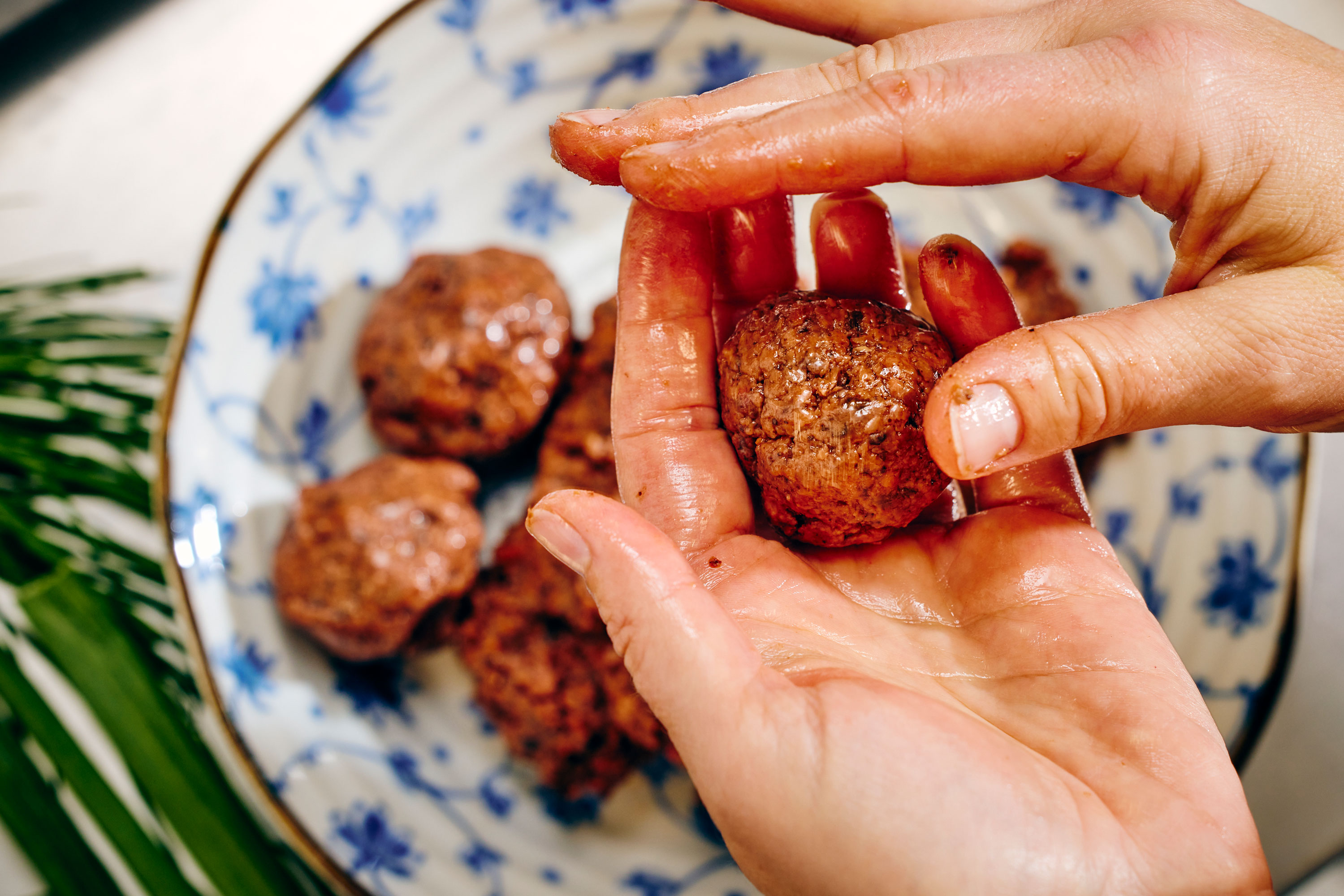 Kelly Puleio
Developed out of San Francisco's MISTA food accelerator, Mamu is unique in that its mushroom components ferment the chickpeas in its formulation, making the vegan meat free from lectin and filled with bioavailable nutrients such as B12, iron, calcium, and more. And it's that positioning of fungi between the plant and animal kingdom that makes it an umami-rich, fiber-full alternative for animal meats.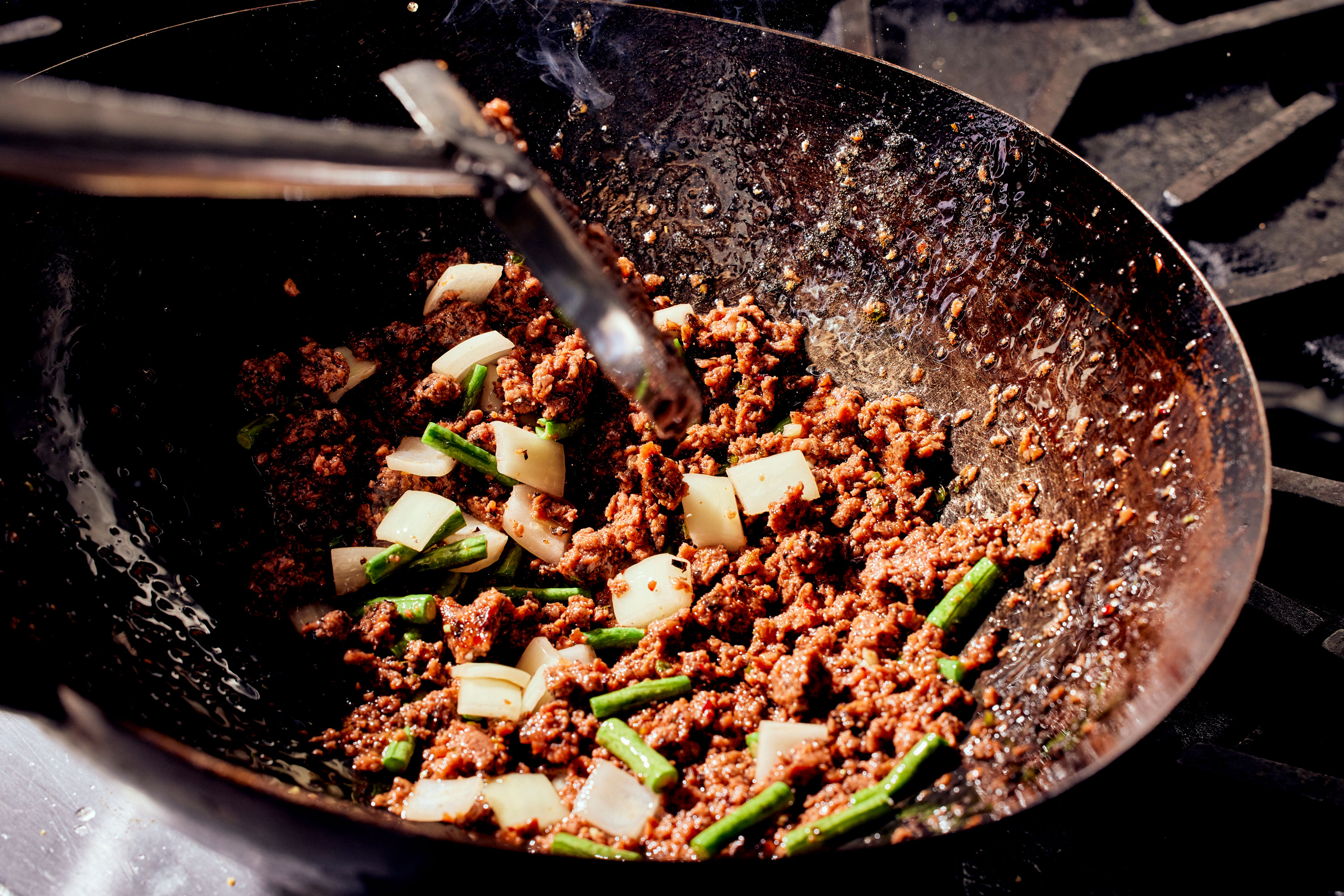 Kelly Puleio
A regenerative food source, fungi also grows much faster than the amount of time necessary to raise an animal to slaughter weight and requires far fewer resources. The Mamu team developed the vegan meat to freeze well and be versatile in its uses, which include being sautéed, grilled, fried, baked, poached, broiled, seared, and emulsified.
"It is naturally juicy, absorbs flavor extremely well, and has a delicious, natural taste of umami. Mamu has a great texture and is fiber rich without being heavy," Gopinathan tells VegNews.
"I hope that chefs worldwide across cuisines embrace Mamu as the meat-free alternative of choice to make innovative dishes that hit the mark of sustainability, nutrition, and taste," he says.
As of this month, Mamu is on the menu at Gopinathan's restaurant Ettan in Palo Alto, CA—with other Bay Area restaurants to follow—and is available to other food service providers. "Chef Sri formulated Mamu to make sure it addressed the needs of professional chefs," Nair says. "Food service is a great channel to showcase Mamu's versatility and helps with getting consumers to understand its impact on the food system."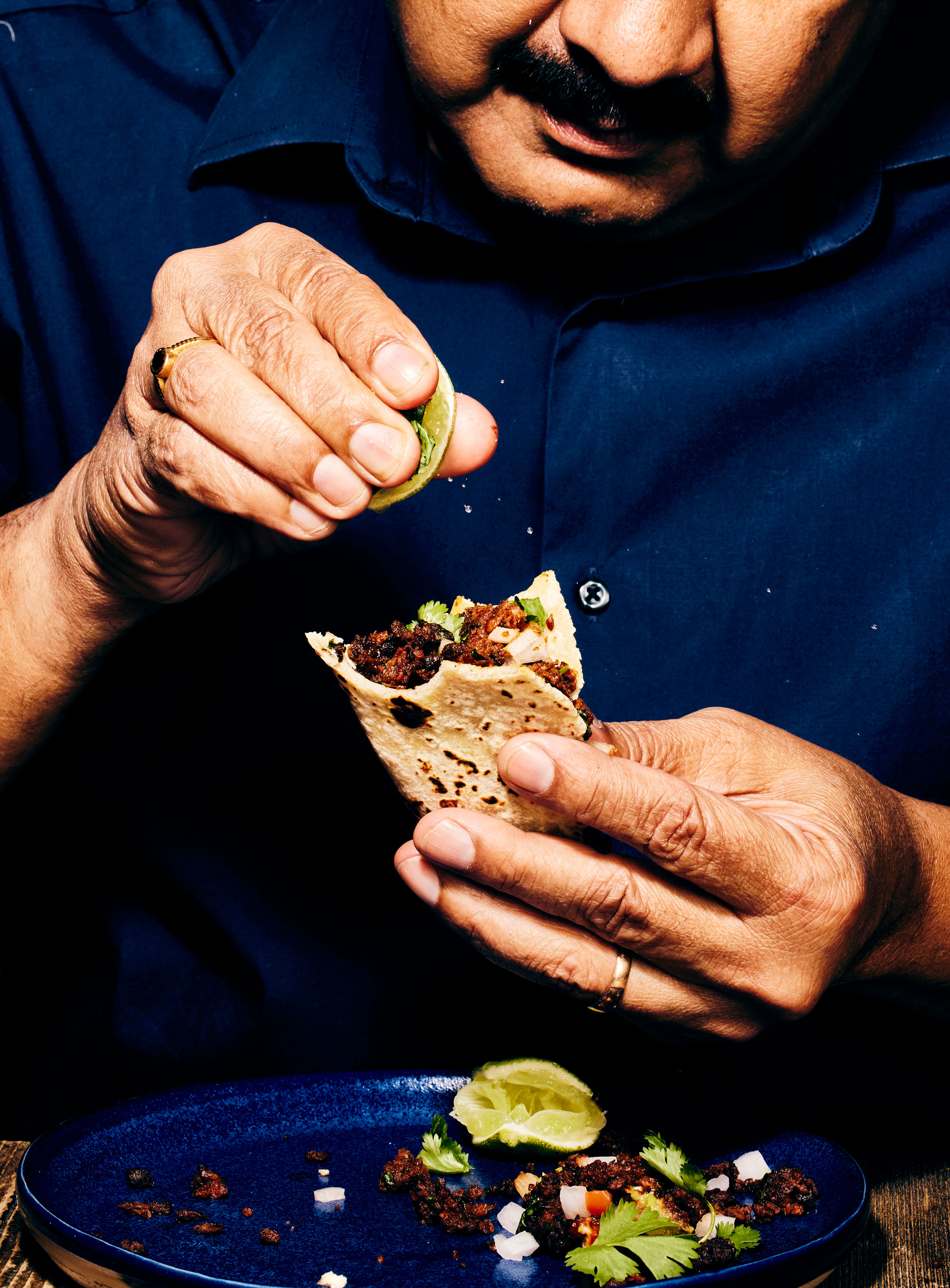 Kelly Puleio
While its primary target is the food service industry, Mamu will also work with established brands to include the vegan meat in their retail products.
Michelin-starred chefs transform fine-dining
Like Gopinathan, other Michelin-starred chefs are shifting the culinary world in a more sustainable direction with new innovations.
Last summer, chef Daniel Humm implemented a plant-based menu at New York City's legendary restaurant Eleven Madison Park. While fine dining was previously defined by overindulgence in animal meats, caviar, and the like, Humm's drive to create a more sustainable approach to fine-dining led him to a plant-based menu.
To keep things exciting, Humm turns to innovators such as Brooklyn-based Kingdom Supercultures, a food biotechnology company that uses precision fermentation to help the eatery transform plant-based ingredients—such as components of the eatery's now famous sunflower butter—into dishes with a depth of flavor. Last month, Eleven Madison Park announced that it retained its three Michelin stars after going plant-based.
Over in the United Kingdom, Michelin-starred chef Marco Pierre White is also looking for ways to keep his menus fresh and modern, including through exciting innovations from Israel's Redefine Meats. Last year, White added the company's whole-cut lamb and beef to steakhouse menus, marveling at the meat-like texture that Redefine Meats achieved without animal products.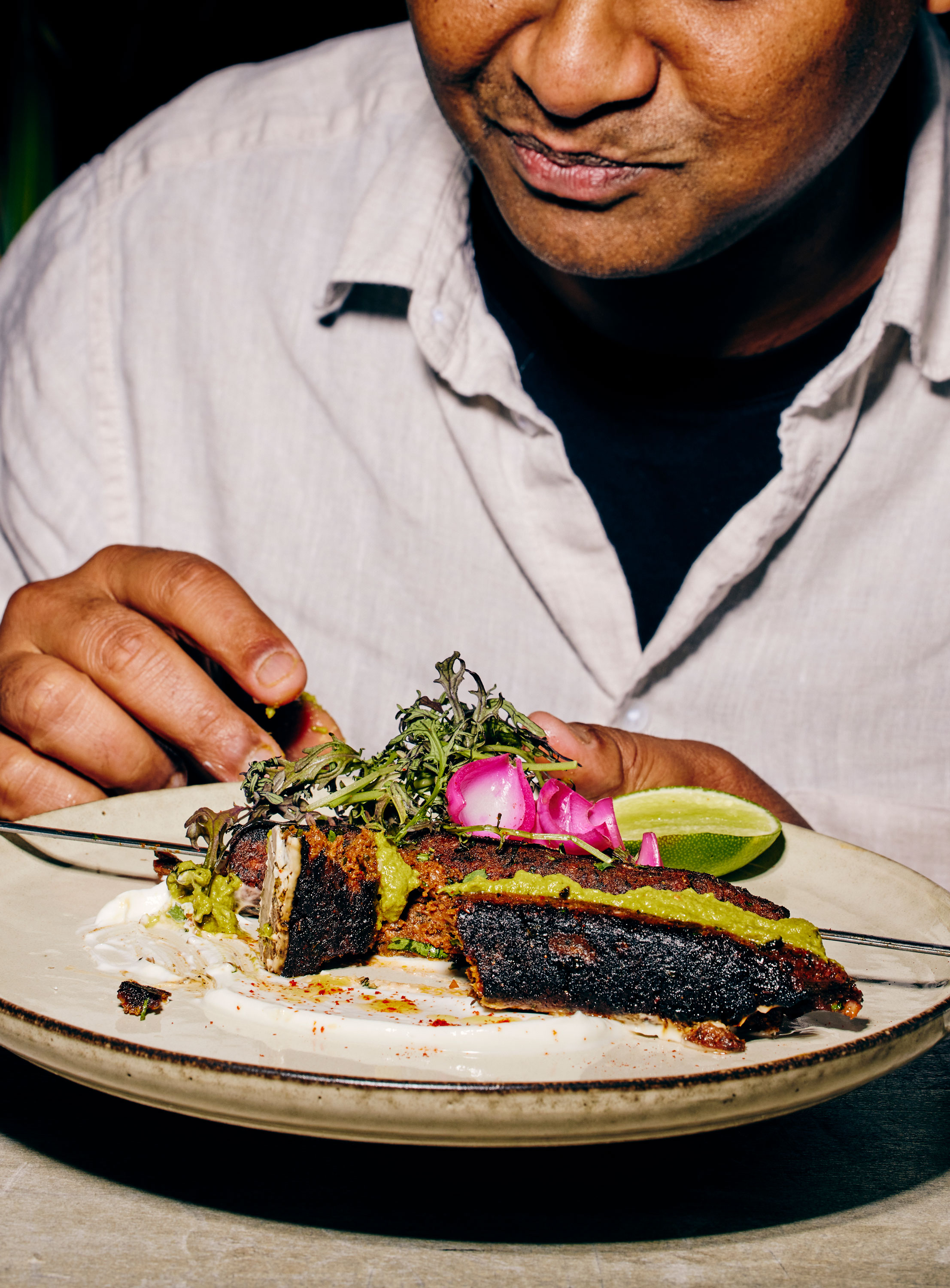 Kelly Puleio
Gopinathan says that this transformation of the culinary world is not a passing trend but an inevitable way forward that respects people and the planet.
"There is no question of the shift. In my opinion, gastronomy innovation will drive and mold the shift," Gopinathan says.
"You are going to see more talented chefs exploring ways to create experiences using naturally available meat alternatives," he says. "Education will play an important role—knowledge of food origins and the sustainability impact will have to be part of the food experience."