It seems that every week in the world of vegan food news is more exciting than the last and this week is no exception. Vegan fast-food restaurant Nomoo beat Taco Bell in crafting the perfect plant-based Gordita. Burgerville is boldly putting a Beyond cheeseburger on its menu, with no modifications necessary to make it vegan. And did you know that there's now a dedicated vegan cake section at Whole Foods stores in Miami? Read on for more.
1Taco Bell's Gorditas, vegan-style
Vegan fast-food restaurant Nomoo made history when it moved into the flagship Johnny Rockets space in West Hollywood—which the legendary diner occupied for 30 years before shuttering in 2015. From burgers to chicken sandwiches to milkshakes, Nomoo serves a variety of classic Americana fare.
The newest addition to Nomoo's menu is the Cheezy-Crunch Tacos, which continues to carve out a new, plant-based norm for fast food. That's because the new item is inspired by Taco Bell's popular Cheesy Gordita but made vegan with Nomoo's new proprietary beef, which it developed in partnership with Nestlé's foodservice arm.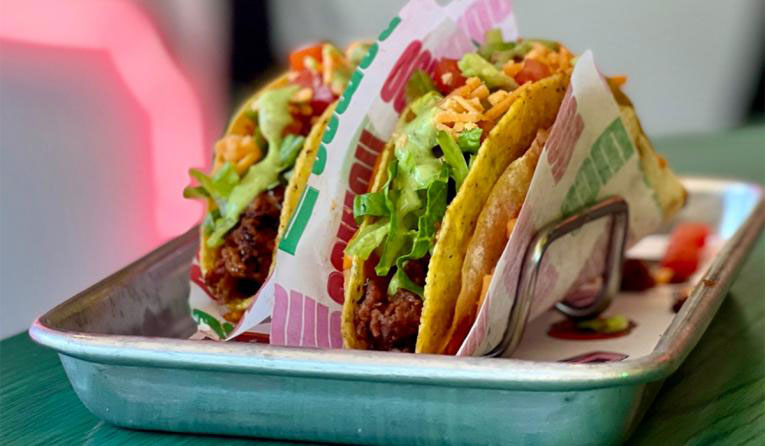 Nomoo
The veganized Gordita is also loaded with avocado, ranch salsa, vegan cheddar, and lettuce which is all wrapped between one hard and one soft corn tortilla and held together by melted vegan cheese.
"The addition of these delicious new menu offerings make Nomoo a one-stop shop for people in search of their fast-food favorites," Nomoo founder George Montagu Brown said in a statement. "We've curated a menu of plant-based versions of In-N-Out, Taco Bell, and Chick-fil-A's best-selling items to satisfy every craving."
What's Taco Bell doing in the vegan Gorditas department? The fast-food chain tested a proprietary plant-based ground beef earlier this year at select locations and put Beyond Carne Asada on the menu at 50 test locations in the Dayton, OH region last month. What about vegan cheese to seal the deal? Taco Bell is focusing on plant-based meats first but is open to the dairy-free cheese possibilities in the future.
2Beyond Cheeseburgers come to Burgerville
Fast-food chains getting into vegan options are akin to people stepping into a cold pool—trepidatiously putting in one toe at a time.
This week, Pacific Northwest-based chain Burgerville cannonballed into the vegan pool with the launch of the Plantville Cheezeburger, a vegan as-is cheeseburger, at all of its locations.
View this post on Instagram
The patty is Beyond Meat while the pepper jack cheese is made by GOOD PLANeT Foods. Together, the vegan meat and cheese is complemented by Secret Aardvark's vegan aioli, lettuce, tomato, and red onion.
The chain also offers a menu of milkshakes that can be made with vegan Cosmic Bliss ice cream instead of dairy.
3Crab cakes, spring rolls, and more at Walmart
Hong Kong's OmniFoods (OMNI) is looking to improve our global food system by creating tasty plant-based versions of the world's most-consumed animal products such as pork and seafood. And the company is working to make these alternatives accessible to all.
While it got its start in Asia—and made quite a splash in both retail and foodservice—the company began its entry into the United States last year on Earth Day (April 22). OMNI is best-known for its Luncheon, a vegan take on SPAM that has found its way onto the menu at McDonald's in Hong Kong and Macau. This product—along with plant-based pork grounds and strips—initially came to the states by way of Whole Foods Market and Sprouts Market.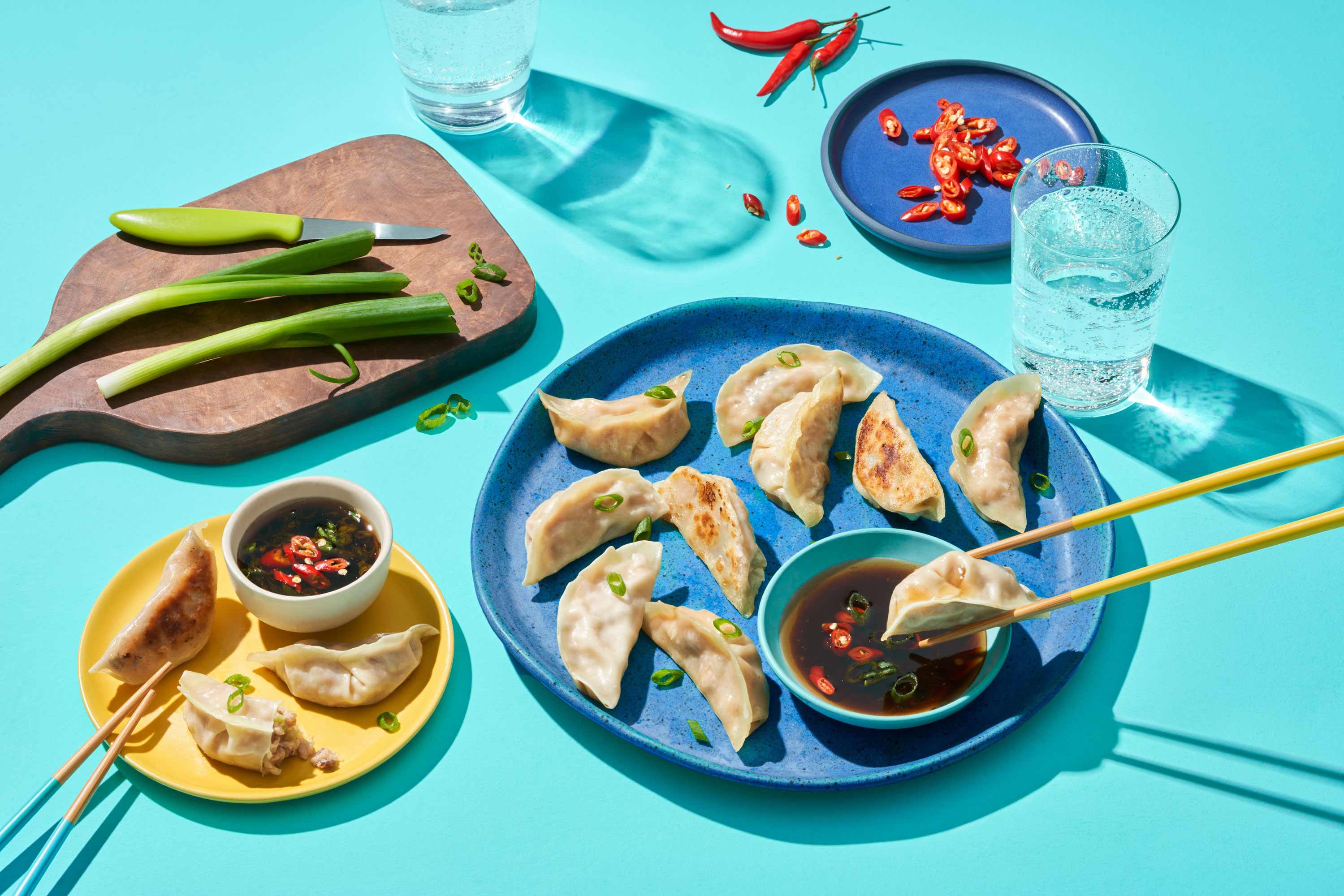 OMNI
This week, OMNI launched exciting new products at more than one third of Walmart stores nationwide. "After last year's successful launch of OMNI across the US through retailers, online stores, restaurants, food events, and festivals, we are incredibly excited to expand and offer these delicious products at Walmart," David Yeung, co-founder and CEO of Green Monday Holdings and OMNI, said in a statement.
Approximately 1,900 Walmart stores will now offer OMNI Luncheon along with OMNI Potsticker—a snack filled with the company's vegan pork. At 1,300 stores, Walmart will stock OMNI Spring Roll (filled with its vegan pork and a variety of vegetables including carrots, shiitake mushroom, cabbage, wood ear mushroom, and mung bean vermicelli) and OMNI Crab-Style Cake (crafted to resemble real crab meat using plant-based ingredients derived from non-GMO soy and rice).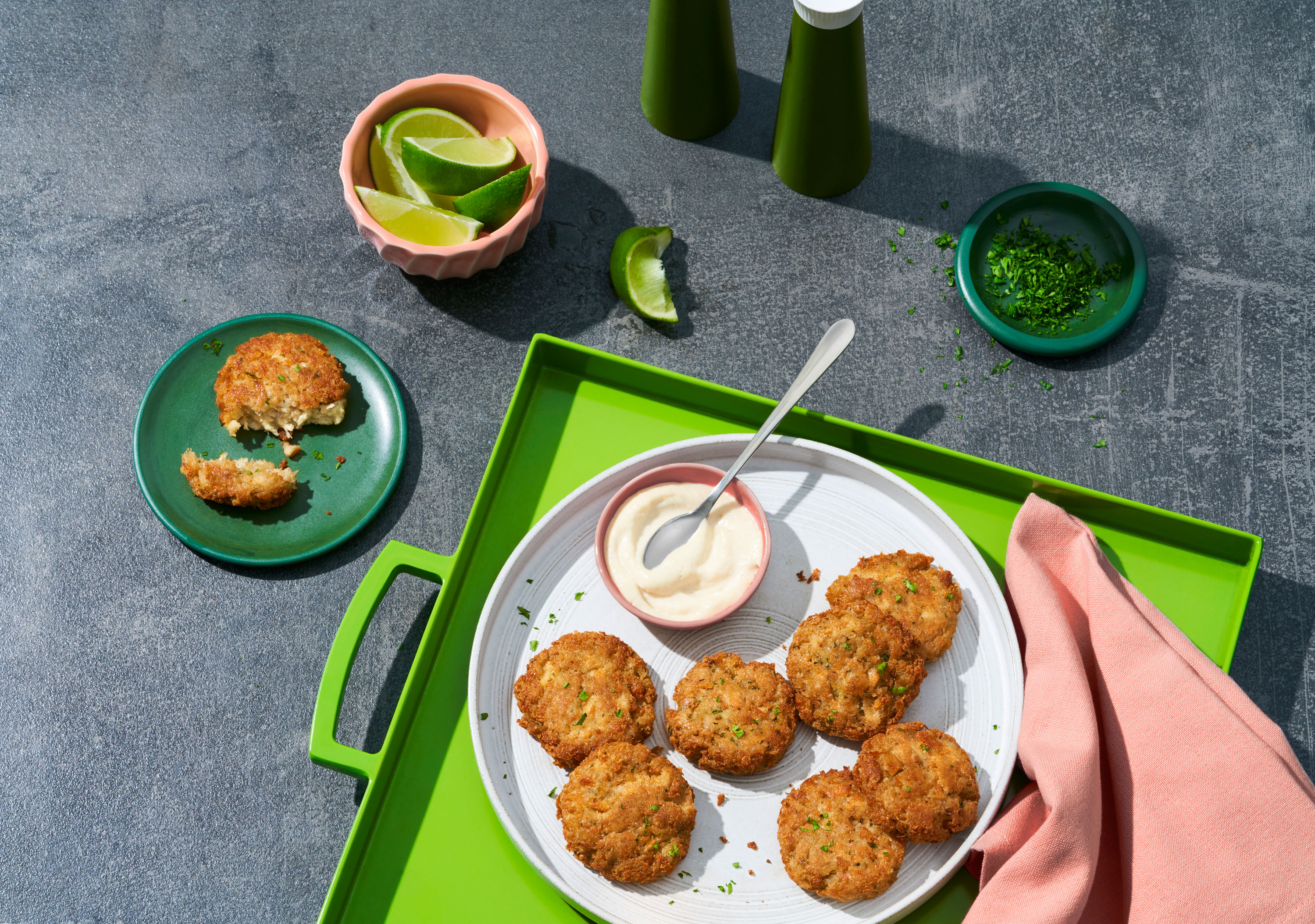 OMNI
"By providing our growing consumer base with a healthy, tasty, and versatile plant-based meat alternative, they can make good food at home as we continue to realize our mission to construct a multi-faceted global ecosystem of future food that helps to combat climate change, food insecurity, public health crisis, planetary devastation, and the overconsumption of meat."
4Vegan cake at Whole Foods
Whole Foods has recently upped its vegan options in the bakery department with items such as vegan croissants, muffins, and doughnuts spotted at stores. Miami-area Whole Foods shoppers listen up: an entire vegan cake section is coming to stores courtesy of vegan bakeshop and funhouse Bunnie Cakes.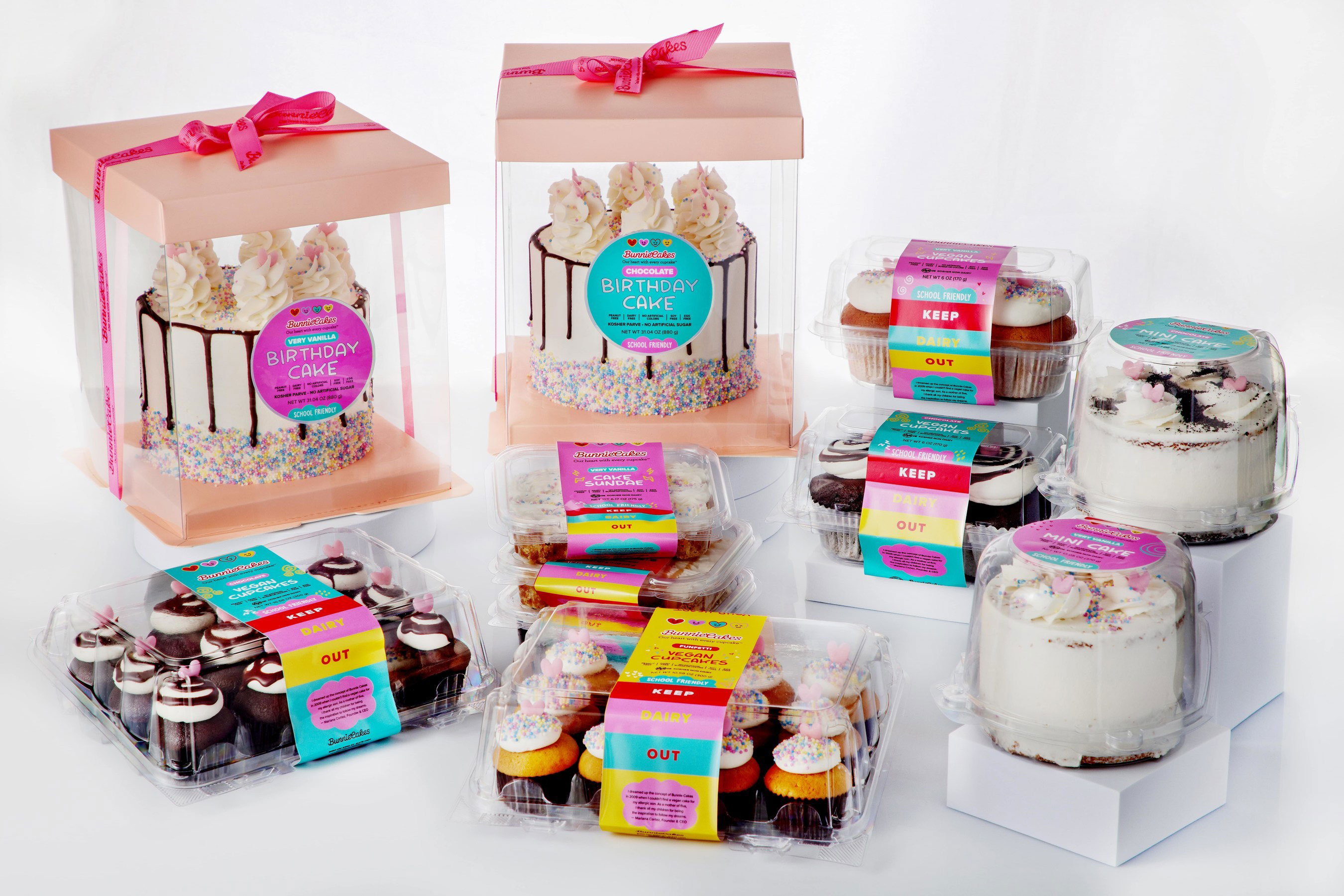 Bunnie Cakes
The new dedicated section is stocked with 11 items including the South Florida-based bakery's best-selling cupcakes and cakes in mini and regular sizes, in addition to one-size cake sundaes. The vegan desserts will be offered in three flavors: chocolate, vanilla, and dulce de leche (exclusively for the cake sundaes). Created in Bunnie Cakes' signature whimsical style, the birthday cakes are packed in pink containers and wrapped with magenta ribbons perfect for gifting.
"I've built Bunnie Cakes with the intention that our products bring a unique festive vibe wherever they go," Bunnie Cakes founder Mariana Cortez said in a statement.
"Our new dedicated section at Whole Foods Markets in Miami-Dade county will offer consumers access to the vegan party destination that is Bunnie Cakes," she said. "Our vision is to continue growing and eventually become a household name for plant-based sweets."
5Insomnia's vegan cookies in pie flavors a la mode
Insomnia is a brand that knows everyone gets cookie cravings late at night—that's why it delivers its warm cookies to your door as late as 3am. In 2020, the company added its first vegan options to the menu in Chocolate Chunk, Double Chocolate Chunk, and Birthday Cake flavors.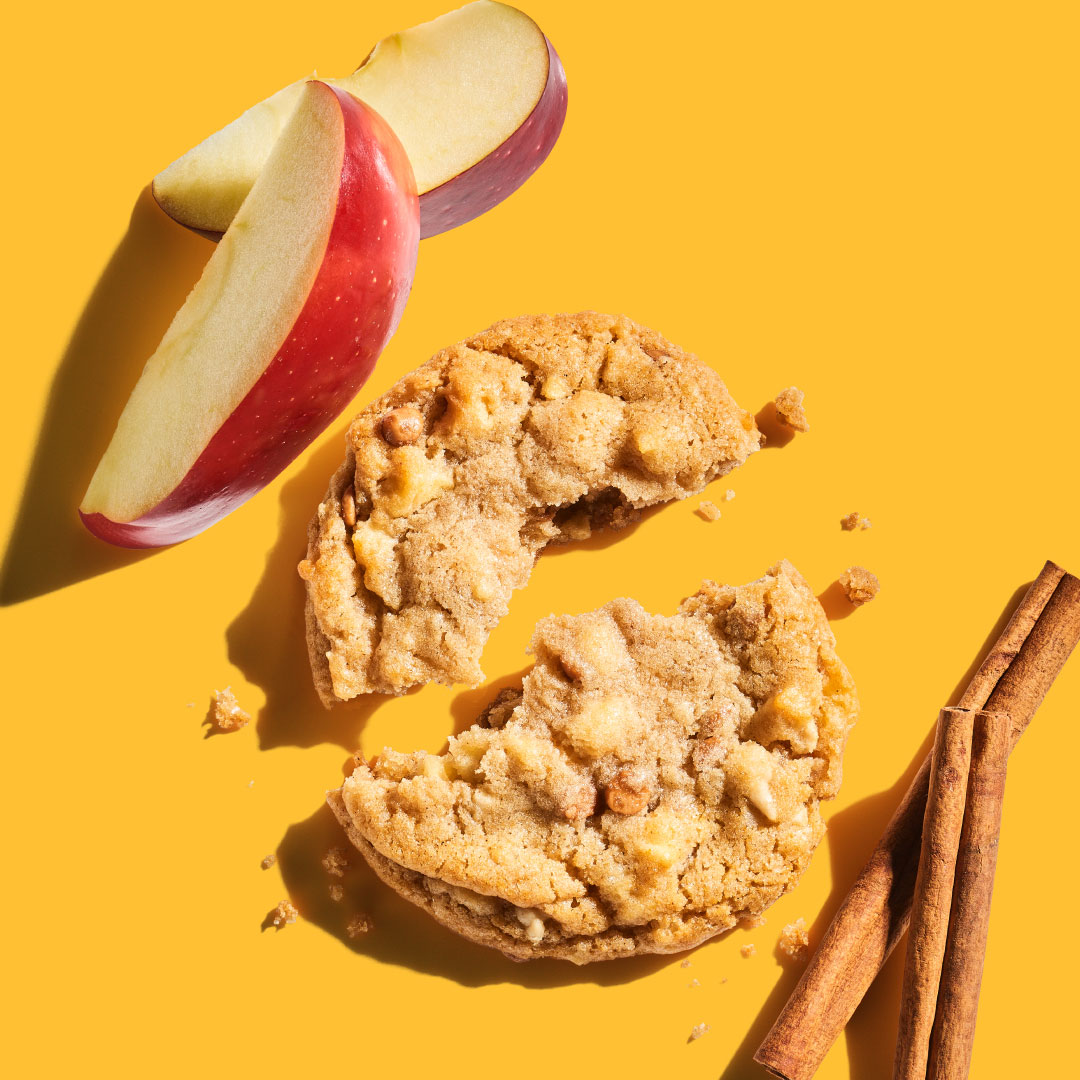 Insomnia Cookies
For World Vegan Month, Insomnia developed two seasonal flavors: Vegan Pecan Pie (brown sugar cookie with butterscotch chips, chocolate chips, and toasted pecans) and Vegan Caramel Apple Pie (salted caramel cookie baked with apple and caramel chips).
In addition to late-night cookie deliveries, the brand ships nationally and operates bakery locations across 13 states where the new cookies will be available for a limited time.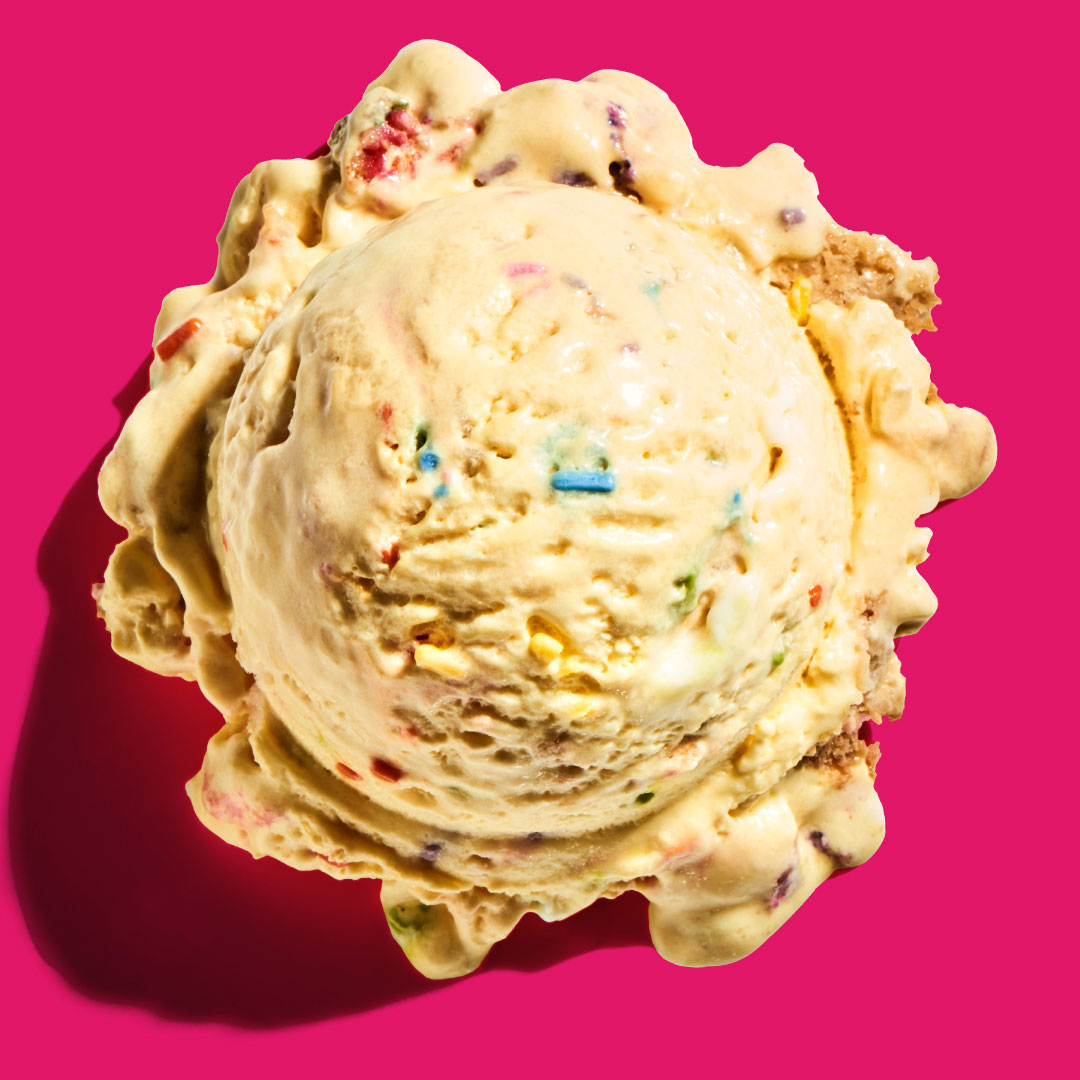 Insomnia Cookies
And if you're looking for more ways to celebrate World Vegan Month, Insomnia is offering two vegan ice cream specials at participating locations: Vegan B'Day Ice Cream Cake Ice Cream (yellow cake oat milk ice cream with birthday cookie pieces, white icing swirls, and rainbow sprinkles) and Vegan B'Day Ice Cream on a Vegan B'Day Cookie (a warm, vegan birthday cake cookie, topped with two scoops of vegan birthday cake ice cream).
The new options at Insomnia are available through November 13.