From KitKat candy bars to Kraft cheese singles, some of the world's most nostalgic products have gotten a vegan makeover in recent years. But there is still much work to be done. Case in point? Dairy Queen's Blizzards and McDonald's McFlurries are still only available in their original dairy varieties.
However, this week, San Diego-based vegan chain Plant Power Fast Food (PPFF) came up with its own frozen treats to fill the void: Snow Days. The new Snow Days are made with oat milk as a creamy base and available in four introductory, throwback mix-in flavors: Cookies and Cream, Chocolate Chip Cookie Dough, Chocolate Brownie, and Betterfinger (or PPFF's vegan take on a Butterfinger candy bar).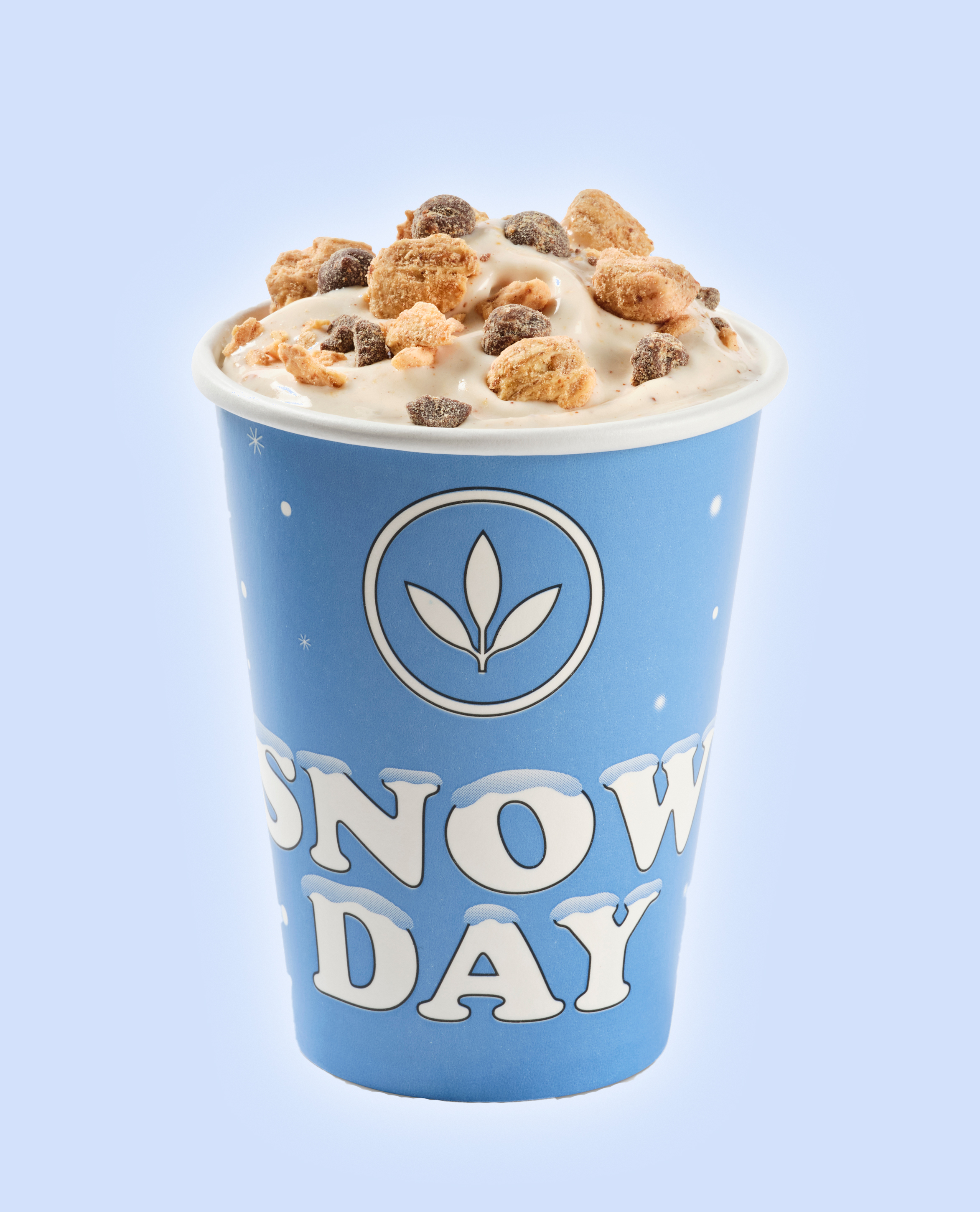 Plant Power Fast Food
"The joy of feeling like a kid shouldn't stop just because you're all grown up," PPFF CEO Zach Vouga said in a statement. "Snow Days—our thick, creamy soft serve with baked goods and chocolatey toppings—instantly transports you to being a carefree kid in the decadent '80s."
PPFF also created an advertisement for its Snow Days that harkens back to Dairy Queen's first Blizzard commercial, complete with a radio-announcer voiceover and retro film quality. The ad's tagline is clever, too: "When life is a blizzard, have a snow day."
Like the original, the PPFF ad also showcases how thick its Snow Days are by flipping a spoon upside down without any spillage—showcasing that oat milk can create as thick of a base for soft-serve as dairy. "To continue the carefree nostalgia, we launched a fun retro ad campaign that pays homage to Dairy Queen's first Blizzard ad circa 1985," Vouga said.
The Snow Days flavors are available for $7.49 each for a 12-ounce size at all 11 PPFF locations in California and Nevada, where customers can also get their fill of fast-food favorites such as breakfast egg and cheese muffins, Big Zac burgers, 'Fish' Filet Sandwiches, and milkshakes—all made without animal products.
Vegan soft serve at Dairy Queen and McDonald's
While Dairy Queen's Blizzards have been around for nearly 40 years, the chain has yet to launch a dairy-free version. However, Dairy Queen is not completely ignoring consumer demand for dairy-free options.
Last year, Dairy Queen launched Non-Dairy Dilly Bars, vegan coconut milk-based novelty ice cream bars enrobed in chocolate. The move came after years of campaigning by animal-rights group People for the Ethical Treatment of Animals and actor Alan Cumming (who was one of the first to receive a box of the vegan treats).
And what about vegan McFlurries? McDonald's has been dragging its feet when it comes to vegan soft-serve options in the United States. However, last year, McDonald's introduced a vegan KitKat McFlurry to its locations across Germany, which added dairy-free soft serve in 2020.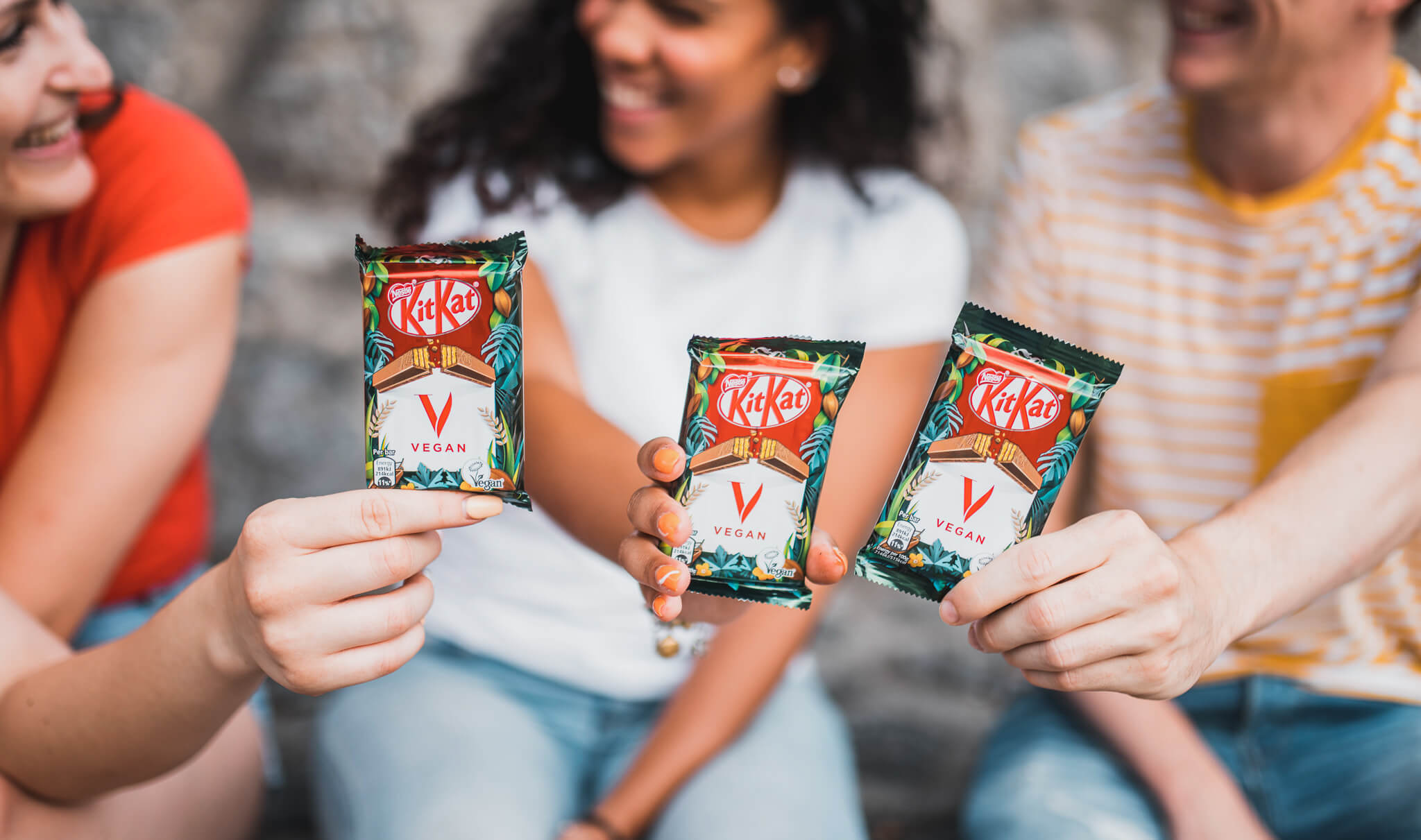 Nestlé
The frozen treat was made with strawberry sauce and pieces of KitKat V, a vegan version of the nostalgic confection Nestlé has since launched in 15 countries.
For the latest vegan news, read: