It seems that every week in the world of vegan food news is more exciting than the last and this week is no exception. Heinz has vegan Christmas dinner handled this year with the launch of a big soup packed with all the trimmings. More of a snacker during the holidays? LesserEvil's new All About the Elote popcorn, made in partnership with Thrive Market, should hit the spot. There are also a lot of festive vegan sweets this season, including vegan white chocolate bars from TCHO, an Apple Caramel Milkshake at Smashburger, and Oatly's new Chocolate Peppermint soft serve at 16 Handles. Read on for more.
1Heinz Christmas soup
Christmas dinner just got better (and much easier) in the United Kingdom this year. That's because Heinz just brought back its Christmas Dinner, which is a big can of soup filled with all the trimmings. This offering sold out quickly last year but Heinz brought it back for 2022 and this time, with a vegan version that is clearly labeled Vegan Christmas Dinner.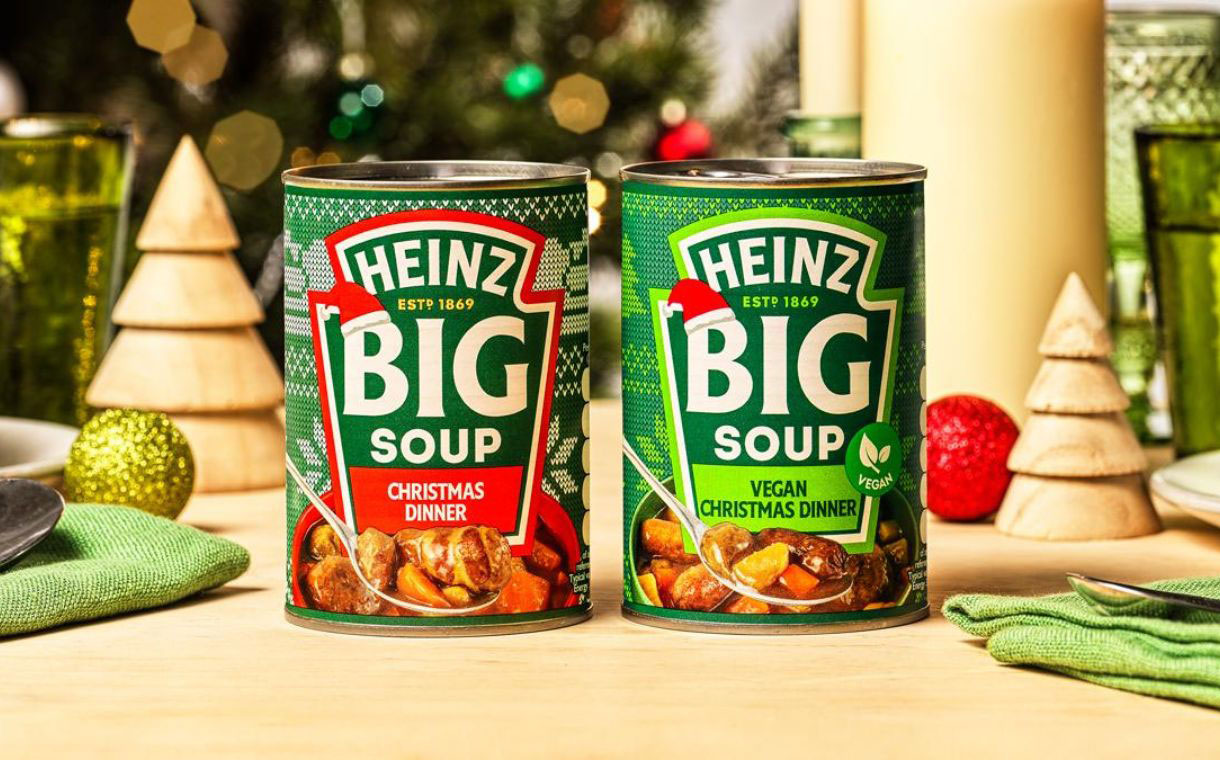 Heinz
"​​After last year's reaction to Heinz Christmas Dinner Big Soup, bringing it back again this year was a no-brainer," Bahar Kiransa, Marketing Manager at Heinz Soups, said in a statement. "So, we are so excited to relaunch our sensational seasonal addition to Heinz's Big Soup family, and this time on a much larger scale, with a vegan version, too."
What's for Vegan Christmas Dinner, you ask? The big soup is packed full of vegetables, vegan sausage, and stuffing balls in a savory broth.
"We've been hard at work all year perfecting our recipes for both the meat and vegan versions," Kiransa said. "We are particularly proud to be introducing the vegan version this year, as everyone deserves to be able to try the delicious flavors of our much-loved Heinz Christmas Dinner Soup."
The hearty soup is available at Asda stores now.
2Eggnog white chocolate
Stateside, the holidays are a little more festive thanks to TCHO, an ethical chocolate brand based in Berkeley, CA that just went completely vegan. The brand transitioned all of its award-winning chocolates to vegan formulas developed around oat milk instead of dairy.
And you know what happened? TCHO won several awards for its vegan chocolate at this year's International Chocolate Awards, beating out dairy competitors.
Since then, the brand has been busy innovating new vegan chocolate products both for professional and consumer lines. Earlier this year, it made Choco Blanco (vegan white chocolate) available to professionals.
For the holidays, TCHO used its white chocolate to craft two seasonal flavors for consumers, too. Pumpkin Up tastes just like pumpkin pie and comes dotted with crunchy cookie bits. Karl the Nog—a play on "Karl the Fog," a nickname San Franciscans have given their famed weather condition—is a sweet eggnog flavor with hints of nutmeg and rum.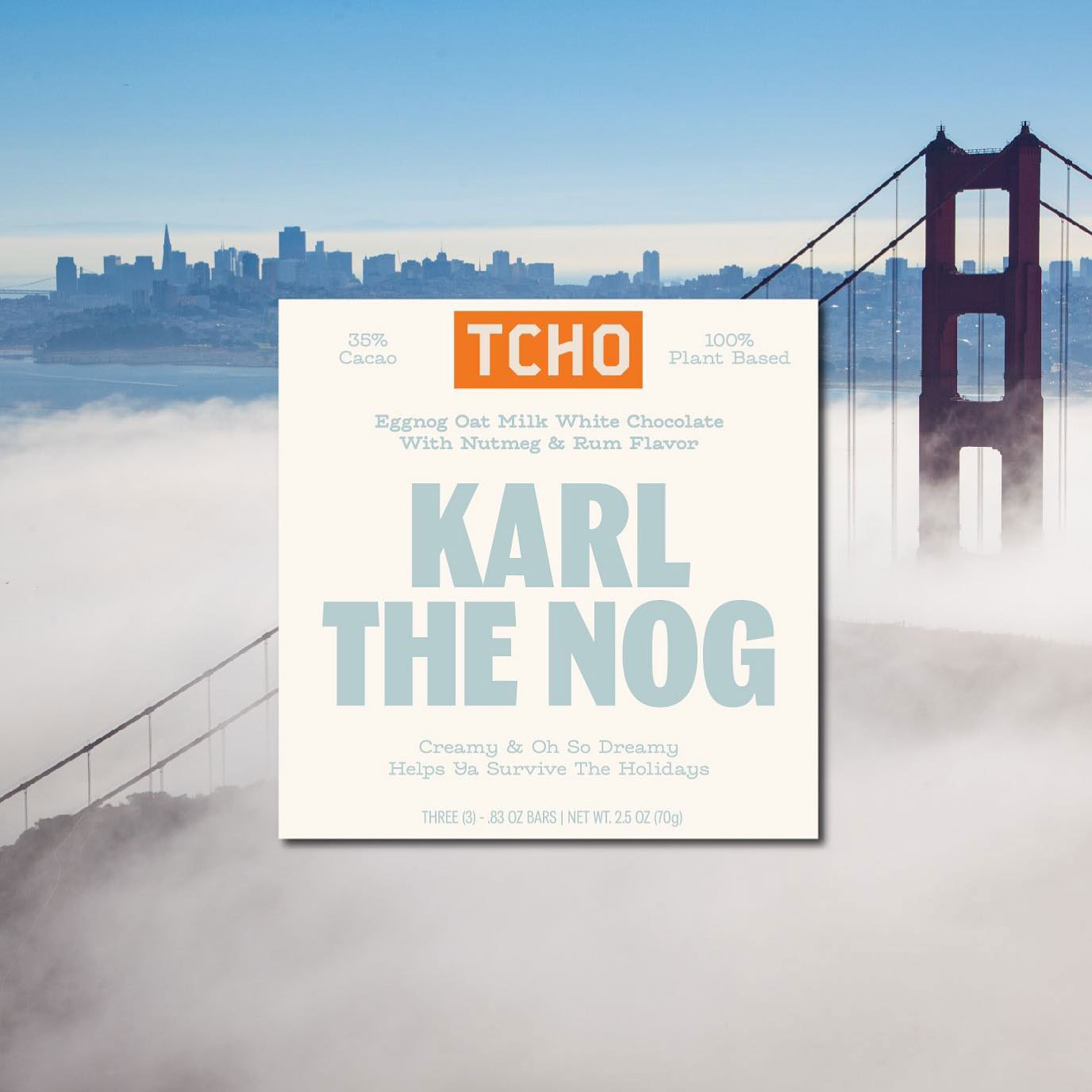 TCHO
TCHO distributes its chocolates locally in the San Francisco Bay Area and ships nationwide through its website.
3Elote popcorn
Thanks to a new exclusive partnership between snack company Lesser Evil and membership-based e-commerce retailer Thrive Market, the taste of summer elote can be enjoyed while making tamales this Christmas.
The collaborative flavor, Lesser Evil X Thrive Market All About the Elote, is made to taste just like grilled street corn, complete with flavors of peppers, cheeses, and spices but without any animal-derived ingredients.
"We're thrilled to launch the Elote flavor popcorn to our Members," Nick Green, Thrive Market's co-founder and CEO, said in a statement. "Our members love unique, ethnic flavors and we love partnering with brands who share our commitment to sustainability. We couldn't be more excited to bring this product to market with LesserEvil."
The exclusive elote flavor features a new sustainable NEO Plastics packaging and is available at Thrive Market alongside other Lesser Evil popcorn varieties: Olive Oil, Salted, Vegan Butter, and Sweet and Salty.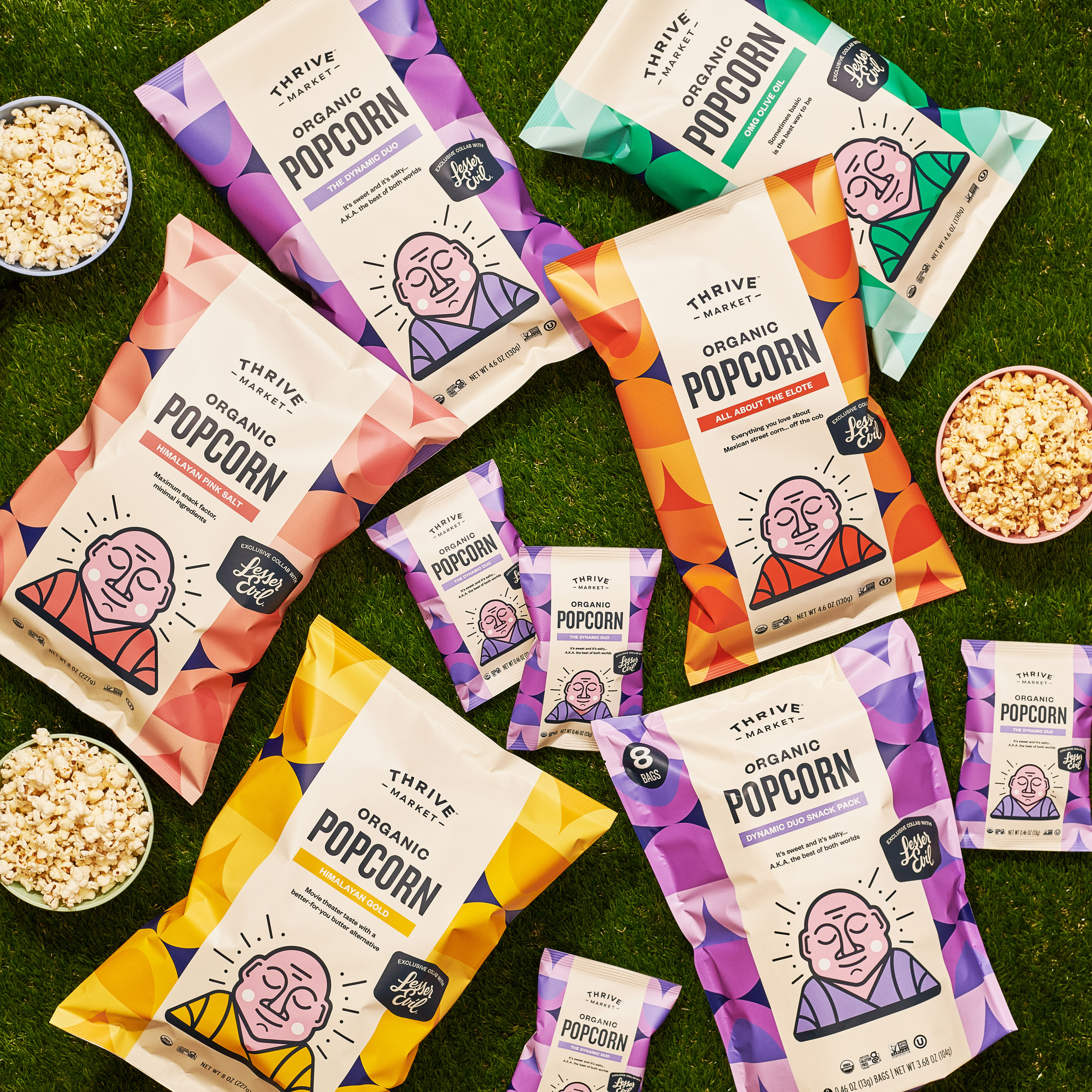 Lesser Evil
"We are thrilled to expand our relationship with Thrive Market and introduce these new co-branded products that align with our mission of making organic, less processed snacks more accessible to everyone," Charles Coristine, president and CEO of LesserEvil, said in a statement. "These new snacks leverage our partnership with NEO Plastics packaging and help propel us on our journey to our goal of becoming the most sustainable snack food company on the planet. We're excited to leverage the Thrive Market platform to expand our footprint and further propel us toward this goal."
4Caramel apple pie shakes
From now until January 3, participating locations of burger chain Smashburger are celebrating the holidays with a brand new vegan milkshake. The Non-Dairy Caramel Apple Shake is made with a base of Eclipse vegan ice cream that is hand-spun with apples, cinnamon, nutmeg, and ginger and comes finished with a drizzle of salted caramel syrup.
Eclipse makes its innovative ice cream from a carefully chosen blend of plant ingredients, including corn and cassava, that mimic dairy on a molecular level.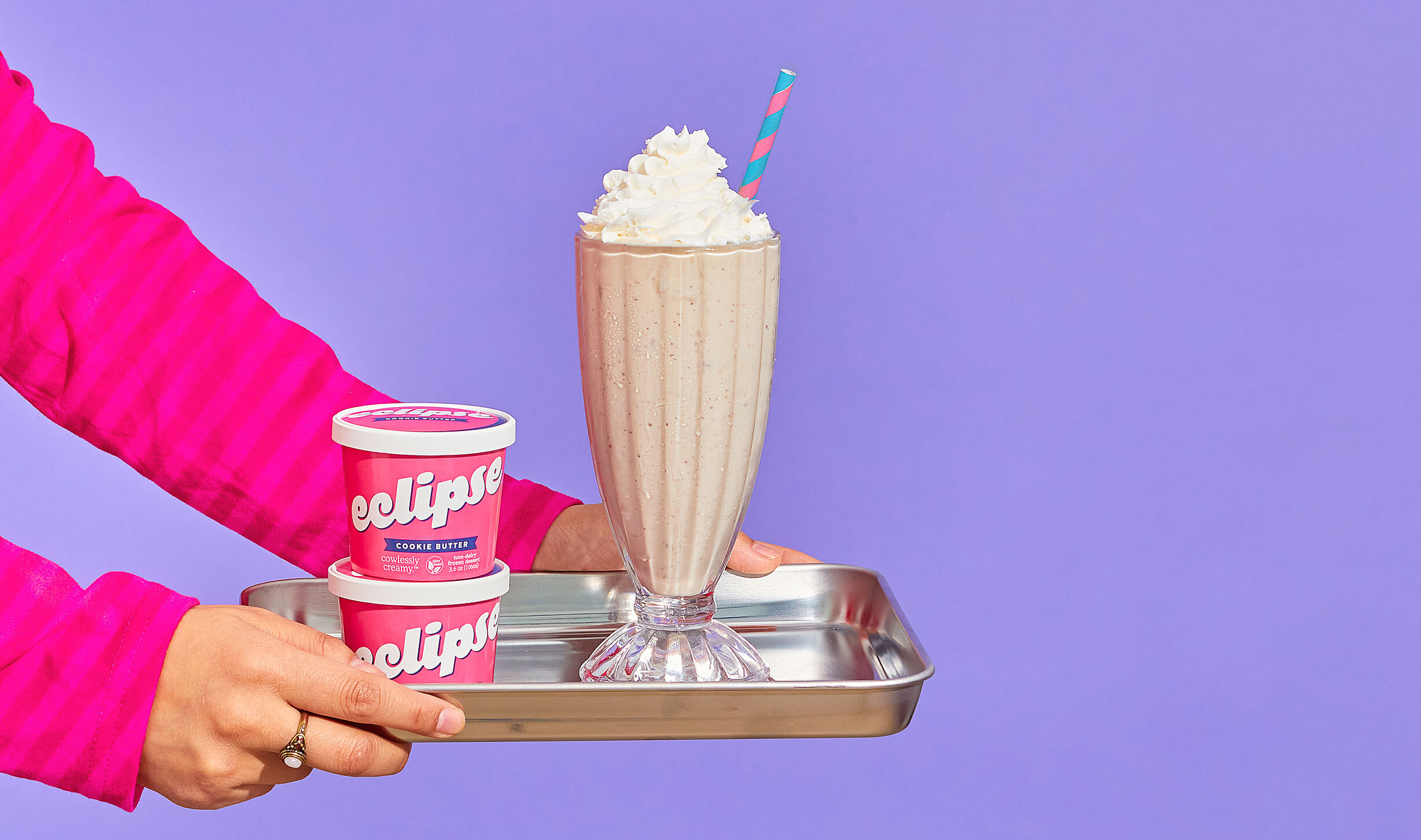 Eclipse
The food technology company's ice cream first landed on the menu at 220 Smashburger locations in June as part of six non-dairy shakes: Vanilla, Chocolate, Strawberry, Tangerine Dream, Peanut Butter, and Oreo.
Note: For the holiday season, Smashburger is also offering a Non-Dairy Mocha Chocolate Shake but this item is made with chocolate chips that contain dairy ingredients.
5Peppermint soft serve
You don't have to be the kind of person who wears shorts in the snow to enjoy cold treats during winter months. And fro-yo chain 16 Handles has just the thing.
The chain has been working closely with vegan brand Oatly since the summer of 2021 to develop exciting vegan soft serve flavors, including seasonal favorites such as Pumpkin Spice and Marshmallow and S'mores. For the winter, 16 Handles and Oatly have released their newest collaboration, Chocolate Peppermint—a rich blend of minty and fudgy flavors.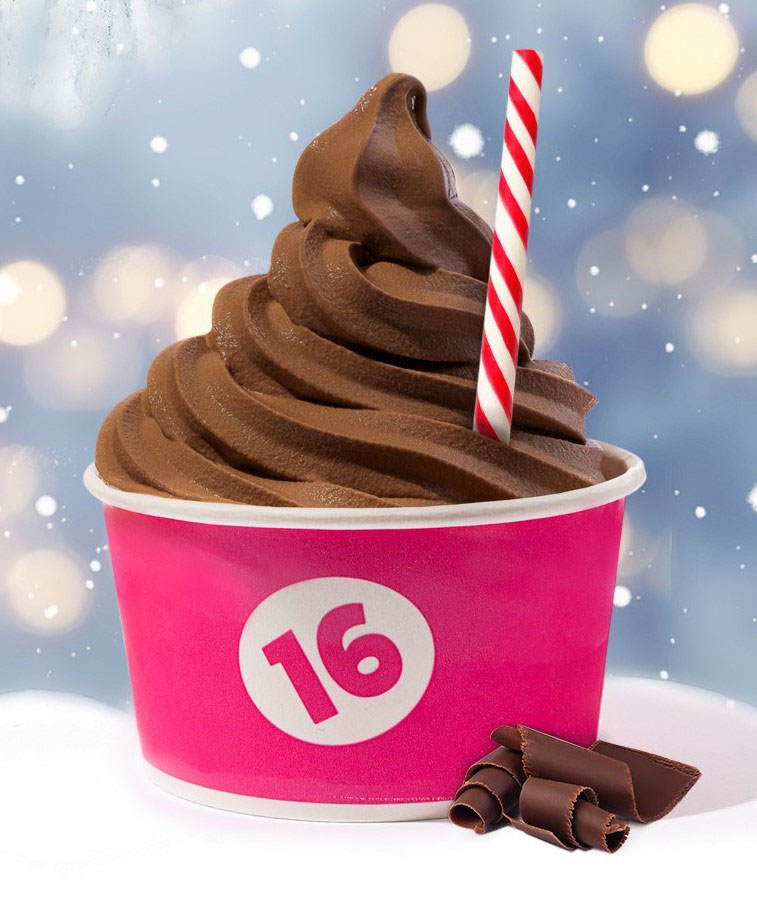 16 Handles
"If you love chocolate and that fresh peppermint taste, this new non-dairy soft serve is perfect for you," 16 Handles CEO Neil Hershman said in a statement. "We are thrilled to be ending the year on a high by partnering with our friends at Oatly to create this exclusive, festive flavor."
For the latest vegan news, read: