Fast-food chain A&W has launched its first fully vegan burger build at its more than 1,000 locations across Canada. The limited-edition Jalapeño Lime Beyond Meat Burger—which is made without the egg-based mayonnaise that comes on A&W's other plant-based Beyond Burgers—features a Beyond Meat patty that is topped with spicy vegan jalapeño lime aioli, lettuce, red onion, and tomato, served on a seven-grain bun.
"The Beyond Meat Burger has been a fan-favorite since day one, and we're excited to offer our guests a new, fully plant-based option with delicious, bold flavors," Julia Cutt, Director, Brand Communications and Digital Marketing, A&W Canada, said in a statement. "We're confident the Jalapeño Lime Beyond Meat Burger will satisfy meat-eaters and plant-based lovers alike."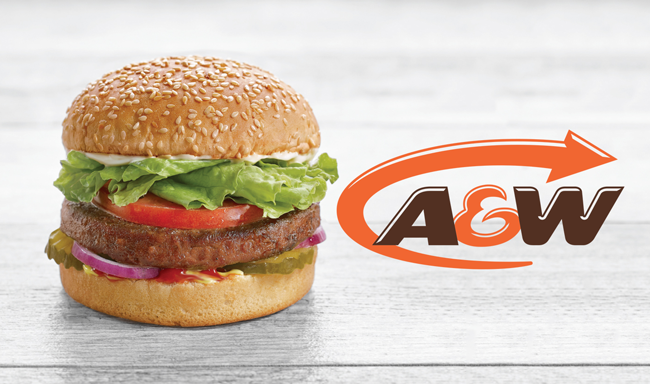 A&W Canada/Beyond Meat
Beyond Burgers debut in Canada
A&W Canada launched its first Beyond Burger build in 2018, which is still available but is served with egg-based mayonnaise and served on a bun that the chain cannot confirm is vegan due to an inconsistent supply chain. The Beyond Meat debut at A&W's locations nationwide marked Beyond Meat's biggest partnership at the time as well as its entry into the Canadian market. A&W Canada sold more than 90,000 of the vegan-friendly burgers within the first three days of adding the Beyond Burger to the menu.
For a time, the chain couldn't keep up with demand. "We are out of Beyond Burgers. Due to a Canada-wide shortage and the extreme popularity of [the burger], we have run out," the company posted on Instagram. "Many stores may still have them. We will continue serving them as soon as we can get more. Thank you for making our new burger a success." At the time, Beyond Meat was expanding quickly and was already in more than 10,00 points of distribution. The brand was working to open a second facility in Missouri that would triple its production capacity before it expanded the distribution of its plant-based products to more countries.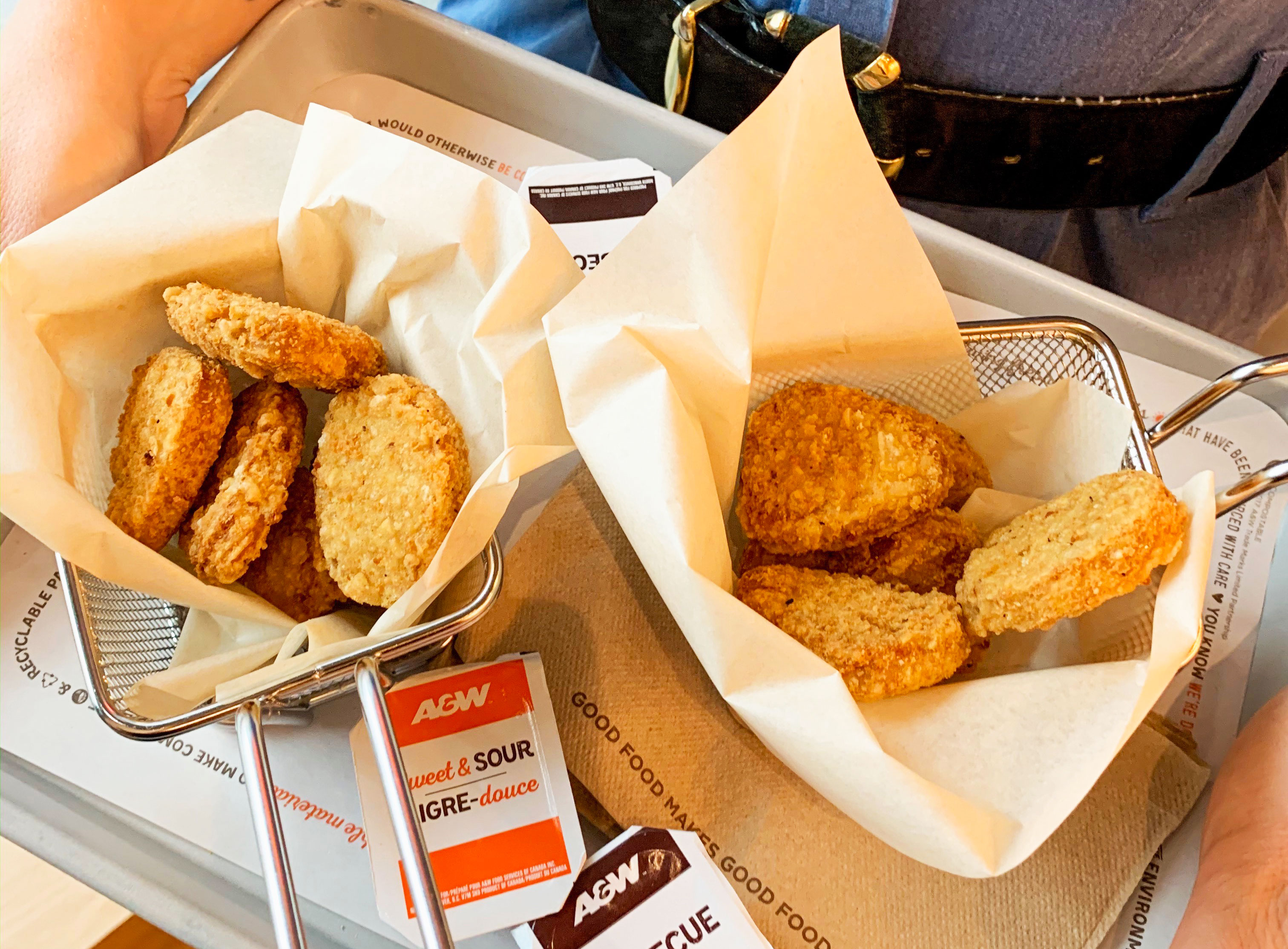 Candice Hutchings/TheEdgyVeg
More Beyond Meat options at A&W
In 2019, A&W added a vegan breakfast sandwich featuring Beyond Meat's Beyond Sausage on an English muffin with tomato and lettuce. And in 2021, the chain further expanded its Beyond offerings with the launch of Beyond Meat vegan chicken nuggets, a limited time offer which could be ordered as a six- or 10-piece meal with dipping sauce.
While previous menu items were geared toward customers looking for meatless options, the new Jalapeño Lime Beyond Meat Burger represents the chain's first burger offering that is fully vegan. "Through the debut of the Jalapeño Lime Beyond Meat Burger, we continue to excite and delight consumers with mouthwatering, no-compromise plant-based options—this time with an all plant-based build," Heena Verma, Marketing Director, Canada, Beyond Meat, said in a statement. "We are proud to collaborate with A&W Canada, our longtime partner, to make plant-based burgers that are better for people and the planet more widely accessible to Canadians."
For more on vegan fast food, read:
Plant-Based Fast-Food Options Saved More Than 600,000 Animals in 2021
Vegan Fast-Food Chains Are Spreading Nationwide. Can McDonald's Keep Up?
7-Eleven Adds Vegan Chicken Tenders to Hot Menu at All 600 Stores in Canada