California-based vegan brand Beyond Meat just released vegan chicken nuggets and they will be available at all 1,000 locations of fast-food chain A&W across Canada. Starting August 9, the vegan Beyond Meat Nuggets will be available while supplies last and can be ordered as a six- or 10-piece meal, as well as an option for the A&W Kids' Pack. The chain offers a choice of dipping sauces and its BBQ and Sweet and Sour are vegan-friendly.
The Beyond Meat Nuggets are not the first time that A&W Canada has tested vegan chicken nuggets. In 2019, the chain was the first in Canada to offer plant-based nuggets—which it created in partnership with Lightlife—at test locations in Ontario and British Columbia.
"Many Canadians are looking for plant-based options, but they don't want to compromise on taste," Tom Newitt, Vice President of Marketing at A&W Canada, said. "We have been on a search for the best, most delicious plant-based nugget and are excited for our guests to try our new Beyond Meat Nuggets. We think nugget lovers will be very impressed."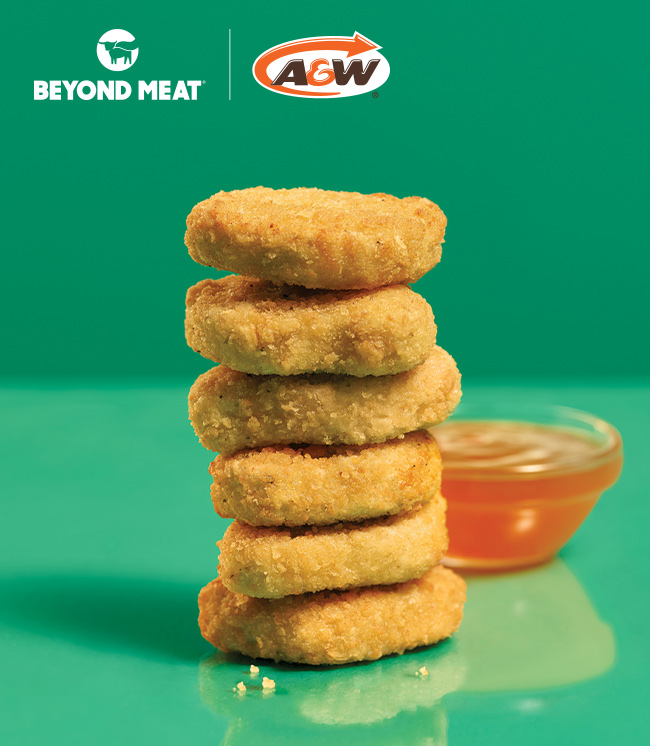 The launch of Beyond Meat Nuggets is an expansion of Beyond Meat's partnership with A&W Canada which began in 2018 with the launch of the Beyond Burger—which represented the debut of the plant-based patty in Canada. A&W Canada sold more than 90,000 of the vegan-friendly burgers within the first three days of adding the Beyond Burger to the menu at its 925 locations. In 2019, A&W also added two breakfast sandwiches made with a Beyond Meat sausage patty to its national menu, including the vegan Beyond Meat Sausage & Veggie.
"Beyond Meat Nuggets couldn't come at a more perfect time," Beyond Meat Chief Growth Officer Deanna Jurgens said. "We've doubled down on plant-based chicken this summer, just as consumer demand for chicken is skyrocketing. Following the success of our partnership on the Beyond Burger, we're proud to be working with A&W Canada to debut Beyond Meat Nuggets in Canada."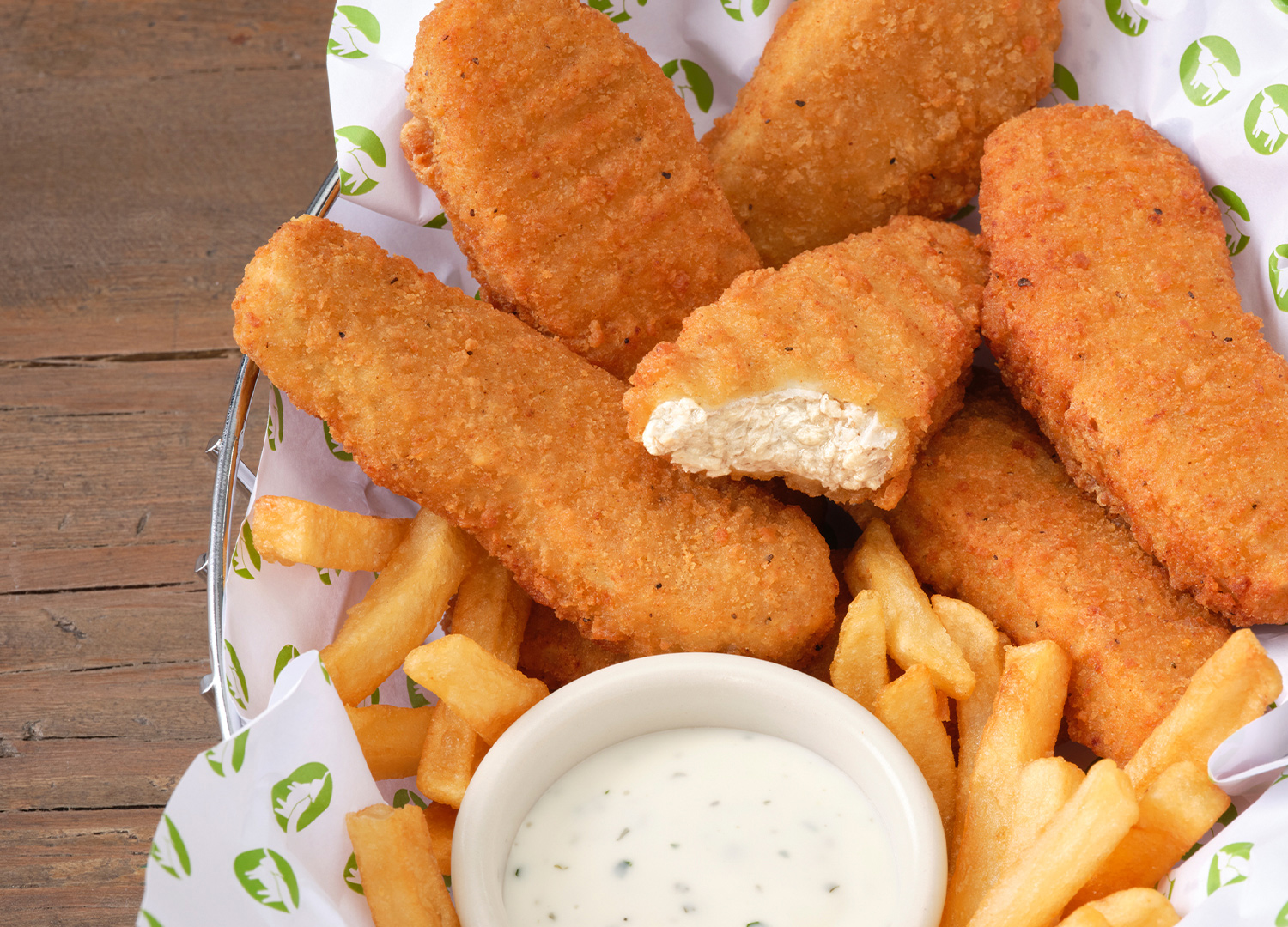 Beyond Meat gets into vegan chicken
Prior to this summer, Beyond Meat was known best for its vegan beef patties and porkless sausages but the company is moving onto chicken alternatives where it aims to make a big impact—particularly as traditional chicken shortages intensify. The launch of Beyond Meat's vegan chicken nuggets at A&W Canada represents the third time this summer that the brand has released a vegan chicken product.
In July, Beyond Meat launched its Beyond Chicken Tenders at 400 restaurants across the United States, including traditional wing shops and fried chicken eateries, along with vegan chains, pubs, pizzerias, and more. The Beyond Chicken Tenders are made with a blend of peas and faba beans and can be used as a one-for-one substitute for animal-derived chicken in a variety of applications such as appetizers, sandwiches, and salads. In 2011, the brand offered (now discontinued) vegan chicken strips and spent a decade innovating the new breaded tenders to meet consumer expectations.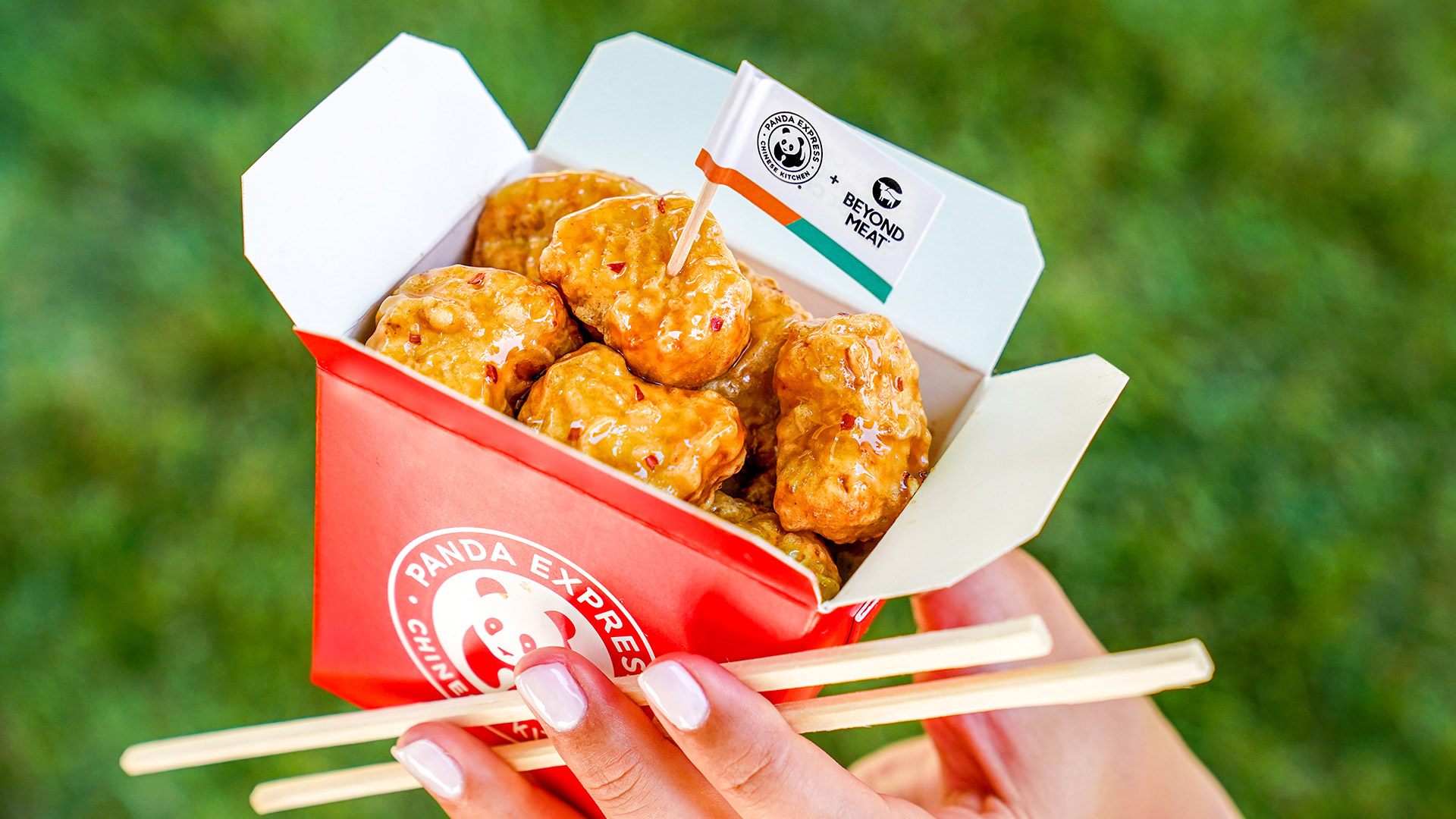 At the end of July, another Beyond Meat chicken creation landed on the menu of fast-food chain Panda Express. The brand worked with the chain to develop a vegan version of its iconic Orange Chicken, which has been a menu staple at the chain since 1987. The vegan Beyond the Original Orange Chicken is now at test locations in the New York City and Los Angeles areas. While the new vegan orange chicken is only available at the limited test locations while supplies last, its performance will inform Panda Express' strategy of a wider launch.
In 2019, Beyond Meat also worked with KFC to create a bespoke vegan fried chicken. The Beyond Fried Chicken was tested at one KFC location in Atlanta in 2019 where it sold out in less than five hours. While KFC expanded the test market of the vegan fried chicken to additional locations in the South and in Southern California, the chain has yet to add the Beyond Fried Chicken to its national menu.