It seems that every week in the world of vegan food news is more exciting than the last and this week is no exception. After launching plant-based meatballs and hot dogs, IKEA is diving further into the world of vegan meat with the launch of VÄRLDSKLOK, a packaged meatless beef. British Airways is testing the vegan waters with a new plant-based menu that it will offer at its airport lounges in Heathrow and beyond. And for Valentine's Day, Pamela Anderson and Eat Just are sending a sexy message: "Vegans do it best." Read on for more.
1 IKEA's got the vegan beef
We love a good (vegan) Swedish meatball and so does IKEA, which has taken a deep dive into the world of plant-based foods in recent years. That's because the chain is looking to reduce its carbon footprint by becoming less reliant on environmentally damaging products such as beef. Since 2015, IKEA has offered a vegan version of its popular Swedish meatballs at its bistro locations and in 2020, the furniture giant retooled the offering to be even meatier but with only a fraction of the environmental cost of its meat-based counterpart. IKEA also made a packaged version of these "plant balls" called HUVUDROLL which are available in its in-store grocery aisle.
By 2025, IKEA aims for its bistro meals to be 50-percent plant-based with an 80-percent reduction in red-meat based dishes. IKEA also aims to transition its packaged foods to be 80-percent plant-based within that time frame.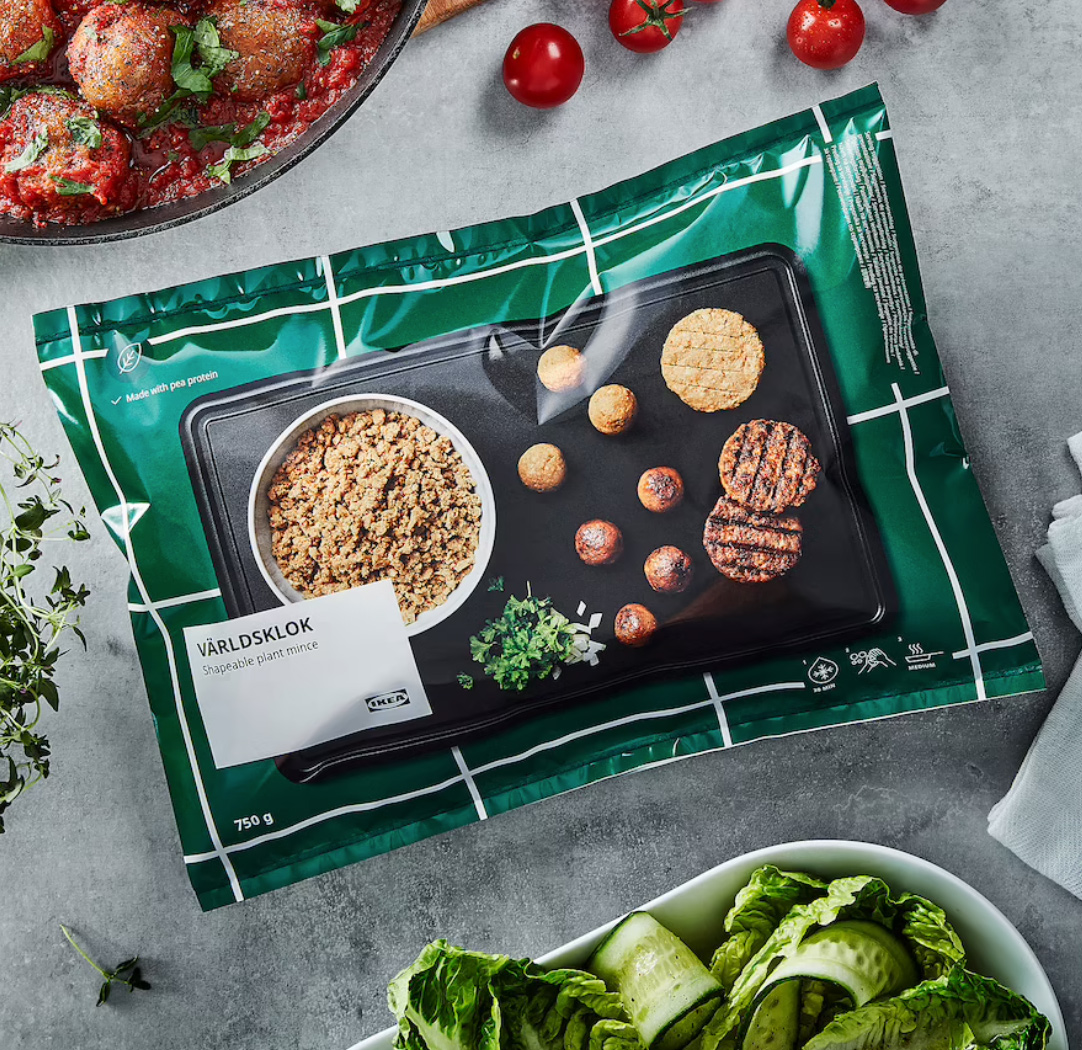 IKEA
This week, IKEA made some more progress on that goal with the launch of VÄRLDSKLOK, a plant-based ground beef that only requires a little assembly to be formed into vegan meatballs. While the name might sound like a 9th century viking, it actually means "world wise" in Swedish—a fitting name for a sustainable meat. Are you both hungry and looking for a new job? IKEA has a few job openings and is attracting new hires with never-before-seen 3D printed vegan meatballs. Good luck!
2 British airways gets into vegan burgers
For more meaty news, British Airways is getting ready to welcome travelers back with new plant-based food offerings, including vegan burgers. The new plant-based menu will first be available at London Heathrow airport lounges before British Airways expands the menu to airports in the US. The move is part of a greater sustainability mission that also includes initiatives to reduce plastic use.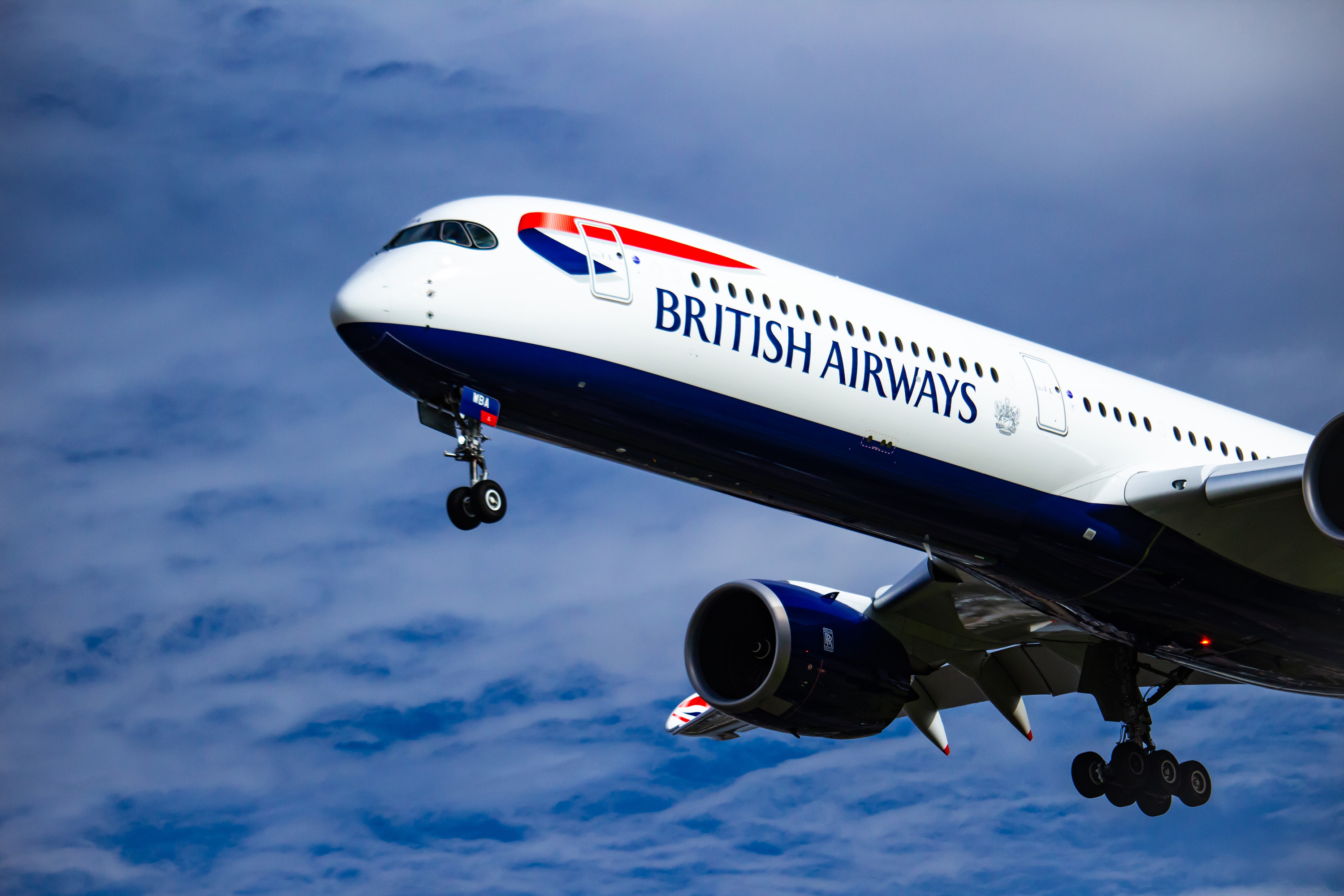 Unsplash
"We're committed to ensuring we deliver a premium proposition for our customers throughout their journey with us and when we do so, we need to ensure that sustainability is at the heart of it," Tom Stevens, British Airline's director of brand and customer experience, said in a statement. "We want to create an even better British Airways and know that we need to keep making changes to the customer experience with things like alternative menus, reducing plastics and introducing new technology to get us to where we want to be."
3 Top Chef's Spike Mendelsohn is all about vegan seafood
This week, The Plant Based Seafood Co.—makers of Mind Blown vegan seafood products—announced that its newest investor is celebrity chef Spike Mendelsohn—an alum of Bravo's cooking reality show Top Chef. Mendelsohn put his money where his mouth was after being thoroughly impressed with the brand's fish-free seafood, which includes shrimp, scallops, lobster, oysters, and crab cakes.
"When I first tasted the coconut shrimp, I literally had my Mind Blown," Mendelsohn said in a statement. "While I initially fell in love with the product, the reason I am investing in Mind Blown is because I love being part of an innovative team that leads with deliciousness first. This mother-daughter dynamic duo is making waves in the plant-based space."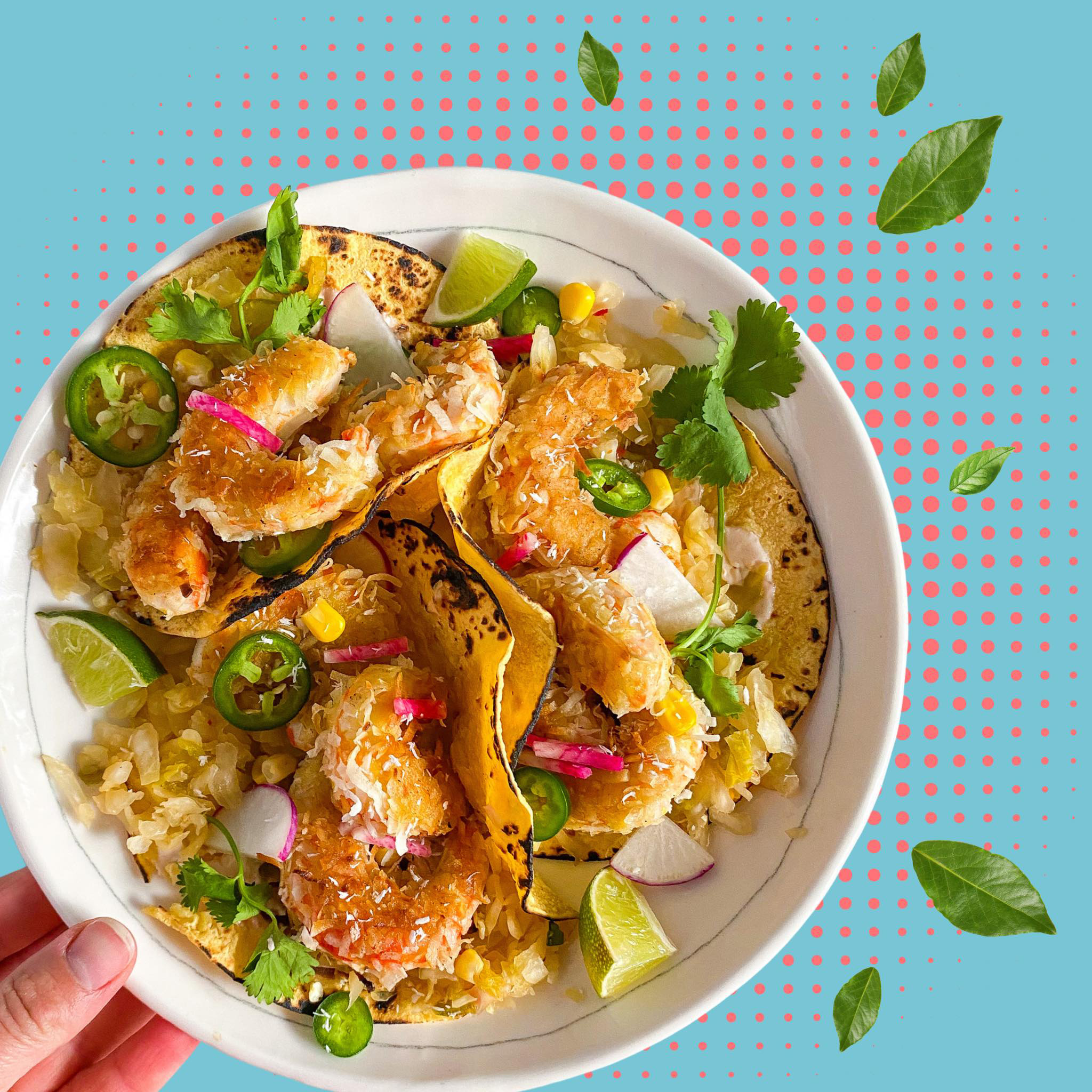 The Plant Based Seafood Co.
And the chef knows a thing or two about plant-based brands as he owns several himself. Mendelsohn is the co-founder of Eat The Change, a snack brand that uses would-be-wasted mushrooms to create delectable vegan jerky. Mendelsohn also founded vegan fast-food chain PLNT Burger after having his mind blown by another vegan product: the Beyond Burger. Now, the celeb chef is in the midst of an aggressive expansion of PLNT Burger and opened its first New York City location last month.
4 Science says vegan eggs are sexy
There is nothing sexy about chicken eggs, which are filled with heart-clogging cholesterol. However, plant-based eggs are a whole different story. A growing body of research shows that consuming a plant-based diet improves sexual health, including a recent study published in scientific journal Urology that found that a plant-based diet is associated with a lowered risk of erectile dysfunction (ED).
"Eating more plants, swapping out saturated fat for polyunsaturated fat, and reducing your dietary cholesterol will reduce your risk for developing both ED and heart disease, and will help your blood vessels stay healthy while providing blood flow to organs all over your body," preventive cardiologist Danielle Belardo, MD said in a statement.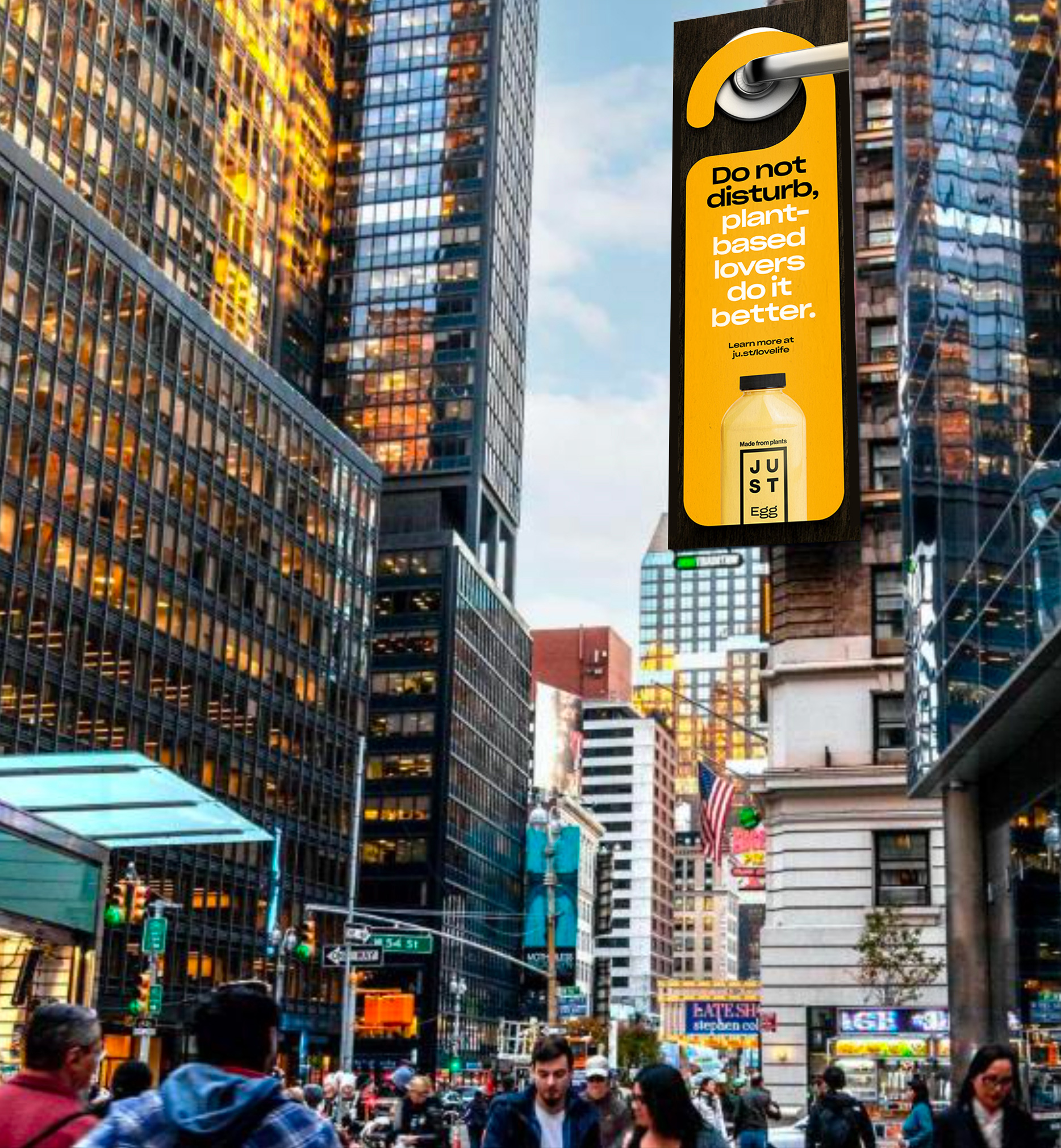 Eat Just
For Valentine's Day, Eat Just—the maker of vegan egg replacer JUST Egg—is taking this research and running with it in a new campaign titled "Plant-Based Lovers Do it Better." With science backing these sexy claims, Eat Just is taking out a one-page ad in the New York Times on Sunday and just erected a billboard in Midtown Manhattan this week to get the point across in a big way.
5 Pamela Anderson's vegan chocolates
Is anybody else binge-watching Hulu's Pam & Tommy with a big bowl of noochy popcorn, waiting for the show to touch on Pam's animal activism? While we stare at the screen with baited breath, the real life Pamela Anderson is celebrating Valentine's Day with a new PETA campaign. In Times Square—just a few blocks over from Eat Just's sexy eggs billboard—a 3,400-square-foot billboard featuring Anderson atop a box of vegan chocolates is letting people know that "vegans make better lovers."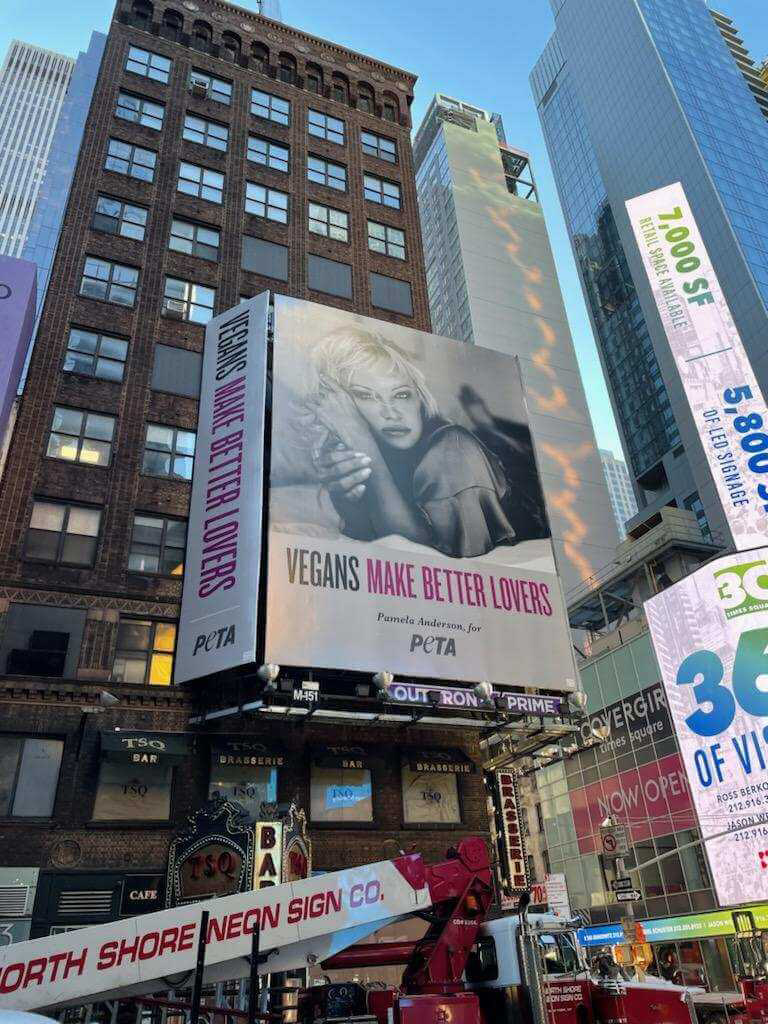 PETA
The box of chocolates in the campaign is a limited-edition offering from PETA which features 110 pieces of vegan chocolate in four flavors. "I believe that having a big heart is the sexiest thing in the world," Anderson said in a statement. "And a whopping 67 percent of people report a boost in bedroom performance after going vegan."
Anderson has been spreading the good word about vegans in the bedroom for some time. "The cholesterol in meat, eggs, and dairy causes hardening of the arteries (and not much else)," Anderson tweeted last year. "It slows blood flow to all the body's organs, not just the heart. You can improve your overall health and increase stamina in the bedroom by going vegan."
We hear you, Pam. Being vegan is definitely sexy. Maybe even sexier than Seth Rogan with a '90s throwback mullet.
For the latest vegan news, read:
Switching to a Plant-based Diet Can Add 10 Years to Your Life
Why Sia Is Speaking Out About Meat in Pet Food
Plant-Based Fast-Food Options Saved More Than 600,000 Animals in 2021