It seems that every week in the world of vegan food news is more exciting than the last and this week is no exception. Starbucks is continuing its love affair with oat milk with a new drink on its spring menu and Juicy Marbles just dropped a limited batch of incredibly realistic meatless filet mignon steaks. Both Denver and the San Francisco Bay Area are getting new vegan options and this Dallas-based brand is selling its plant-based bacon like hot cakes. Read on for more.
1 Starbucks welcomes spring with new oat milk drink
Last spring, Starbucks became a veritable oat milk mecca when it launched Oatly across its US stores. To promote the launch, the coffee chain crafted the Iced Brown Sugar Shaken Oatmilk Espresso, which promptly sold out in multiple stores and contributed to oat milk shortages. Now, Starbucks is doubling-down on oat milk this spring with the launch of the Iced Toasted Vanilla Oat Milk Shaken Espresso.
Available on March 1, the new drink (unearthed early by blogger Markie Devo) features a blend of Starbucks' Blonde espresso and oat milk spiked with a caramelized vanilla flavor. What makes this drink so special? Well, it's made similar to the way a shaken martini is made except instead of alcohol, espresso and oat milk are hand-shaken together for an aerated texture.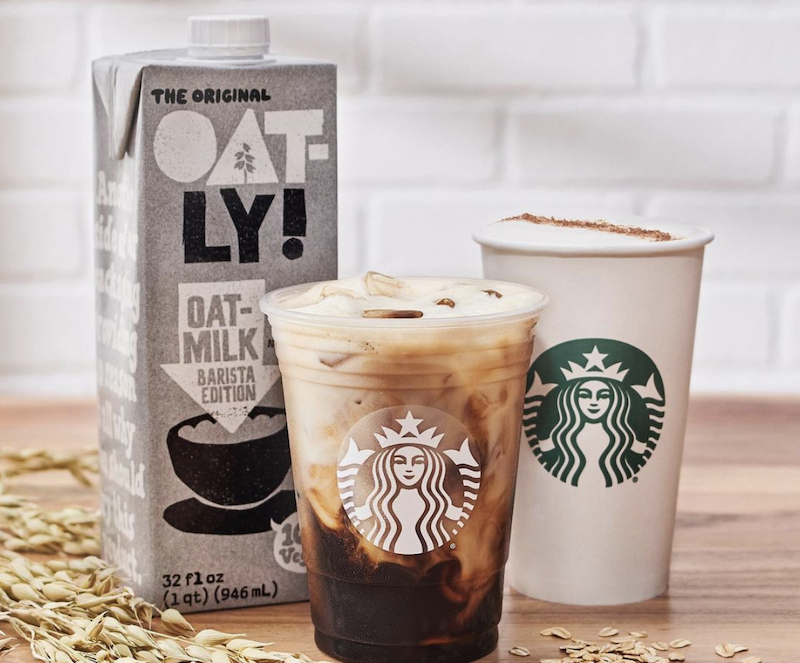 Starbucks
Starbucks is betting on dairy-free milk like oat to drive down its carbon footprint—the majority of which comes from dairy. Now, if its US stores stopped charging extra for dairy-free options, the chain would be well on its way to a much more sustainable future.
2 Next Level Burger's homecoming
In 2014, husband-and-wife duo Matt and Cierra de Gruyter had the great idea of opening a new type of burger joint where everything served was better for animals, human health, and the environment. The first location of Next Level Burger (NLB) opened in Oregon, serving all the burgers, milkshakes, and sides of a typical fast-food joint but without any animal products.
Since then, NLB has served in several states, operating inside Whole Foods Market, including Washington, California, New York, and Texas. This week, NLB announced that its newest location will be in Denver, CO—slated to open in summer of 2022—which brings the vegan burger shop to the hometown of co-founder Matt de Gruyter for the first time.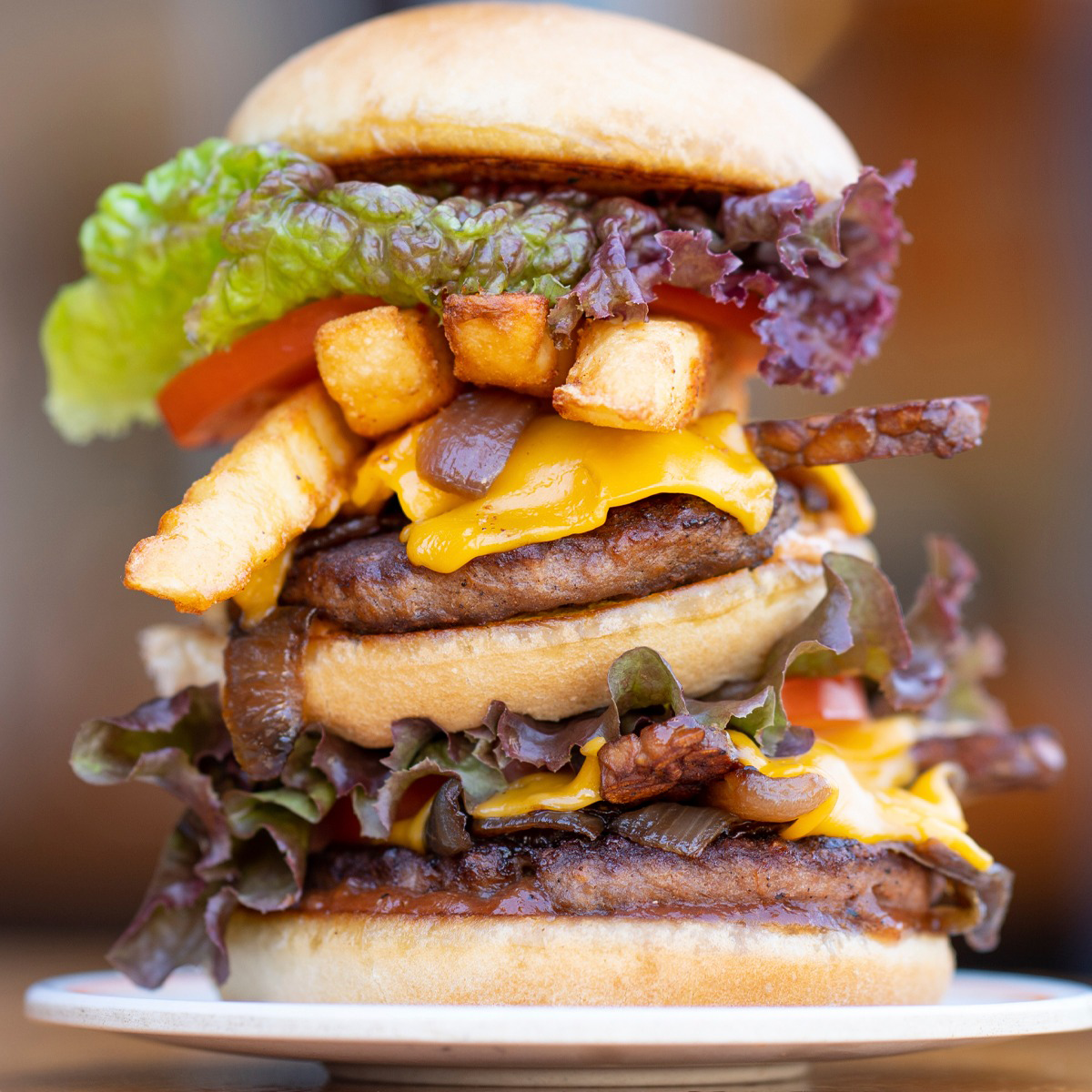 Next Level Burger
"As America's first 100-percent plant-based burger joint chain, we're all about serving up burgers for a better world and we're thrilled to be kicking off this next phase of our climate change fighting growth," Matt de Gruyter said in a statement. "From NLB's beginnings, we've set out to open 1,000 stores from coast to coast and this is the next chapter of that story. We're bringing that plant-based, organic, and non-GMO burger joint awesomeness our guests expect from us to new cities and parts of the country, all while doing good for people and the planet."
The Denver expansion is one step in NLB's near-term goal of quadrupling its presence by 2025 as it works on its greater mission of transforming fast food for good. NLB is also opening a new Portland, OR location in the West Burnside neighborhood this spring.
3 San Francisco Bay Area gets new vegan seafood options
Denver and Portland are not the only places with exciting new vegan options. The San Francisco Bay Area is getting in on the plant-based action, too, and with an eye for seafood. The team behind San Francisco's Shizen is expanding its famed plant-based Japanese fare to a new restaurant in Berkeley, the SF Chronicle reports. Tane Vegan Izakaya (which also has a location in Honolulu, HI) is slated to open this spring with a menu that elevates humble plants such as tomatoes, eggplants, and Brussels sprouts to star in nigiri and cut rolls, flavorful appetizers, and entreés.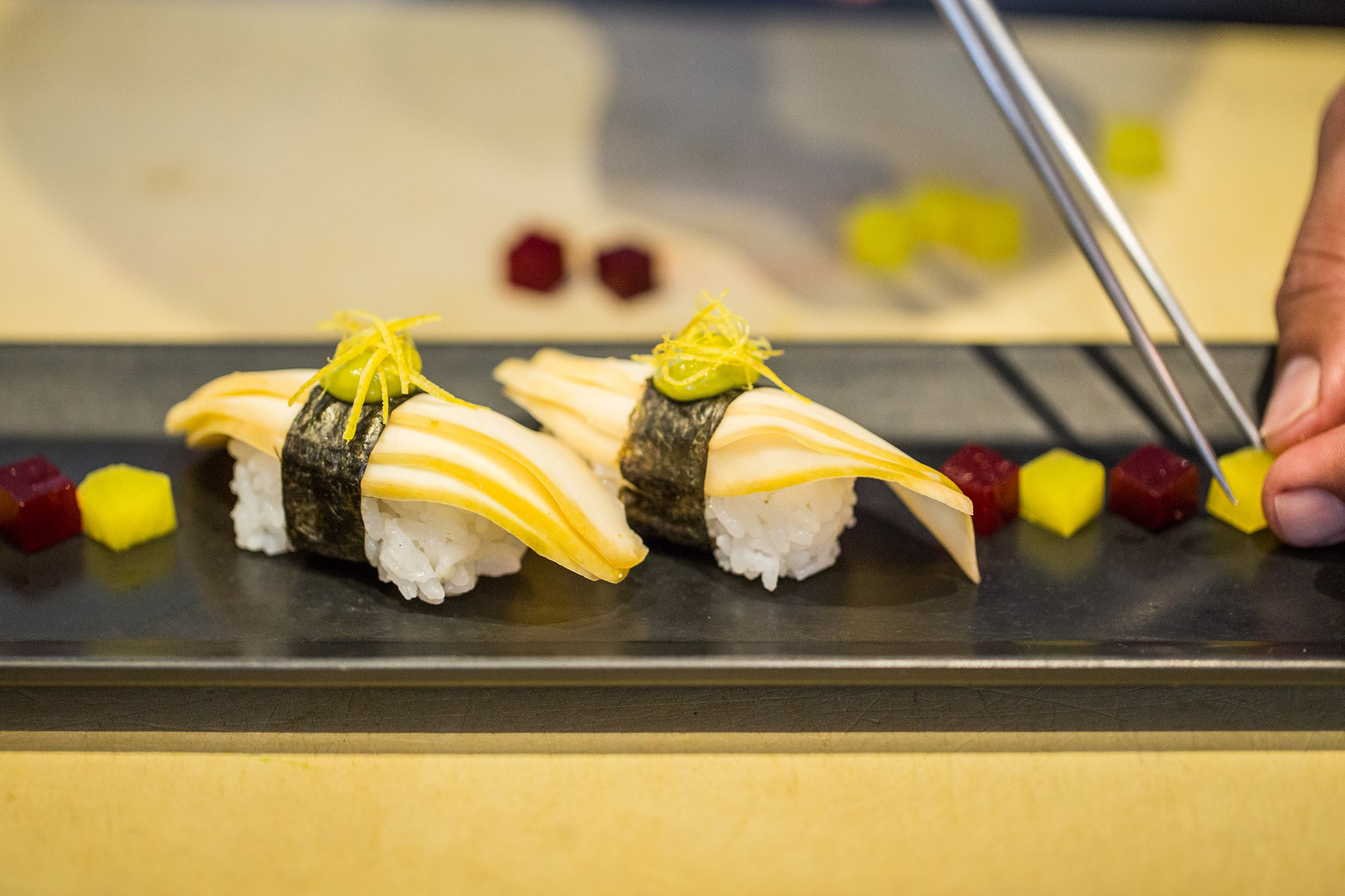 Tane Izakaya Honolulu
Back in the city, this week, sandwich shop Rocketbird updated its mostly chicken-forward menu with a new kind of bird: The Sea Bird. This new fish-free sandwich features a plant-based fish burger patty made by Good Catch Foods that is fried and comes topped with pickled red onions, Rocketbird tartar sauce, fresh little gem lettuce, and avocado on a potato bun. The Sea Bird can be ordered vegan by omitting the tartar sauce and requesting a lettuce wrap instead of the bun.
Rocketbird also serves vegetarian chicken made from maitake mushrooms and hearty vegan sides such as fries, cole slaw, and macaroni and cheese. For every sandwich purchased, the shop donates a meal to San Francisco-Marin Food Bank.
4 Plant-based bacon is booming
In 2018, Brett Christoffel founded All Y'alls Foods in Dallas to give Texas a break from beef. The company's flagship product is plant-based jerky (called "It's Jerky Y'all") which it makes from non-GMO soybeans in Black Pepper & Sea Salt, Prickly Pear Teriyaki, and Prickly Pear Chipotle flavors. The brand also makes Bacony Bits Y'all (vegan bacon bits) which recently became the best-selling meatless bacon product on Amazon. Overall, sales of All Y'alls vegan products have doubled in the last six months and Christoffel says there is no slowing down in sight.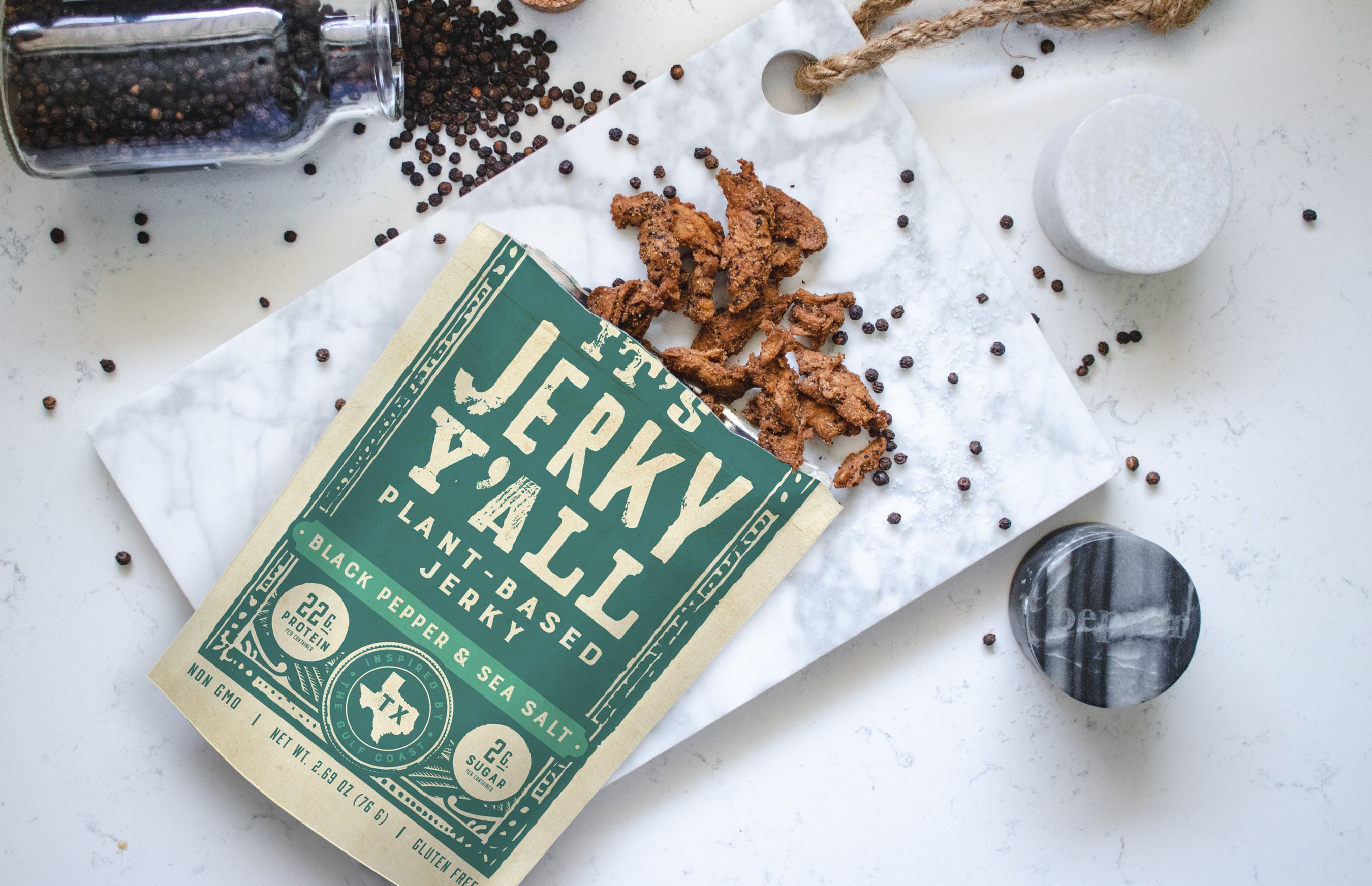 All Y'alls Foods
"As the second-largest export in the state, Texas is a proud beef producer, so we knew that it would take some time to establish ourselves as a flavorful, nutritious alternative," Christoffel said in a statement. "And we're happy to say that we're gaining ground quickly. Our sales continue to climb through both direct web marketing and our partner retailers like H-E-B Grocery Company, LP, which reported a 104-percent year-over-year gain. I stopped eating animals six years ago and enjoy knowing we are contributing to healthier plant-based protein choices."
An added bonus of this truly guilt-free bacon and jerky is that a portion of sales goes to benefit local nonprofit Rowdy Girl Sanctuary.
5 Meatless filet mignon is here
With the advent of Impossible and Beyond Burgers—and all of the others that have come to market since—it's safe to say that plant-based ground beef has been perfected. Though when it comes to whole cuts of plant-based steak, the space for innovation is wide open and Slovenian startup Juicy Marbles is taking on the challenge head on.
Founded in 2020 by food technologist Tilen Travnik, microbiologist Luka Sincek, and biotechnologist Maj Hrovat, Juicy Marbles creates vegan filet mignon by layering soy protein into linear fibers with the Meat-o-matic Reverse Grinder TM 9000, its patent-pending technology that it uses to reverse-engineer animal meat and improve upon it in terms of flavor longevity, juiciness retention, crust development, and nutrition profile. The founders were inspired to create whole cuts of plant-based meat to give meat-lovers a sustainable option to environmentally destructive beef.
Juicy Marbles
And you'll soon be able to have yourself an eco-friendly plant-based steak dinner. This week, Juicy Marbles launched a limited batch of 1,000 vegan filet mignon steaks on its European webshop—marking the first time that its unique product has been available to the public en masse. Juicy Marbles is also working to release its plant-based steaks in the US with a similar webshop drop before expanding to supermarkets and specialty grocers later this year.
By making steaks out of plants, Juicy Marbles is already helping the environment but to do even more, with every purchase of a steak pack (which are currently priced at 45€ [about $51] per 4-steak pack), the company will plant a tree with its partner Ecosia, the search engine that plants trees.
For the latest vegan news, read:
Vegan Cheese Arrives at Black-owned Burger Chain Fuddruckers
Vega Founder's New Cell-Based Scramble Is More Nutritious Than Chicken Eggs
Vegan Lunchables? Kraft Heinz Is Reemerging Its Iconic Products