Dairy-free cheese is now on the menu at select locations of Fuddruckers, the only Black-owned burger franchise in the country with more than 90 locations nationwide. The new dairy-free cheese—available in American, Smoked Provolone, and Pepper Jack flavors—is made by Washington-based vegan company GOOD PLANeT Foods and can be ordered atop burgers, sandwiches, or salads. While the Fuddruckers menu is fully customizable, the vegan cheese is also featured as part of a prepared grilled cheese sandwich. The chain also offers vegan-friendly buns.
"We're excited to partner with Fuddruckers to help bring the joy of cheese to customers who are flexitarian, vegan, plant-based, or are just looking for options that are better for you, as well as PLANeT Friendly," Bart Adlam, GOOD PLANeT Foods' co-CEO, said in a statement. "Customers will get to experience the taste, creaminess, and melt of our delicious plant-based cheese in a new setting, giving them an opportunity to enjoy their favorite menu items with a dairy-free twist."
The new vegan cheese will be available for a limited time at select Fuddruckers locations in Texas, Arizona, Kansas, Missouri, and Virginia.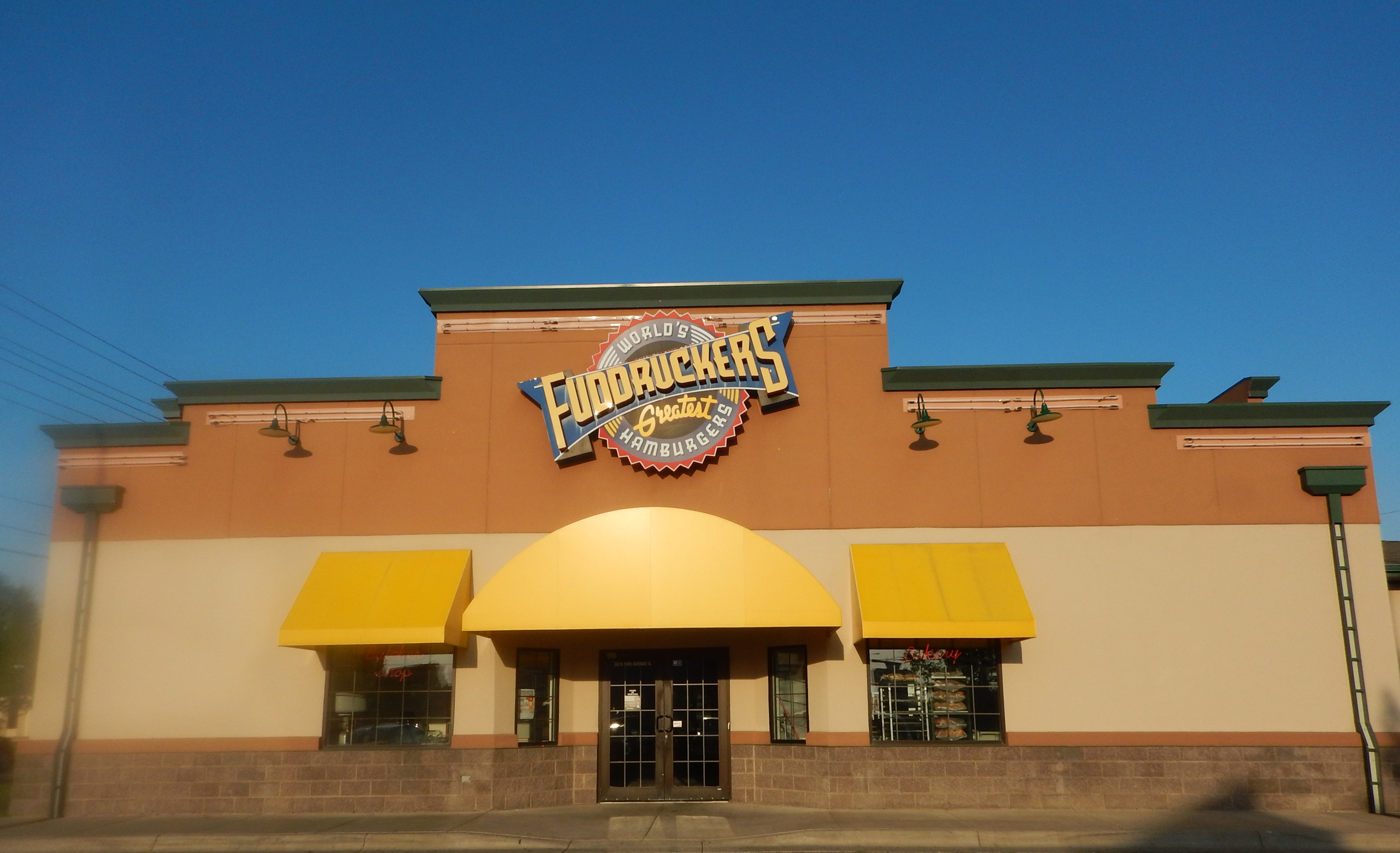 Blake Handley/Flickr
Fuddruckers: America's first Black-owned burger franchise
In 2021, Nicholas Perkins—through his Black Titan Franchise Systems LLC—purchased the Fuddruckers franchise from Luby's for approximately $18.5 million. While Perkins and affiliates held 13 Fuddruckers franchises prior to the sale, his control of the entire brand made Fuddruckers the first wholly Black-owned chain of its kind in the country.
The menu at Fuddruckers is heavy on animal products, but Perkings is looking to expand the offerings to include more plant-based options. In addition to GOOD PLANeT's vegan cheese, Fuddruckers is updating its menu with vegan meat items from Beyond Meat (burgers, chicken tenders, and sausages in two flavors); Meatless Farm's plant-based chicken cutlets; and vegan bacon by Hooray Foods.
Expanding its plant-based options, particularly by adding dairy-free cheese, is also an inclusionary move since a disproportionate number of Americans who are lactose intolerant are people of color.
"Fuddruckers has existing and potential customers who swear by plant-based fare," Perkins said in a statement. "Working with a first-rate supplier like GOOD PLANeT Foods enables Fuddruckers to cater to cheese lovers who are seeking healthier options, watching their dairy intake, or who simply can't tolerate dairy."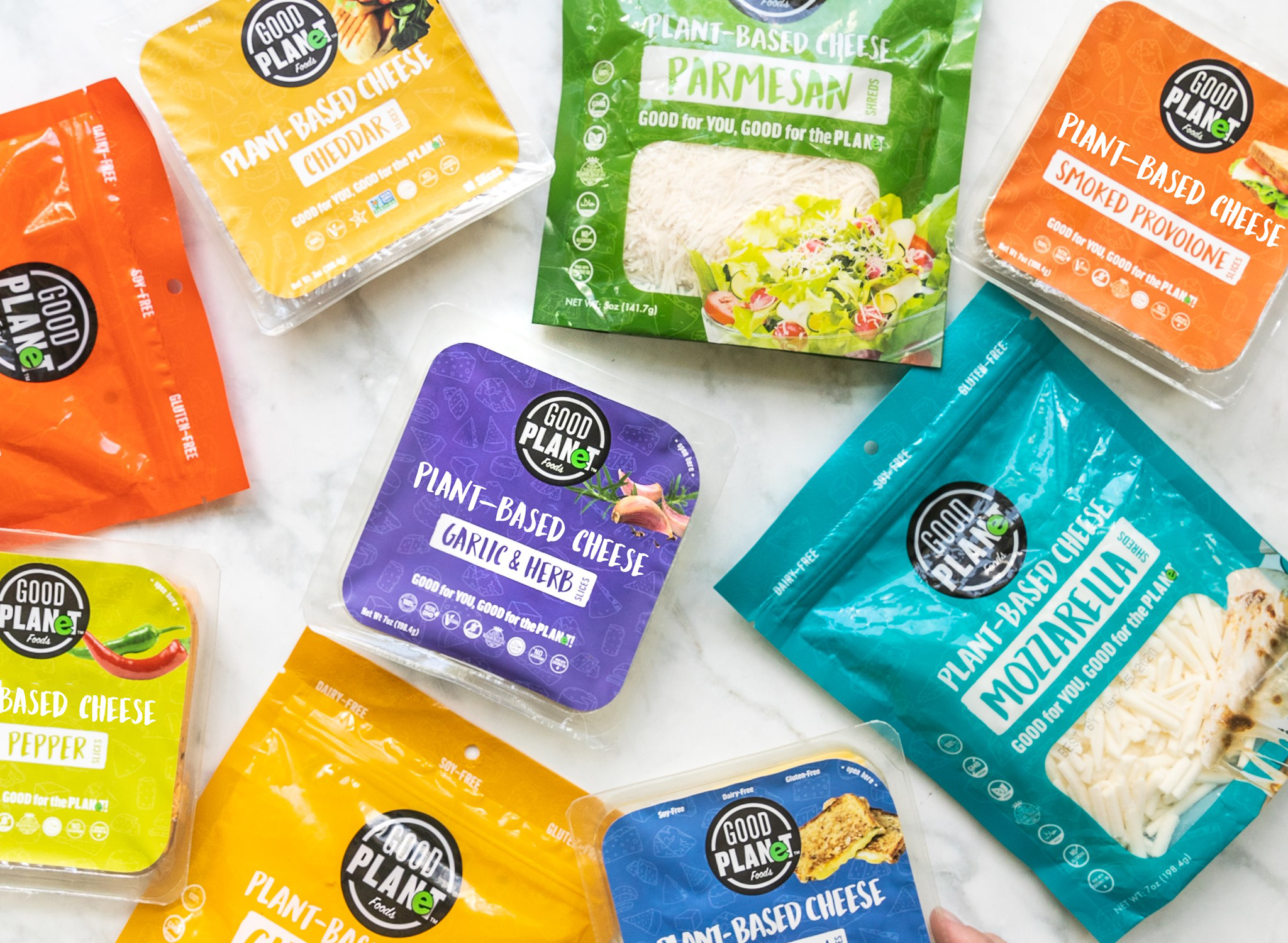 GOOD PLANeT Foods
GOOD PLANeT's vegan cheese
GOOD PLANeT was founded with the principle of creating dairy-free cheeses that are good for people and the planet. The company secured $12 million in venture capital in 2020 and has since expanded in a variety of ways. That year, its vegan cheeses were tested at select locations of White Castle—one of the first chains in the country to offer the plant-based Impossible Burger. Outside of its food service partnerships, GOOD PLANeT is also innovating in the retail space and launched a plant-based frozen pizza in 2020 topped with its vegan cheese and Beyond Meat's meatless sausage.
The company's core portfolio consists of a variety of coconut oil-based vegan cheeses in shreds (Mozzarella, Smoked Mozzarella, Paremsan, and Cheddar); and slices (American, Garlic & Herb, Smoked Provolone, Cheddar, and Hot Pepper). Last year, GOOD PLANeT launched innovative vegan cheese wedges—which closely resemble Laughing Cow wedges—in Original, Pepper Jack, and Smoked Gouda flavors. This launch beat Bel Brands to the punch, as the French cheese company is planning a launch of its own dairy-free Laughing Cow wedges in 2023.
For more about vegan cheese, read:
This Cheese Master Makes Vegan Brie That's Just Like the Real Thing
Dairy Brand Boursin Launches Vegan Cheese Spread
General Mills' First Vegan Cheese Is Made With Animal-free Whey