Los Angeles-based snack brand PeaTos is ditching animal products to transition to a fully plant-based product line in response to consumer demand and to disrupt the $29 billion dollar salty snack industry. Prior to its transition, PeaTos was known for its Fiery Hot Crunchy Curls—the brand's only plant-based item which consumers have compared to Frito-Lay's Flamin' Hot Cheetos.
As part of its transition, PeaTos will launch one new product alongside two reformulated iterations of its original, fan-favorite snacks. The brand's new Crunchy Pizza Rings join the newly dairy-free and vegan Classic Onion Rings on grocery store shelves this month. PeaTos' Classic Cheese Curls, originally made with dairy cheddar cheese, are also getting a plant-based reformulation, officially making it the first vegan yellow cheese snack curl on the market.
The newly vegan snacks will be available at more than 4,700 retailers including Sprouts, Vons, and Kroger locations nationwide, and online via PeaTos, Sam's Club, and Amazon later this month.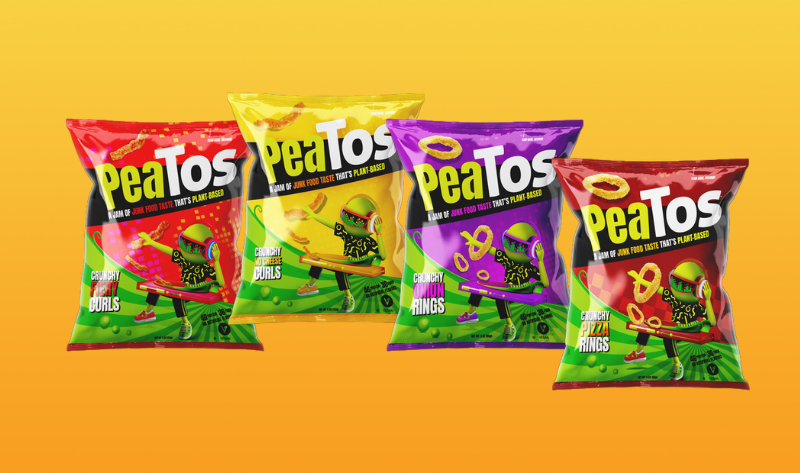 PeaTos
PeaTos vegan snacks take on Frito-Lay
Armed with its Fiery Hot Crunchy Curls, Classic Onion Rings, Crunchy Pizza Rings, and Classic Cheese Curls, PeaTos aims to take on an industry titan: Frito-Lay, makers of popular snack brands Lay's, Doritos, Cheetos, Fritos, and more. Already, PeaTos' mission to challenge Frito-Lay's hold over the snacking industry seems to be working, as fans of the Fiery Hot Crunchy Curls have affectionately dubbed the snack "vegan Hot Cheetos."
"Flamin' Hot Cheetos are one of the most successful brands in the history of snacking," PeaTos Founder and CEO Nick Desai told VegNews. "When vegans discovered our PeaTos Fiery Hot Crunchy Curls had all the taste and sensory experience of Hot Cheetos without dairy or artificial [ingredients], they went nuts. We had such a strong and passionate response from the vegan community—they begged us to make our other items vegan."
To further challenge Frito-Lay's snack monopoly—and to provide consumers with healthier snacks—PeaTos plans to launch additional Frito-Lay analogs in the near future. "There is a staggering difference between Frito-Lay's brands and the rest of the market," Desai said. "Our dream is to mount a true challenge to that monopoly and to develop a line of products that can become lasting household names but still deliver on the promise of better ingredients and more nutrition."
"We didn't set out to create healthy snacks, we set out to create better junk food. Cheetos were invented in the 1940s and haven't changed much since then."
—Nick Desai, PeaTos Founder and CEO
Healthier junk food
The newly vegan company aims to retain the "junk food taste" of salty snacks while offering "better-for-you nutrition," and is doing so by swapping out corn for nutrient-dense peas and excluding artificial ingredients and additives from their formulations. When compared to standard snack offerings on the market today, PeaTos' snacks offer twice the protein and three times the fiber as well as less sodium, fat, and calories per serving. With proprietary technology that replicates the taste of dairy using plant-based ingredients, PeaTos is well on its way to dent the Frito-Lay monopoly.
PeaTos
"We didn't set out to create healthy snacks, we set out to create better junk food," Desai said. "Cheetos were invented in the 1940s and haven't changed much since then. Technology has been through a revolution. Does anyone use phones first created in the 1940s? Cars? We wanted to use today's technology to recreate America's favorite snacks with today's moms and today's kids in mind."
And it's not just what's in the bag that's getting a makeover. The vegan snack brand also revealed its new mascot: DJ_P, a "sassy" female DJ who will appear on PeaTos product packaging and take on Frito-Lay's Chester Cheetah when PeaTos' vegan snacks hit stores late March.
For more about vegan snacks, read:
The Best Vegan Snacks at Trader Joe's
25 Accidentally Vegan Snacks
The 11 Best Sustainable Vegan Snacks