Plant-based company Impossible Foods and Kroger Co.—the largest supermarket chain in the United States—are working on a new partnership, Stuart W. Aitken, Chief Merchandising and Marketing Officer for Kroger, shared during an investor event last week. While details of the partnership are scarce, it involves Impossible Foods working with Home Chef (a meal kit company Kroger acquired in 2018 that is also stocked in-store) and Custom Made Meals (a Denver, CO-based manufacturer of entrées and appetizers for the retail sector).
"We are incredibly proud of our Home Chef brand, which became a $1 billion brand in 2021," Aitken said during the investor event. "And we'll continue to expand this brand across our family of companies. Our assortment is connecting with the customer through ready-to-eat meals, rotating seasonal programs, new appetizers as well as our first plant-based protein, in partnership with Custom Made Meals and Impossible [Foods]."
A representative for Impossible Foods told VegNews that the company currently did not have anything further to share about this Kroger partnership.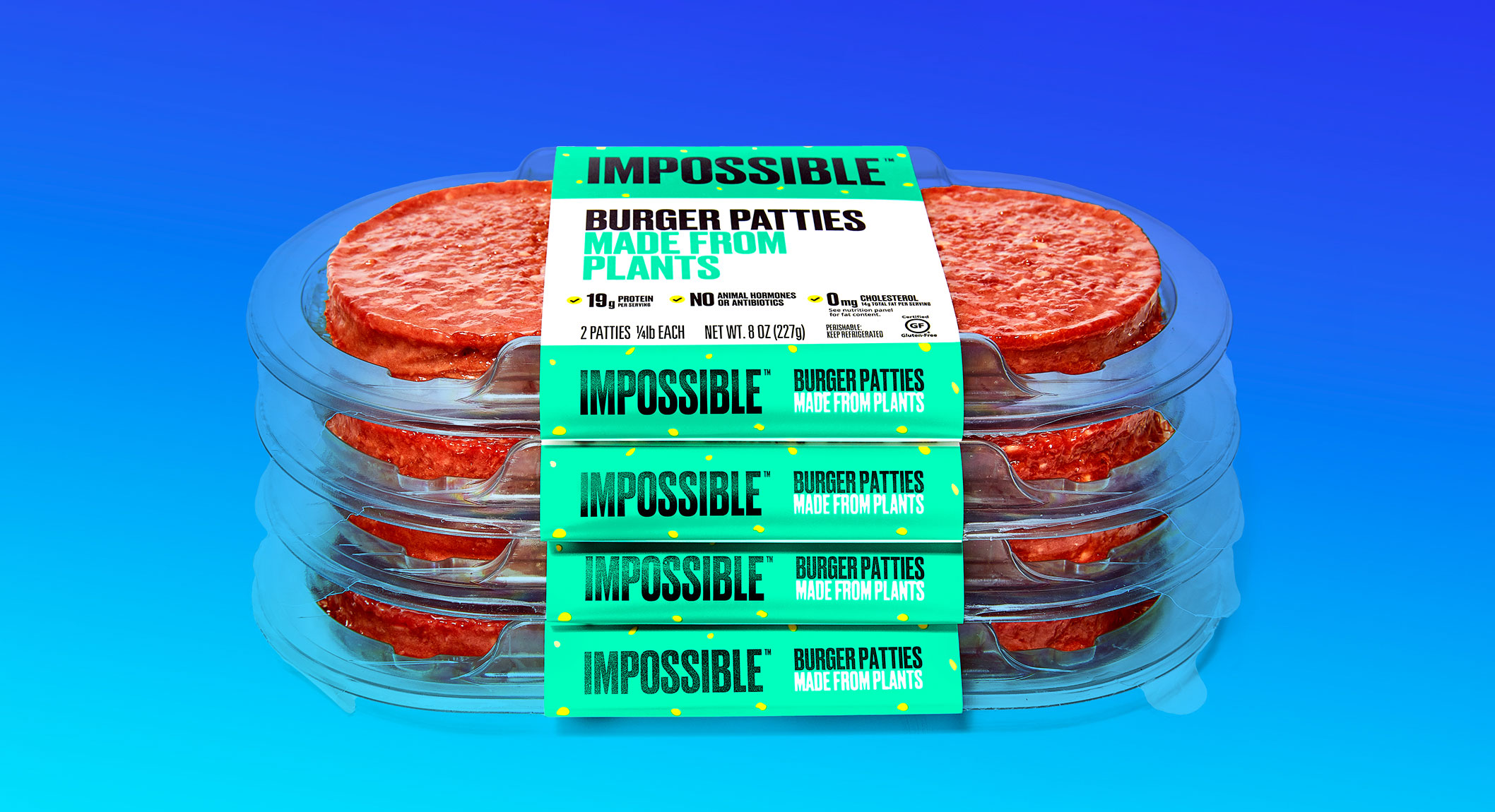 Impossible Foods
Kroger's plant-based product journey
Kroger has been exploring the lucrative plant-based space in recent years. In 2019, Kroger announced Simple Truth Plant Based—an extension to its private-label brand Simple Truth—which it launched with 20 products such as vegan deli slices, dairy-free dips and spreads, and its own plant-based burger patties and grounds. In 2020, Kroger expanded this line with 50 additional products such as vegan chicken patties, almond milk-based yogurts, dairy-free cheeses, and oat milk-based ice creams.
To further explore this space, from December 2019 to February 2020, Kroger was involved in a test about product placement that involved a three-foot vegan meat display case placed inside of the meat department at 60 Kroger test stores in Denver, and parts of Indiana and Illinois. Conducted in partnership with trade group Plant Based Foods Association, the test revealed that sales of plant-based meat increased by 23 percent when those products were placed in the animal meat department. "This test provides one more proof point that plant-based meats have moved from niche to mainstream," Sean Brislin, merchandising director at Kroger, said in a statement at the time.
Shortly after the test, Kroger began stocking Impossible Burgers in the meat section of more than 2,000 of its stores. Currently, its Simple Truth Plant Based brand no longer includes meatless grounds and burgers. VegNews has reached out to Kroger to inquire about which other products might emerge from its new venture with Impossible Foods.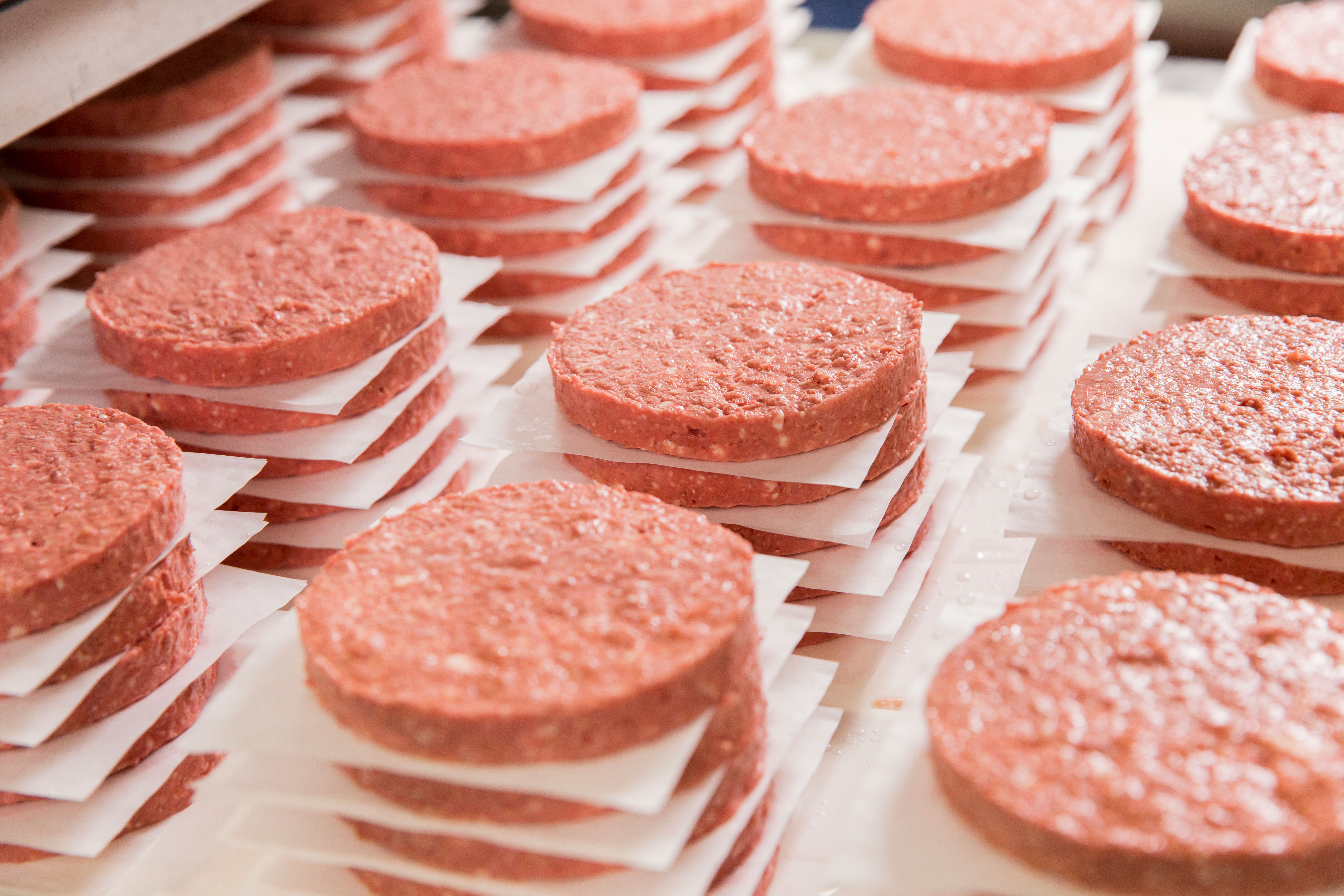 Impossible Foods
Beyond Meat, Impossible Foods, and the cost of meat
After Kroger's investor event, Robert Moskow—an analyst at Credit Suisse—wrote a note to his clients to comment on Impossible Foods' partnership with Kroger. "We view this test as a threat to Beyond Meat, because it demonstrates the willingness of a big competitor to 'margin down' into co-branded private label products in order to maximize the reach of its products," Moskow wrote. "The test is still in the early stages, but it looks like it will be similar to the co-branding strategy that Costco's Kirkland brand uses in the fresh meat case with big suppliers like Tyson."
However, Beyond Meat has been involved in a partnership since 2020 with Thrive Market, a brand that operates in a similar way to Home Chef. In 2021, Thrive Market expanded its Beyond Meat partnership and now offers a variety of co-branded products made with its plant-based meats, including lasagna, shepherd's pie, and enchiladas. Similar to how Kroger stores stock Impossible Foods' products, Thrive Market also offers Beyond Meat's products through its retail channel.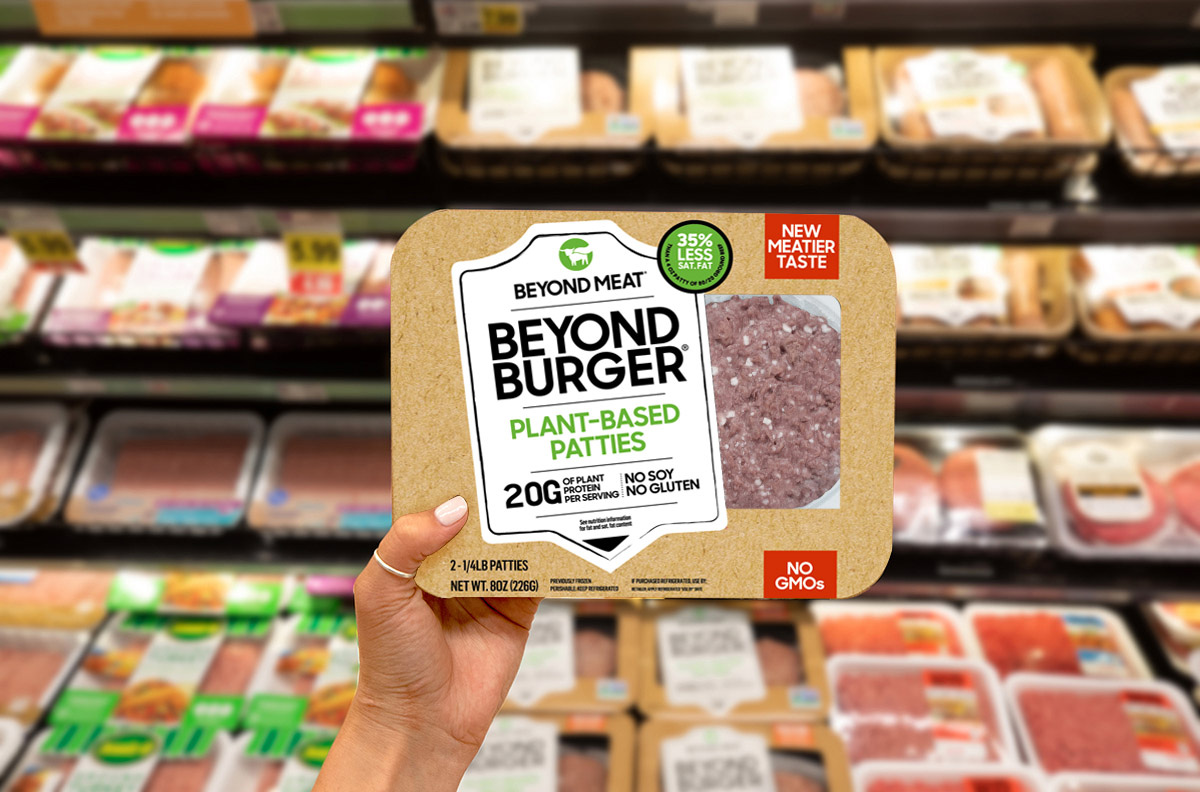 Beyond Meat
While Impossible Foods and Beyond Meat are indeed competitors, what the companies have in common is their unified goal to take on animal-based products. As such, both companies have pursued placement of their products wherever animal meat is sold, including through meal kit companies, retailers, foodservice providers across multiple categories, and more. While meat giants may reduce their margins to undercut each other, both Impossible Foods and Beyond Meat are working to reach price parity with animal-derived meat for the greater good of replacing the animal agriculture industry with a more sustainable way to make food.
To that end, Impossible Foods is working to replace all animal foods with plant-based alternatives by 2035 and has made its products more cost-competitive with beef with two price cuts, a 15-percent reduction in wholesale pricing in 2020 and a 20-percent cut in retail pricing in 2021. For its part, Beyond Meat has also cut prices to make its plant-based products more accessible to consumers, particularly during the onset of the COVID-19 pandemic when animal meat was hard to find. One example is its Cookout Classic, a bulk 10-pack of its Beyond Burgers—which puts the price of each patty at approximately $1.60 each—which Beyond Meat launched in 2020 at a majority of Target and Walmart, along with other retailers, nationwide.
For more about Impossible Foods, read:
Impossible Raises Nearly $2 Billion To Make Animal Foods Obsolete by 2035
Race To Replace Chicken: Impossible Foods Launches Vegan Chicken Nuggets
Impossible Foods' First TV Commercial Will Challenge Meat Like Never Before