Fast-casual chain TGI Fridays just launched a variety of plant-based dishes at its United Kingdom locations. The new options were developed in partnership with UK-based vegan meat brand Meatless Farm and focus on plant-based chicken, including a vegan version of its fan-favorite sesame chicken. Called "Meatless Fridays Sesame Strips," the vegan dish is made with Meatless Farm's plant-based chicken and tossed in the chain's Legendary Glaze.
"We want our iconic Fridays service, spirit of generosity, and delicious, freshly-prepared food, to be available to everyone which is why we're delighted to be launching our best-ever range of plant-based options," Robert B. Cook, CEO of TGI Fridays UK, said in a statement. "Whether you're a vegan, flexitarian, or simply open to trying something different, it means a huge amount to us to be able to offer the greatest choice possible and give as many people as we can that all-important Fridays Feeling."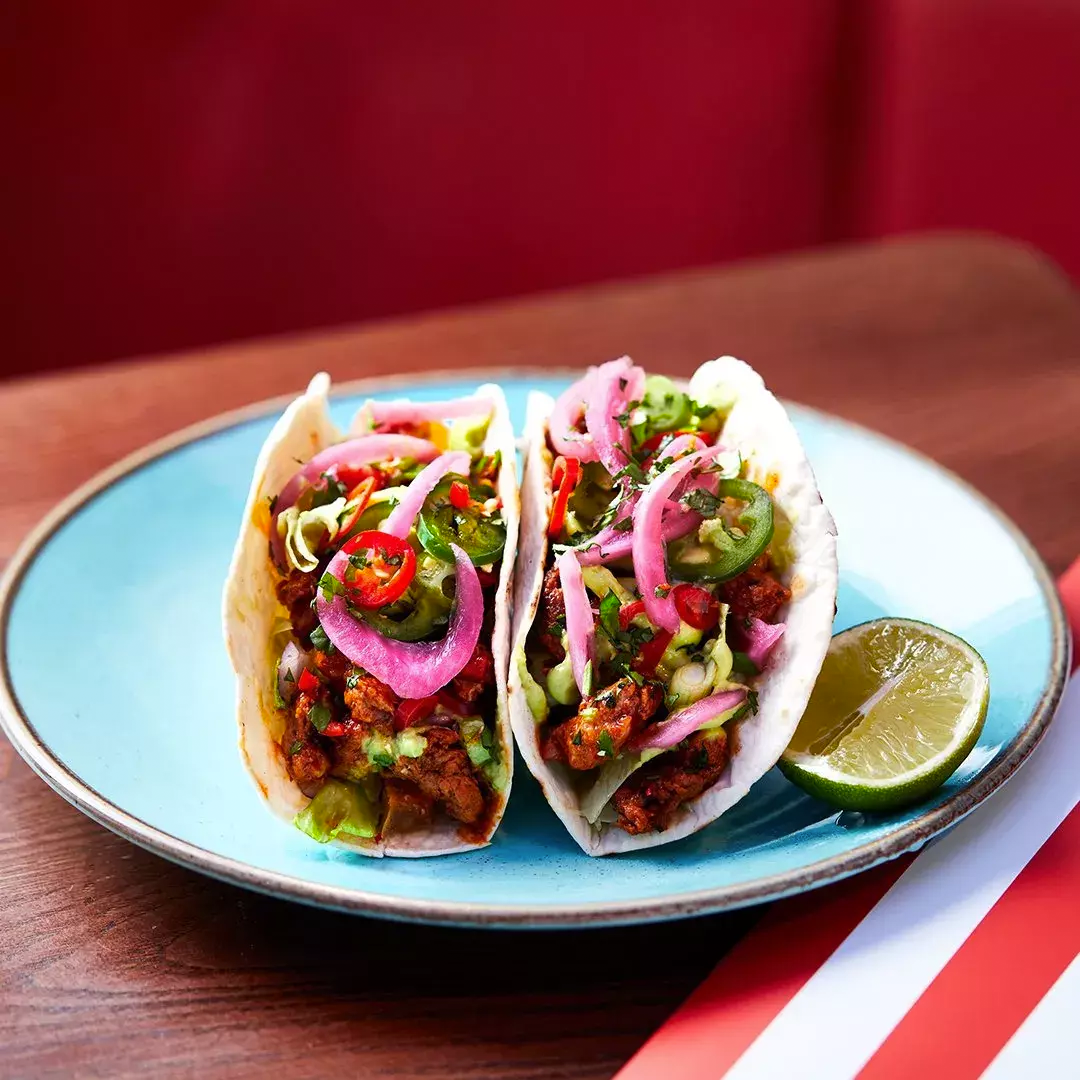 Meatless Farm
The new options also include Meatless Chicken Tacos; Meatless Chicken Fri-jitas (which are served sizzling); and Vegan Loaded Fries (which come topped with Meatless Farm's vegan bacon and garlic aioli). "We're thrilled to be offering these new dishes in partnership with Meatless Farm, who share our passion for exciting food that doesn't compromise on taste and quality," Cook said.
Other vegan-friendly options at TGI Fridays UK include To Vegan and Beyond Burger, Mushroom Quesadillas, House Fries, and the Chocolate Chip Lava Cookie.
TGI Fridays puts plant-based meat on the menu
Stateside, TGI Fridays was an early adopter of plant-based meat and added the Beyond Burger to its menu at 465 locations nationwide in 2018 after a short test launch in the Boston area. That year, the chain joined the Meatless Mondays campaign to promote its plant-based option. In 2020, TGI Fridays expanded its Beyond Meat-based offerings with the addition of a meatless chili made with Beyond Beef—which it introduced as part of multiple menu items.
"We're about making everyone feel welcome here and that means having more than one or two plant-based meat options on our menu for people, whether they're plant-based eaters or meat eaters," Sara Bittorf, TGI Fridays Chief Experience Officer, said in a statement at the time. "Plus, Beyond Beef tastes amazing, so this is something you're definitely going to want to try."
Across the pond, TGI Fridays became inundated with requests for a vegan burger after launching the Beyond Burger in the US and it added a similar option to its UK menu in 2019. Its collaboration with Meatless Farm in the UK represents a major menu update for TGI Fridays that brings the chain into the plant-based chicken category—which its competitors are starting to explore, as well.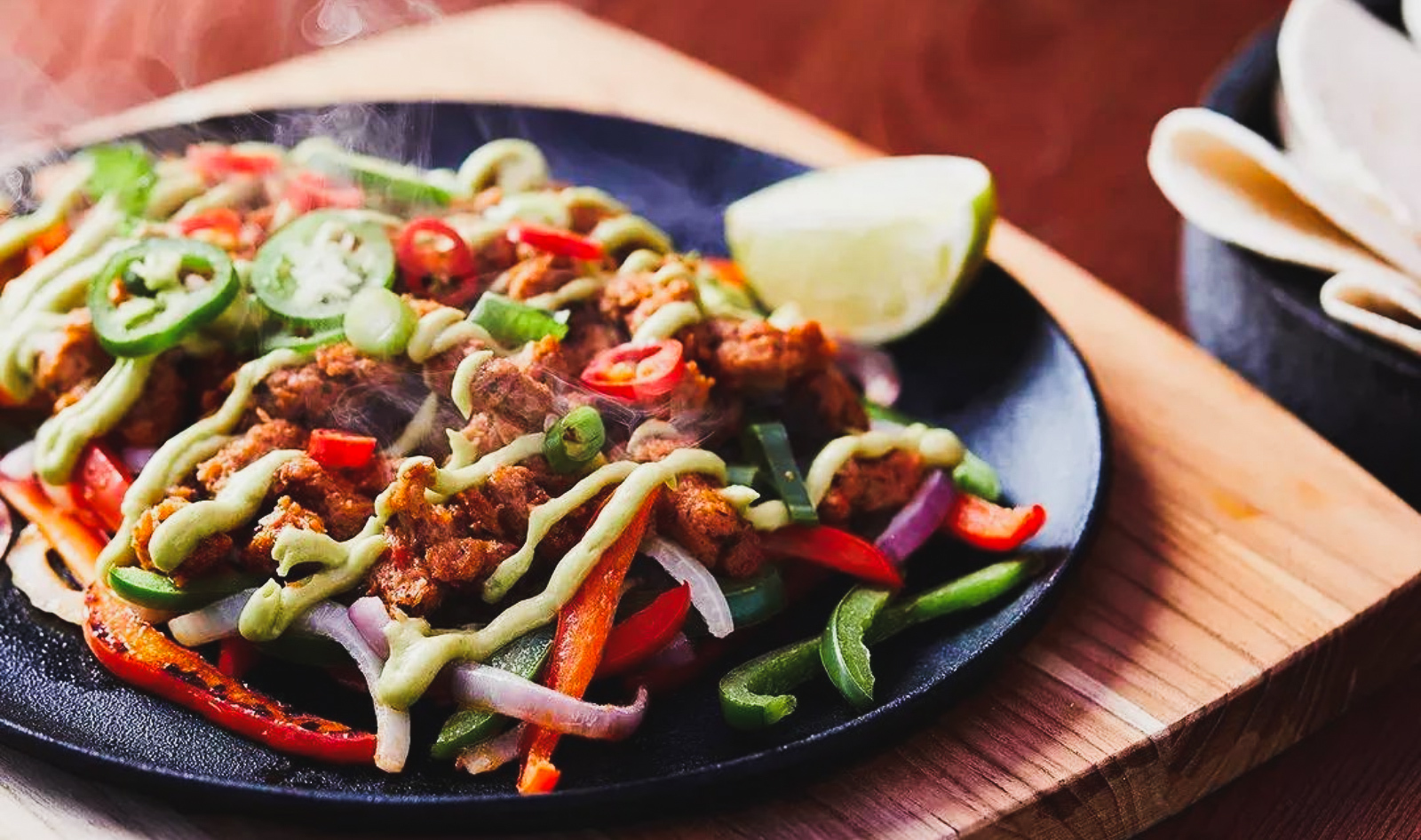 Meatless Farm
"A partnership with an iconic restaurant brand such as Fridays deserves iconic dishes at a time when more people than ever before are looking for simple plant-based swaps," Meatless Farm Founder Morten Toft Bech said in a statement. "We're excited to offer meatless versions of Fridays' signature classic dishes and to make it more accessible for people nationwide to make tasty plant-based swaps—the legendary chicken sesame strips with our meatless twist is not to be missed."
VegNews has reached out to TGI Fridays to inquire whether its Meatless Farm collaboration will result in new menu items outside of the UK.
For more about vegan chicken at fast-casual chains, read:
Noodles & Company Launches Impossible Orange Chicken
Here Are All the Restaurants in America Serving Impossible Foods' Vegan Nuggets
Panda Express Launches Its First Vegan Orange Chicken With Beyond Meat