Plant-based chicken made by Impossible Foods just landed on the menu at select locations of fast-casual chain Noodles & Company in Colorado, Oregon, and Washington. The chain's first plant-based protein option, Impossible Panko Chicken is available as an addition to any dish. Noodles & Company is also featuring the new meatless chicken—which is crusted with panko crumbs—the Impossible Orange Chicken Lo Mein, a vegan take on a popular dish already on its menu.
The chain's addition of Impossible Foods' plant-based chicken aligns with its desire to add innovative products to its menu which have in the past included vegetable-centric noodles and "LEANguini" (linguini pasta it developed with a lower carbohydrate content). The move is also motivated by Noodle & Company's desire to lower its carbon footprint by introducing a more eco-friendly option to animal meat.
"Our guests took so well to Zoodles, Caulifloodles, and our upcoming LEANguini launch, that adding a delicious plant-based protein option to our menu was the clear next move to explore," Nick Graff, Executive Chef and Vice President of Culinary at Noodles & Company, said in a statement. "When selecting a partner to test our first-ever plant-based protein, Impossible Foods was an easy choice. Like Noodles [& Company], Impossible believes that the future starts with your plate and we're moving forward [to bring about] change one meal at a time."
All dishes at Noodles & Company are covered by what it calls the "Goodness Guarantee" which means guests can exchange a dish for a different one without hassle if they are unsatisfied. The chain is extending its Goodness Guarantee to all items featuring Impossible Panko Chicken to encourage guests to try plant-based chicken without worry.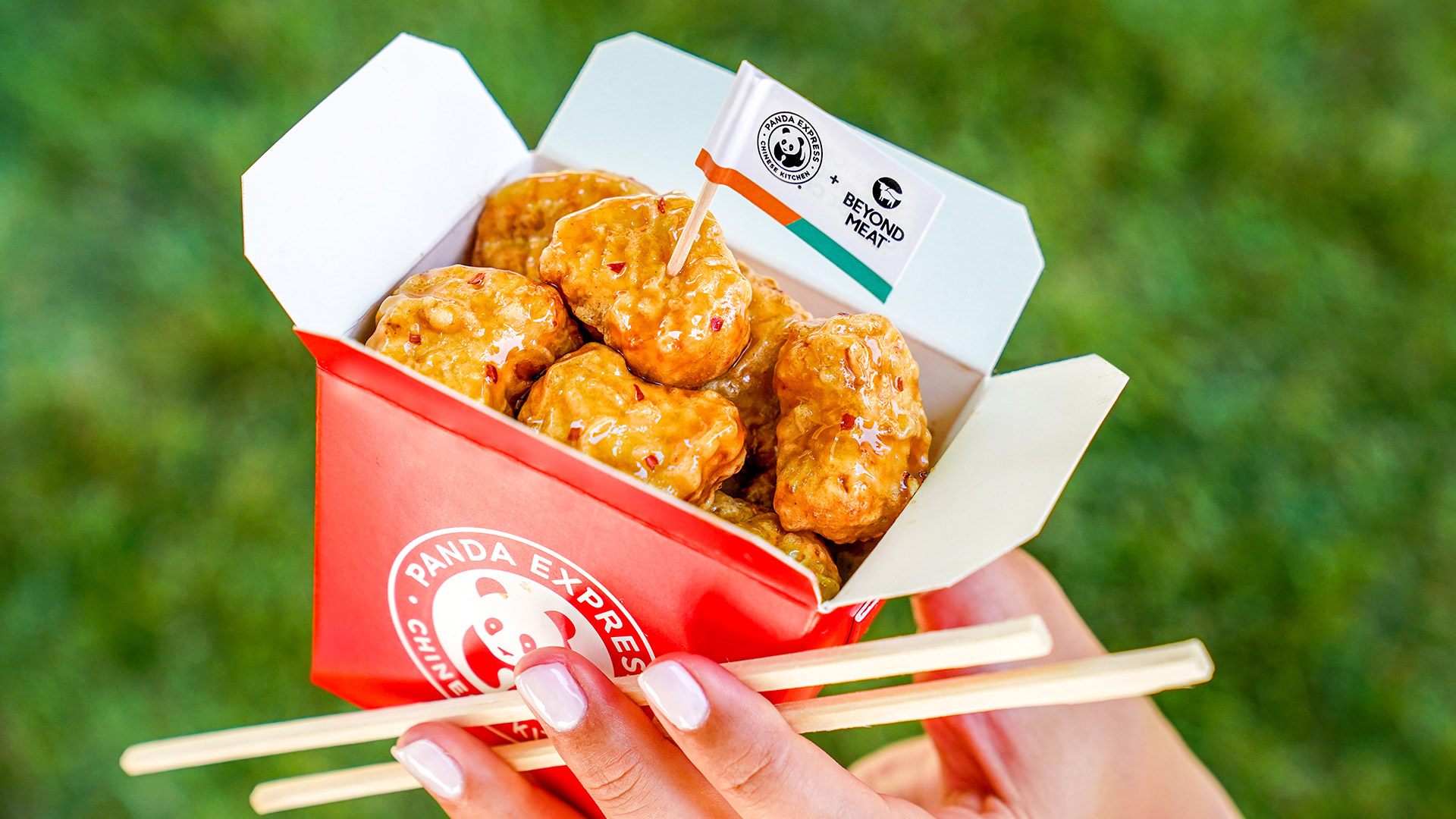 Beyond Meat
Vegan orange chicken at Panda Express
The new menu item at Noodles & Company comes after a highly anticipated test launch of vegan orange chicken at Panda Express last year. Both Impossible Foods and its closest competitor Beyond Meat widely launched plant-based chicken in 2021 and for Beyond's part, the brand partnered with several chains to develop vegan versions of its popular chicken dishes.
At Panda Express, Beyond Meat helped create a vegan version of its famed Orange Chicken—an item that has been on Panda's menu since 1987 and makes up one third of its business. The Beyond the Original Orange Chicken (BTOOC) features all the tangy flavors of Panda's fan-favorite dish but without any animal products.
Panda first tested BTOOC at a handful of locations in Southern California and New York City in July 2021. After selling 1,300 pounds of the vegan chicken in one day, Panda Express expanded BTOOC to an additional 70 test locations across 10 states in October.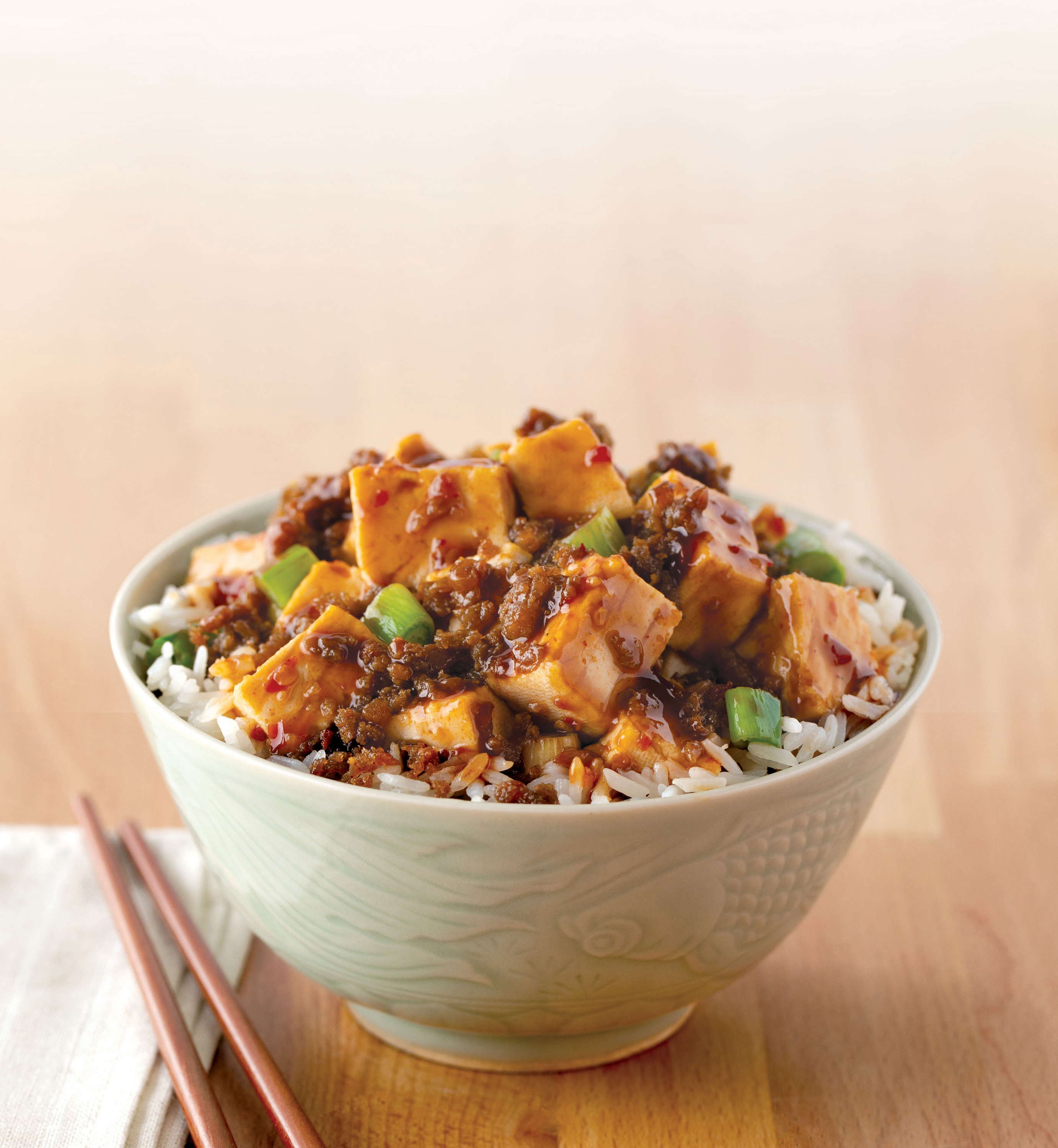 Panda Express
Earlier this year, Panda Express explored its partnership with Beyond Meat further by developing two dishes: Mapo Tofu with Beyond Beef and String Beans with Beyond Beef. Both dishes were available for one month at the chain's Innovation Kitchen in Pasadena, CA.
"Our most recent expansion of Beyond the Original Orange Chicken across 70 locations was only available for a limited time, so it is no longer available in stores. We did see a lot of success around this initial market test and are continuing to explore a potential wider rollout in the future," a Panda Express spokesperson told VegNews. "Our team is reviewing guest feedback and operational feasibility from the test launch of Mapo Tofu with Beyond Beef and String Beans with Beyond Beef dishes to determine if we will expand testing to additional locations."
For more about plant-based chicken, read:
Impossible Foods Just Launched Vegan Chicken Nuggets
Why the World's Largest Beef Company Is Launching Vegan Chicken
AMC Theaters Serve Impossible's Vegan Chicken Nuggets Across 37 States