Eat Just—the company that makes vegan egg replacer JUST Egg—is behind a new campaign aimed at the inaction of the United States Congress when it comes to climate change. During Earth Month (April), Eat Just is taking over Washington, DC with billboards, posters, and a food truck to call out climate-deniers with its new campaign. The messaging for the campaign includes statements such as "So delicious it'll make Ted Cruz begrudgingly combat climate change" and "These egg sandwiches are more effective against climate change than Congress. Sad."
Ahead of Earth Day next week, a JUST Egg truck will be roaming Washington, DC giving out cleverly named sandwiches, including the Ted Cruz Cancun Vacation. The sandwich features JUST Egg, vegan pepper jack cheese, chipotle aioli, and fresh spinach and is a reference to when Senator Cruz—who believes that climate change is not real, despite scientific evidence to the contrary—took off to Cancun as his home state of Texas was left in a state of emergency after a brutal winter storm last year.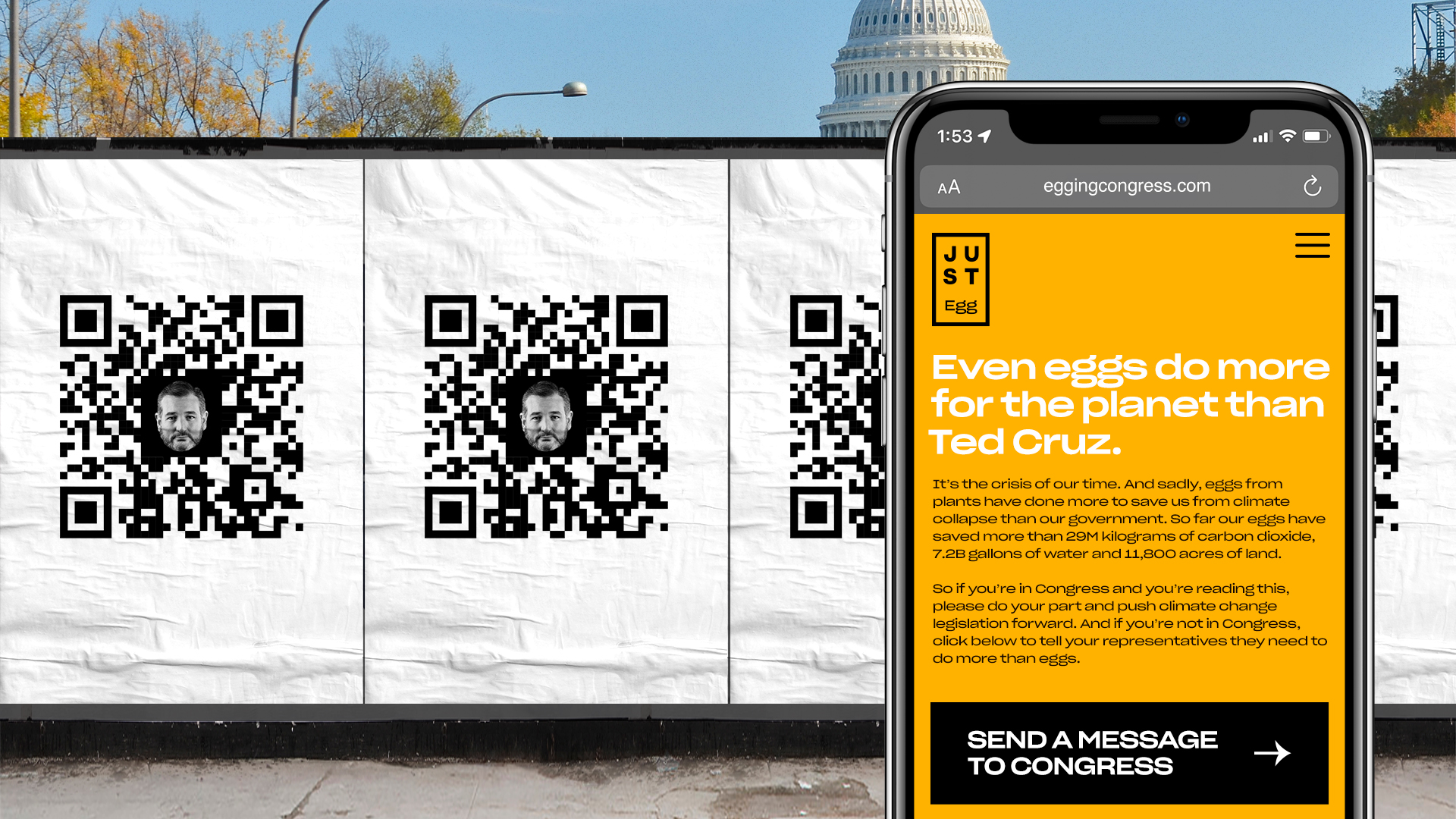 Eat Just
"Each of our sandwiches deliciously pokes fun of members of Congress (of both parties) who haven't taken the threat of climate change seriously enough," Tom Rossmeissl, Eat Just Head of Global Marketing, told VegNews. "And maybe Senator Cruz can finally do something good for the environment by having a delicious plant-based egg sandwich. "
Cruz is not the only climate-change denier Eat Just is calling out with its new campaign. Florida Senator Rick Scott—who very recently acknowledged that climate change is real—also has a namesake sandwich in Rick Scott's Special Interest Sammy which comes with JUST Egg, vegan American cheese, and tomato aioli. Lastly, the Inhofe's Hot and Cold Special—which features JUST Egg on freedom toast and served with a snow cone—is dedicated to Oklahoma Senator James Inhofe, who brought a snowball onto the Senate floor in 2014 to demonstrate how cold it was outside as an attempt to discredit climate change. Both the sandwich and the Senator have resigned from their respective posts.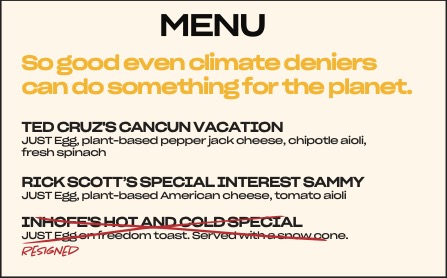 Eat Just
Eat Just is calling upon people to participate in the campaign through EggingCongress.com, which directs them to send messages to their representatives to push for more legislation to address the climate crisis.
Fighting the climate crisis with vegan eggs
The industrial egg industry is not only cruel to birds but is environmentally damaging and a breeding ground for zoonotic diseases such as bird flu. Luckily, plant-based alternatives to chicken eggs are on the rise. JUST Egg made its retail debut in 2019 and the company has thus far sold the vegan equivalent of 250 million chicken eggs. To date, Eat Just has also saved 43.6 million kilograms of CO2 emissions, 9.1 billion gallons of water, and 13,446 acres of land with its mung bean-based egg alternative. Whatsmore, mung beans are a ​​drought-resistant crop and can be used in regenerative agriculture.
Despite these major improvements, Eat Just acknowledges that just replacing chicken eggs with vegan eggs will not save the planet alone. As such, the company created this campaign to pressure Congress to put forth legislation that protects the planet from climate catastrophe.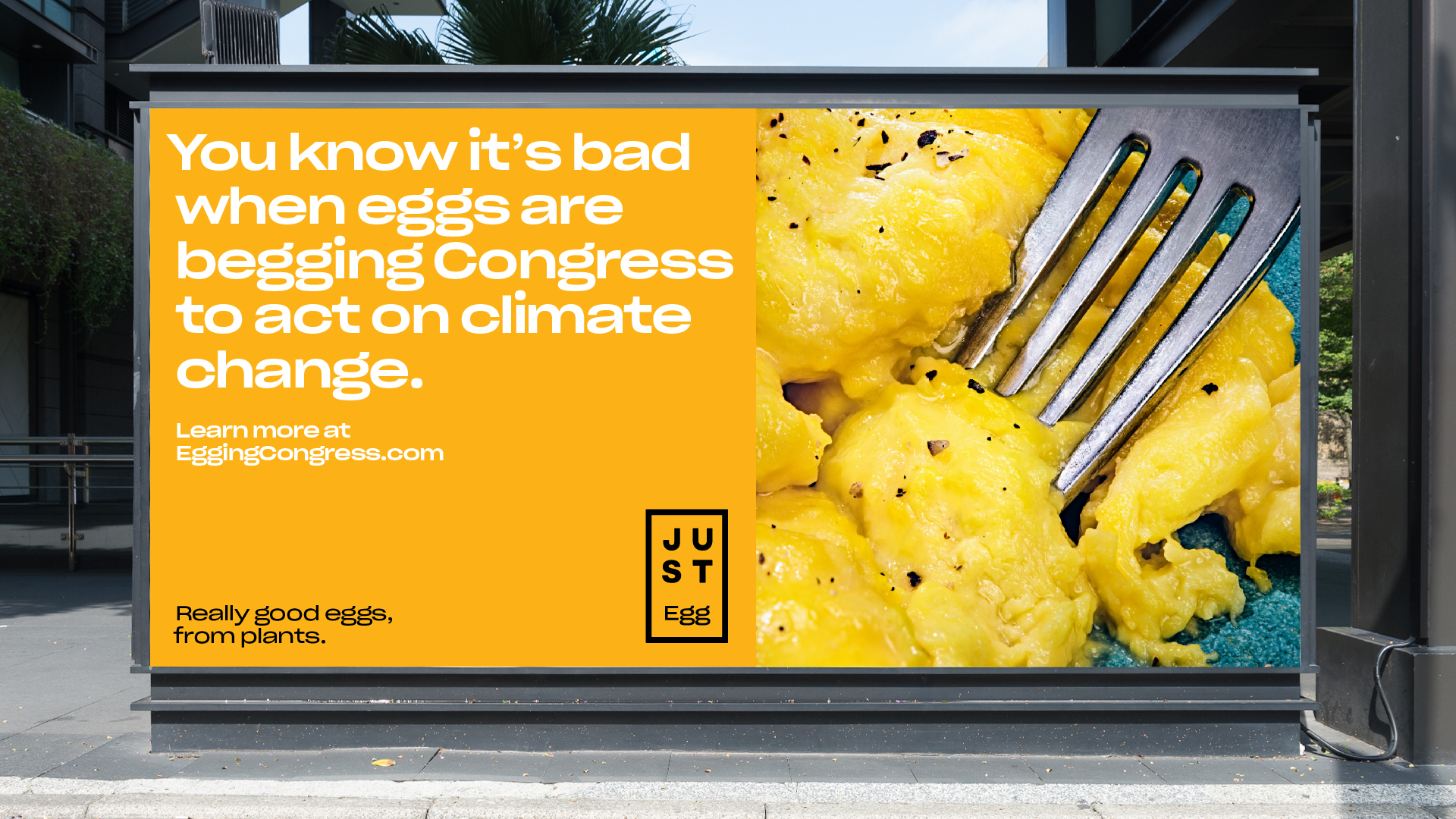 Eat Just
"We're proud of our impact, and we hope to raise awareness about the link between plant-based eating and sustainability," Rossmeissl said. "But we also know we need more than plant-based eggs to save the planet. And that's the point of this campaign."
Animal agriculture and the climate crisis
Eat Just's campaign comes on the heels of the newest Intergovernmental Panel on Climate Change (IPCC) report, which warns that humanity is running out of time in halting the worst of climate change. The report advises that methane emissions—the global majority of which come from animal agriculture—must be slashed by one-third by 2030 in order to save the planet. The report also urges governments around the world to focus on shifting consumption habits away from animal agriculture.
US President Joe Biden addressed methane reduction during the United Nations Climate Change Conference (COP26) last year when he committed to the Global Methane Pledge to slash methane emissions by 30 percent by 2030. However, Biden's commitment came with little discussion about the role of animal agriculture in methane emissions and focused more on plugging leaking pipelines. While the US drags its feet, some countries are tackling the destructive meat and dairy industries head on, including the Netherlands which is currently considering taxing meat at a higher level with the hope of driving meat consumption down and shifting Dutch diets more into a plant-based direction.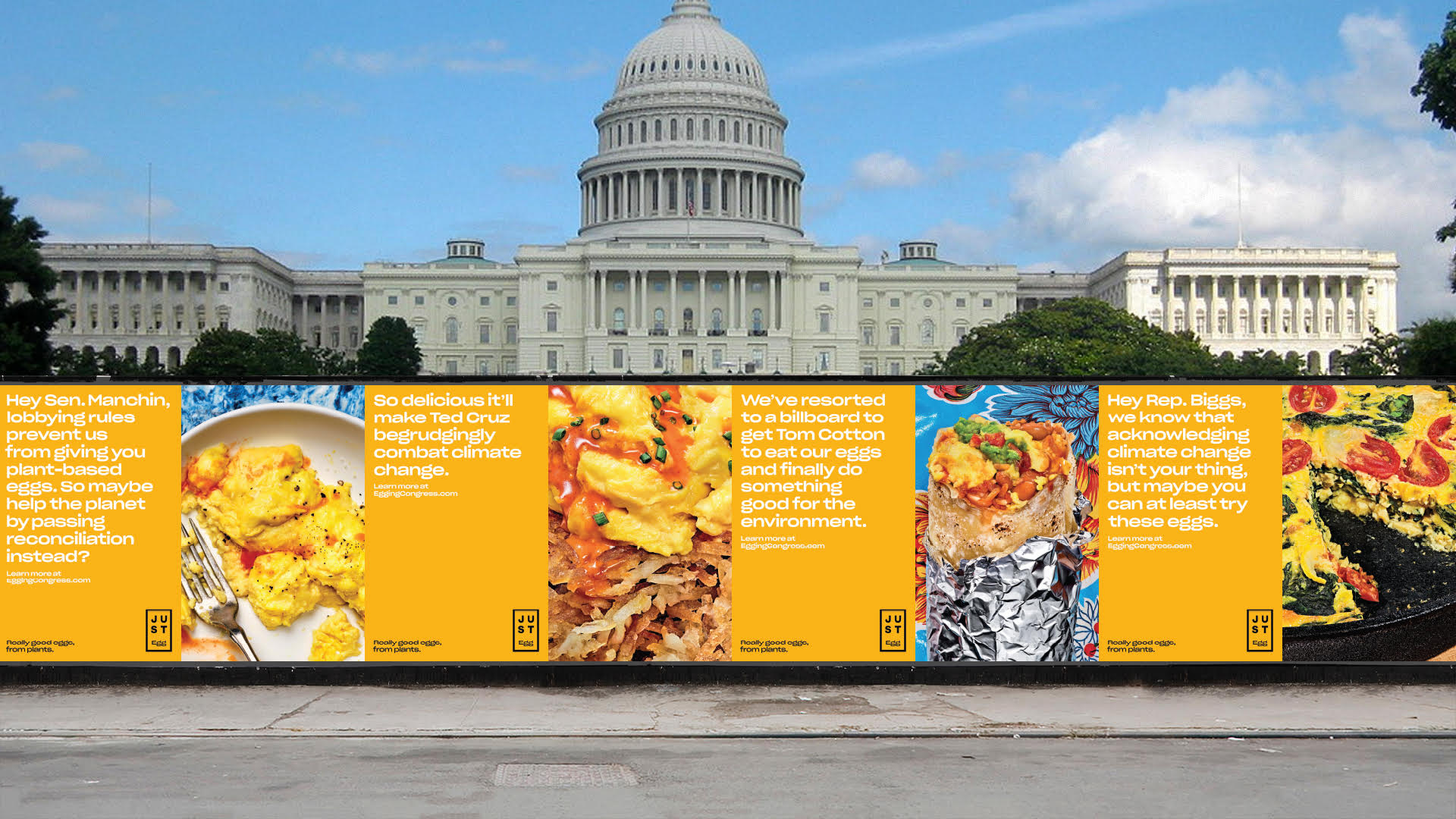 Eat Just
Eat Just hopes that its campaign prompts Congress to make necessary climate-saving legislative changes across various sectors, including food, forestry, energy, transportation, and factories. For its part, in addition to making much more environmentally friendly eggs from plants, Eat Just plans to decrease its ecological footprint by ditching plastic bottles within one year.
"The message of our campaign isn't 'we're awesome'; it's to point out the absurdity that, in this urgent moment, a plant-based egg company has done more to help our planet than Congress," Rossmeissl said. "We're calling out climate deniers. We're pushing Congress to prioritize bold climate legislation. And we're doing what we do best: serving some really good eggs."
For more about vegan eggs, read:
Eat Just's Vegan Eggs Are Now Finally Approved for Sale in Europe
This Vegan Egg Cooks, Tastes, and Cracks Like a Chicken Egg
German Startup Develops Vegan Egg From Fava Beans