This week, iconic chef Daniel Humm is bringing the fine-dining experience he creates at Eleven Madison Park (EMP) to New Yorkers in a new way through the launch of Eleven Madison Home (EMH). The meal kit delivery service captures the meticulously crafted dishes and flavors of the three Michelin-starred restaurant but presents them in a more casual, at-home setting. Each weekly delivery box—which retails for $150 per person ($285 for two) with local Manhattan shipping included—is packed with a full day's worth of plant-based meals, snacks, and desserts, along with pantry favorites curated by EMP chefs.
EMH was created with busy lifestyles in mind and breakfast, lunch, and snacks are ready to eat at home or on the go, while dinner and desserts take only minimal preparation such as heating. The EMH menu will change weekly and follow the restaurant's locally sourced standards.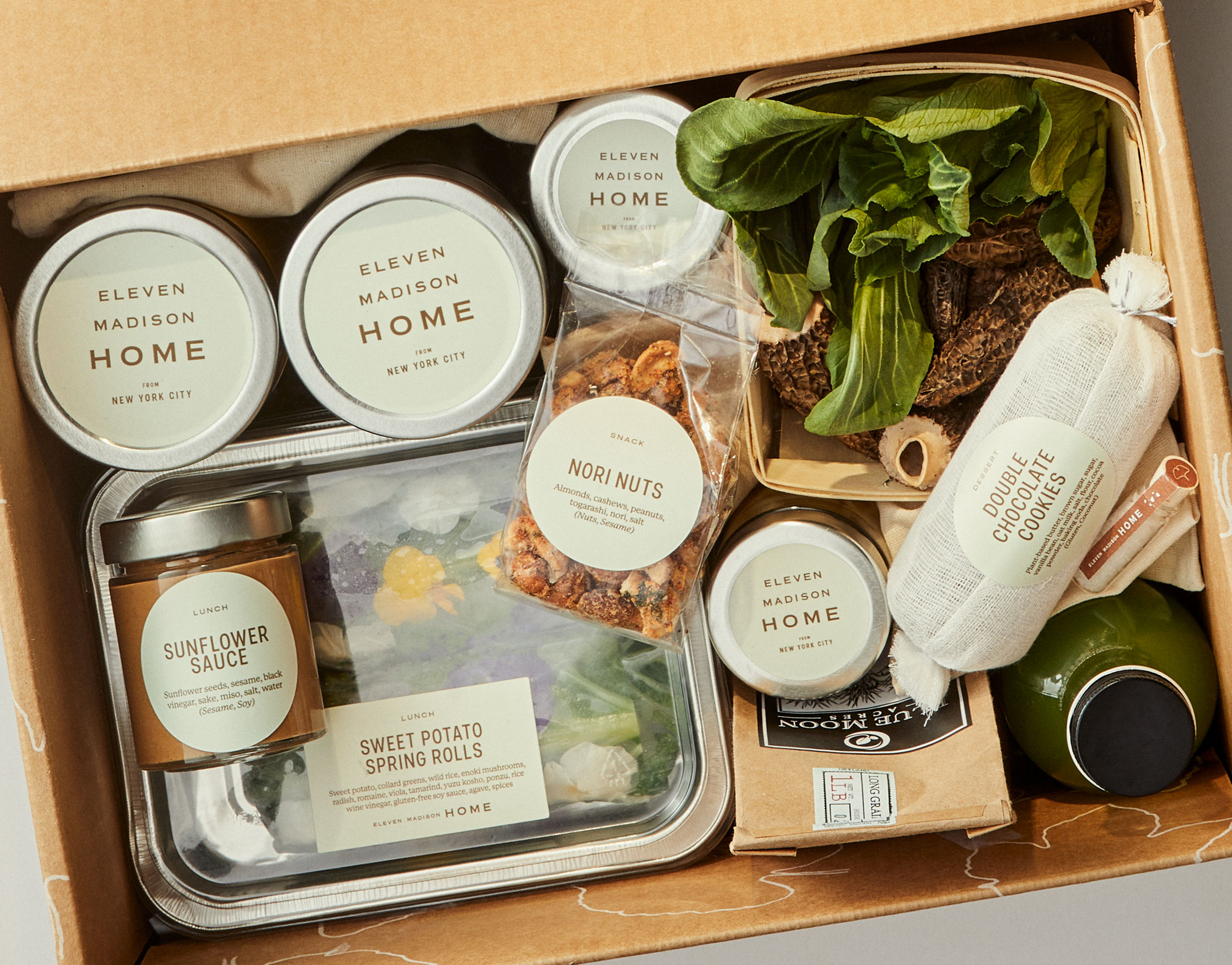 Eleven Madison Home
A sample menu could include breakfast such as Whole-Grain Oatmeal with Rhubarb Compote & Roasted Pecan Butter; a handheld lunch of Celery Root Salad Sandwich with Matbucha, Pea Greens & House-Made Focaccia; a soup course of Tortilla Soup with Hominy, Black Bean & Crispy Tortillas; and a hearty dinner of Israeli Couscous with Roasted Carrots & Mushroom Kebab with Snickerdoodle Cookies for dessert and Chickpea Crisps & Olive Tapenade as a snack.
Bringing Eleven Madison Park's vegan menu home
Swiss chef Daniel Humm has owned and operated EMP since 2011 and up until recently, the three Michelin-starred restaurant was popular for its creative—and animal product-heavy—dishes such as dry-aged duck. However, after EMP closed its doors during the pandemic, Humm reexamined the menu through a climate crisis perspective and decided to reopen the restaurant last year with a mostly plant-based menu.
Humm tells VegNews that he and the EMP team have found a lot of joy in exploring the "endless possibilities of cooking plant-based" and uncovering the wonders of the plant kingdom. "We are learning an entirely new language, one that's challenged us to be creative," he said. Now, instead of duck, chef Humm draws out the flavor of beets by aging them for 16 hours and serving them in clay jars tableside; blisters lima beans and serves them on a bed of delicate sorrel; and presents everything in an artful way that pays tribute to the local farmers who grow the ingredients that make EMP's plant-based meals so special.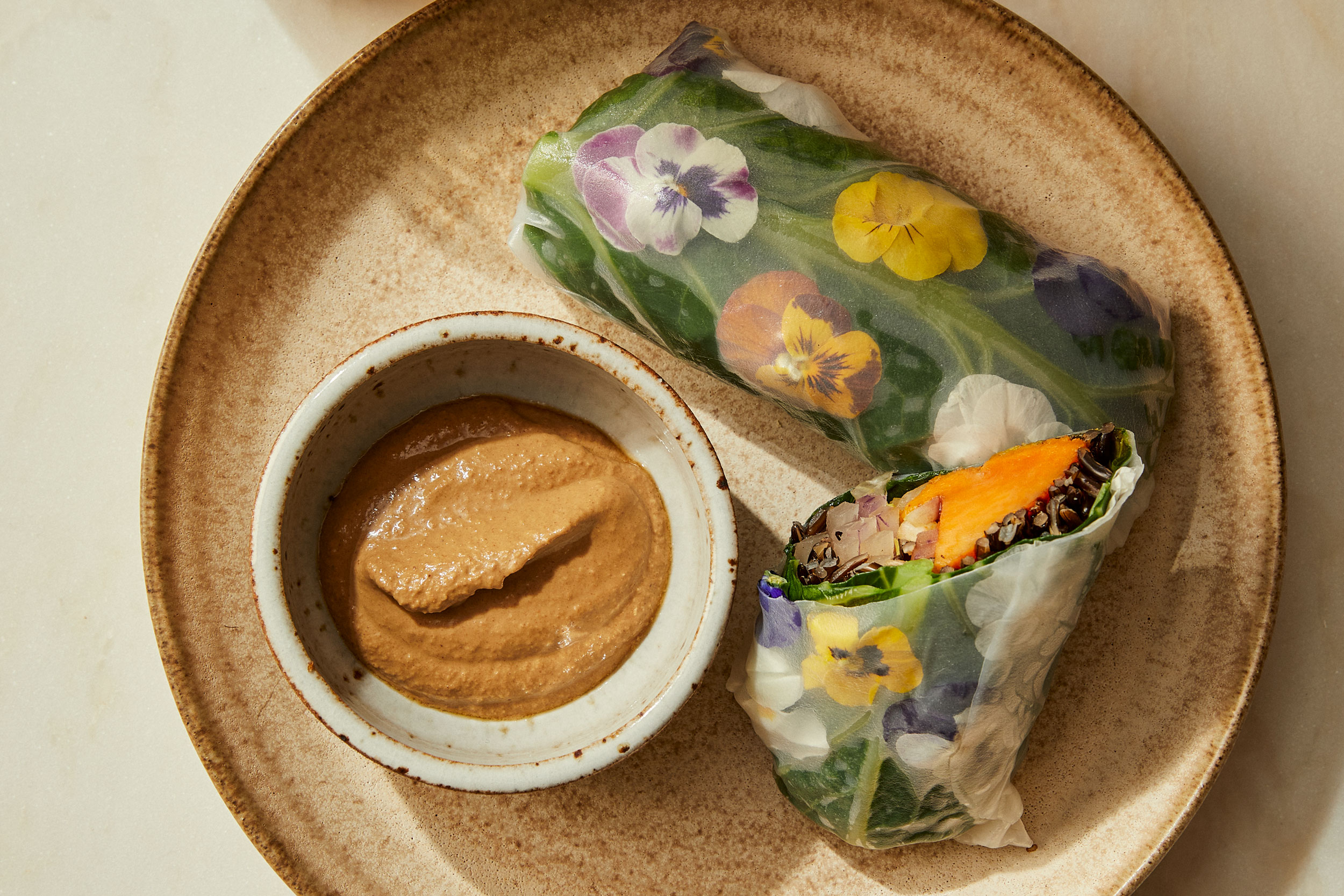 Eleven Madison Home
Humm developed EMH as an extension of EMP so that customers can enjoy the restaurant experience more frequently. "Almost every night, when I greet guests in the dining room at Eleven Madison Park, I hear a compliment along the lines of, 'If I could eat this way, I would eat plant-based all the time,'" Humm said. "At first, I just took this as lovely encouragement of the change we've made to our approach—until it dawned on me that there was something there for us to explore. Could we do more to bring that happiness to people outside the restaurant? Without preaching about it, could we do more to encourage people to fall in love with a plant-based lifestyle? It's only so often you can dine at Eleven Madison Park, yet there are so many euphoric flavors that we can easily adapt for at-home; so many local farmers, purveyors, and stories that we can honor."
EMH is as much a tool for translating the EMP restaurant experience into a home setting as it is a way for Humm to expand the reach of his modern vision of fine dining, where plant-based dishes are elevated to new heights while remaining kind to animals and the environment. "To adjust our habits isn't easy. That's especially true when it comes to food," Humm said. "But it can happen one day at a time, and does not need to feel like a sacrifice. EMH is designed to make the adjustment as easy, and as delicious, as possible."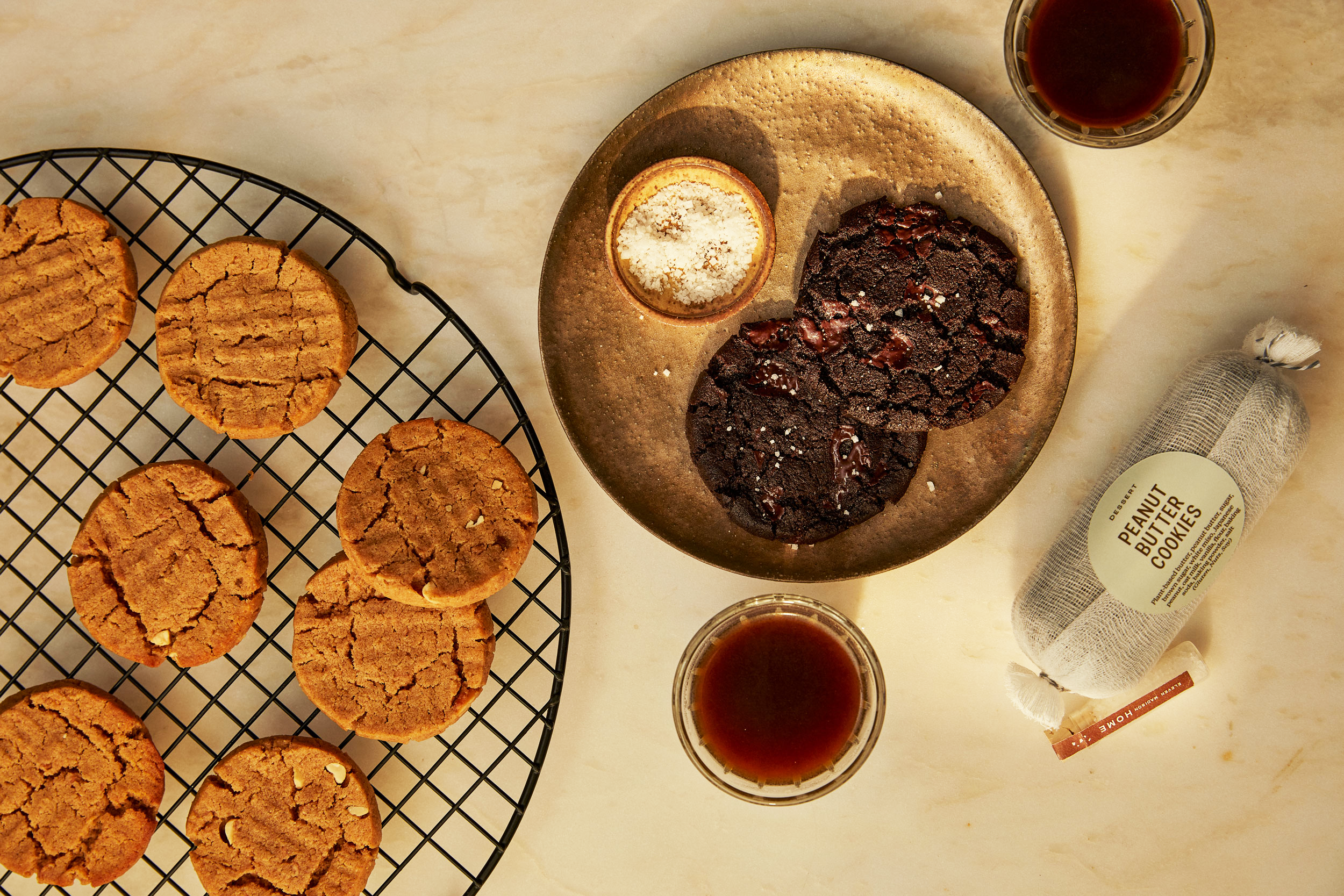 Eleven Madison Home
In addition to bringing exquisite plant-based meals into the home kitchen, the new EMH business comes with another benefit. Last year, EMP deployed a food truck—an extension of its commissary kitchen—in partnership with local nonprofit Rethink Food to distribute meals made with the same produce and ingredients used at the restaurant to food insecure communities. Every meal purchased at EMP—and now every EMH box purchased—goes to support this mission of building a more equitable food system.
The new, plant-based age of fine dining
While EMP has gotten some criticism for eliminating animal products from its multi-course tasting menu—which runs approximately $335 per person—Humm is steadfast in his decision to shift to plant-based cuisine, a move that has since found followers among his peers, including French culinary legend Alain Ducasse who opened his first vegan burger concept earlier this month in Paris.
"I want to be innovative in the way that we think about our menu and showcase how we can be successful while not being dependent on animal products," Humm said. "Change is necessary for a more sustainable future, and for us, this means there is no other option."
Ultimately, Humm is excited to explore the future possibilities of plant-based fine-dining at EMP and spread his message that eating this way can be simple and enjoyable through EMH. "We want to help change the world one day at a time. I am in no way anti-meat, nor am I an expert on the environment, but I am a chef," Humm said. "For us, cooking plant-based has been entirely meaningful and expansive, and I believe we've only scratched the surface with what is possible."
For more about vegan fine dining, read:
The End of Meat in Fine-dining? Geranium Moves Toward a Meatless Menu
The Las Vegas Strip Gets Its First Vegan Fine-Dining Restaurant
Why Michelin-starred Chef Marco Pierre White Is Now Serving Vegan Lamb