This fall, Florida-based plant-based meat manufacturer Future Foods and chef Robyn Almodovar—a finalist on cooking competition show Hell's Kitchen and a winner of the Food Network's Chopped—are launching plant-based meat brand PAOW! The new brand is aiming to lead the shift towards plant-based foods with products made with simple ingredients (non-GMO soy, water, and salt) that mimic their animal-based counterparts.
PAOW!—an acronym for "People And Our World"—will launch with six varieties of its PAOW! Pieces in globally inspired flavors such as Rotisserie Seasoned, Korean BBQ, Southwestern Style, Not Just Philly, and Sweet & Hot Harissa. The plant-based protein pieces can be sautéed, grilled, baked, sous-vide, boiled, or fried and offer a consistency ranging from flaky fish to crispy fried chicken.
"By developing a full line of premium clean labeled plant-forward, meat alternatives, with zero compromise on taste and texture, we look to lead the plant-based protein shift; we look to provide great products to the consumer, that in return, make a positive impact on our plant and the environment," Alex Kramarchuk, CEO of PAOW!, said in a statement. "Our brand stands apart from competitors because we are meeting increased consumer demand for a clean-labeled, versatile, premium quality plant protein solution for every meal."
Up until now, PAOW! was only available to businesses through Dot Foods and its products can already be found across the healthcare, hospitality, recreation, university, and restaurant industries. The brand is now set for growth with its state-of-the-art production facility in Ormond Beach, FL. With its fall retail launch, PAOW!'s products will be offered in 8-ounce bags through the brand's website and shipped nationwide.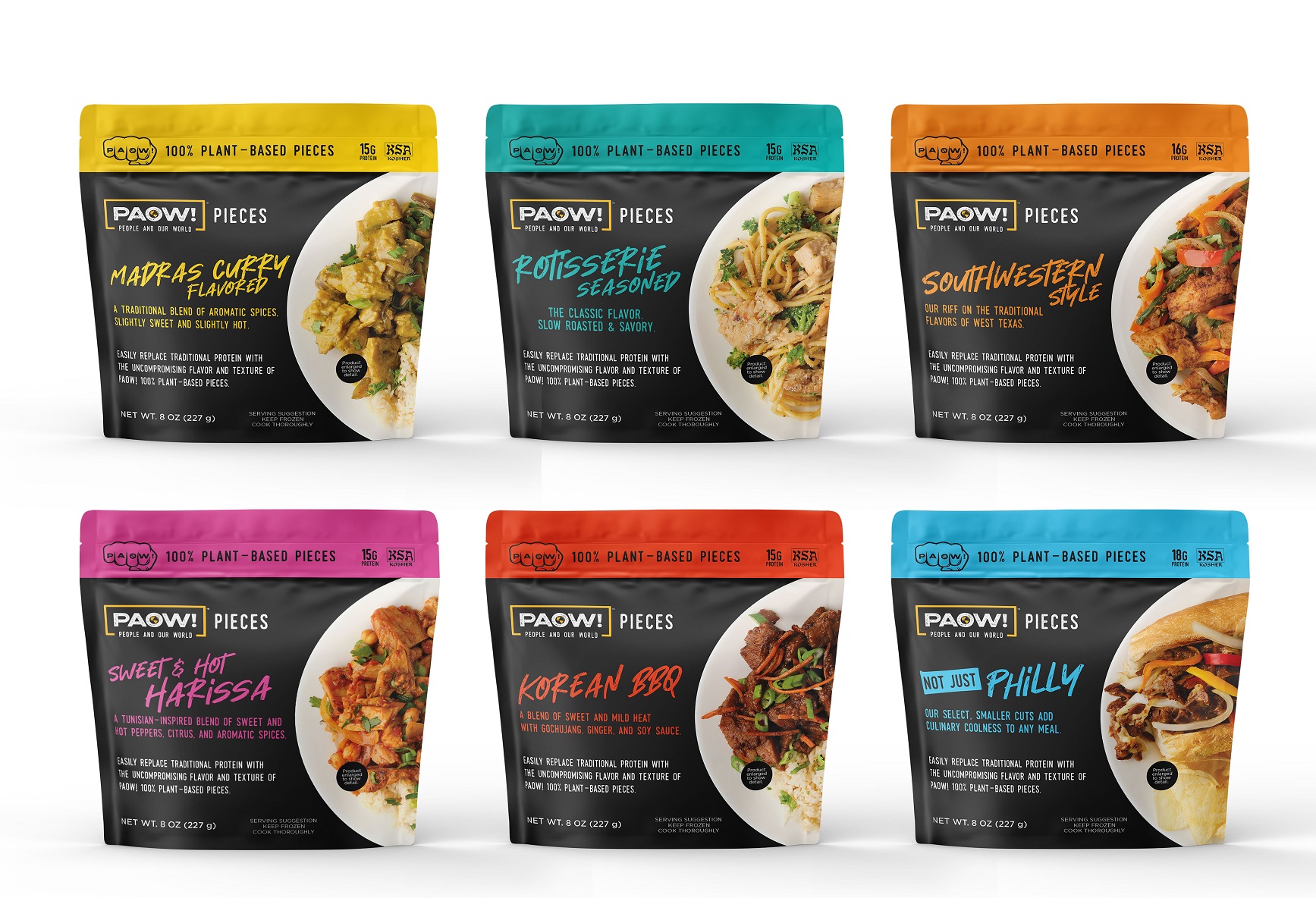 PAOW!
Food Network's Robyn Almodovar gets into plant-based meat
In 2020, Almodovar joined Future Foods as the brand's corporate chef to create recipes featuring PAOW!'s plant-based proteins and work closely with the sales and marketing team to cultivate industry relationships and grow the brand across all platforms.
"As plant-based alternatives gain more popularity showing up on dinner plates across the nation, PAOW! brings many flavorful options to your home kitchen without compromising the quality of the ingredients," Almodovar said in a statement. "Future Foods is breaking the status quo on the stigma towards plant-based products with revolutionary flavor profiles and premium texture. Our PAOW! Pieces can take any dish to the next level."
Today, Almodovar continues to helm PAOW!'s kitchen, developing many of its new flavors and creating an arsenal of recipes spotlighting PAOW!'s versatility in flavor, texture, and cooking method. Her goal is to teach consumers how to be more creative in the kitchen and get out of their comfort zones. The recipes she's created using PAOW's products include Tikka Masala, Tacos Al Pastor, and Asian Ginger Sticky Noodles.
Last fall, PAOW! partnered with University of Florida's Gator Dining Services to give students the opportunity to be part of what Future Foods called a "plant-based taste revolution." PAOW! surveyed the students, ultimately giving them a chance to select which products made the cut for the brand's consumer launch. Based on the student surveys, bold and global was the clear direction.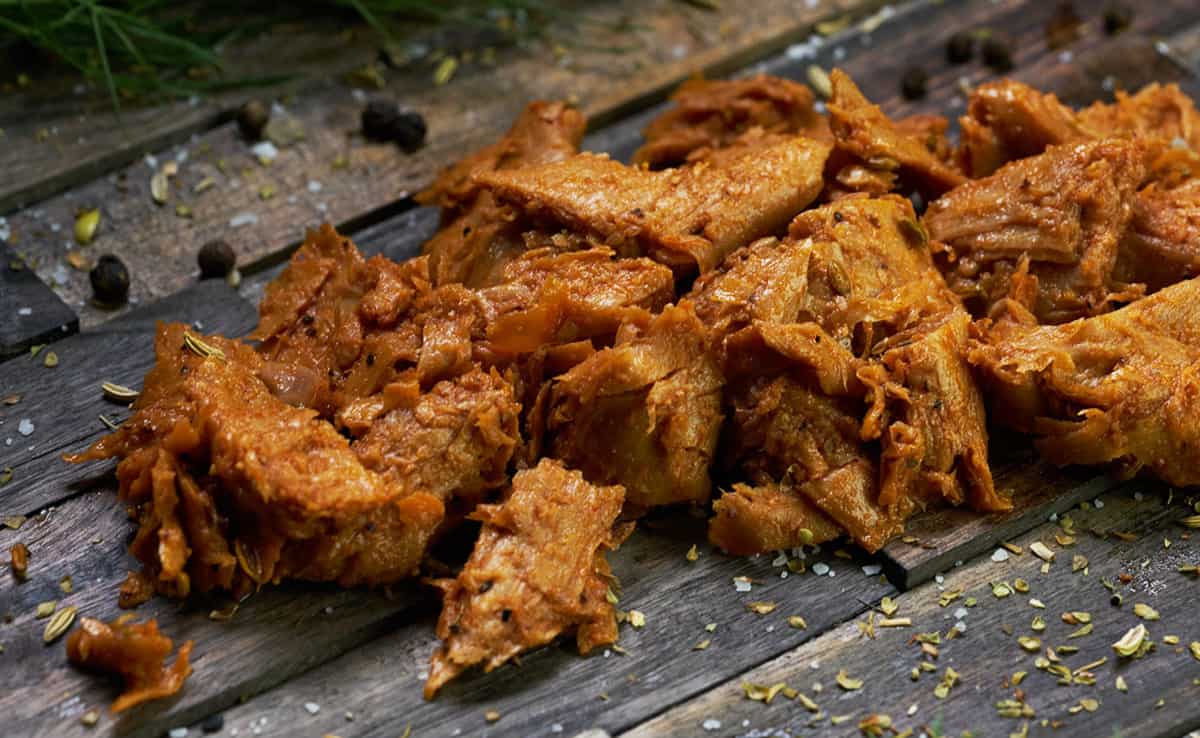 PAOW!
The growth of soy protein
PAOW! joins a growing number of startups working to create better and more sustainable protein options than animal-derived products. Soy-based alternatives were first on the scene and continue to be a big part of the plant-based foods sector. According to data by market research firm Neilson, tofu continues to dominate as a plant-based source of protein and sales in the United States increased significantly during the COVID-19 pandemic.
During the four-week period ending on March 28, 2020, sales of tofu increased by 66.7 percent when compared to the same time period last year. As animal meat shortages set in due to slaughterhouse closures because of COVID outbreaks, and subsequent supply chain disruptions, tofu sales were still up by 32.8 percent in May 2020.
Data released during the same period by trade group Plant Based Foods Association (PBFA) and market research company SPINS further illustrated changing consumer buying habits. During the peak pandemic food-buying period that year, sales of plant-based foods overall increased by 90 percent when compared to sales during the same time the previous year. In the four weeks that followed, plant-based food sales spiked by 27 percent, outpacing total retail food sales by 35 percent.
For more on vegan meat, read:
Vegan Beyond Meat Chicken Tenders Are Coming to 400 Restaurants
Why the Best New Vegan Meat Products Will Come From Korea
How Robert Downey Jr. Is Helping Improve Vegan Meat