Comedian Kevin Hart is all about vegan burgers during this summer's grilling season. Hart is a longtime investor and ambassador for Beyond Meat and is joining the vegan brand's summer grilling campaign to promote its plant-based burgers, which he says are key to bringing the whole family together.
"With Beyond Meat, I love that my family and I can enjoy all the foods we love—like grilled burgers in the backyard—but do so in a way that's better for us without feeling like we're sacrificing anything," Hart said in a statement. "As a longtime partner, I jumped at the opportunity to be a part of this summer grilling campaign to inspire more people to try Beyond Meat."
The new summer campaign is kicking off during National Burger Month (May) with a commercial that features Hart and fellow comedian Will "Spank" Horton that focuses on the plant-based evolution of summer grilling.
Kevin Hart backs vegan burgers
When Hart joined Beyond Meat as an ambassador in 2019, he took to Instagram to tell his then 74 million Instagram followers that he planned to take his healthy diet "up a notch" by getting on "this plant-based food kick." In his new collaboration with the brand, Hart and Horton appear in a one-minute commercial that discusses the importance of maintaining traditions, such as summer cookouts, while making better choices for the future—all the while using humorous, outdated slang while dressed in fashion trends across different eras.
Given the environmental benefits of consuming plant-based burgers instead of beef, the commercial also comes with a climate message. "Make changes that are better for the planet," Hart says, while wearing '90s garb and handing Horton a burger. "Oh, snap, better for the planet? You buggin'," Horton responds.
"Word? Eating plant-based is actually fighting climate change," Hart says. "You know, sometimes we overlook the most obvious things we can change and I don't know why. Some things should be easy like eating Beyond Meat."
And Hart's love of vegan burgers does not just end on his plate. At the onset of the COVID-19 pandemic, Hart and other Beyond Meat ambassadors, including NBA star Kyrie Irving, banded together to support the brand's Feed A Million+ campaign to send more than a million vegan Beyond Burgers to people in need.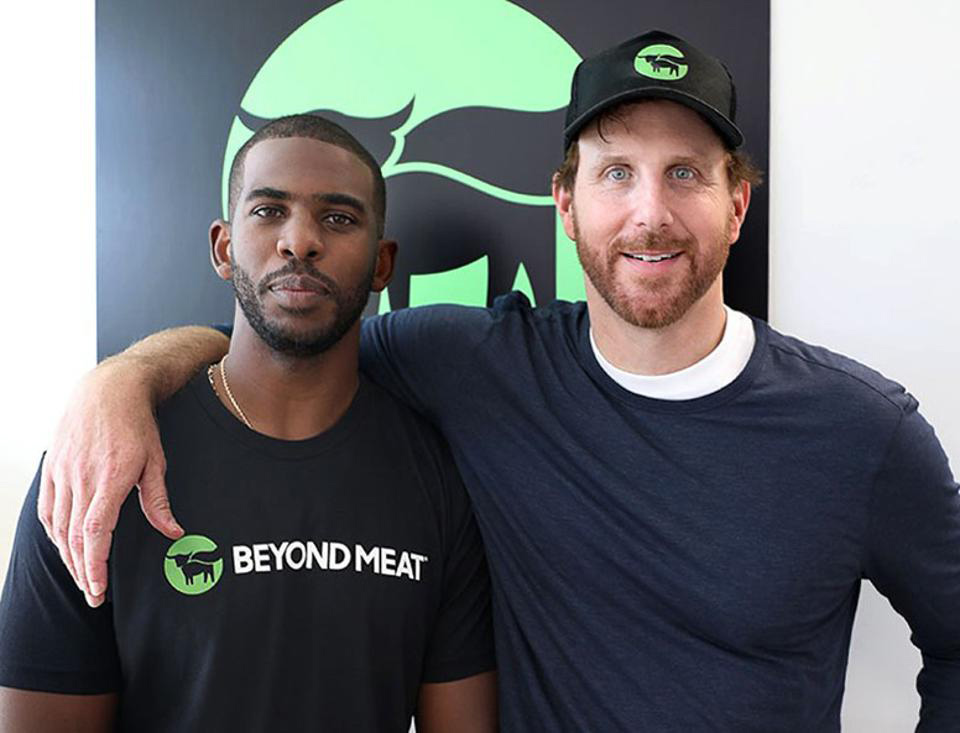 Beyond Meat
Beyond Meat's celebrity supporters
Hart is part of a large group of celebrity investors and ambassadors that have joined Beyond Meat in 2019, which included 14 athletes such as NBA legend Shaquille O'Neal, NFL star DeAndre Hopkins, famed rock climber Alex Honnold, and five-time Olympian snowboarder Shaun White.
Beyond Meat CEO Ethan Brown is well-versed in sports and sat down with one of the brand's most famous celebrity backers, NBA star Chris Paul, in an interview last week to discuss the future of vegan meat. Paul started the interview—which is produced by news platform Bloomberg—by crediting Brown for helping him go vegan. "I must start off by saying that I'm a proud investor," Paul said. "And I must let you know, Ethan, that you have a lot to do with why I went plant-based to begin [with]."
Brown explained how he realized at an early age that climate change was one of the biggest issues facing humanity. He first started to tackle the problem through his work in clean energy and later realized that the biggest impact he could make was in the food industry.
"I began to really think more about climate in a more sophisticated way than I had when I was just a student and started to think about the impact that livestock has on climate," Brown said. "To me, just the sheer amount of land, water, and emissions involved in bringing a piece of protein to the plate from an animal was so significant that I felt I had to go do something about it."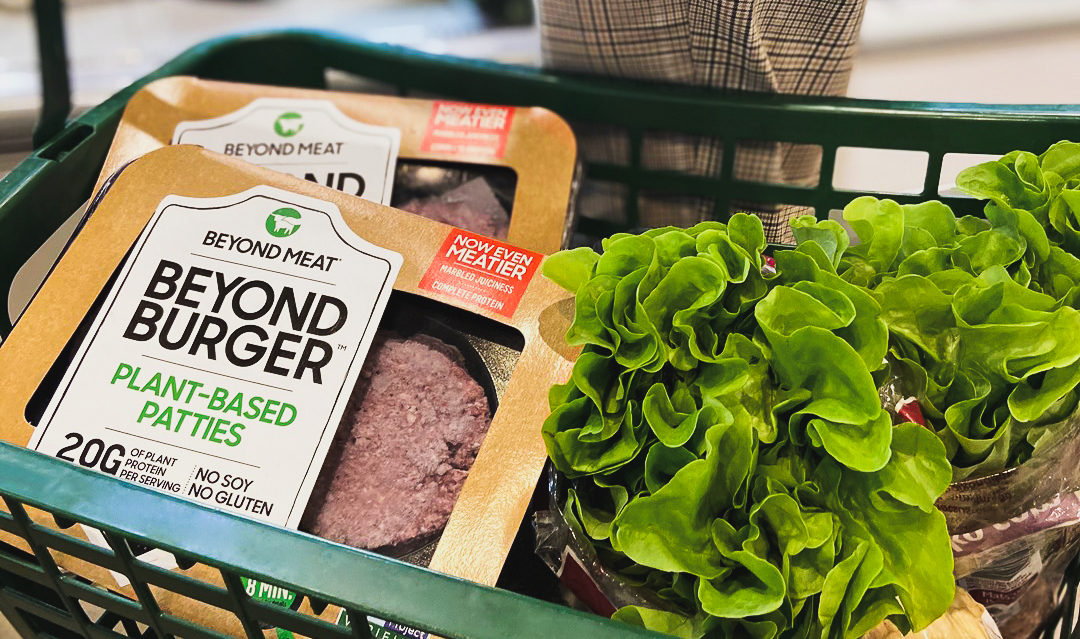 Beyond Meat
Brown then broke down the composition of meat to protein, fat, and water, and explained that this process is highly inefficient when an animal is involved given the amount of resources necessary to get these basic building blocks to the plate as meat. Brown explained that there is a commonality between the components of meat and those of plants. "So what you find in plants, you also find in human and animal bodies, just presented differently," Brown says. "We're using the plant kingdom in ways that present it to the human sensory experience as animal protein."
Brown also commented on Beyond Meat's ongoing partnerships with fast-food heavyweights such as Pizza Hut, KFC, Taco Bell, and McDonald's. "Our promise to them is that we will outcompete the other [brands] on the market," Brown said. "We will just bring you the best product." Brown also revealed that he was one of the first customers to sample a Beyond Burger when McDonald's first tested it as part of the P.L.T. at select Toronto locations in 2019.
"I got in the car late at night and drove out there and sat down in the restaurant and I had it," he said. "I got that feeling of, you know, I really can't believe this is happening and that was a blessing for me. A wonderful feeling."
For more about Beyond Meat, read:
Beyond Meat Launches Two New Versions of Beyond Burger
Octavia Spencer Stars in Beyond Meat's First Television Commercial
Why PepsiCo Is Betting Big on Beyond Meat's Vegan Beef Jerky