Los Angeles has solidified its reputation as California's plant-based mecca, and this June, the City of Angels is welcoming two vegan butcher shops: Berkeley, CA's The Butcher's Son and the brand new venture, Maciel's Plant-Based Butcher and Deli.
Berkeley's pioneering butcher shop first opened in February 2016, and has gained a cult following for its housemade vegan meats, cheeses, and sandwiches. Its Los Angeles outpost will offer new menu items alongside classic dishes already loved in Berkeley and the surrounding San Francisco Bay Area such as buffalo bacon chicken sandwiches, Caesar salads, and smoked pastrami Reubens. For dessert, patrons can choose between a variety of sweet offerings such as cannolis and cheesecakes.
The fan-favorite vegan deli and butcher is landing in the city's Koreatown neighborhood, where it will operate out of a ghost kitchen for pick-up and delivery. The owners, sibling duo Christina Stobing and Peter Fikaris, have plans to open a brick-and-mortar restaurant in the Southern California metropolis after the ghost kitchen is successfully up and running.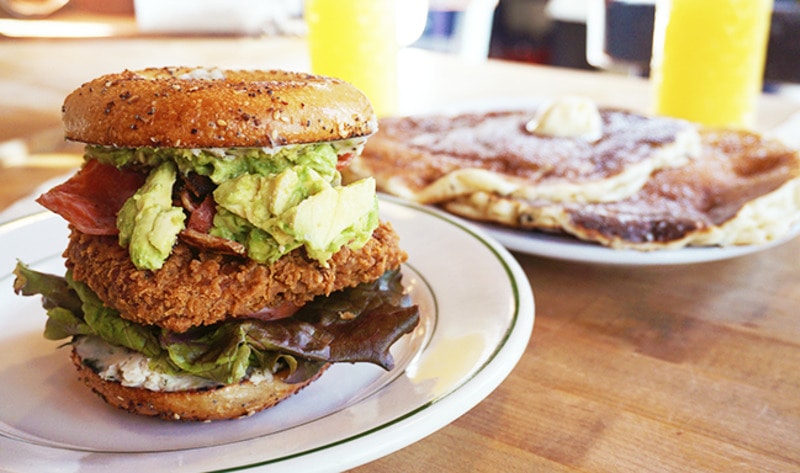 Richie Bowie/VegNews
"[Los Angeles] is big. There's a lot of room for us to grow, you can't beat the weather, and a lot of our social media following is interestingly from LA," Fikaris told VegNews. "We're very excited for new menu additions and new energy. This endeavor will spark some creativity, and I think it's going to be a lot of fun opening this [ghost] kitchen and a new restaurant space."
The making of The Butcher's Son
While The Butcher's Son officially opened its doors in Berkeley, CA in 2016, its origins can be traced back to the early 1990's and a classic diner with a vegetarian twist.
As teenagers, the sibling duo was known for slinging meatless fare at their father's restaurant, Michael's American Vegetarian Diner. After the family patriarch adopted a vegan lifestyle in the 90's, he worked diligently to source plant-based meats and cheeses from across the globe. Soon after, he gained a reputation for convincing local chefs to prepare meals with the vegan ingredients he sourced.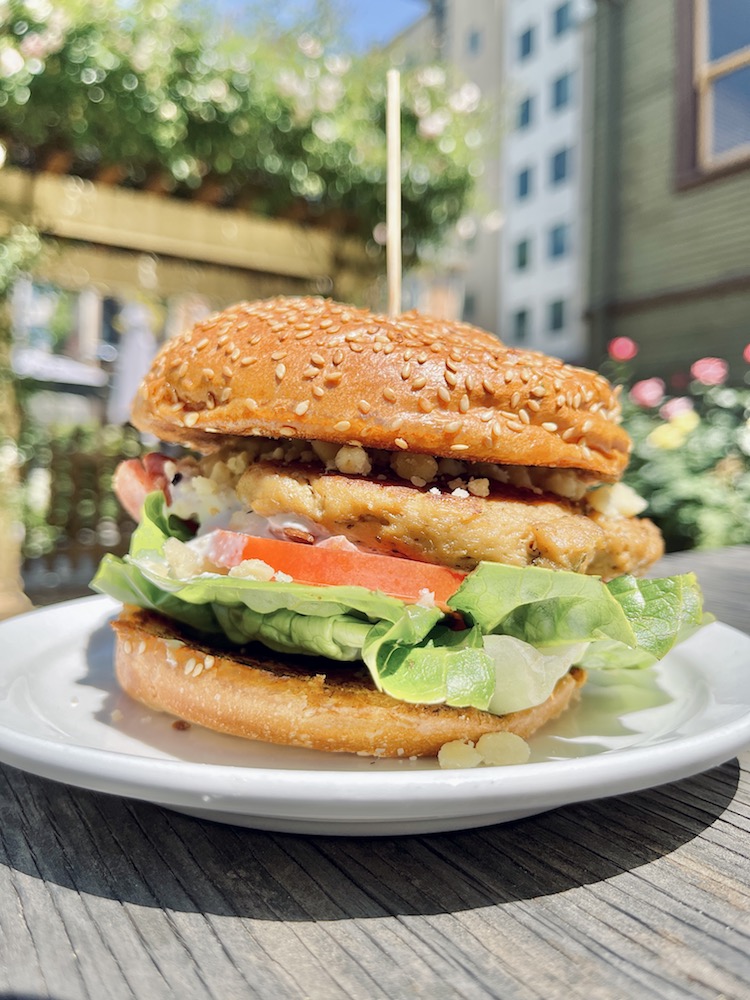 The Butcher's Son
"Every restaurant we [frequented,] our father would bring in this big cooler he packed in the car with vegan cheeses and meats that he had tracked down and shipped from other countries or that he found in Oakland," Fikaris said. "He'd talk with management or the chef and [would] convince them to make our dishes with [his vegan ingredients]. The kitchen was always very interested in what we had brought in and usually had a good laugh watching it cook."
For the siblings, their work in the restaurant industry and early exposure to veganism led to their "unquestionable" goal in life of opening a vegan eatery. The concept for The Butcher's Son came to Fikaris when he fused his love of New York's "multi-generational, authentic feel" with his unwavering desire to walk into a deli and order vegan cold cut sandwiches.
Two vegan butchers are better than one
Along with The Butcher's Son, Los Angeles is welcoming another vegan butcher: Maciel's Plant-Based Butcher & Deli. The new, Mexican-owned vegan butcher is setting up shop in the city's Highland Park neighborhood on York Boulevard—which has earned a reputation for its numerous vegan-friendly establishments.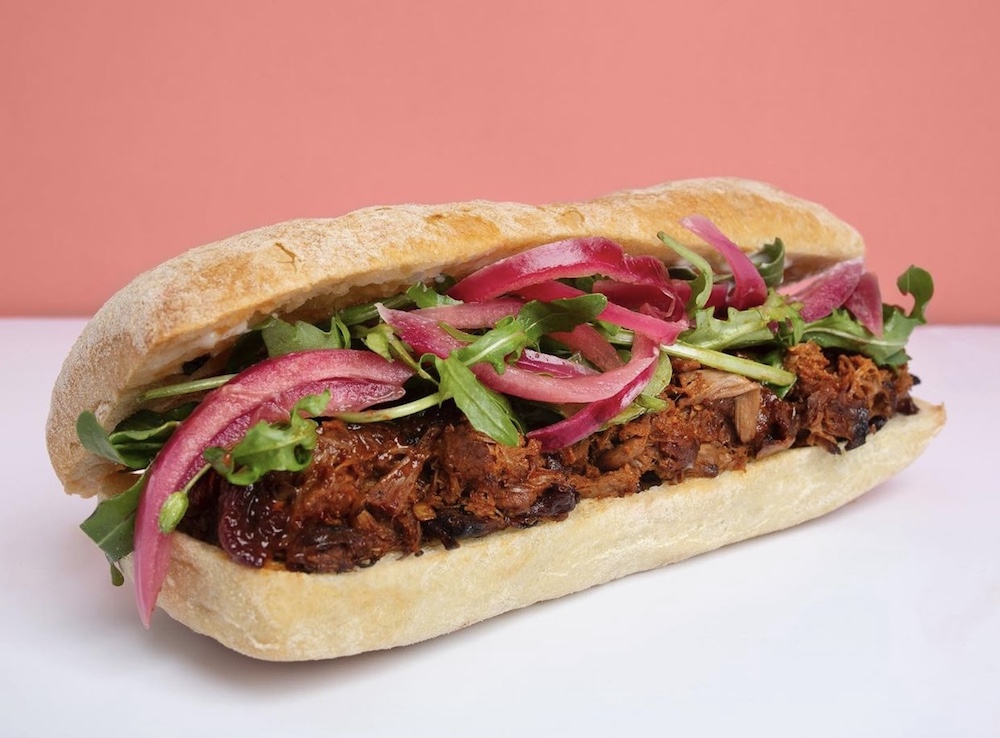 Maciel's Plant-Based Butcher & Deli
Although an opening date is yet to be announced, customers can expect sandwiches created with housemade meats such as pastrami, bacon, and even Mexican ribs.
The rise of the vegan butcher
Today, vegan butcher shops continue popping up across the world despite being relatively unheard of prior to just 2015.
One month before The Butcher's Son made waves in the San Francisco Bay Area, The Herbivorous Butcher took the midwest by storm when it officially became the first vegan butcher shop in the United States in January 2016. Like The Butcher's Son, the Minneapolis-based Herbivorous Butcher is helmed by siblings and cranks out an extensive menu of housemade deli meats, cheeses, steaks, sausages, and ribs. The Herbivorous Butcher gained worldwide recognition after appearing on the hit Food Network show Diners, Drive-Ins, and Dives, and even pleasantly shocked celebrity chef host Guy Fieri with their Vegan Turkey and Dill Havarti Sandwich.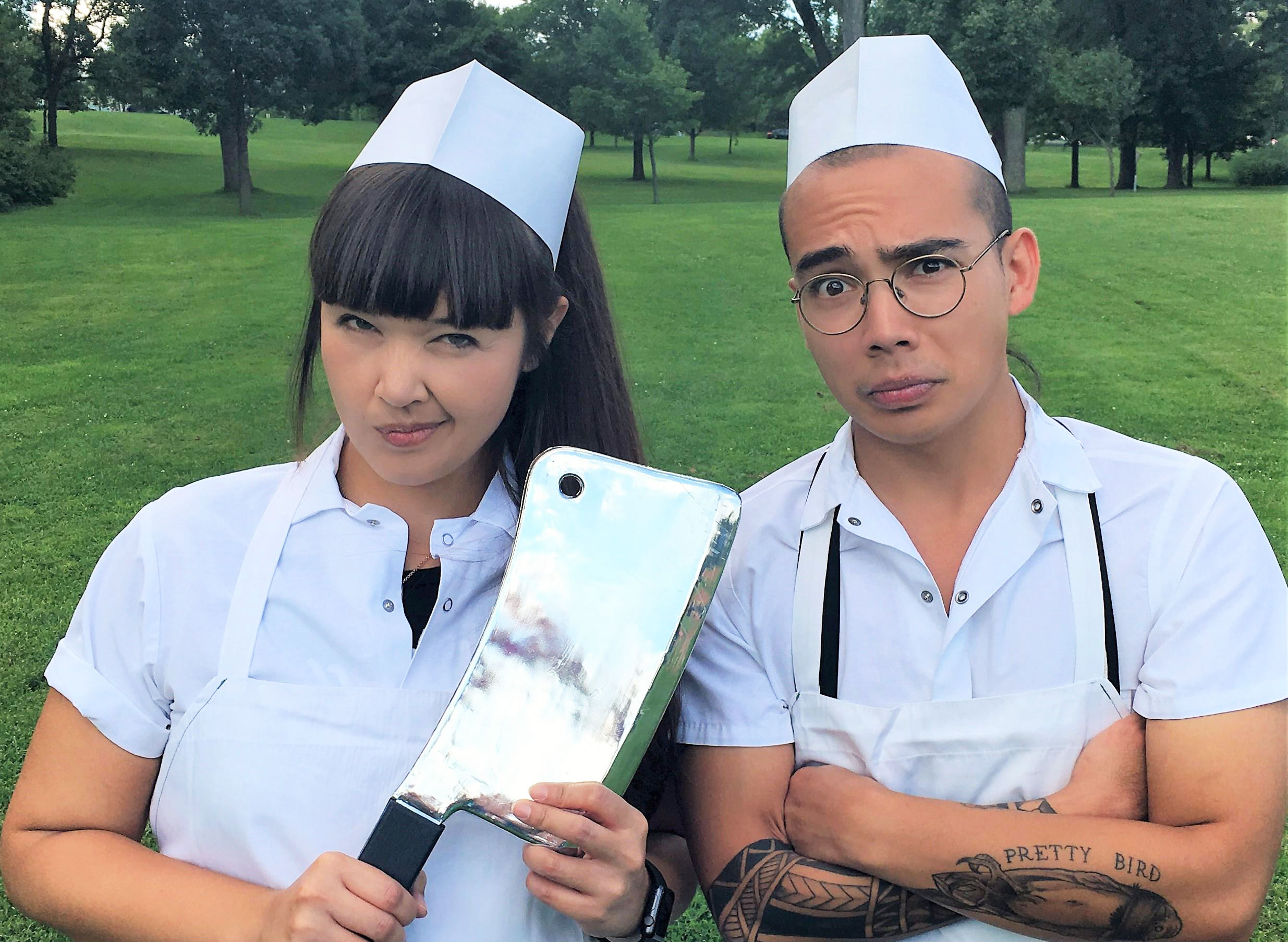 The Herbivorous Butcher
In 2021, The Herbivorous Butcher owners and siblings Kale and Aubry Walch took on food giant Nestlé in a trademark battle and proved victorious. After the siblings attempted to register the trademark "Vegan Butcher" with the United States Patent and Trademark Office (USPTO) in 2017, the US agency quickly denied the trademark ultimately citing that the term was "merely descriptive." Soon after, Nestlé filed a trademark application for a nearly identical term, "The Vegan Butcher." In September 2019, just as the food giant's application neared approval, The Herbivorous Butcher filed an opposition with the USPTO to prevent Nestlé from trademarking the term. In February 2021, Nestlé officially abandoned its trademark pursuit.
Today, The Herbivorous Butcher no longer has plans to trademark "vegan butcher" or similar terms and phrases in order to encourage entrepreneurs to continue innovating vegan products without fear of legal recourse. After the siblings' vegan butcher shop opened, The Butcher's Son, The Very Good Butchers in Victoria, Canada, and others followed suit. After finding success with their vegan butcher shop, last year, the siblings opened Minnesota's first vegan fried chicken shop, Herbie Butcher's Fried Chicken.
Years later, Rudy's Vegan Butcher—the United Kingdom's first plant-based butcher—sold out on their November 2020 opening day, proving vegan butchers are here to stay.
For more vegan butchers read:
We Have the Meats: Best Vegan Butcher Shops
UK's First Vegan Butcher Shop Sells Out on Opening Day
Vegan Butcher Shop Wins Nestlé Trademark Battle