This week, vegan meat brand Meati Foods is expanding its lineup to include a whole-cut vegan steak made from mushrooms. The new umami-rich vegan steaks come in four-ounce servings and are ready to prepare just like a conventional piece of steak. The Classic Steak joins Meati's existing product line of vegan chicken cutlets and is now available for delivery nationwide on the company's website.
While companies such as Beyond Meat and Impossible Foods focus on producing ground vegan meat from plants such as soy, pea, and wheat, Meati is creating whole cuts of steak and chicken using a technology that relies on mycelium—the fast-growing root structure of mushrooms. The company brews mycelium inside fermentation tanks then blends the high-protein fibers—which resemble the texture of chicken breasts and steaks—with other vegetable-based ingredients and spices before forming them into vegan meat.
Meati was co-founded in 2019 by engineers Justin Whiteley and Tyler Huggins, and in 2020 it quietly launched its first products at select restaurants, including SALT Bistro in Boulder, CO. The company did not make a public announcement of the launch in an effort to gather consumer intel on its whole cuts of fungi-based vegan meat. At the time, SALT Bistro served a Bahn Meati Sandwich, which also featured kimchi, pickles, cucumbers, sriracha sauce, and cabbage. Today, it continues to offer Meati vegan chicken in a Nashville Hot Meati sandwich with Nashville hot sauce, white cheddar, roasted garlic, aioli, and pickles.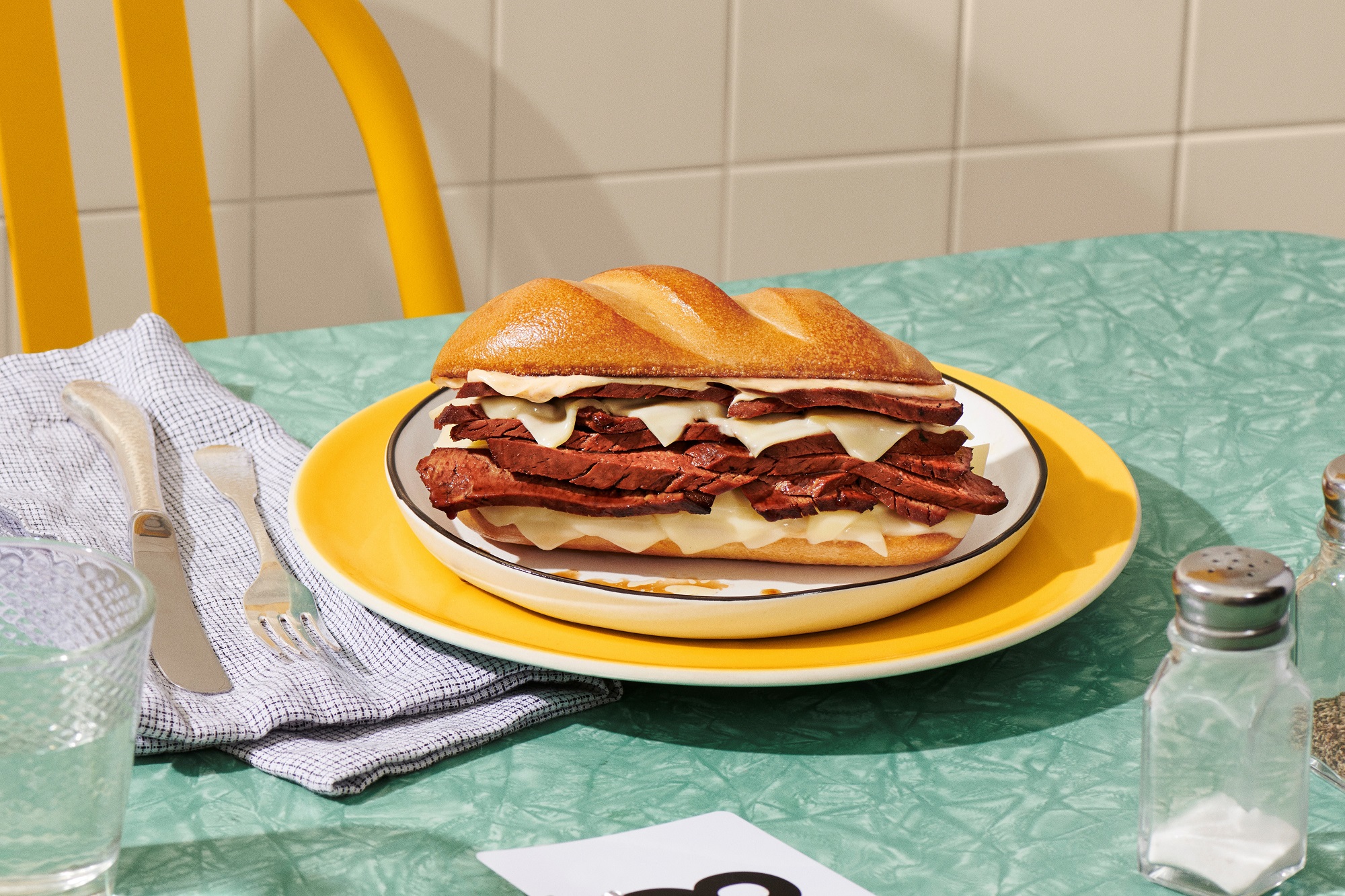 Meati Foods
"I grew up on a bison ranch, so my standards for meat are quite high. Meati Classic Steak is one of the first, if not the first-ever, whole-food, whole-cut beef steak alternative, and it delivers on incredible, juicy, mouthwatering flavor," Huggins told VegNews. "It's packed with protein and fiber and has only 0.5 grams of fat and 0 grams of cholesterol. People can feel great about eating it, and we can't wait for everyone to try it."
Earlier this year, the company made its products available for nationwide delivery through its website, starting with its vegan chicken Crispy Cutlet and Classic Cutlet—both made with the mycelium—which sold out in under 24 hours when they first became available for preorder. Since then, the company held two additional product drops in March and April when it sold out in two hours and 20 minutes, respectively.
Growing vegan mushroom steak to replace cows
The launch of the new vegan Classic Steak marks a big step in Meati's goal to deliver high-quality, minimally processed vegan meat while using a fraction of the ingredients, water, and land used in other plant- and animal-based meats.
In an effort to grow the company, Meati recently appointed new president Scott Tassani, who has 30 years' experience in the food industry and said he plans to achieve a category-leading $1 billion in sales by 2025. The appointment followed a $50 million Series B funding round, which Meati said would partially go towards building a nearly 100,000-square-foot production plant. In 2020, the startup also raised $28.2 million in a Series A investment round to help it scale production and expand its team to facilitate its direct-to-consumer launch.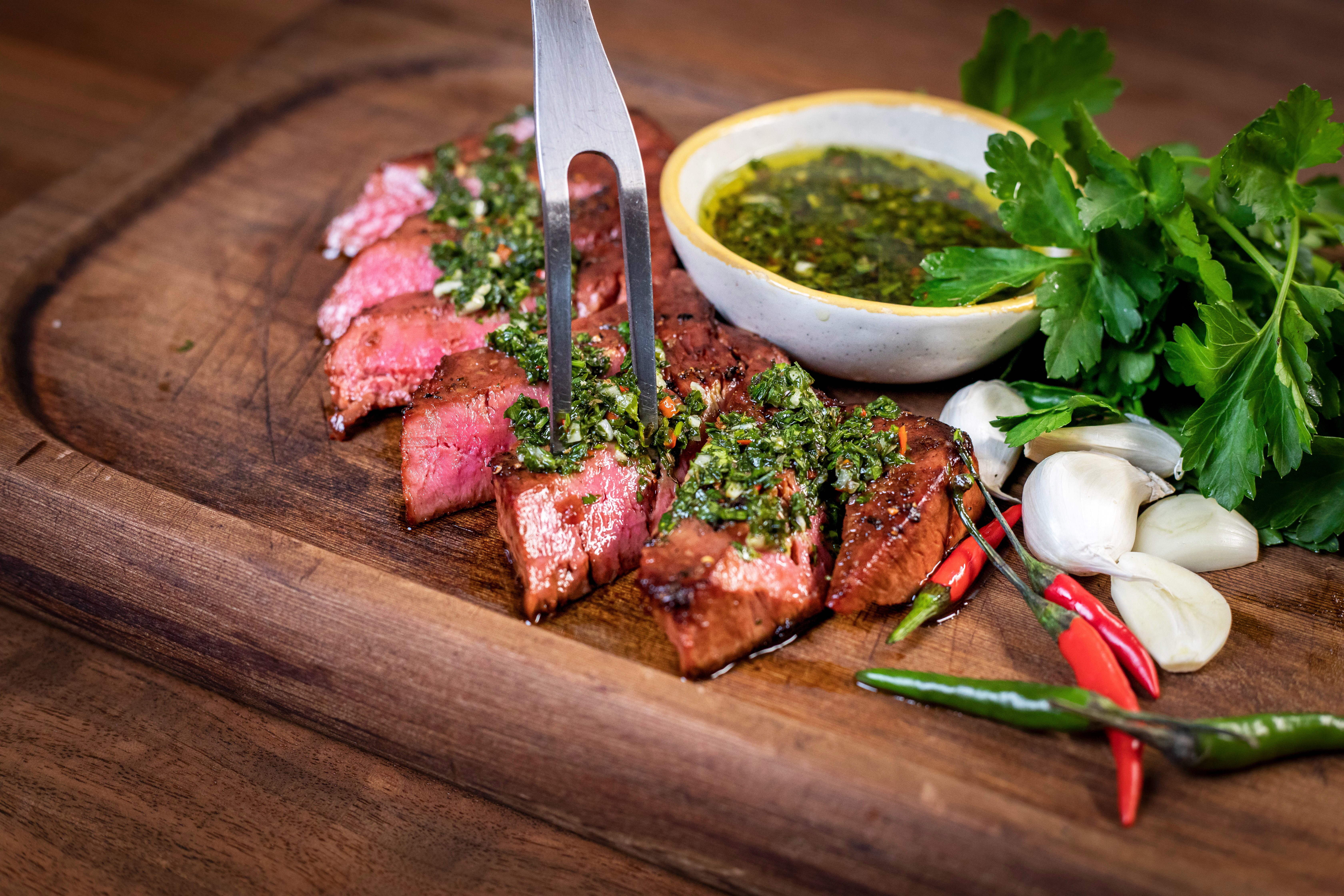 Meati Foods
The products are currently being produced at Meati's small-scale factory in Boulder, CO, but its new production facility opening in September will have the capacity to produce 45 million pounds of vegan meat. At scale, Meati says its growing process can produce the equivalent of 4,500 cows every 24 hours and requires less than 1 percent of the water and land compared to conventional industrial meat production.
Meati expects to be distributed in 10,000 stores by the end of the year and have a national footprint by 2023.
Making vegan meat from mushrooms
Meati Foods is not the only startup working to create vegan meat using mycelium. Other startups include New York-based startup MyForest Foods (previously known as Atlast Food Co.), which makes vegan MyBacon from mycelium by first producing "mushroom belly" which is sliced and brined. The resulting mushroom bacon mimics pork bacon in taste and texture—a key differentiating factor from other plant-based meats on the market. While many plant-based products such as burgers, grounds, and chicken are made from an extruded base, MyBacon is a "whole cut" vegan meat made with six ingredients that offers a multi-sensory experience with the same sear, sizzle, chew, and fattiness of animal meat.
Last year, MyForest Foods raised $40 million in a Series A funding round to help it bring mushroom-based vegan meat products to stores, followed by a partnership with Whitecrest Mushrooms Ltd. to produce its MyBacon at a commercial scale. Located in Ontario, Canada, the farm will use MyForest's AirMycelium technology to fine-tune the environmental factors around growing mycelium to produce whole-cuts of vegan bacon.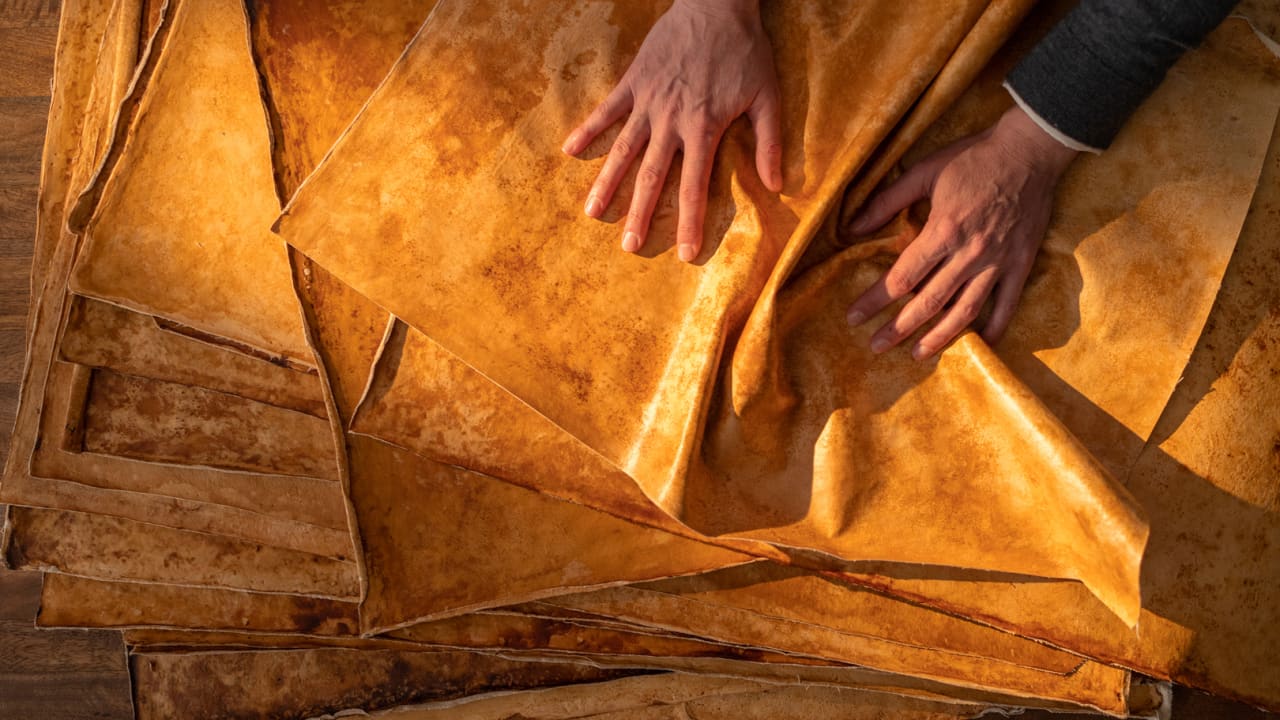 MycoWorks
Mushroom leather transforms fashion industry
Many startups are finding uses for mycelium, including creating vegan leather products for the fashion industry. San Francisco-based biomaterials startup MycoWorks produces leather-like Fine Mycelium materials, including its flagship product Reishi. The startup's patented process produces the natural material with the performance of traditional animal leathers and lower environmental impact. But, unlike animal skin, it can be made to order and to the exact specifications of fashion and luxury brands wanting to use the material. The company is currently building its first full-scale mushroom leather production facility in South Carolina.
Startup Bolt Threads creates a similar vegan leather from mycelium it calls "Mylo" and has partnered with a group of brands to get it to market. Eco-conscious designer Stella McCartney works exclusively with Bolt Thread's Mylo mushroom leather, and debuted the first mushroom-leather pants and handbag last year. Adidas is also working with Bolt Threads to create new and classic sneaker styles made from its sustainable material.
For more on vegan steak, read:
World's First Lab-Grown Ribeye Steak Is Here
Vegan Filet Mignon Steak Is Here and It Tastes Like the Real Thing
Vegan Short Ribs Just Launched at Supermarkets in Japan